20 Benches That Will Make Your Mudroom More Practical And Stylish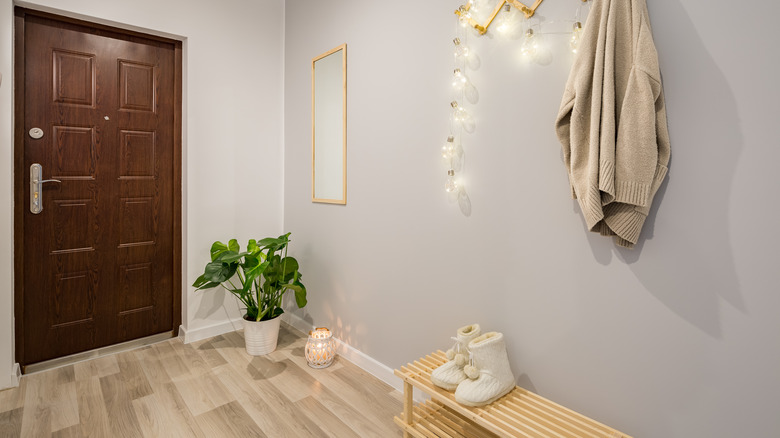 Dariusz Jarzabek/Shutterstock
For some, mudrooms are a must-have in their home. Others, however, aren't sure what a mudroom is. To understand the concept of a mudroom, think about it as the same thing as your entryway, just for your back door (though some homes do have front entry mudrooms). Mudrooms are places to take off muddy shoes after being in the backyard, hence the name. This space can save your home from dirty footprints and can be the perfect place to store coats and other outerwear. Closet Works says that mudrooms will keep your home cleaner, keep your items organized, and improve the value of your home. Designing a mudroom near the laundry room can be a really smart idea as well. 
If you're thinking about adding a mudroom to your home, you'll need to consider how you will store items. Typically, mudrooms are styled with a bench, complete with hooks, baskets, cabinets, or cubbies. If you want some mudroom bench inspiration, below are 20 options you could add to your home.
1. Decorative elements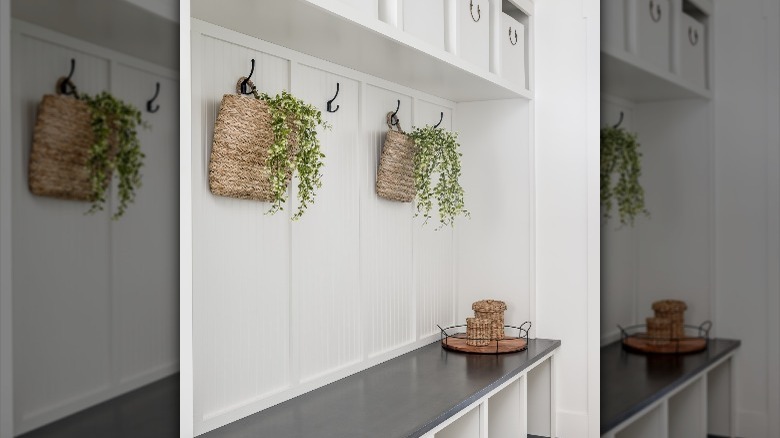 Fio Creative/Shutterstock
Hooks above a mudroom bench can add the perfect place to include decorative pieces. This modern farmhouse space looks inviting and warm. 
2. Dark color
Hendrickson Photography/Shutterstock
To make your bench bolder, you can paint the wall behind it a dark color. This will make white cabinets and a wooden bench really pop. 
3. Lots of storage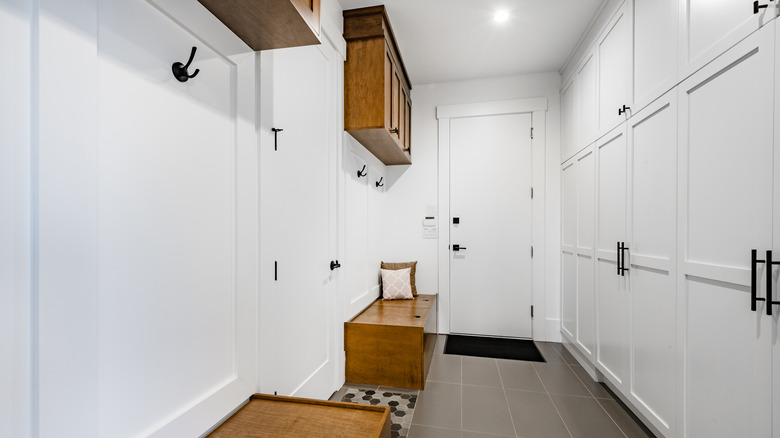 Sheila Say/Shutterstock
To add lots of storage, you can fill all the walls in your mudroom with hooks, built-in cabinets, and wooden benches. 
4. Contrast with the walls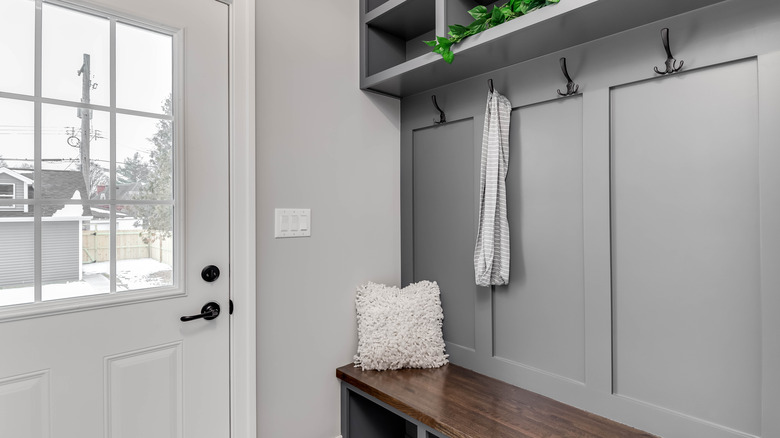 Hendrickson Photography/Shutterstock
Painting your bench a bolder color than your walls can create a nice contrast. This cool gray and wood mudroom bench adds both warmth and interest. 
5. Upper cubbies
Scott Prokop/Shutterstock
Including cubbies above the bench can give you extra storage space for things like smaller pieces of outerwear, gardening tools, or sports equipment. 
6. Large design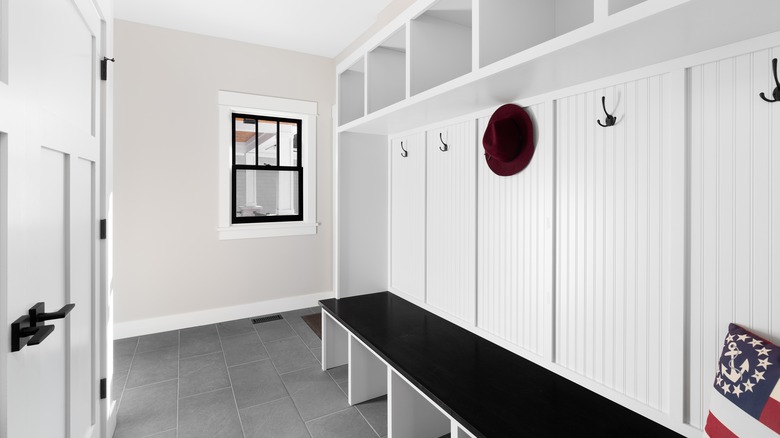 Hendrickson Photography/Shutterstock
If you have the luxury of a large mudroom, a bench that takes up almost an entire wall can fill the space. This can be especially helpful for large families. 
7. Corner design
Hendrickson Photography/Shutterstock
If you're limited on space, a corner bench could save you room. This corner bench has both hooks and cubbies above and below. 
8. Warm-toned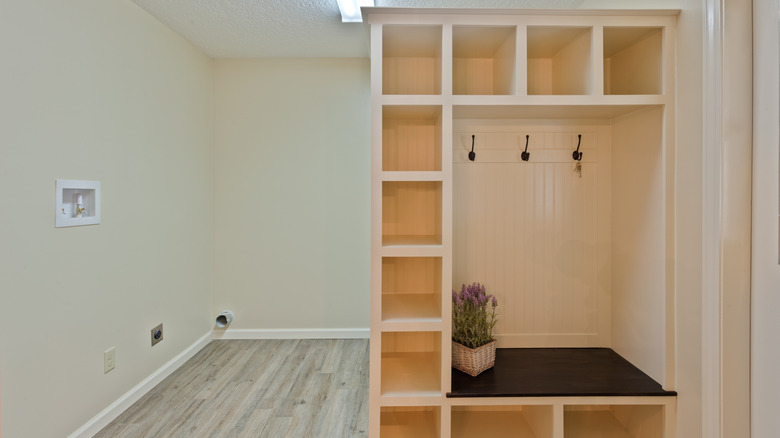 Pipas Imagery/Shutterstock
To give your mudroom a warm feeling, you can paint your bench a warm shade like tan, beige, or yellow. 
9. Industrial style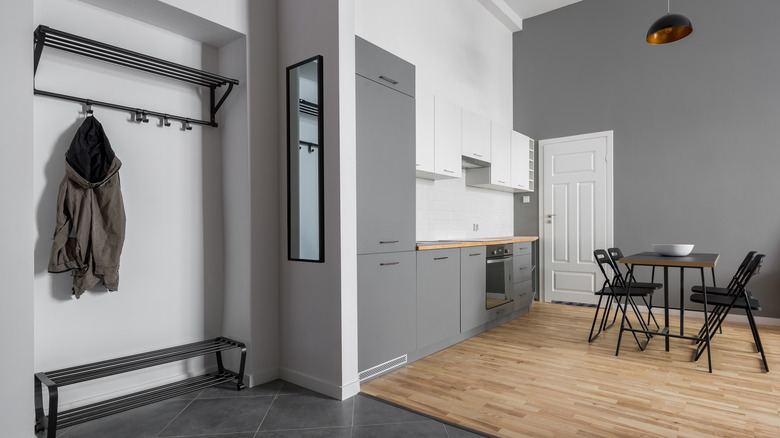 Dariusz Jarzabek/Shutterstock
Most benches are made of wood. However, to provide a more industrial feel, you could choose one made of metal and hang a matching hook rack above. 
10. Shoe storage
Dariusz Jarzabek/Shutterstock
Adding a shoe storage bench and a coat rack near your back door can add to the appearance and functionality of your space. 
11. Wooden coat rack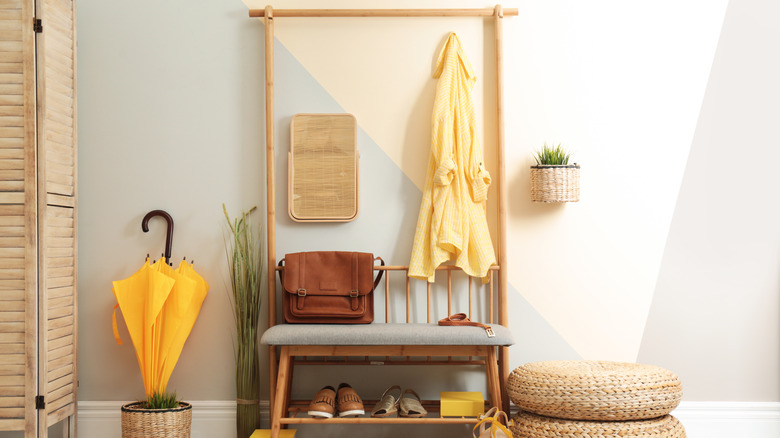 New Africa/Shutterstock
Instead of including hooks, you could also include a freestanding coat rack and place it along a wall in your mudroom. A bench could be placed beneath it. 
12. Wicker baskets
Hendrickson Photography/Shutterstock
Placing wicker baskets in cubbies will give your space more warmth. These baskets would look especially cohesive in a space that has warm wood tones. 
13. Hanging ladder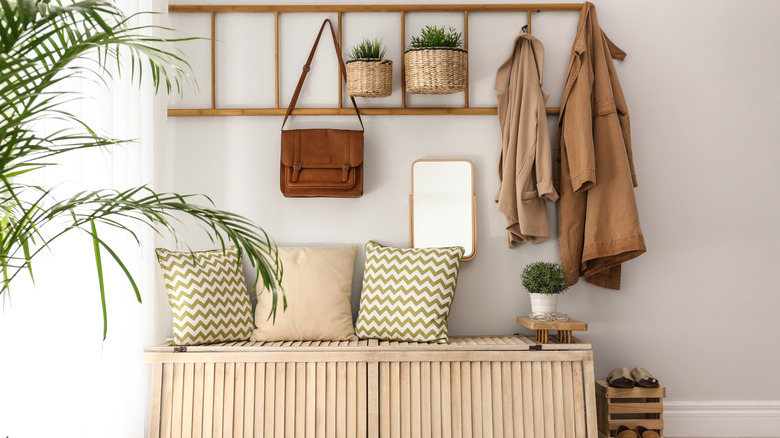 New Africa/Shutterstock
A light wooden ladder could be hung above a bench to designate where coats and purses should be hung. 
14. Decorative shelf
Jason Finn/Shutterstock
Instead of including cubbies for storage above your bench, you could include a long shelf. This can be a great place to add extra decorative elements. 
15. Farmhouse gray wood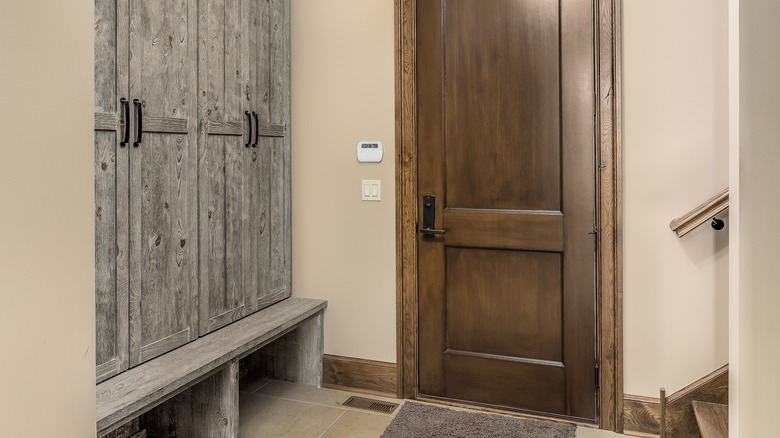 Hendrickson Photography/Shutterstock
For a rustic farmhouse look, create a mudroom bench and custom cabinets out of gray wood. This will make your space functional and provide extra storage. 
16. White bins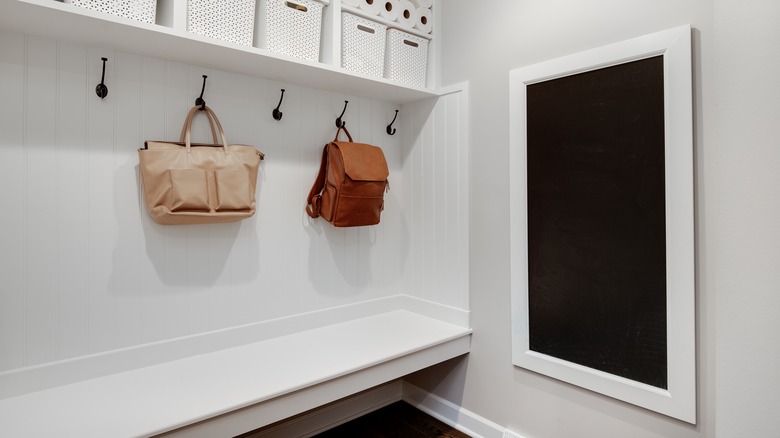 Hendrickson Photography/Shutterstock
To keep your mudroom neutral, place white bins in white bench cubbies. Bins can help families keep their items organized. 
17. Colorful cushion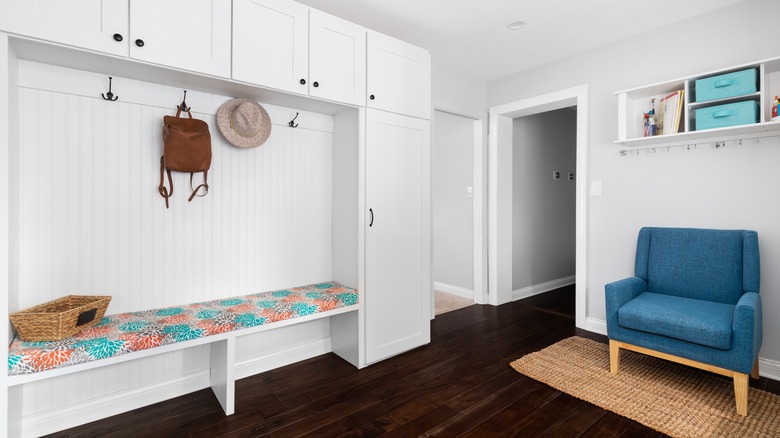 Hendrickson Photography/Shutterstock
Placing a colorful cushion on your mudroom bench can add life to a neutral space. You could also add a taller cabinet for holding larger items like golf clubs, yard equipment, or baseball bats. 
18. Built-in bench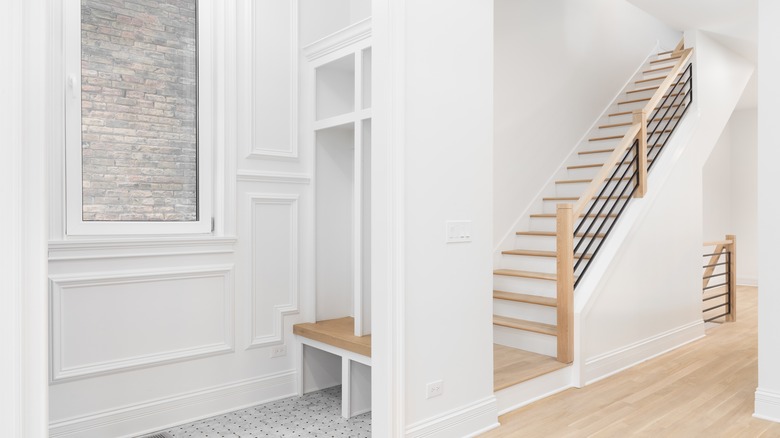 Hendrickson Photography/Shutterstock
A built-in bench can give an extra purposeful feel to your mudroom. It can also allow you to create a mudroom out of a small area in your home. 
19. Lots of hooks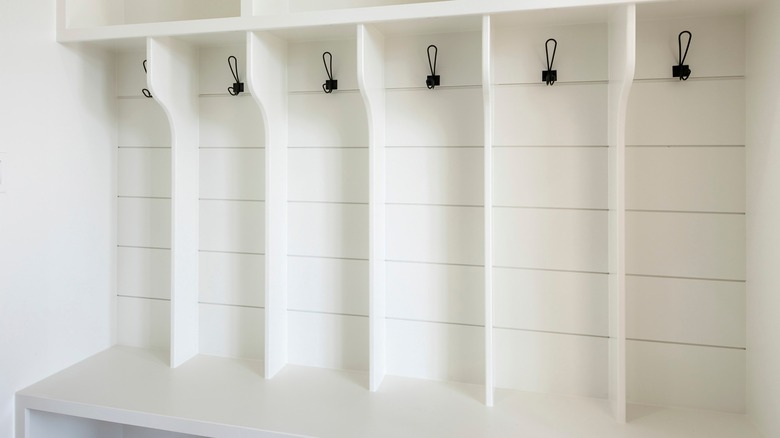 Jason Finn/Shutterstock
For those with large families, adding lots of hooks in separate sections may be ideal. This setup would be perfect for families with young children because it would give them each a place to hang their book bags or coats. 
20. Bench and cabinets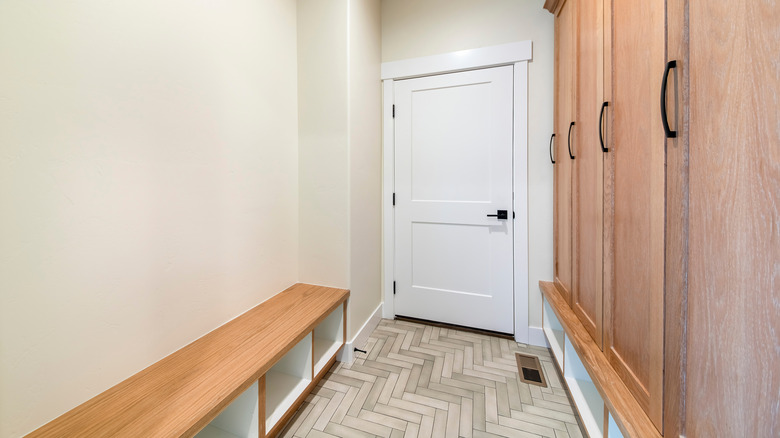 Jason Finn/Shutterstock
Adding a bench on one side and cabinets on the other can provide lots of functionality and storage to a mudroom space.