What You Need To Buy From Home Depot To Resurface Your Hardwood Floors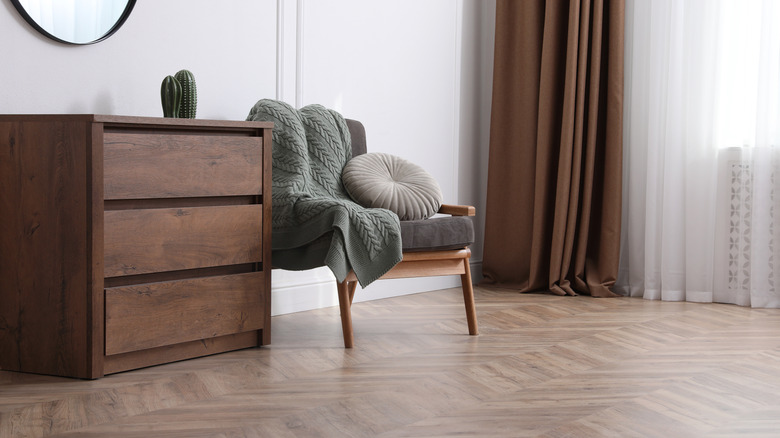 New Africa/Shutterstock
Replacing your hardwood floors is an expensive venture. According to U.S. News, depending on the size of the room, the materials you need, and the labor costs, homeowners typically pay anywhere between $2,800 to $6,400 to replace hardwood floors. Instead of fleshing out thousands of dollars to upgrade your hardwood floors, resurface them yourself! By resurfacing your hardwood floors on your own, you can expect to pay somewhere between the $500 and $1,500 range, saving yourself a ton of money.
Resurfacing your hardwood floors will benefit you in the long run, especially if you decide to sell your home. People shopping the housing market are much more attracted to new-looking floors, so by resurfacing the floors in your home, you're sure to stand out amongst potential buyers, Speedy Floor Removal states. Additionally, resurfaced flooring adds value to your home, so by simply taking the time to upgrade your floors, you can list your home for an asking price that makes you feel confident and comfortable.
Even if you aren't looking to sell your home, it's worth resurfacing your floors. You'll no longer have to wake up to a home with floors that are dull and full of cracks. Instead, you'll have a gorgeous hardwood floor you can be proud of. Home Depot offers a guide for DIY floor resurfacing, and here's what you need to do it.
Floor sander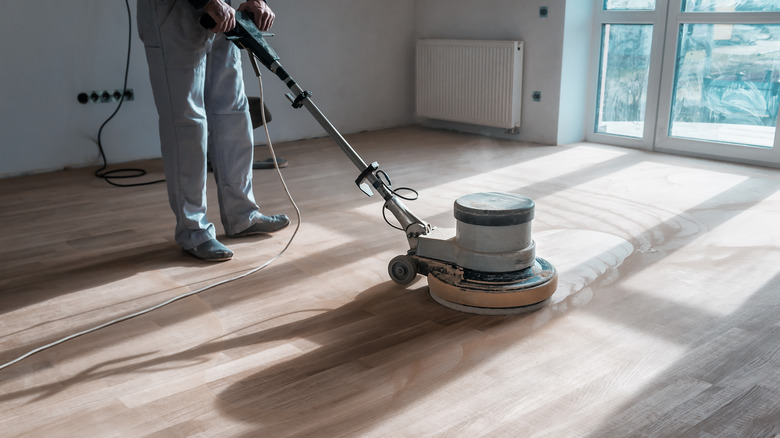 Vova Shevchuk/Shutterstock
Unless you're a professional, there's no reason to purchase a floor sander. Floor sanders cost upwards of $2,500, Angi says, which is an unnecessary cost when you can simply rent one. Home Depot offers a rental service for all types of tools, including outdoor and indoor, power tools, and even large moving and lifting equipment for bigger projects (from select markets). There are four types of sanders: drum, random orbital, vibrating, and orbital.
Most homeowners use an orbital sander to refinish their floors because it's lightweight and much less powerful than other sanders (i.e., a drum sander), so it's gentle enough to refinish your floor without damage. The downside is that because it isn't as powerful as its counterparts, some say the orbital sander takes too much time and effort to refinish the entire floor and would rather take a chance with the drum sander. The decision is up to you.
Sealer and finish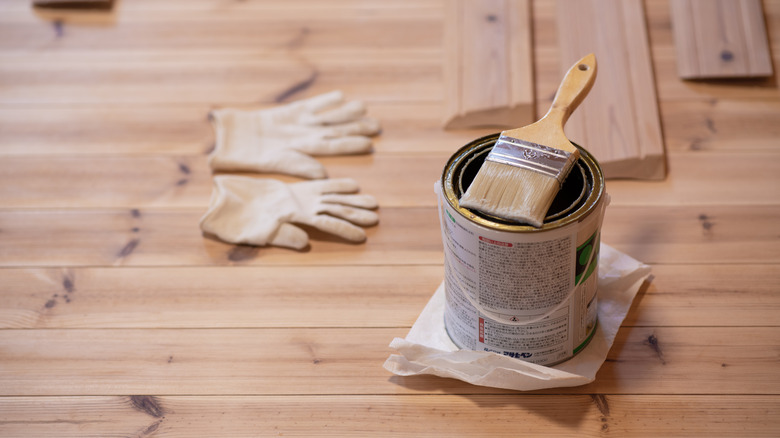 Nikox2/Shutterstock
Sealer and floor finish are the two most important materials you'll need when resurfacing your hardwood floors. Though sealant and finish may seem like the same thing, their purposes are very different. Sealers look similar to paint but are used to fill and seal pores in your floor to enhance its appearance. Finishes are meant to protect the floor by providing a protective surface layer, Bona explains. In the resurfacing process, finishes are applied before sealers (hence, its name).
The type of finish you choose is based on your personal preference and what suits your lifestyle best. The Hardwood Distributors Association says the three types of finishes are surface finishes, wax, and acrylic impregnated. Each requires unique maintenance, so it's important you pick a finish to which you can commit the allotted time and effort — you don't want to spend time and money on your floors only to have them ruined by improper care.