Should You Consider A Modular Sofa?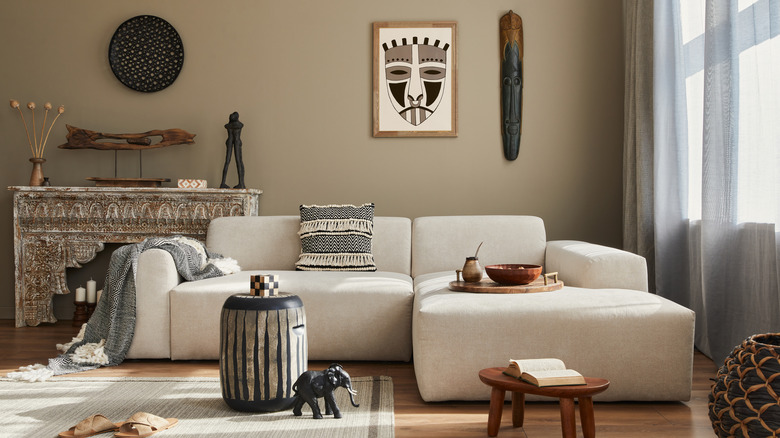 Followtheflow/Shutterstock
Modular furniture has come a long way since it gained popularity in the 1950s, according to Gregory Schmidt M.D. In the early days, modular pieces were limited to shelving that a home or business owner could assemble themselves straight out of the box. Although that type of storage is still available today, modular furniture has evolved into many different home furnishings. Some options include comfortable sofas that can be shipped straight to your home and easily assembled without the help of professionals.
Modular seating comes in many shapes and sizes. You can find large, fluffy sectionals and sleek, modern sofas in nearly any material. Opt for a velvet modular sectional or living room set for a luxurious space or a poly and cotton blend for a family and pet-friendly room. Regardless of your style, you can probably find modular furniture that fits perfectly in your home, but how do you know if a modular option is right for you?
Apartment dwellers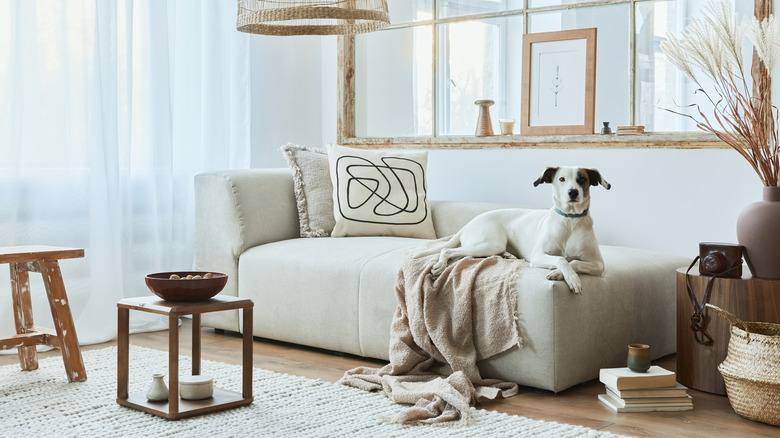 Followtheflow/Shutterstock
You may remember the iconic scene in "Friends" when Ross, Rachel, and Chandler tried to get a sofa up apartment stairs while Ross yells, "Pivot! Pivot!" It's safe to say that Ross would have benefitted from the purchase of a modular sofa instead. Because modular furniture sets come in separate pieces, they are both lighter and much more easy to manage. It's certainly easier to move a few boxes upstairs than having to worry about "pivoting" around a tight staircase or trying to fit a standard sofa in an elevator.
Another benefit of modular furniture for apartment dwellers is that there are options to fit almost any space, and many pieces come with extra storage, according to Matter Brothers Furniture. If you are looking for a comfy sofa with a chaise for lounging but also want extra storage and flexibility, select a small sofa with an ottoman that you can use as a chaise or coffee table. Some modular pieces come with slide-out sections that quickly transform your space-saving sofa into a full bed for ultimate lounging or overnight guests.
Frequent movers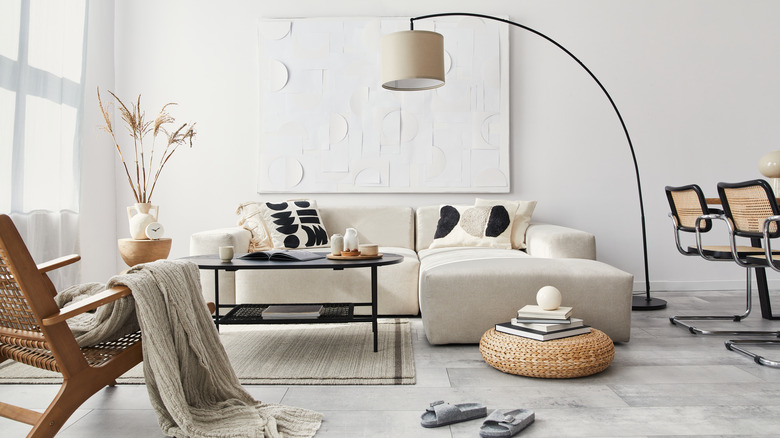 Followtheflow/Shutterstock
If your job transfers you between offices often, or you just like to try new places, you can benefit from modular furniture because it is so easy to move. Most pieces are as effortless to take apart as they are to assemble, so you have a few lightweight parts rather than one big heavy piece you might just want to leave at your old place. If you opt for modular seating, you can find something you love and take it with you when you move without the hassle of hiring movers for the heavy lifting.
Because it's so easy to move, Joybird states that selecting modular furniture actually saves you money and discourages waste. And since your favorite pieces can be packed up, you won't have to buy a replacement at your new destination, which means there's no old furniture to send to the landfill. Many manufacturers also use recycled materials, making this type of furniture even more eco-friendly.
Families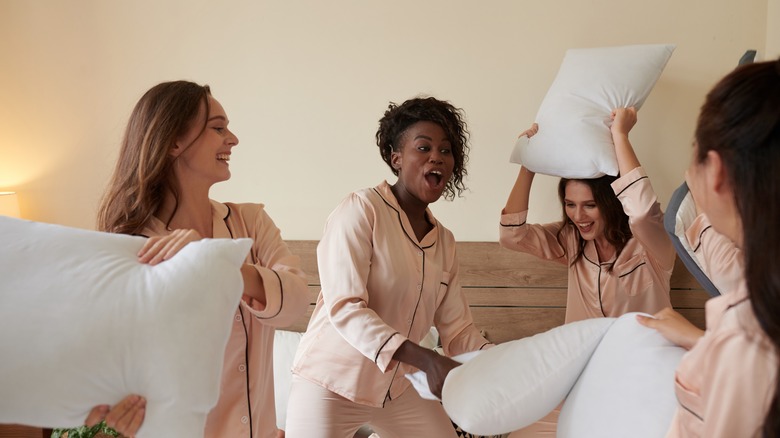 Dragon Images/Shutterstock
While modular sofas are great for small spaces, they also work well for large family areas. If you have a family room where you watch TV and play, a U-shaped sectional creates a cozy family space. A basement playroom is another perfect spot for a big modular sectional, according to Restore Decor & More. Not only can you select a sectional in the right shape, with extra storage made with durable material, but you can also get it down narrow basement stairs without the risk of anyone getting hurt.
If your kids are having a sleepover, a big sectional with ottomans can make one big bed for everyone to watch movies and enjoy snacks or play games. If it's a movie night you're planning, you can rearrange your U-shaped sectional into multiple rows of seating for theater-style viewing. The arrangement options are endless and modular pieces are so light and easy to move that you can have fun with unique designs to make family time perfect.
Constant redecorators
New Africa/Shutterstock
Are you constantly rearranging your space? If so, you might consider modular seating for your next purchase. Many styles are made specifically to be flexible. Perhaps you want a particular arrangement when spending time at home with the family, but another for entertaining. According to Medley, modular sofas allow you to rearrange as often as you like, whether it is for the occasional event or just because you want a change.
When you get that urge for a new style in your living room, you won't have to go through the hassle of buying all new furniture to fit your updated design; just take apart the pieces you want to move and place them in their new space. Since you are saving a lot of money on new furniture, you can splurge on a few new throw blankets, pillows, or even a rug to refresh your living room.
Budget shoppers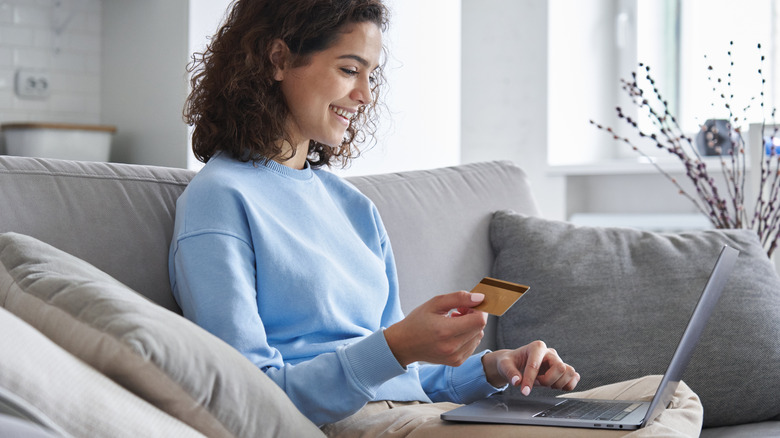 Ground Picture/Shutterstock
If you need new furniture but are on a tight budget, modular pieces may be exactly what you need. Shopping online allows you to avoid high-pressure sales tactics at furniture stores, and many online retailers now sell modular furniture at exceptionally affordable prices. One of the benefits of shopping online is that you can access reviews from other buyers, which Commercial Appeal suggests reading carefully before making your purchase.
If you are shopping for a modular budget set, also read the description meticulously because you want to make sure you get a piece of furniture that fits well in your space. The information section about a piece of furniture should always have dimensions. You can compare those measurements to your current sofa or move everything out of the room and use tape to mark the dimensions of the option you are considering. Does it look too big or too small? Taking this extra step will help ensure you are happy with your purchase.