Here's The Best Way To Clean Roman Shades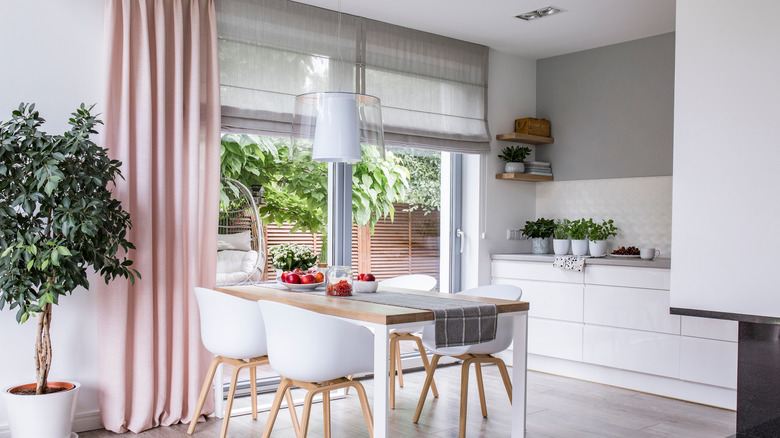 Photographee.eu/Shutterstock
Window treatments can really make or break the design of any room and have a variety of purposes. They can be used to add a neutral or complementary color, for privacy purposes, to add texture, and more. According to Vertical Connection, there are many benefits to having them, including the ability to control how much sunshine pours into a room to prevent UV rays from damaging your décor. They also come with many other advantages, such as energy efficiency, versatility in placement, and design options. Moreover, they're really easy to use, per Centurian Window Fashions.
However, in order for roman shades to maintain their beauty, you must keep them clean. If you don't routinely clean your window treatments, they can eventually start collecting allergens, per Lushes Curtains. So, it's important to have an idea of what tools and tactics are best to keep your space clean, healthy, and comfortable for you and your family.
Eliminate dust and stains easily
Before getting started, you'll first have to check if you have all the proper tools for the job. As noted by Blinds, you need a vacuum hose with a brush, warm water, mild dish soap, and a microfiber cloth. Then, in order to remove any dirt or dust you see on the surface, you'll use the brush attached to your vacuum to softly suck it away while also holding your roman shades steady. If you vacuum your shades without the brush, it can cause damage.
If you are dealing with any stains, you'll then pull out the warm water and dish soap. This time, grab your microfiber cloth and dip it into the mixture of warm water and dish soap. Next, softly dab it against the stain as you attempt to lift it out of the fabric. Once cleaned, you'll have to grab a dry microfiber cloth to dry the area and also to avoid the appearance of water rings.
Other tactics to use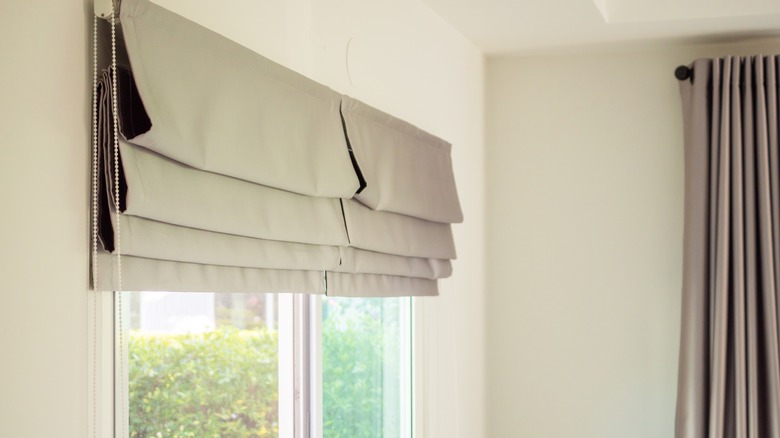 Kwangmoozaa/Shutterstock
There are different ways to clean roman shades depending on the style and stain you are trying to cleanse, according to BeHome BlindsGalore. However, if you are dealing with shades that are embroidered, quilted, or have fringes, you must proceed with caution to prevent any damage. Do this by grabbing a duster or microfiber cloth and spraying it with a dust repellant before gently cleaning around the shades' folds.
If you're dealing with a pesky stain and the cloth soap and warm water didn't work for you, it may be best to try club soda instead. This may be the proper way to prevent a stain from setting into the fabric more. If you want to clean your roman shades in the laundry machine for whatever reason, you'll have to unthread them first and remove them from the headrail. Next, take off all the dowels or metal rods. Then, you can either take your shades to a professional cleaner or put them into your own machine if the fabric can withstand water. It's best to run the appliance on delicate with cold water and to let the shades air dry.