The Best Sheet Colors If You Have A Yellow Duvet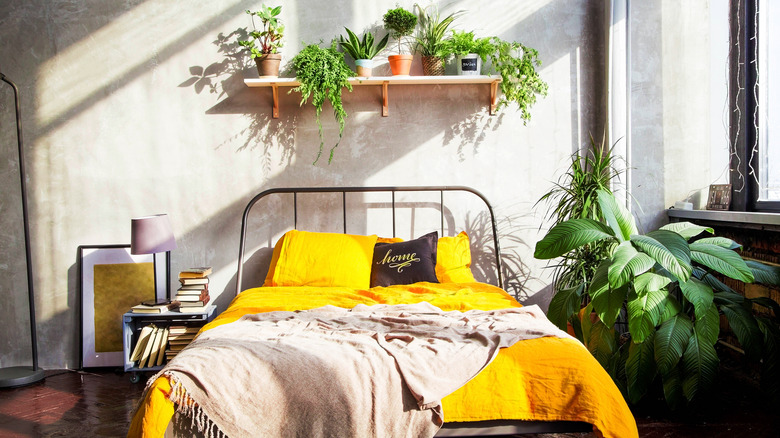 Yuliya Yesina/Shutterstock
To create a cheerful bedroom full of sunshine, you could choose a yellow duvet. However, while this will look stunning in your space, you may need help finding colors that pair well with yellow. After all, yellow can look very bold, per Very Well Mind. Even if your duvet is a lighter shade, yellow will still bring an energetic feel to your space.
However, because yellow is so bold, it can sometimes look aggressive. It's almost like this color commands attention. This is why toning down yellow with other less energetic shades is so important in interior design. In fact, in the bedroom, this is even more important. The bedroom should be a place of relaxation, not of energy. Therefore, colors that tone down yellow should be paired with this invigorating shade. If you're trying to choose what color sheets you should pair with your yellow duvet, below are a few of the best options.
The best option
The very best option for a more neutral and relaxing bedroom color palette is gray. Gray sheets with a yellow duvet will make a space look more sophisticated, per Livingetc. Gray is a cool-toned neutral that will serve to tone down the energy in yellow. Instead of invigorating a space, gray will make it feel more relaxing.
Color Psychology says that gray is sometimes perceived to be a dull or sad color. That's why pairing this shade with yellow will look great. While the yellow duvet will make the space feel warm and inviting, the gray will serve to tone down the energy and make the room more relaxing. This will balance your bedroom, creating a colorful but also serene space. If you have a darker-toned duvet, like mustard or golden shade, pair it with charcoal gray sheets, per Ideal Home. If your duvet is a lighter yellow, pair it with a lighter gray.
Other bolder choices
However, there are other options you could choose for a more colorful bedroom space. Yellow could be paired with either cool or warm-toned colors. This is because, while yellow is a warm color, it also borders green on the color wheel, which is a cool color. Livingetc says that pairing yellow with cool shades will create a more serene space, while warm colors will invigorate a space. Therefore, in the bedroom, cool tones may be the best to use because they will promote relaxation and sleep.
Fabrik says that mixing yellow and green will create nature vibes in your space. Blue and yellow will create a more tropical atmosphere. Gold and purple are often paired together for a luxurious-looking space. If you love warm colors, a light pink with a light yellow shade will create a delicate and fresh-looking space. Mixing yellow with orange or red will create a warm and inviting atmosphere.