Why HGTV's David Bromstad Recommends Using Beams In Your Design
C Flanigan/Getty Images
One look at David Bromstad's face tells you about his enthusiasm for his design work. His vivacious personality and genuine smile are contagious and have attracted fans and clients since he was first introduced to HGTV audiences as the winner of the debut season of "Design Star." Bromstad combines his fine art training, and his work in the Disney World art department with his interior design experiences to help viewers and contestants transform their homes. He continued to charm and inspire as host for both HGTV's "Color Splash" and "Beach Flip" and now brings it as host of HGTV's "My Lottery Dream Home." What makes him so down-to-earth is that he offers guidance, support, and a balance of design knowledge without forcing his style on the lottery winners, per TV Insider. 
Bromstad shares many of his favorite design elements on his shows. One idea that he recommends is ceiling beams, per HGTV, because they provide so many options, are an affordable choice, and can be used in a space that is often overlooked. 
Beams add character and architectural detail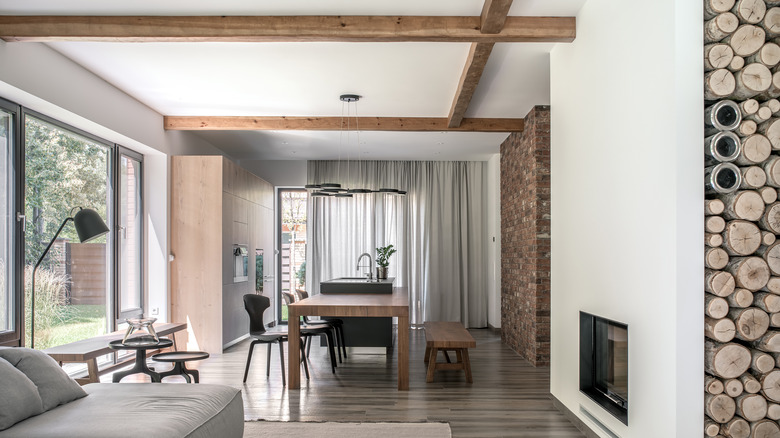 bezikus/Shutterstock
David Bromstad loves the different looks you can achieve on a ceiling depending on the way you lay out wood beams, writes Barron Designs. Both the texture and the placement of the beams can change to determine whether the look will be traditional and formal, more rustic, or contemporary. The height of the ceiling and the size of the room should also be considered when choosing the size of the beam. If you have soaring ceilings and large expanses of equally tall windows, your room may be able to handle heavy wood beams. Bromstad points out that beams can be used in any room, but a lighter color wood and a narrower width beam are better suited in a small room. 
Budget is another key factor in deciding whether to use real wood or faux wood beams, as faux wood is significantly less expensive. The most popular material for faux beams is high-density polyurethane foam, per AZ Faux, which also makes them lighter in weight. In addition to cost, real wood beams can put too much strain on the structure of your house, something a structural engineer or contractor will be able to determine. If you're looking for a way to add architectural detail to your rooms, just look up and consider how beams can add style.