Is The Least Expensive Area Rug At Arhaus Worth Buying?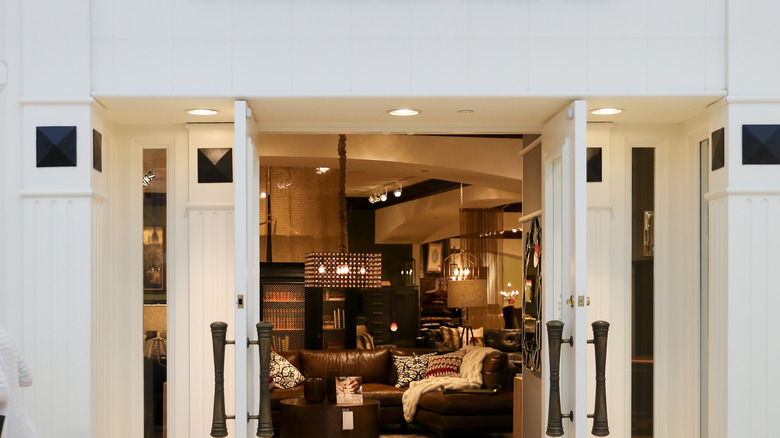 Helen89/Shutterstock
If you've ever purchased a brand new rug, you know how expensive this home decor staple can be. A six by nine-foot area rug will run you anywhere from $400 to $10,000 for a high-quality piece, says Circle Furniture. This begs the question, why are rugs so expensive? It seems confusing that a piece of home decor we walk around on with bare feet and dirty shoes would have such a hefty price tag. Essentially, it all boils down to the materials, and the amount of time and labor spent weaving that specific rug, Jaipur Rugs explains.
Wool and silk are two of the most common rug materials, which is why you'll find those at a lower cost than an area rug made of hemp or jute. As for production, companies place the more labor-intensive rugs at a higher price point. Additionally, the more unique the design, the more expensive the rug. The same goes for colors. Rugs dyed with natural colors will run up the price because they are less likely to fade than artificial dye.
Of course, you can always find rugs at a lower price point. Take Arhaus, for example. This company is known for slashing prices of high-quality furniture in half, including area rugs. Knowing you have the option to score some of the lowest-priced area rugs at Arhaus, you're probably tempted to immediately add them to your cart. The question is, are these rugs actually worth buying?
Alix Performance Rug
Ringing in at $500 is the Alix Performance Rug. This particular area rug is made of 100% PET polyester and is environmentally friendly, as it is designed with recycled plastic. Measuring at five feet by seven feet, the Alix area rug comes in a white and ivory/gray color palette, which is perfect for those searching for an area rug with cool earth tones. One major issue with the Alix Performance Rug is its high-maintenance level. Though it claims to be durable in all forms of weather, there are several precautions you must take If you plan on using your area rug outdoors.
If you're looking for an area rug to decorate your indoor space, you might consider the Alix Performance Rug. It's crafted to handle high-traffic areas, making it a great area rug for your kitchen, living room, or entryway. Additionally, its ultra-soft texture will feel amazing under your feet. That being said, we wouldn't recommend this area rug for outdoor spaces. Combined with direct exposure to the sun and the elements, the Alix area rug has a higher chance of being ruined.
Lacosta Navy Performance Rug
Second on our list of Arhaus' least expensive area rugs is the Lacosta Navy Performance Rug. Priced at $500, the Lacosta is crafted from 100% PET yarn. Polyethylene Terephthalate (otherwise known as PET) is a form of polyester fiber made from PET chips, which are taken from recycled plastic containers, according to The Carpet Guys. In other words, this area rug is environmentally-friendly, just like the Alix Performance Rug. Much like the Alix, the Lacosta can withstand high-traffic areas and also holds up against children and pets.
Because of its mold and mildew-resistant fibers, the Lacosta Navy Performance Rug would make a nice choice for your outdoor space; however, it requires quite a bit of upkeep to maintain. While its description says it is sustainable against all weather types, there is still a long list of dos and don'ts you must follow. That being said, is it worth $500 for a rug you'll have to care for like a child? We say no unless you have some time to spare.