Why You Should Use Daylight Bulbs In Your Kitchen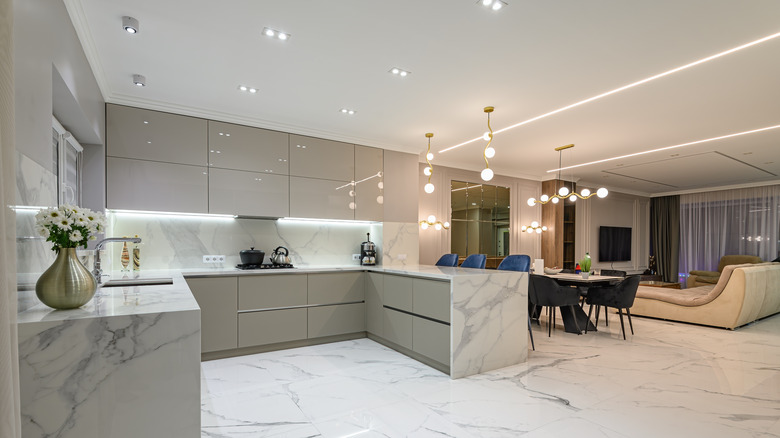 Serghei Starus/Shutterstock
You might think that furniture is the most important aspect when it comes to the feel of a home, which it can be in some cases, but lighting is what actually makes the biggest difference. Your lighting choices can have an effect on a room in a good way or a bad way. If your room doesn't get enough natural light, then adding extra fixtures comes in handy. 
One place you probably spend a good deal of time is your kitchen, so you want to make sure it has the best lighting for food preparation, cooking, entertaining guests, and cleaning up. Style Motivation claims that recessed lighting within the ceiling, or pendants hanging from the ceiling, will also make a room appear larger. But it's not just the placement of your light fixtures; it's the color and intensity of your bulbs. Bright lighting can make a small kitchen feel larger too, especially if you don't have any natural sunlight coming in from a window. Carefully consider which light bulb to buy when you're in the store because some can make your space look dimmer instead of brighter. This is where daylight bulbs come in.
Daylight bulbs imitate natural light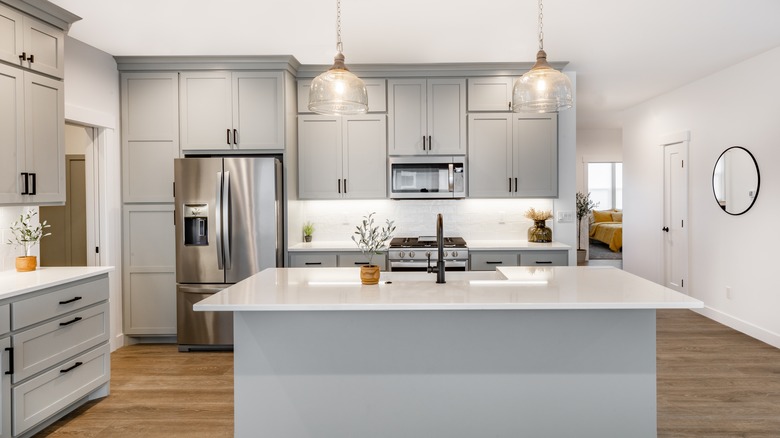 Sheila Say/Shutterstock
A daylight bulb is a bright bulb that brings a soothing energy, according to Difference Between. Unlike Soft LED lightbulbs that have a low color temperature of 2,700 to 3,000 K and a yellow hue to them, daylight bulbs provide a higher color temperature between 5,000 to 6,500 K and a bright white color that's perfect for kitchens. Since they imitate sunlight, it'll feel as though you have a large window in your kitchen filling the space with natural light. This will make it easier to maneuver around when you're cooking and chopping up food, rather than struggling to see what's around you.
Daylight bulbs also help boost your mood and concentration, per Style by Sutherlands, especially if you live in an area where you often have gloomy weather. Having daylight bulbs can help energize you to cook dinner after a long day at work. Even though you won't be outside, it'll feel like you are, which can make you feel more productive in the kitchen. Daylight bulbs come in a variety of shapes and sizes. Home Depot carries options for as little as $11 for a pack of four.