The Best Bedding Color If You Have A Blue Bedroom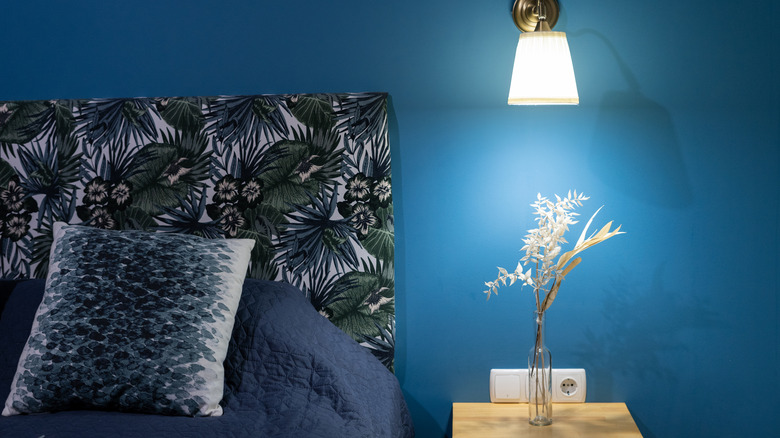 brizmaker/Shutterstock
Whenever you decide on a color scheme for your room, one of the biggest steps is painting your walls to match the chosen palette. While there are a variety of tones, shades, and hues to choose from, settling on the perfect theme will ensure your bedroom feels like a haven whenever you're in it. Picking out accents and decor to match is always a fun task, but purchasing bedding really pulls everything together. When it comes to deciding what color sheets and duvet to purchase, you have to think about what will compliment your walls and existing decor first.
If you've chosen blue for your bedroom palette, there are a variety of options to combine with this popular color. According to Fixr, navy is one of the most popular bedroom trends currently, but that doesn't mean the different variations of blue aren't also coveted. Picking the best bedsheets doesn't have to be an art form for this theme; you just have to know what emphasizes the existing furniture, paint, and any other items in the space. To take the guesswork out of this task, the following options are sure to match any shade of blue while still offering an engaging juxtaposition.
White & blue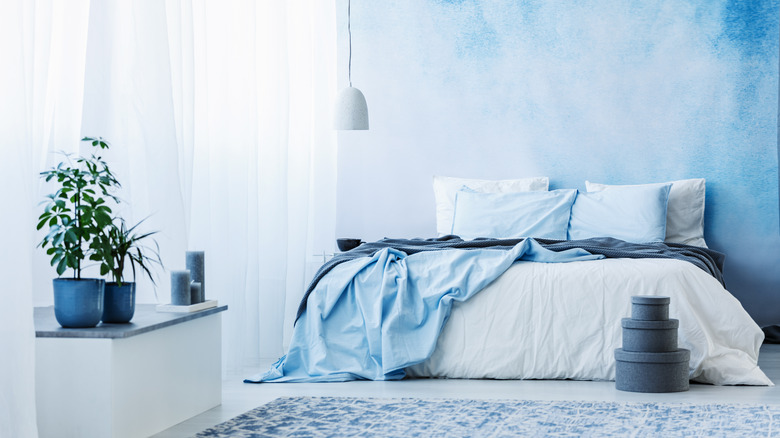 Photographee.eu/Shutterstock
While it might seem like standard knowledge, one of the best accents you can add to a blue palette is white. This combination shows up in a multitude of decor styles, interior designs, and themes throughout history. According to Thistlewood Farms, this mixture is a timeless one. Nautical, coastal, country, and shabby chic all have roots in this color scheme, using the crisp, complimentary colors to offset one another perfectly. If you're trying to decorate a blue bedroom, one of the easiest and best options is a white sheet set or variations that feature both. Stripes, patterns, and solids that overlap can work together to create a welcoming, sophisticated air perfect for any personality.
You don't have to commit to bright whites, either. Creams, beiges, and ivories all work well with dark and light blues, though some might offer better combinations than others. If you plan to go with this accent, it is easy to pull any of these shades throughout the room through artwork, small decor items, and furniture too.
Other combinations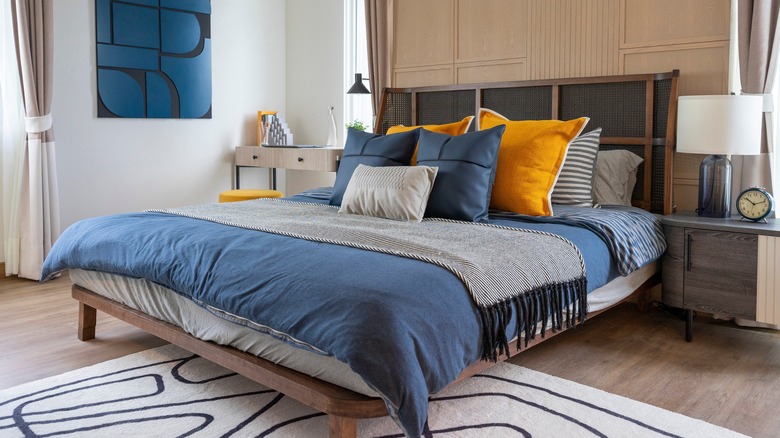 ben bryant/Shutterstock
Just because white works so well with blue doesn't mean other colors should be excluded or overlooked. While this combo gives you more freedom, there are a variety of other selections that will make your theme pop and could be the perfect contrast. Mustard yellow is a wonderful choice for bringing in a bright color that not only accents the existing blues but creates a completely new atmosphere. Room You Love points out that navy blue is an ideal shade to use in this duo because it softens the loud mustard tone without diminishing its splendor. You can easily pair these with wood furniture to blend natural materials with the eye-catching tones.
Grey, magenta, emerald, and olive greens all mix well with the different shades of blue and, depending on your bedroom palette, can easily be worked in to add a flair or complimentary design (per Thistlewood Farms). Before committing to sheets or a duvet set, purchase a smaller item in the color you are considering and bring it into the space, comparing and contrasting it to the existing palette. This will help you determine if your color choice is the right one or if it's the timeless classic of white and blue that wins the decision.