Get Inspired By Interior Entryways To Make Your Home Feel More Welcoming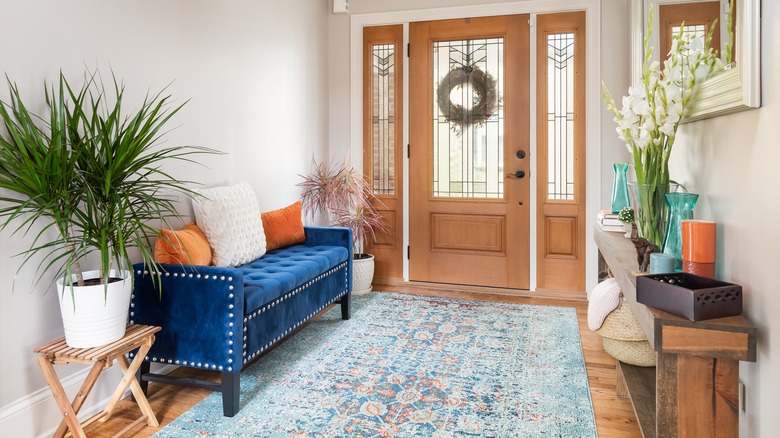 Hendrickson Photography/Shutterstock
A greeting space, a meeting space. Upon entry to your home, the foyer, or hearth, is the first place within the house to make an impression and welcome guests. Like a pathway, foyers were once used as a route for laborers transitioning from rural life to the city, especially in post-World War II France. These days, you might see more genuine areas decorated with plants, flowers, seating, mirrors, or art and pictures. While remaining functional, the foyer should also express your personal style. According to JD Institute of Fashion Technology, some of the top interior design styles are modern, contemporary, industrial, and traditional. From these, you might branch out to other specific types like coastal/nautical, farmhouse, rustic, mid-century, bohemian, or something else a bit more eclectic.
How can you establish a welcoming vibe at the entrance of your home? From grand staircases to smaller, quaint passageways, there are many ways to add a sense of welcome to your interior entryway or hall. Make a statement with a large mirror, sculpture, or distinguished chandelier, or provide a rustic console table or hall tree with hooks to rest bags, coats, and other accessories. You might also consider enhancing the atmosphere with natural light, fresh flowers, and plants in noteworthy places. Whatever your style may be, you can keep it simple or go big. Keep reading to discover new ways to make your entryway more inviting!
Bold color choices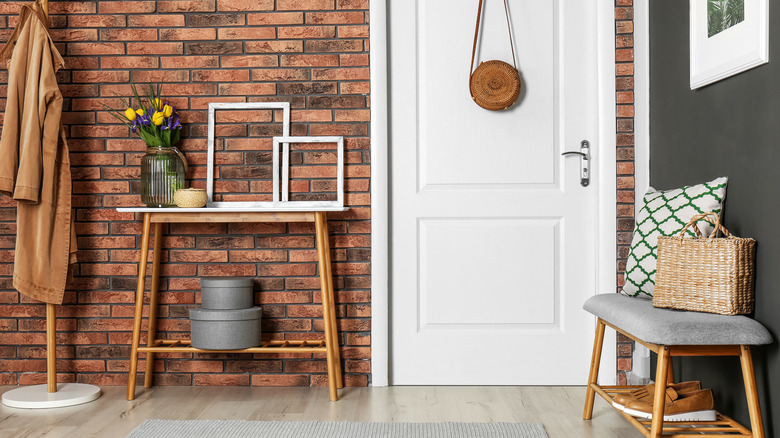 New Africa/Shutterstock
Eye-appealing, bright, or bold colors are an option to make your entryway more memorable, especially when applied to an accent wall, as seen above. Whether dark or light, the color added to the foyer walls will stand out significantly. This dark greenish gray balances nicely with the white door and trim, including the brown brick façade.
Stylish wallpaper
From pattern to floral designs, emphasize a wall or the entire foyer space with a decorative wallpaper design. This modern and neutral hallway appears welcoming and relaxed with a humble gray geometric pattern with accompanying couch and décor.
Personal touches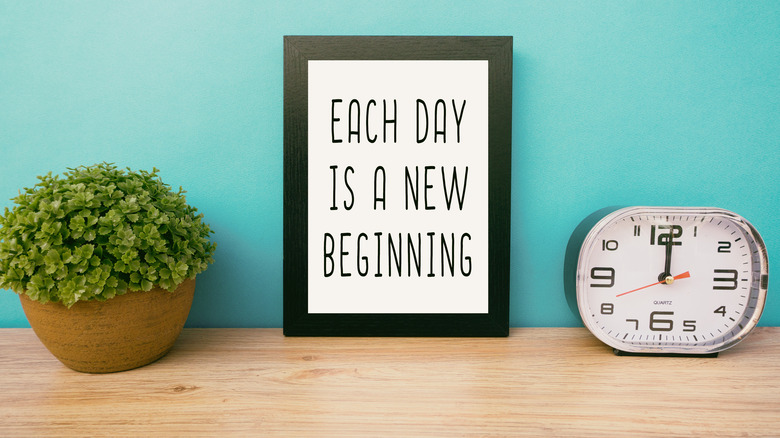 Nokuro/Shutterstock
Tell a story about who you and your family are through decorative items possibly from your travels, work, or school, including antiques and artwork. Frame your favorite quote and display it on the wall or table, as pictured above. Here the motivational words are styled with a plant and vintage-like portable clock.
Statement piece
Showcase your favorite piece in the entryway of your home. From art sculptures and statues to other figures of art, including columns and vases, put it on a pedestal. This image features a unique ball-shaped sculpture in a hall entry that coincides with the abstract painting located above it, which speak their presence simultaneously. 
Distinguished chandelier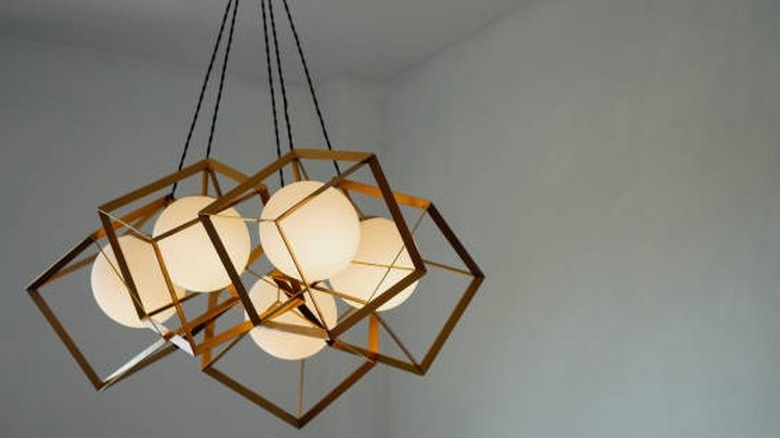 Whether it's sculptural or sparkling, a showstopping chandelier will captivate audiences that enter your abode. Seen here is a genuine artwork-type light fixture that features large round bulbs floating inside transparent cubes. Geometric in nature, the color and simplicity of the chandelier is warm and inviting, as it might complement a modern or rustic foyer.
Accentuate the staircase
If you have a spacious foyer with a medium to large staircase, let it shine. Simplify elements and décor in the surrounding area as the colors of the steps contrast the entire space. Here pictured are rich brown wooden top steps that stand out amidst the simple, neutral palette. You might also include a detailed railing.
Centered round table
A centered foyer table makes for a great conversation piece as well as the perfect spot to set down your essentials when you come through the door. For entrances with ample space to walk around, add a distinguished round table. You might enhance it with a flower vase or art sculpture as pictured.
Mirror, mirror
Mirrors are decorative and resourceful. Not only do they help us keep up with our appearances, but they also help capture and enhance the natural light within a space. Whether it's one significant mirror or multiple, you can utilize the foyer with this reflective artistry. The large mirror pictured above features multiple sections for a divided appearance. 
Alluring floor tile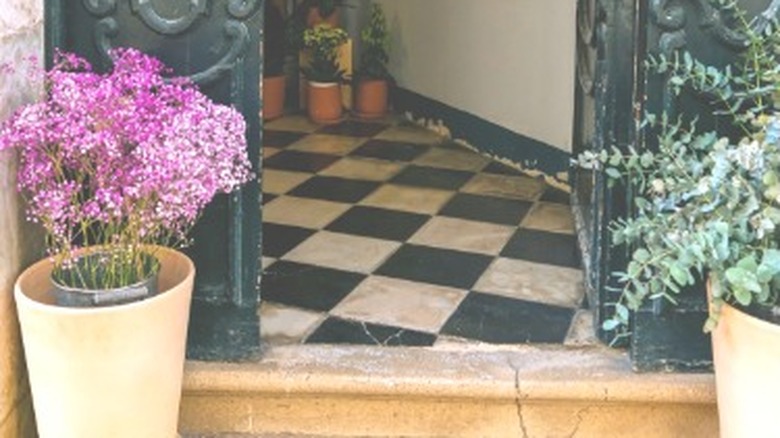 znatalias/Shutterstock
Captivate your guests with an attractive patterned floor. Whether tile, wood, laminate, vinyl, or other, distinguish a color and style. You might choose a decorative Moroccan tile or a timeless chevron or herringbone design. Beloved for centuries, a classic choice is the black and white checkered as seen here, as it can appear both antiquated and modern. 
A durable rug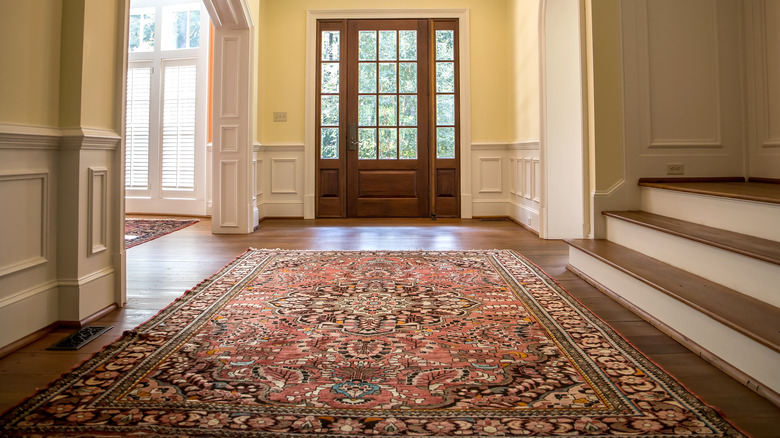 Ursula Page/Shutterstock
With lots of foot traffic, you might showcase a large hard-wearing area rug within a spacious entryway. Here pictured, is a traditional foyer with minimal décor that makes the floor and decorative rug stand out significantly.
A welcoming fireplace
Often utilized in European-style homes, a fireplace is a warm and welcoming feature to have in your foyer as all come in from the cold. Here pictured is a modern lodge-style entryway amidst a wintery scene with fireplace aglow and chopped wood stacked at the ready.
Make it cozy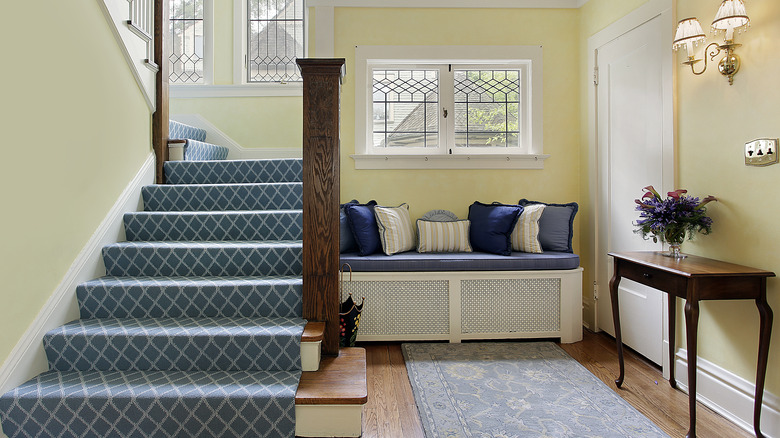 pics721/Shutterstock
Bring others together with ample seating. Depending on how roomy your foyer space may be and potentially how big your family is, you may want to incorporate extra cushioned chairs, including an upholstered bench or couch. This entryway features a built-in style window couch/bench loaded with numerous comfy pillows to wait and rest awhile. 
Chest or dresser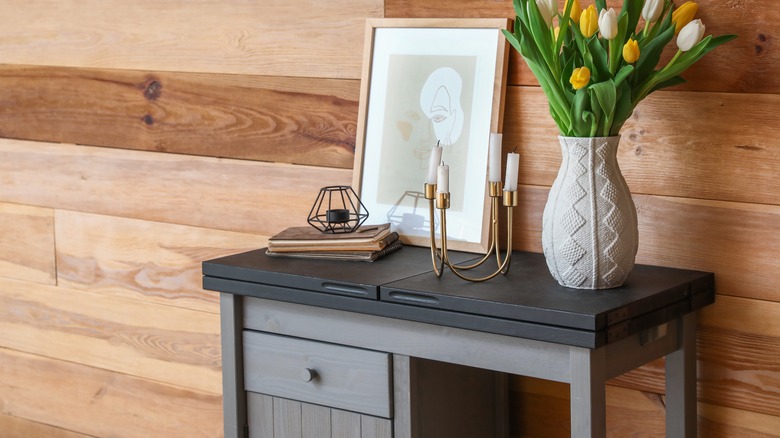 Pixel-Shot/Shutterstock
Dressers aren't for clothes anymore. A distinctive dresser or chest is a nice addition to your hall or foyer, as it provides a place to rest personal things, display décor, or store occasional necessities within the drawers. Here pictured is a vintage-style dresser table with various storage while decorated with tulips and accents.
Layer in light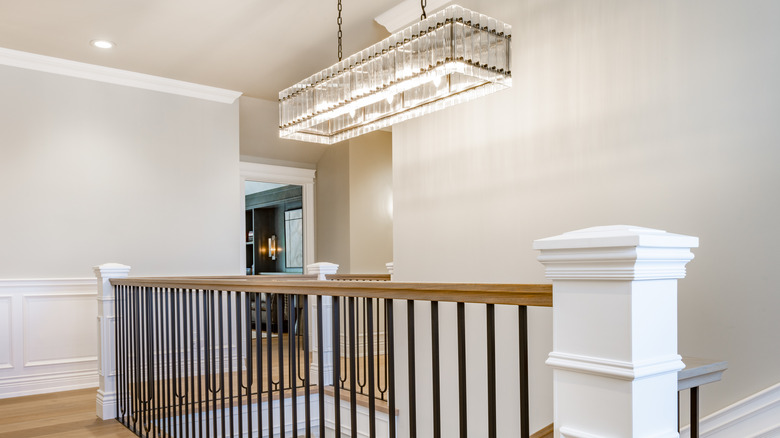 Sheila Say/Shutterstock
Accentuate the light. Take advantage of nearby windows at the entrance of your home while implementing additional lighting to create a bright, welcoming glow. Lift the shades, open the blinds, then add lamps or lanterns. This grand staircase pictured above features recessed lighting with an illuminating chandelier to lead the way.
Art gallery wall
Give your guests and family something to contemplate as they enter and exit by displaying several of your favorite art pieces along the wall. Cover the staircase wall or opposite partition with multiple framed pictures or artwork that ultimately represents your style and home. This collection of images works together with common colors and a nature scheme.
Balance the elements
From functional everyday pieces to decorative displays, fill the space of your entryway with layers. You might include tables, a coat rack, hooks, a mirror, a dresser, rug, chairs/furniture, an umbrella stand, or whatever else is needed to complete the scene. This simple, boho-inspired entrance balances necessary items for the small space, including some plant life greenery.
Set the tone
Establish your home's style upon entry. Is it boho, contemporary, beachy/coastal, rustic, or traditional? Set the mood with the right blend of colors and textures within accents and furnishings. This entrance showcases a modern, minimalist approach. While keeping clean lines and neutral colors, a mirror and table are essential with some artwork displayed down the hall.
Hall tree with bench
If you have a large space or a smaller one that lacks extra closet space, consider a hall tree that features a bench. Fit for a modern farmhouse mudroom, come in from the brisk outdoors to remove boots, jackets, and other accessories, while offering a comfortable space for guests to hang their items like this inviting blue model. 
A transitional space
Display a clear transition from the foyer to the adjoining areas by designating a specific design or floor tile to divide it from the rest of the house. This modern home features a muted gray tile amidst the entryway and staircase with a contrasting tan chevron style design for the living room and beyond.
Local motif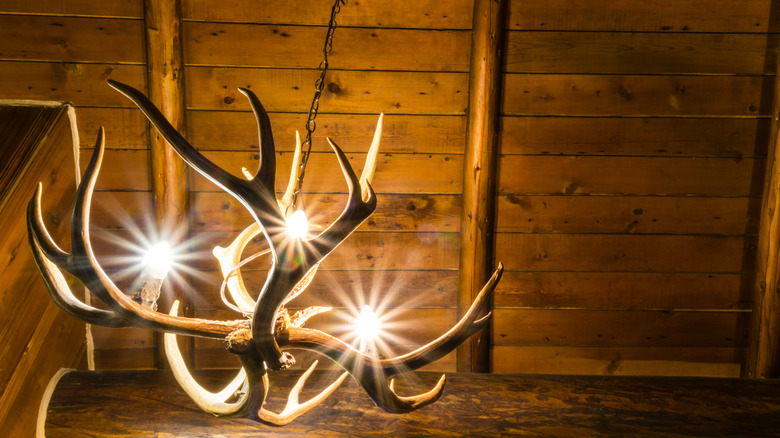 Alexander Chlum/Shutterstock
Do you live in the woods, at the beach, in the city, or out west? Showcase the climate and/or geographic location of your home through various artwork and décor, including the interior structure or furniture. Pictured here is a deer antler chandelier that can suit a rustic cabin home or might fit with an eclectic design.
Architectural highlights
An archway is like a portal to another world. Whether elegant or provincial, an arched wall adds intrigue for guests to journey through the succeeding areas of the house. Pictured above is a classic portico within a grand foyer that features a highlighted picture and an additional arch with a plant. 
Keep it current
Update and change out colors and themes for the seasons and holidays. For Christmas, implement small or large evergreen trees and change out holiday pillows as seen pictured above. However small or extravagant, you might also wrap and hang garland and stockings around a staircase railing, including decorating with ribbons, wreaths, presents, or firewood.
Direct the flow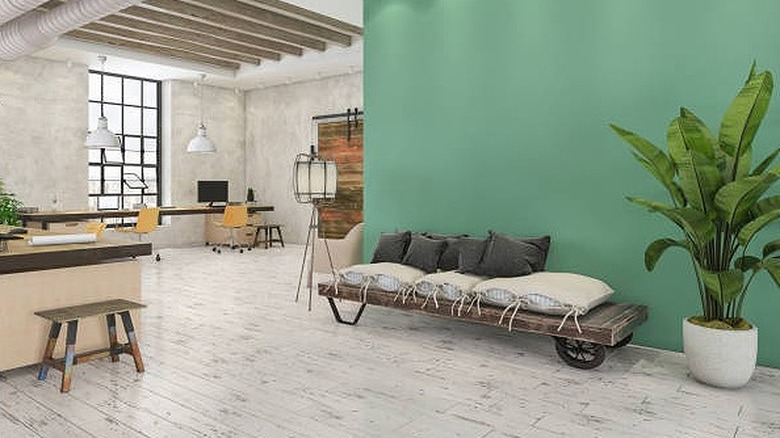 If you have an open concept space with zero limitations, you might build a wall or partition to distinguish the foyer from the surrounding areas. Dividing other areas from the foyer will keep the flow of your home more inviting and exclusive. The teal wall seen here adds disguise and intrigue to what's around the corner.
Clear a path
Straight lines symbolize a clear and direct path like the long red runner pictured above. Laying out a runner within a narrow foyer will motivate visitors to keep stepping forward. Consider the texture of the rug and that it's comfortable yet easy to walk on if it's going to receive a lot of foot traffic.
Inviting essence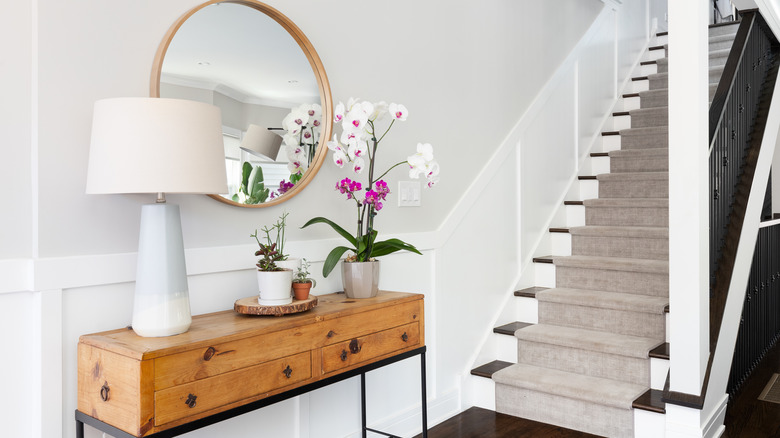 Hendrickson Photography/Shutterstock
Scents are powerful. They may make us feel happy, relaxed, or recall certain memories. Candles and flowers are great ways to enhance the essence of your entryway while including their aesthetics. Some popular scents might be cinnamon, vanilla, citrus, or pine. When it comes to flowers and plants, choose gardenias, jasmine, lavender, or orchids, as seen above.