The Best Way To Paint Your Popcorn Ceiling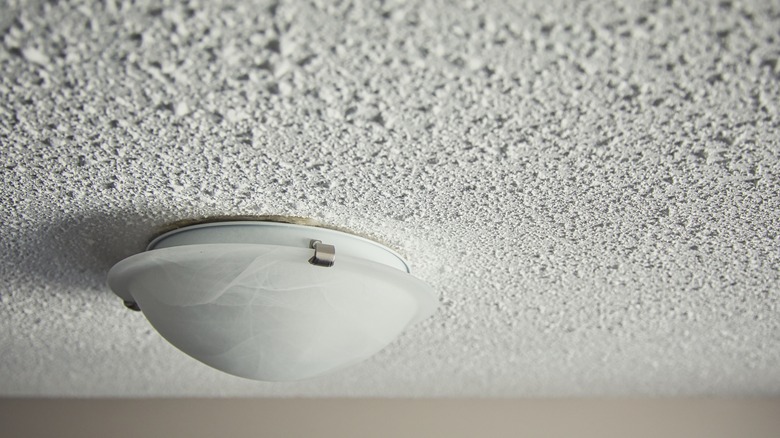 MC Media/Shutterstock
Sometimes called acoustic ceilings, popcorn ceilings typically have highly textured finishes to create a popcorn or cottage cheese-like effect. Some may hate it and wish it was smooth, while others love the dimension it offers.
Why are popcorn ceilings even a thing? Reno Viso states that one key reason drywall contractors use this type of ceiling finish is that it's an easy way to hide imperfections. Unlike a smooth surface that shows every detail, the popcorn finish adds texture that helps to hide those uneven drywall spots, helping to reduce labor costs and therefore save the builder time and money.
Whether you love it or hate it, just like every other wall in your home, it will eventually become off-colored or dirty. That's when you'll want to paint it. The question is, though, how do you paint a ceiling that's not flat and ensure it looks fantastic? There are a few things you need to know.
The right paint type and color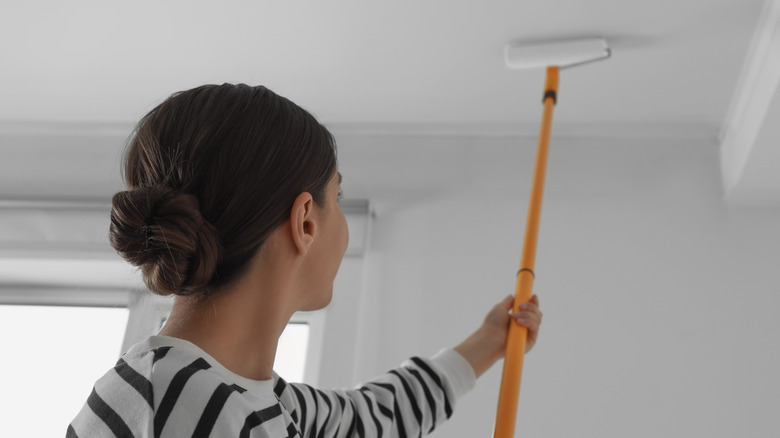 New Africa/Shutterstock
The type of paint used matters. Choose flat or a matte finish latex for the easiest application and the best overall results. If you buy an acrylic or latex product that is very thick, it's essential to water it down by as much as 20%, according to HomeAdvisor. Otherwise, it could weigh too much and pull the stipple of the popcorn off.
For the primer, use an oil-based product to prevent water from saturating the acoustic material, which would ruin the finish and cause it to pull away from the ceiling itself. The oil will minimize moisture getting into the finish, protecting it and allowing you to then use a water-based color over the top.
As for paint color, you may wish to go with a bright color or add something different to this space, or you may want to stick with the off-white that's likely already there. Darker colors tend to enhance a space, making it feel more comfortable and intimate, while lighter colors will help the ceilings feel higher and make the space feel larger.
How to apply the paint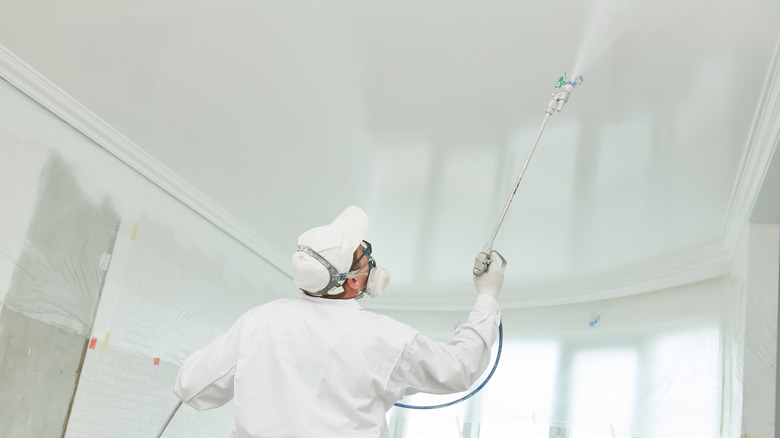 Dmitry Kalinovsky/Shutterstock
To paint the popcorn ceiling in your home, be sure to use a thick, high-quality roller, as this will allow for more of the paint to absorb into the roller. Then, when you apply it, it creates a better overall application and a higher level of coverage, explains Brush Brothers Painting. It can be a messy process, thanks to the uneven surface, but it works well.
Another option is to spray on the paint. This tends to be the most effective method because it creates a uniform finish. You'll need at least two coats, with the first coat going on in one direction and the second in the opposite direction. The biggest limitation here is that you'll need high-quality sprayers that can apply the paint evenly and get into all of the small bumps properly. It can be a challenging process, which is why it may be a task best left to the professionals.