Are Matching Furniture Sets Going Out Of Style?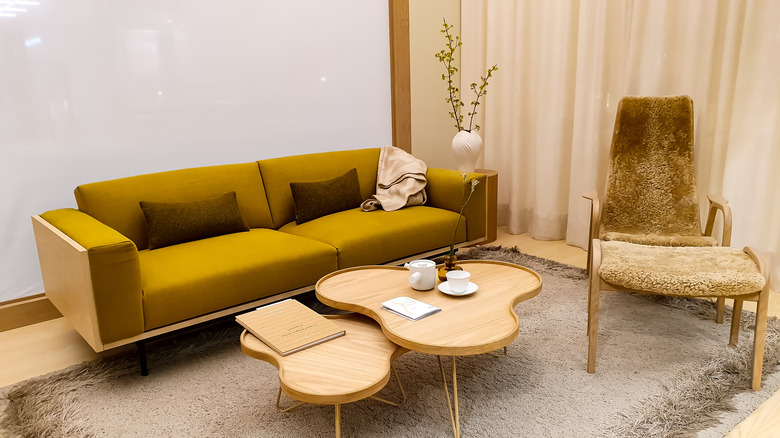 Nicholas Ahonen/Shutterstock
In the design world of home decor and trends, matching furniture sets have been a popular go-to trend for centuries because they're easily accessible and cost-friendly, and it saves you time on searching for furniture that can be paired together. Not to mention, it overall makes a space look good. Matching furniture sets come in many different shapes and sizes from bed frames, dressers, nightstands, couches, chairs, and more, but as time evolves, so do trends, and matching furniture sets are not getting the attention they once did. In fact, according to Hunker, founders and designers of Interior Design by S&S Sharon Falcher and Sherica Maynard found that the matching furniture sets are being replaced by mix and match sets. The fall of matching furniture sets may be here because these days, people are effortlessly mixing and matching their furniture pieces to create an environment that looks more modern, edgy, and feels good to them all the same.
Out with the old, in with the new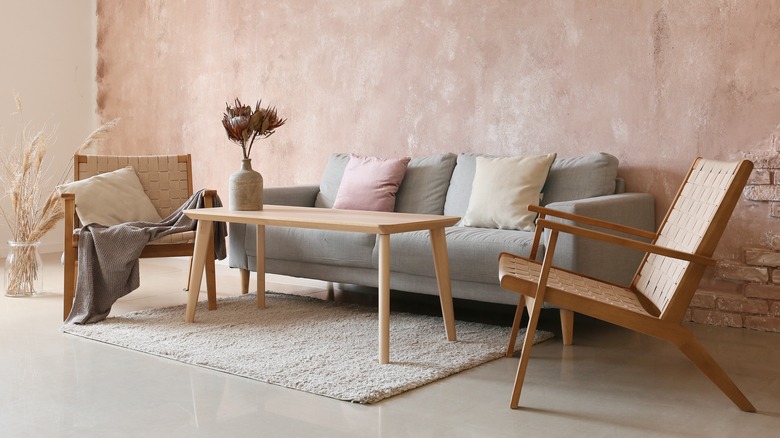 Pixel-Shot/Shutterstock
Everything is evolution. It's normal to outgrow things, even your home decor. If you're not outgrowing your furniture set from time to time, are you even growing? Trends of all kinds come and go in the interior design world. Matching furniture sets are safe, unified, and cost-effective. It takes little effort and strategy to pair it with decor because the pieces are already the same. Over time, the lack of differentiation, textures, and tones can make a space feel boring and charmless, according to City Chic Decor.
Shying away from outdated furniture trends is the best way to keep your home looking and feeling current and modern. On top of mixing and matching furniture, personal soft touches that reflect your personality and home vibe are prominent features to make your furniture stand out and look the part. To keep things current, The Decorologist recommends going for neutral tones and hues like cream bedside tables and a light desk to match your bedroom furniture.
Switching it up is always good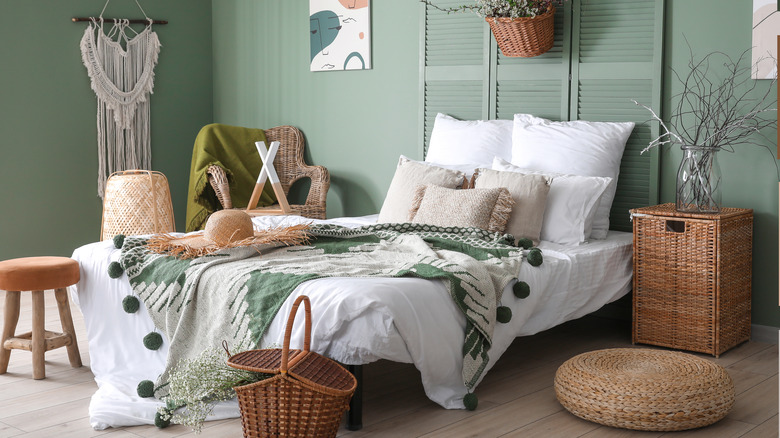 Pixel-Shot/Shutterstock
Having some matching furniture in your home isn't bad at all, but matching every piece of furniture isn't necessary or ideal. The time may come when your outdated unison matching furniture set just doesn't do it for you anymore. Your soul is craving something more modern and contemporary. If you find yourself feeling like this, then this is a good indication that it's time to spruce up your place with some new inspiration and a vibe. Mixing and matching furniture can be cost-friendly and effective. You don't have to break the bank in the process of a furniture makeover. The key is to choose individual furniture pieces that can stand alone and still bring something to the space, according to Hunker, like curved furniture, for example. Curved furniture comes in a variety of textures, shapes, and sizes. It's retro, distinctly unique, and it makes for an elegant yet contemporary transformation.