20 Savvy Tips For Storing Your Books Without Using A Bookshelf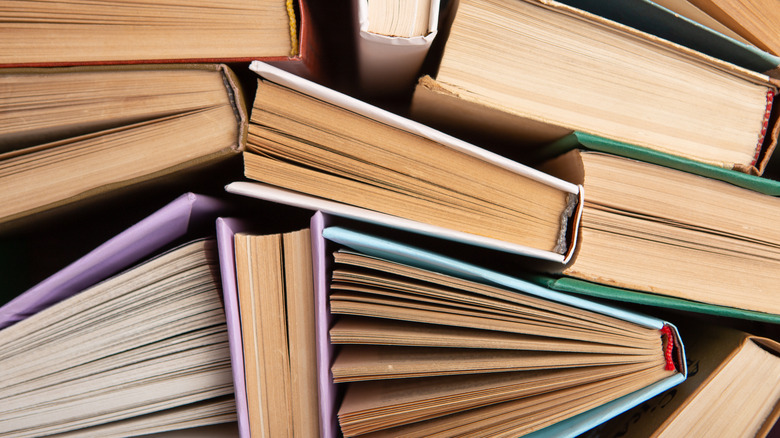 For those of us who love our book collection, finding attractive, useful, and novel ways to store and display them is a priority in our spaces. While traditional bookshelves and bookcases are always book-friendly options, they're often not the most space-friendly or economical ones. Sturdy bookshelves are sometimes expensive and bulky, taking up a lot of room and emptying our wallets. Readers with larger or small collections alike may be looking for ways to use storage and furniture already in the home as a place to display favorite volumes.
While many readers find solace in space-free storage via Kindles and other e-reading devices, many reading addicts love the solidity and sculptural quality of bound volumes. According to For Reading Addicts, book lovers might be looking for unique and creative ways to display their favorite reads in full view as a part of their decor scheme. Unique ways of showing off your collections make the books themselves works of art and an important part of any decor scheme. 
1. Desk or tabletop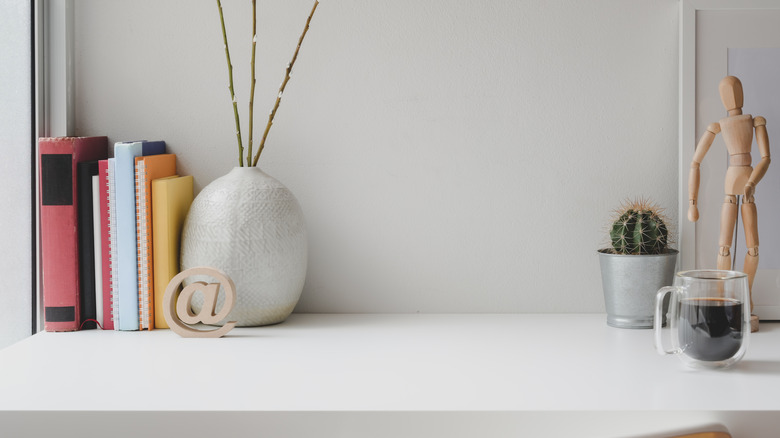 BongkarnGraphic/Shutterstock
For writers and students, in particular, a small stash of books within easy grasp is excellent for desktops and other work areas. You can either stack them neatly or use bookends or other objects like vases and planters as makeshift ends. 
2. Nightstand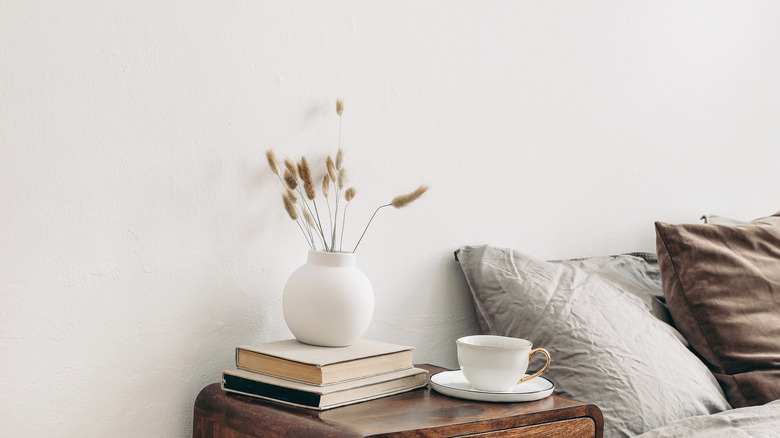 TabitaZn/Shutterstock
Reading material close to the bed is always a requirement for book lovers. On the bed, next to the bed, and yes, even under the bed. Whether it's a single read-in-progress or a huge stack of TBRs (To-Be-Reads), a nightstand makes a stylish place to store and display books. 
3. Record cabinet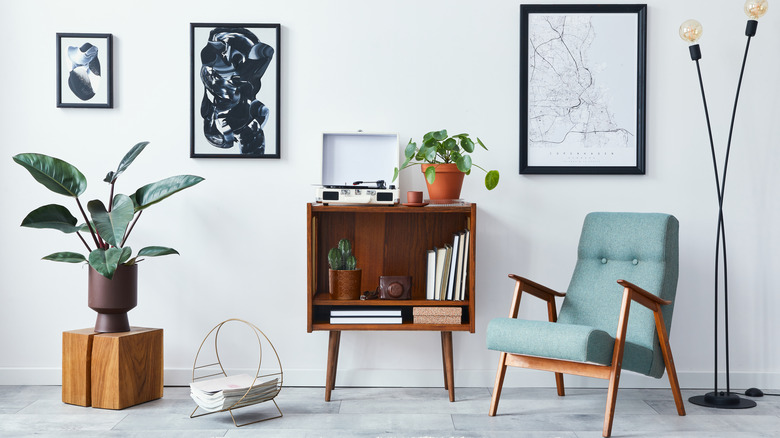 Followtheflow/Shutterstock
With the rise in vintage nostalgia for old record players and LPs, cabinetry housing records and record players are also usable for housing books. Cabinets are often perfectly sized and deep enough to accommodate even the heftiest art volumes. 
4. Under a bench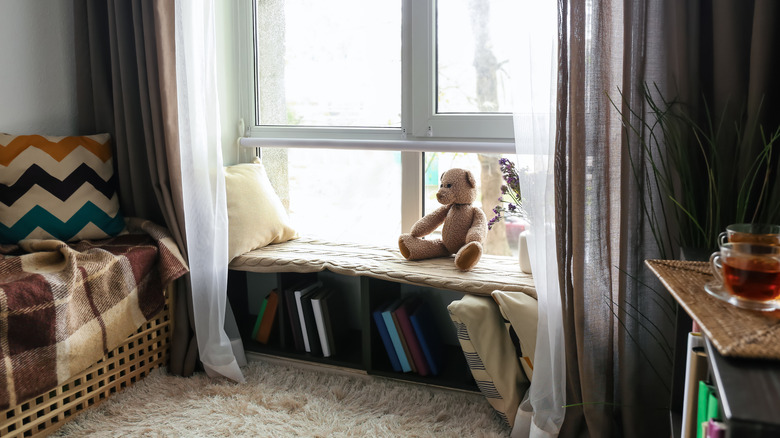 Pixel-Shot/Shutterstock
Don't overlook the space around windows for book storage. A window ledge is a great spot for lining up or stacking books (though be careful of water and sun damage to your collection!). A small stash under a window seat is a cozy place to store books for children, low to the floor and within easy grasp.
5. Fireplace or mantle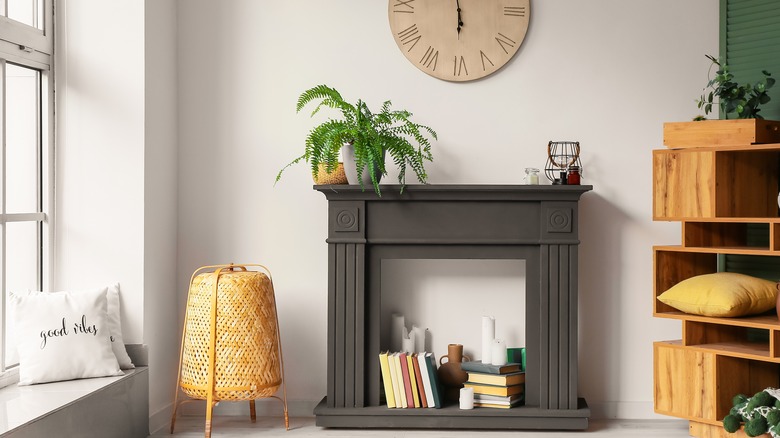 Pixel-Shot/Shutterstock
While many architecturally wondrous vintage apartments feature old fireplaces, they often don't work. They do, however, make a beautiful place to store books. You can use the mantle as a shelf or place volumes in the fireplace alcove itself. Even new spaces can accommodate a faux fireplace filled with beautiful books as a focal point. 
6. Kitchen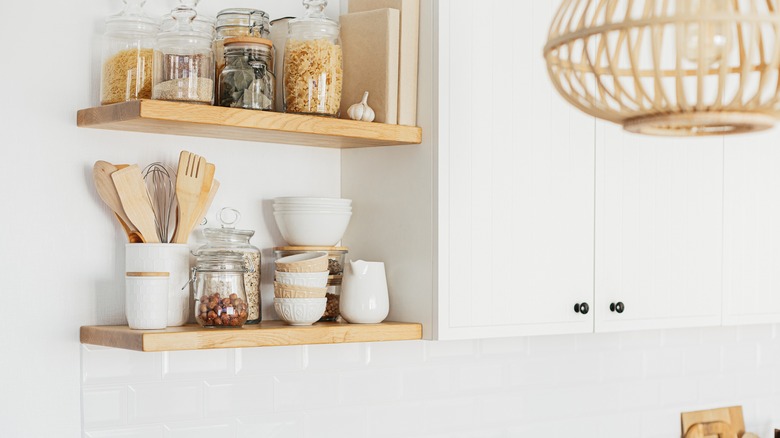 Switlana Sonyashna/Shutterstock
While the kitchen might not be the first place you think of for storing books, it makes a practical solution for housing cookbooks or gardening books within easy reach. A set of open shelves or extra space in a doored cabinet is perfect for displaying your favorite recipe books and herbal guides.
7. Up high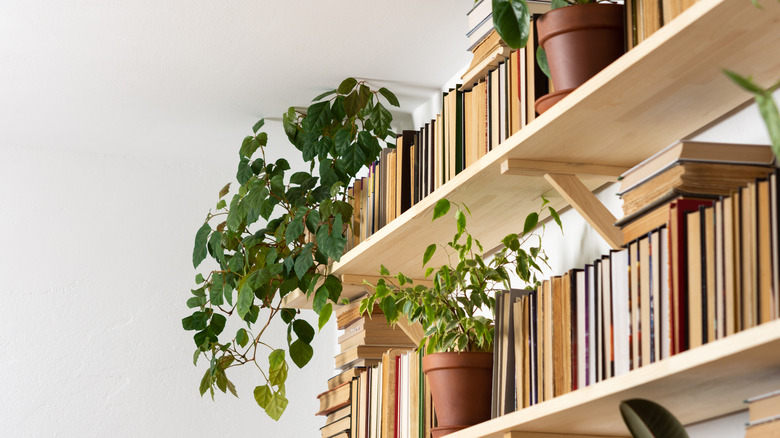 pundapanda/Shutterstock
Looking around your space, you might think you don't possibly have space to display your book collection in its full glory. Look up, however, and you will see a whole lot of unused space that may be the most ideal place for shelving specifically for your books, including areas around doors and windows.  
8. Coffee or coffee tables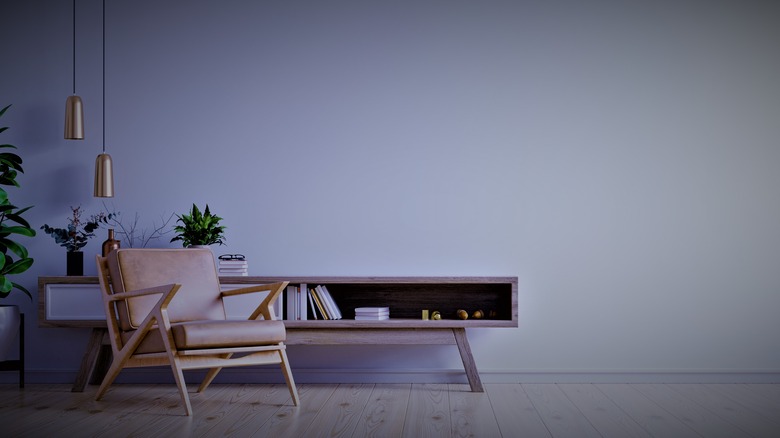 fazilran1234/Shutterstock
Since they are often at the center of rooms, coffee and console tables are a perfect spot to store your books and make them easily accessible. Try a stack of visually attractive volumes in front of your sofa for guests to peruse or place them on a console table shelf or top. 
9. Cabinets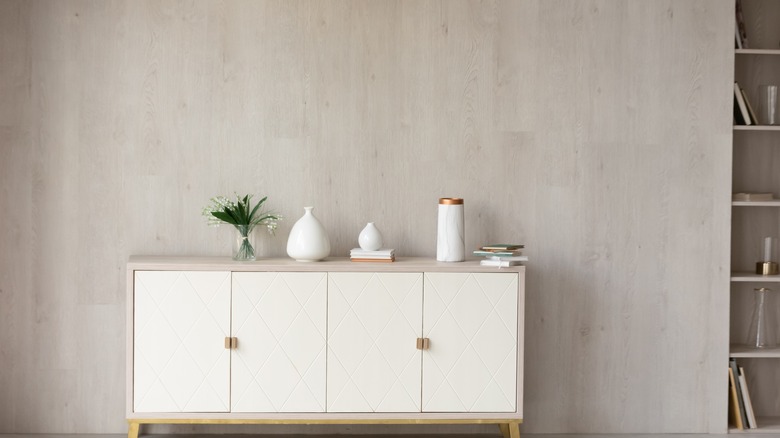 fizkes/Shutterstock
If you're looking for a great way to house your collection discreetly, cabinets, buffets, credenzas, and armoires make great closed storage for books. Doors make it easy to find titles when open but out of sight when not needed. 
10. Pallet shelf
united photo studio/Shutterstock
Slender shelving made from wood pallets is a perfect solution for housing and displaying books. Painted or unfinished, the wood adds a rugged, industrial element to interiors. Consider placing books with the front cover facing outward mixed with other pieces like art and plants. 
11. Wooden crates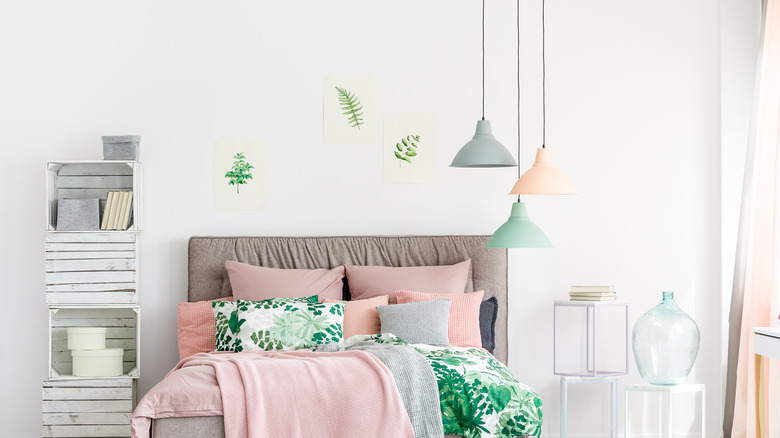 Photographee.eu/Shutterstock
Wooden crates are an excellent way to store books and can be stacked or arranged for maximum storage capabilities. Crates can be screwed together to provide stability, stacked loosely, or even fastened securely to walls to hold books and objects. 
12. Alcoves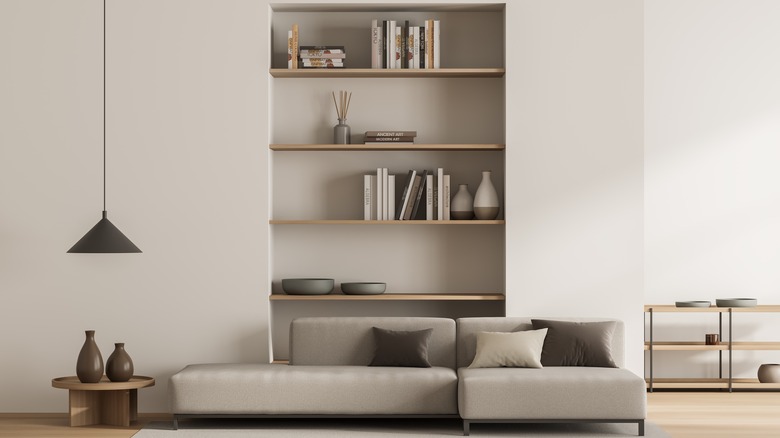 ImageFlow/Shutterstock
Alcoves, unused closets, and other recesses provide an excellent space to install some shelves to create the feel of built-in bookcases. Consider adding plank shelving under your stairs or between structural columns to take advantage of extra space.
13. Floating shelves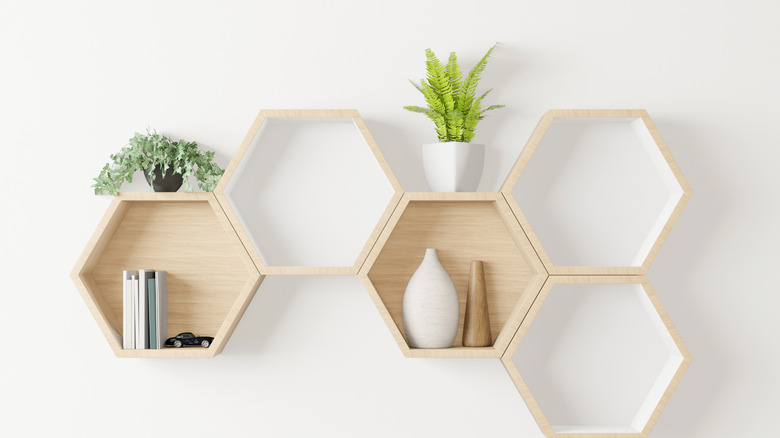 NukTD/Shutterstock
When attached firmly to the studs of a wall, floating shelves make a unique solution for displaying books. A similar effect can be gained by attaching narrow crates or wine boxes to the wall, allowing a small shelf for both books and other favorite objects. 
14. Ladders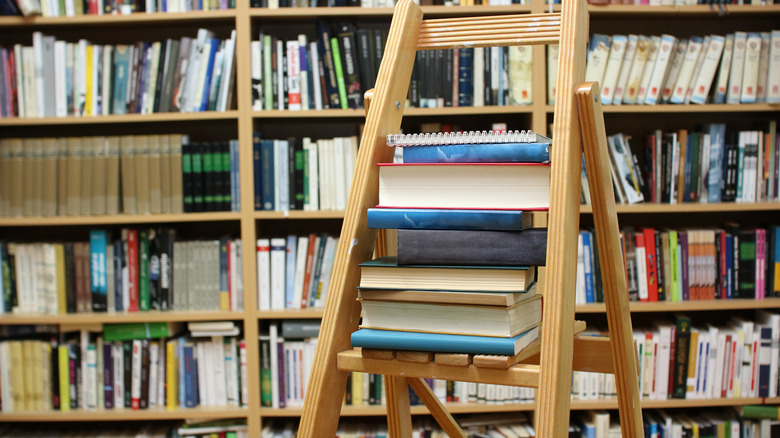 Jure Divich/Shutterstock
While every book lover dreams of miles of bookshelves and a ladder on wheels to reach the highest shelf, you might only need the ladder. Consider using a wooden or vintage ladder as the shelving itself. Place large books between the slats and stack smaller volumes on top or use two ladders connected with wood planks as shelves.  
15. Bracketed shelves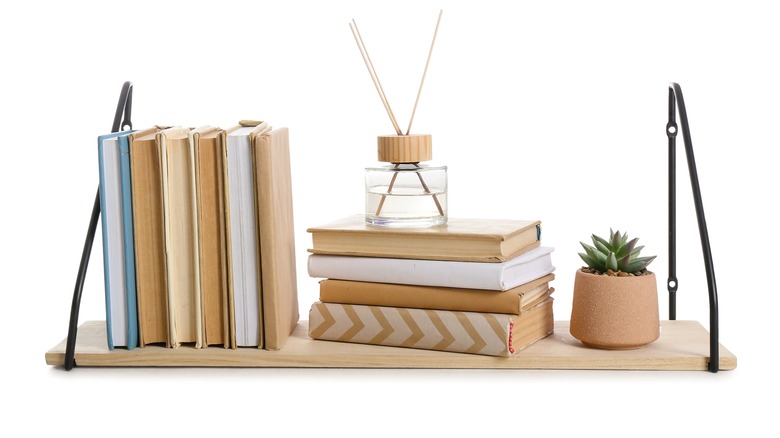 Pixel-Shot/Shutterstock
Bracketed shelves, available from most retailers and easy to install, can be ideal for housing books and other decor items if attached firmly to the studs in the wall. You can add more than one to provide even more shelf space where needed. 
16. Chair and picture rails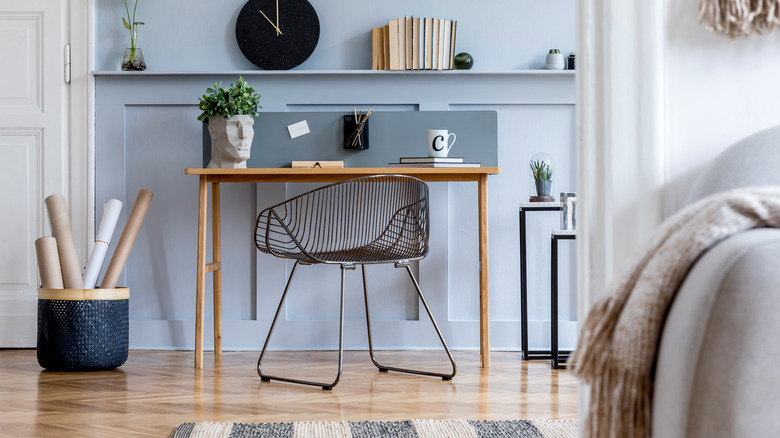 Followtheflow/Shutterstock
While narrow, chair rails and picture rails offer a great option for displaying smaller books and outward-facing volumes. Even if you do not currently have this great architectural element in your home, you can purchase narrow picture shelving from a number of retailers with a raised lip to keep books from falling off.
17. Baskets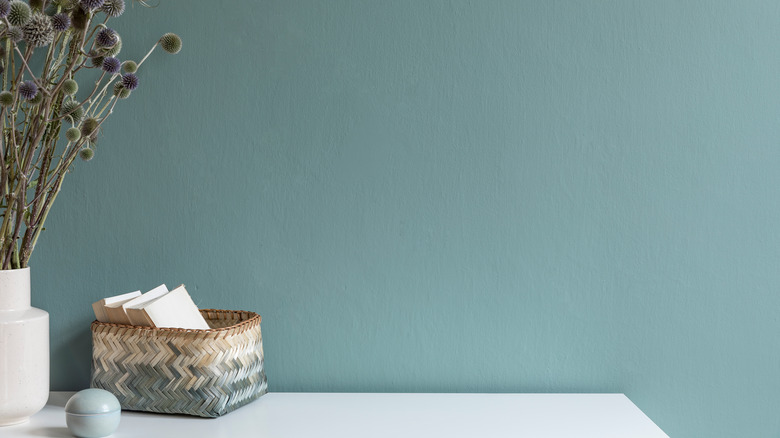 Followtheflow/Shutterstock
Baskets instantly make any storage situation attractive and tidy. Books are no different. Baskets work well to keep books contained but easily accessible. They also work well for storing children's picture books in a low-mess, easy-to-grab way.
18. Organizers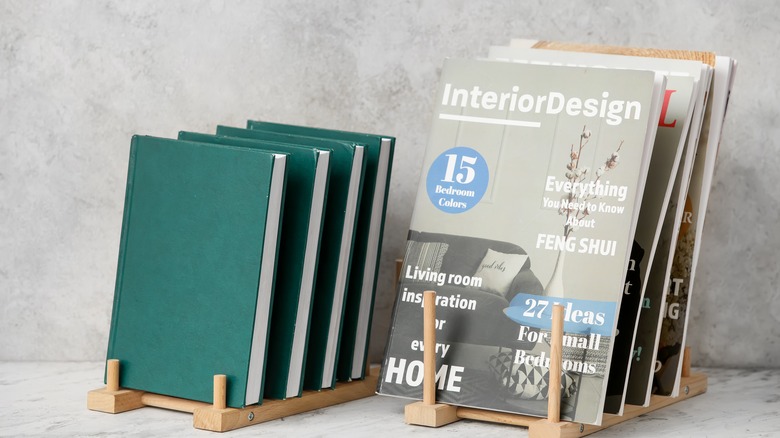 Pixel-Shot/Shutterstock
Organizers for files, mail, and other slender objects allow you to display both books and magazine reading material on desks and table tops. Organizers instantly make even the most chaotic pile of materials neatly displayed and at the ready.
19. Vintage suitcases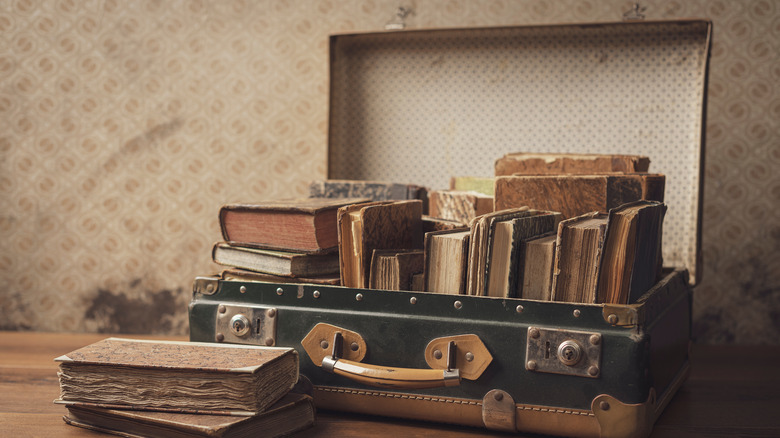 Stokkete/Shutterstock
If you're looking for another way to store reading material out of sight, vintage suitcases offer a spacious and visually attractive way to house books and magazines. They are usually deep and wide enough for most volumes but also can be stacked together for even more storage. 
20. Reading nook
Pixel-Shot/Shutterstock
Try creating your very own reading nook with a stack of books close at hand. Don't forget to add a chair or padded bench, as well as a cozy blanket and a snack. It's acceptable and encouraged to pile books on floors, tables, ledges, and any empty surface to make your nook your go-to place for reading.