How To Update Your Picture Frames With A Coat Of Paint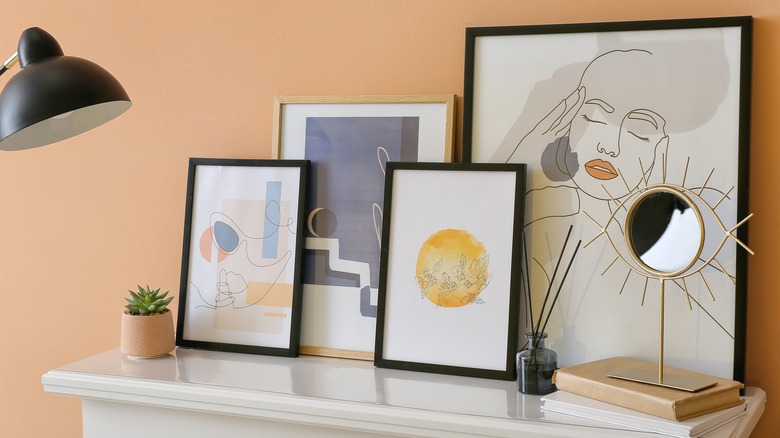 Pixel-Shot/Shutterstock
When renovating your home, it can be normal to focus on the big updates. For instance, the new wall colors, furniture, and layout may take precedence. However, the small changes you make are just as important as the big ones. Circle Furniture says that even the smallest updates, like different window treatments or new hardware, can make a massive difference. Therefore, while searching for the perfect couch, also think about incorporating little decorative elements that will truly make your space feel like home.
Another thing that many assume when updating the design of their home is that it will inevitably be very costly. However, this doesn't have to be the case. You can update many items you own right now with just a little creativity and some free time. If you're looking to revamp old picture frames, you could paint them. Painting a frame is a fairly simple and inexpensive process that can make a world of difference, and changing the color of your frames can make them look brand new. 
Choosing the right paint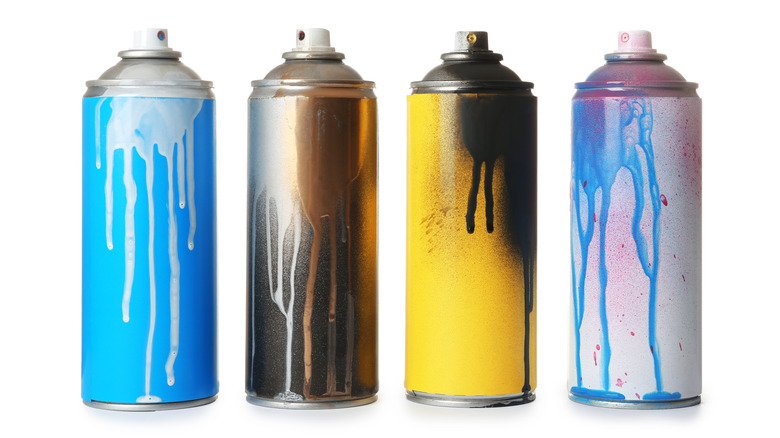 New Africa/Shutterstock
When painting a picture frame, the paint you choose is quite important. One of the easiest ways to update a frame is with spray paint, explains Porch Daydreamer. Spray paint dries fast and is inexpensive. However, if you want to use a brush, Home Decor Bliss recommends choosing either acrylic, oil-based, latex, or chalk. Each type has its own set of pros and cons, so make sure you consider which option is the best for you.
Acrylic is durable, dries fast, is fairly inexpensive, and comes in a number of colors. However, you'll have to work quickly before it dries. And, it looks best when used on wooden frames. Oil-based paint is more expensive and requires a primer as well as special brushes. It also takes quite a long time to dry. However, it's durable and works on all types of frames, from plastic to metal and wood. It also covers surfaces very well with just one coat. Latex is less durable, may chip, and requires some sanding and a primer. At the same time, latex comes in lots of colors and finishes, making it very versatile. Chalk is best for those who want a rustic look with a matte finish. It's easy to use, as there's no prep work required. But, chalk paint is more expensive and may be hard to find in stores.
How to paint a frame
If you choose to cover your frame with spray paint, Porch Daydreamer says to first prepare your area. Lay a drop cloth down outside on a still day and remove the glass and art from the frame. If you can't remove it, cover the glass with paper and painter's tape. When applying the paint to the frame, spray 8 inches away and use even strokes. Each coat should be fairly light. Allow the frame to dry for 30 minutes and then apply another coat if needed. Before hanging, let the frame thoroughly dry. 
If you decide to paint with the frame a brush, Sherwin Williams provides detailed instructions. Begin by laying down a drop cloth and cleaning the frame with a damp rag. Also, remove or cover the glass and artwork. Once the frame has dried, apply the first coat, then wait four hours and apply a second coat. In between the coats, you can wrap your dirty brush in plastic wrap, to keep it from drying out. After allowing the paint to dry, place the glass and art back in the frame and hang.