Is The Least Expensive Bedding Set At Target Worth Buying?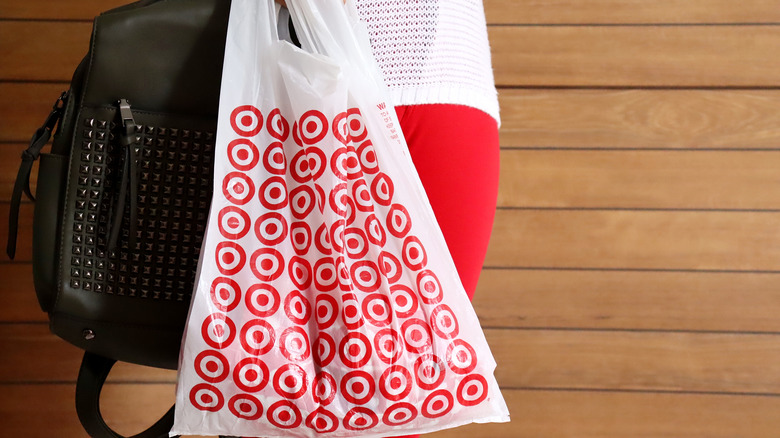 Brenda Rocha - Blossom/Shutterstock
While Target sells many higher-end comforters, blankets, sheets, and pillowcases, they also have more affordable options. But what happens when you buy the cheapest bedding sets Target offers? According to Target's website, a search of bedding sets yield results as low as $35.99. The price increases for larger sizes. Whether or not it's worth it depends on what you are looking for.
PiccoCasa Polyester Microfiber Fabric Cartoon Pattern Soft Washable Duvet Cover Bedding Set is one example of an affordable bedding set at Target that might be worth the money. The set comes with a duvet cover, sheets, and pillowcases. It's geared toward children, with a cute and quirky pattern. The downside? Since it's marketed for a kid's room, it only comes in twin, full, and queen — any larger bed can't enjoy this affordable option. With PiccoCasa and all other bedding sets, be sure to check Target.com for sales or deals before purchasing — it might be cheaper than in-store.
Room Essentials
Room Essentials is Target's in-house brand, and as such, it tends to be one of the most affordable. Their Solid Microfiber Reversible Decorative Bed Set with Throw is a popular choice. However, it has its pros and cons.
The plus side of this cheap bedding set includes the fact it comes with some unique items. While most bedding sets have a pillow case, sheets, and duvet cover, this set comes with a decorative pillow and throw blanket — both of which look super soft and inviting. The downside? The set doesn't come with sheets. With this, you'll get the aforementioned pillow and throw, plus a pillow sham and comforter, so you'll need to spend some extra money on sheets.
There are some other positives to purchasing this bedding set. First, it comes with an actual comforter rather than a standard duvet cover. This means you can throw the entire thing in the wash without any hassle. It also comes in six solid color options, as well as an Extra Long Twin size option, which can be difficult to find.
Some other factors that might not make it worth it include the fact more expensive bedding sets come in patterns and a more diverse color palate — this is pretty plain. Also, some customer reviews report stitching coming apart — be sure to wash it on the gentle cycle to avoid this.
Nourison
The Nourison Dreamscape Geo Chevron Quilt 3 Piece Comforter Set is another affordable bedding set on the Target website. This one comes in either blue or grey and has a fun textured quilt vibe, which is unique among aisles of quilted comforters. The set comes with one quilt and two shams, so like Room Essentials and other cheap options, you don't get a whole lot for the price. Then again, with a low price tag, you can likely afford to customize with low-priced sheets and pillows of your choosing.
Some potential reasons to buy this bedding set include the two color schemes it's available in — both are neutral enough to match many bedrooms or dorm rooms. It's also an affordable option for larger beds — the king set is only $42, which is only $3 more than the full/queen size.
Factors that might not make it worth it? Many bedding set bargain hunters have smaller apartments, dorms, and other space-conscious sleeping spaces. There's no twin bed size option for this. It's also flat and textured — you won't want to sleep directly on these pillow shams, and the quilt is more pretty than cozy.