25 Home Decor Ideas To Bring Back The '70s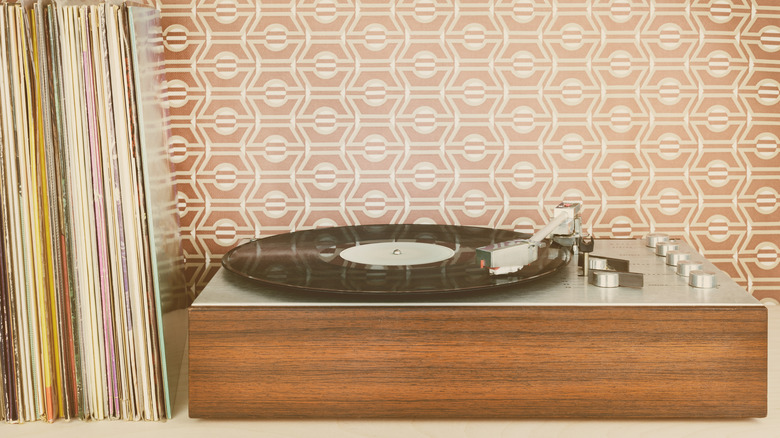 Followtheflow/Shutterstock
Whether you are prone to fits of '70s nostalgia or a Millennial/Gen Z-er who has a bit of anemoia (the nostalgia for something you haven't ever experienced), no one can deny the allure of the 1970s, particularly when it comes to décor and style. According to Vogue, the 1970s style is one of the hottest trends today. It was a decade marked by new freedoms for women, new forays in technology, and new directions in décor.
The '70s style is bright and energetic but also earthy and nature-inspired. Because options were mostly limited to what you could find at your neighborhood Sears Roebuck or J.C Penny, many homes in the 1970s boasted the same things configured in slightly different ways — from avocado green appliances to orange shag carpets spread wall to wall. Some key elements make even the most modern interiors scream with this energy. From nostalgic kickbacks like record players and polaroid cameras to bold new interpretations on shag carpeting, wood paneling, and a lot of rattan, you can also bring this awesome decade into your interiors.
1. Macrame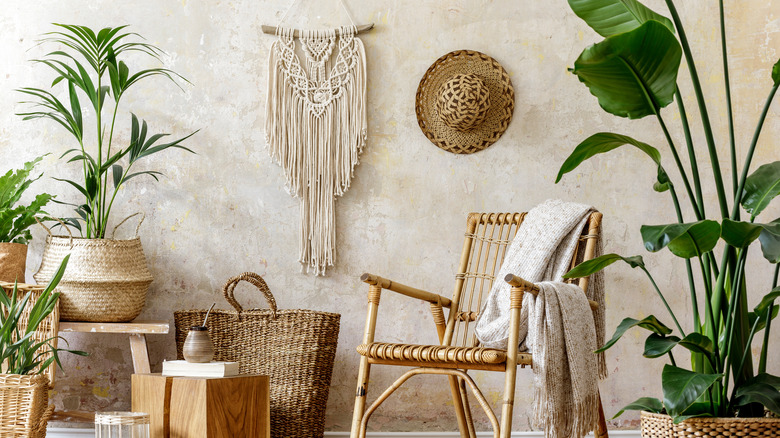 Followtheflow/Shutterstock
Both vintage and new, macrame has been a huge presence in décors the last few years, particularly with the rise of boho-chic rooms where it's combined with other earthy accents like rattan and bamboo. Whether it's a vintage macrame from the '70s or a new DIY project, it immediately adds a '70s feel and charm to any room.
2. Murals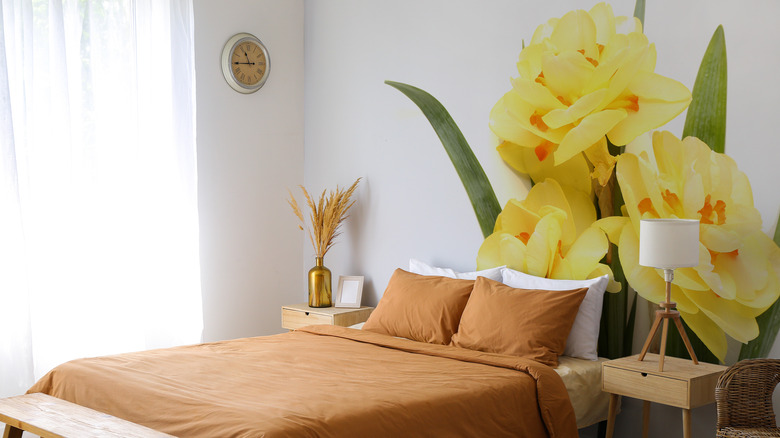 Pixel-Shot/Shutterstock
Whether it was a tranquil lake scene or a landscape of the moon, large wallscapes were often used in the '70s as a focal point in rec rooms and bedrooms alike. Today, you can easily add a full, large impact focal piece with peel and stick wallpaper or decals.
3. Bamboo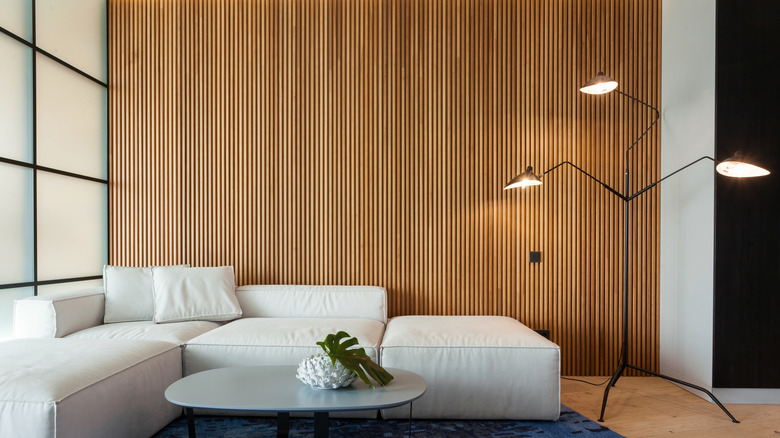 brizmaker/Shutterstock
Like its cousins, sisal and rattan, bamboo was a popular choice for casual '70s décor. While it usually looks great in more natural and earthy interiors, even the most modern rooms can incorporate bamboo elements to add a sense of zen and Eastern-inspired elegance.
4. Tiki bars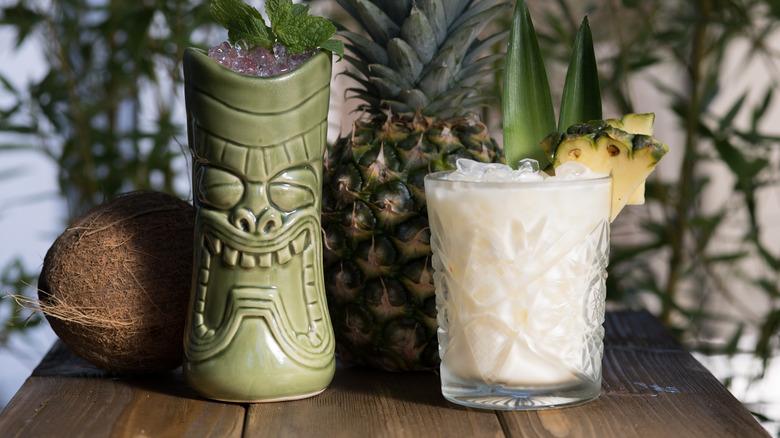 summer_sandra/Shutterstock
While this mid-century American interpretation of Polynesian culture was at times inaccurate and problematic, many 1970s homes featured a decked-out tiki bar, sporting a bamboo-covered bar top filled with zombie-inspired glassware in an array of tropical colors. So if you'd like to serve up perfect mai tais, you can get a gorgeous array of tiki-inspired glassware.
5. Velvet furniture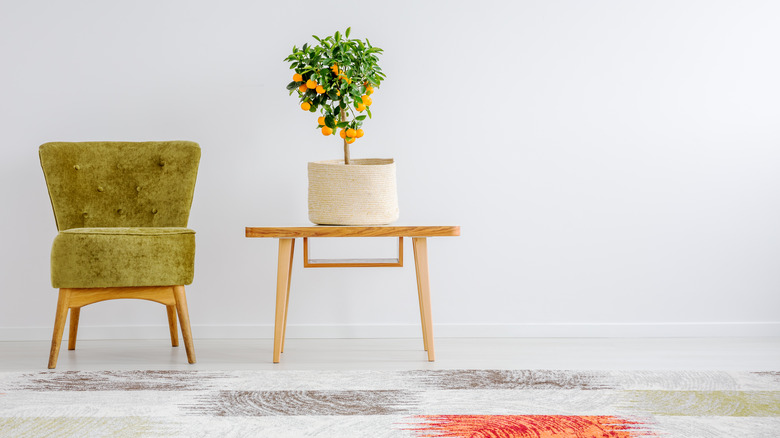 Photographee.eu/Shutterstock
Sofas and chairs in rich '70s shades like avocado green, sunny yellow, and burnt orange were common throughout the decade. Look for modern interpretations in similar fabrics to bring a fresh jolt of velvet luxury to your spaces.
6. Shag rugs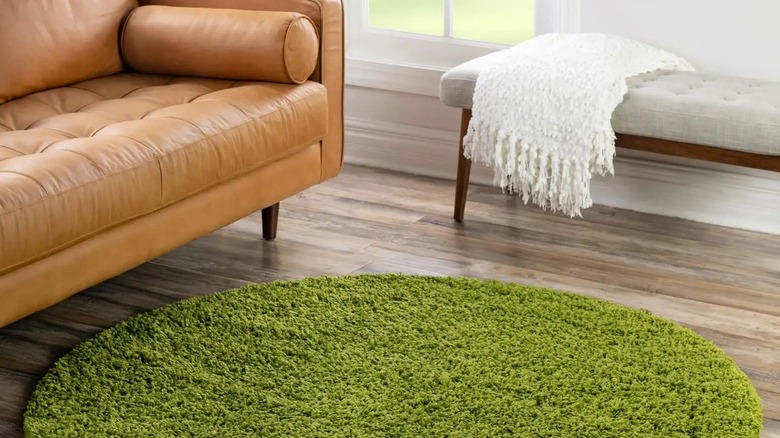 DesignStock09/Shutterstock
While wall-to-wall brown or orange shag may be best left in the '70s, shag rugs in smaller doses are a great way to add texture and warmth to today's spaces.
7. Hanging planters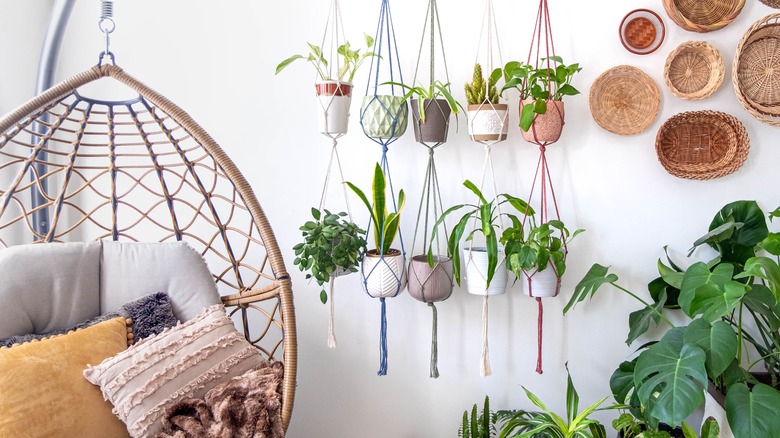 TippyTortue/Shutterstock
Like macrame, hanging planters are an excellent DIY project to put your plants on display in attractive pots, particularly if you lack space on lower surfaces. Hang them separately or together for your own hanging garden.
8. Natural materials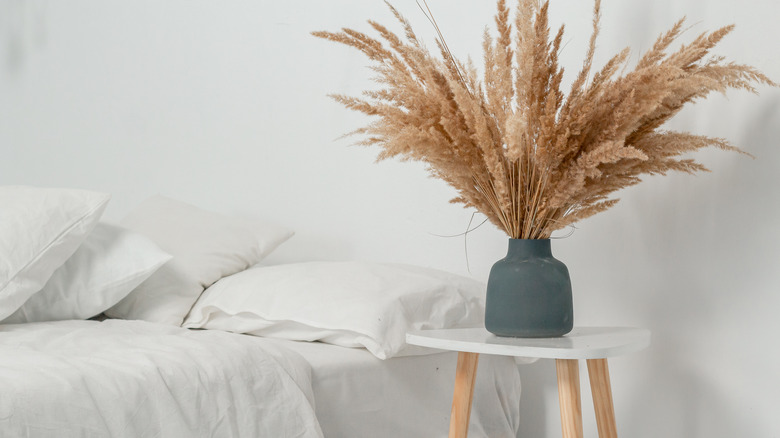 Nastya.ivs/Shutterstock
The '70s interiors sported a lot of botanical elements like wheat chaffs, pampas grass, and palm fronds as décor details. Combine them to create large bouquets in oversized vases for huge impact with little effort.
9. Patterned sofas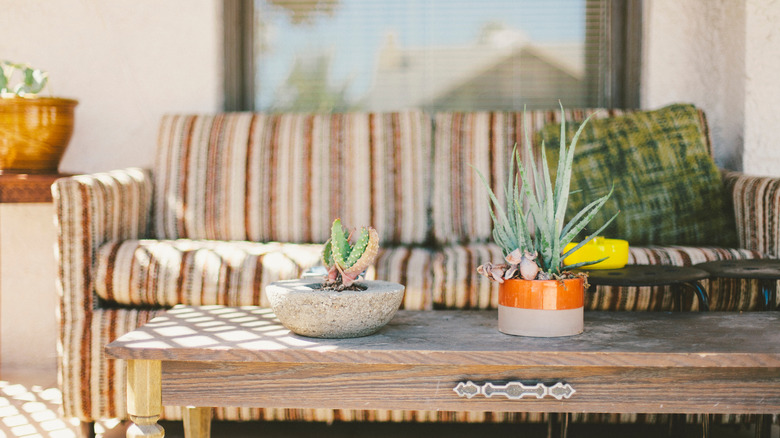 makeitahabit/Shutterstock
Whether it was the proliferation of "ugly" florals, stripes, or plaid, many 1970s upholstered pieces incorporated various fabrics you might not see in today's designs. While it's hard to imagine the task of building a room around such bold patterns and textures, many vintage pieces fit well into modern interiors, particularly those incorporating earth-toned and neutral palettes.
10. Wood paneling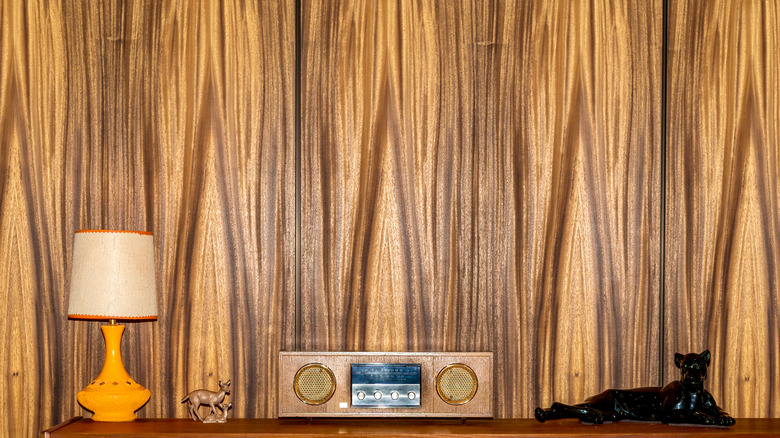 Andrea C. Miller/Shutterstock
Like the occasional mural, many suburban 1970s basements also sported wood-paneled walls. This trend has revived in recent years with newer, more modern twists on a classic, including natural woods, new patterns and textures, and thinner or thicker wood planks.
11. Avocado green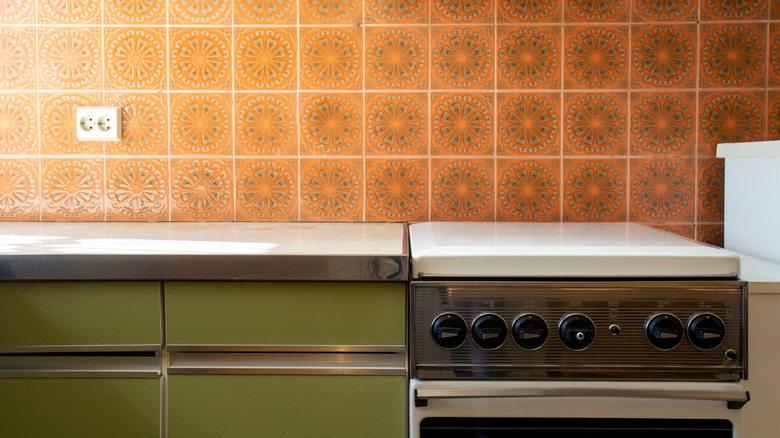 A-photographyy/Shutterstock
Just one of several key '70s colors, this shade of muddy green was a huge hit for appliances and décor. It's actually a great hue that still pairs well with many colors, including neutrals and other earth tones. If you want to go full 1970s vibe, pair it with burnt orange or goldenrod yellow.
12. Plaid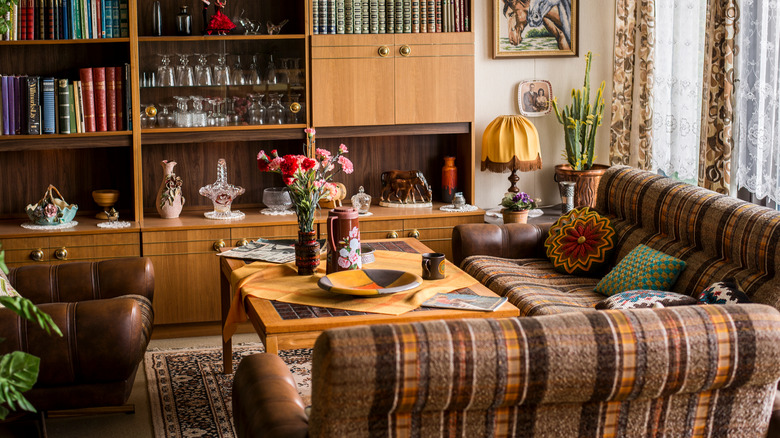 triin viljasaar/Shutterstock
The '70s interiors were mad for paid, including sofas, bedspreads, drapes, or anything involving patterns. Consider bringing in a single plaid piece or element to complement your more modern décor schemes.
13. Sunny orange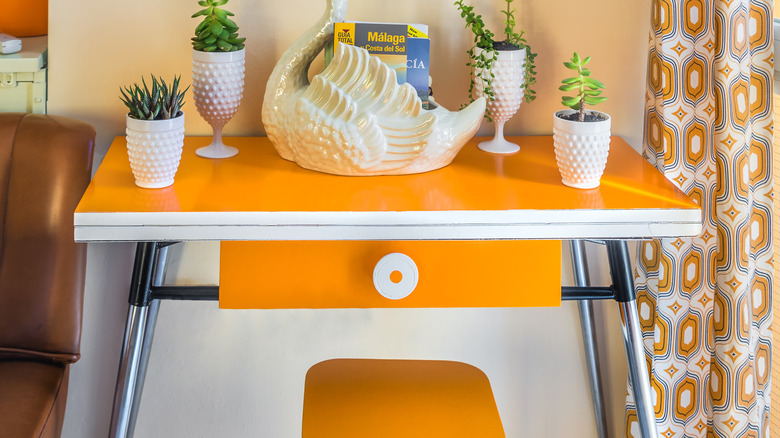 elRoce/Shutterstock
Orange is another signature color of the 1970s. Whether it's sunny, bright shade, or an earthier, darker burnt hue, you can bring a small bit of this color into any room for instant energy and impact.
14. Rainbows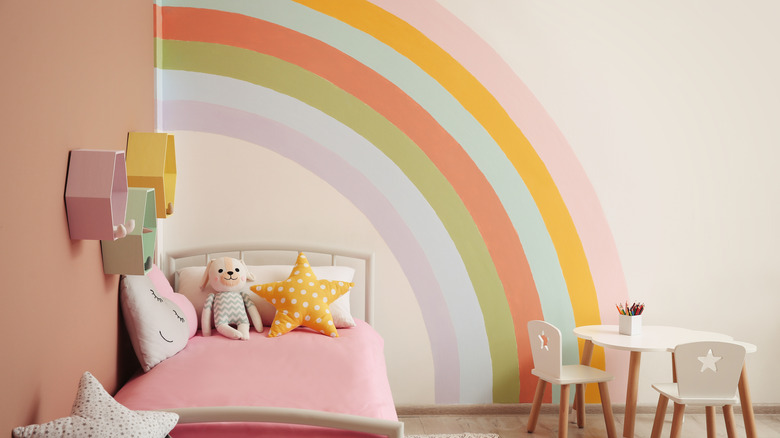 New Africa/Shutterstock
Perhaps it was the sunny disposition of the 1970s, but rainbows were everywhere, from bumper stickers to bedspreads. Consider adding a painted rainbow to walls, particularly to children's rooms or other bright interiors. You can opt for classic rainbow colors or muted corresponding shades.
15. Record cabinets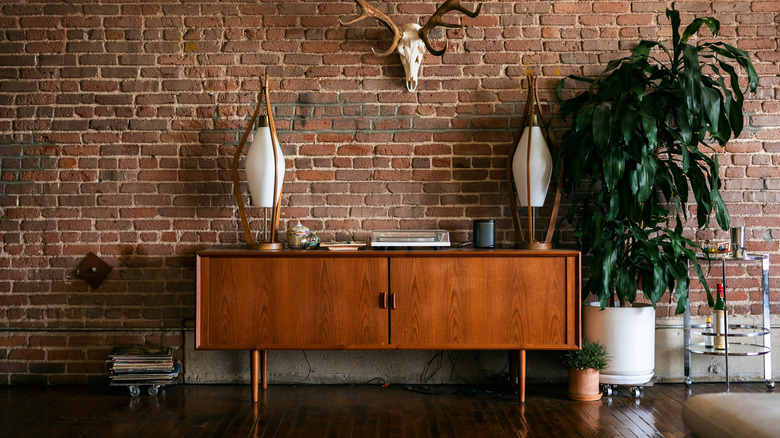 Rawpixel.com/Shutterstock
A recent wave of '70s nostalgia, and a proliferation of newer artists issuing their work on LPs, inevitably requires somewhere to store them. Some options to house your collections include very attractive vintage cabinets and modern consoles.
16. Painted stripes
Racing stripes in earthy shades or bright colors appeared everywhere during the '70s, from the side of vans to high school hallways. Try adding some color to white or neutral walls with vertical or horizontal stripes.
17. Rattan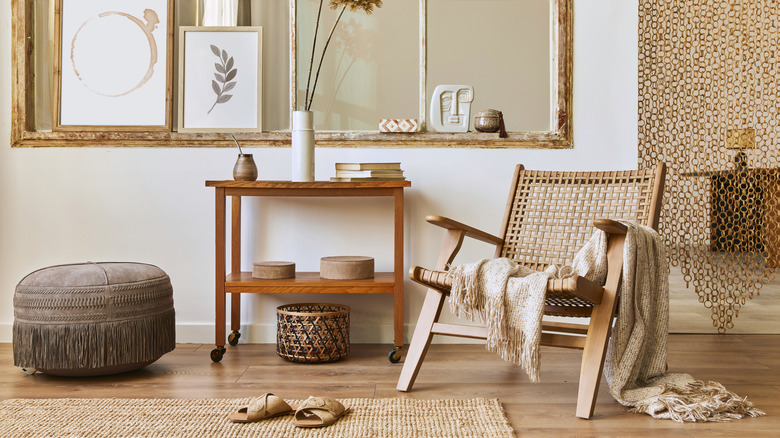 Followtheflow/Shutterstock
Rattan is one of the hottest décor trends for new and thrifted furniture. From chairs and benches to shelves and side tables, this natural, earthy material immediately adds a sense of texture to any room.
18. Fringes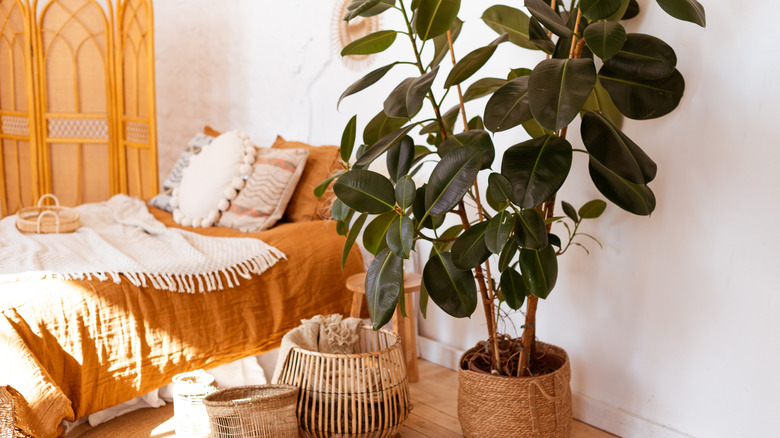 Ann Bulashenko/Shutterstock
The hallmark of 1970s bedspreads and blankets, fringe is making a comeback as it immediately adds a note of boho-chic to any bed. Try layering fringed blankets or throw pillows for lots of texture.
19. Brown leather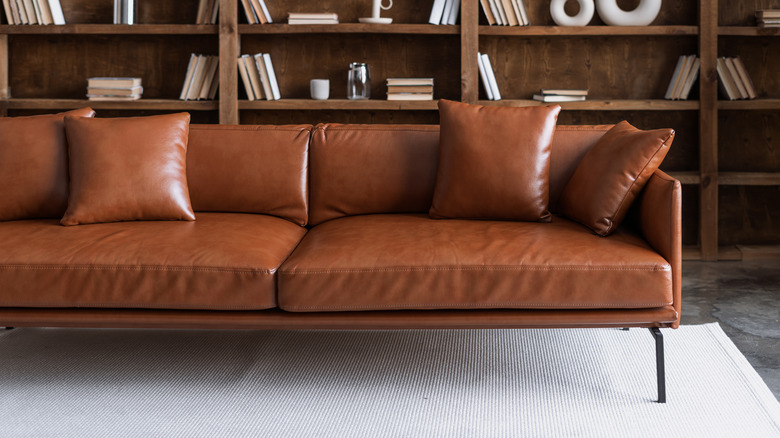 brizmaker/Shutterstock
While the '80s and '90s brought the rise of black leather furniture in sleek modern homes, brown leather was there first. From rich, sumptuous real leathers to Naugahyde and other faux options, this earthy-looking material offers a more natural and laid-back alternative to black.
20. Goldenrod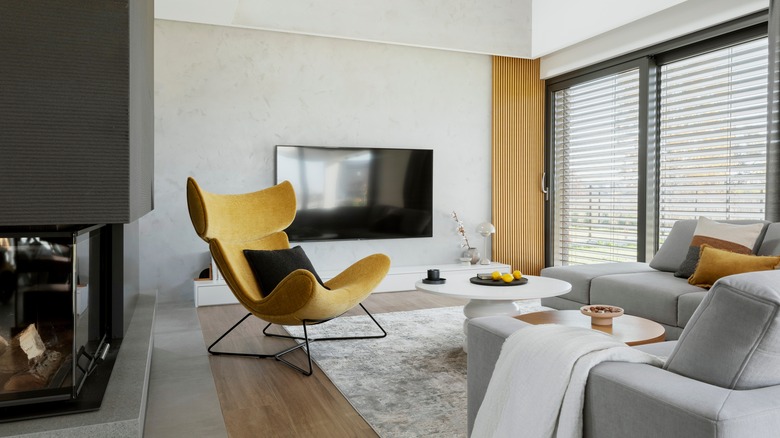 Followtheflow/Shutterstock
The third in the trilogy of '70s holy colors (with avocado and orange), goldenrod, or mustard yellow, was another popular choice. The shade bedecked kitchen appliances, drapes, and countless bedspreads. While a fully gold room might be overdoing it, touches of this color go a long way, particularly when paired with other shades like pink, light blue, and gray.
21. Floral details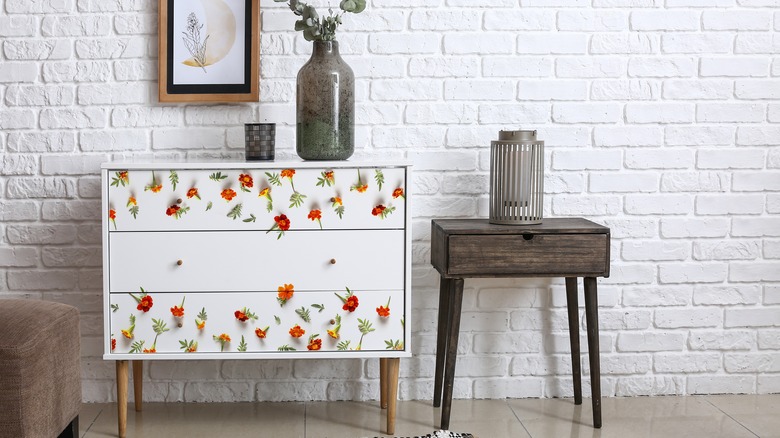 Pixel-Shot/Shutterstock
Whether they were hand painted or appliques, flowers appeared on many pieces of furniture in the 1970s. Huge daisy appliques were popular on dressers, nightstands, and vanity tables in teen rooms. A great modern interpretation is smaller and more naturalistic blooms on wood furniture, which can be painted or applied with decals. 
22. Moon décor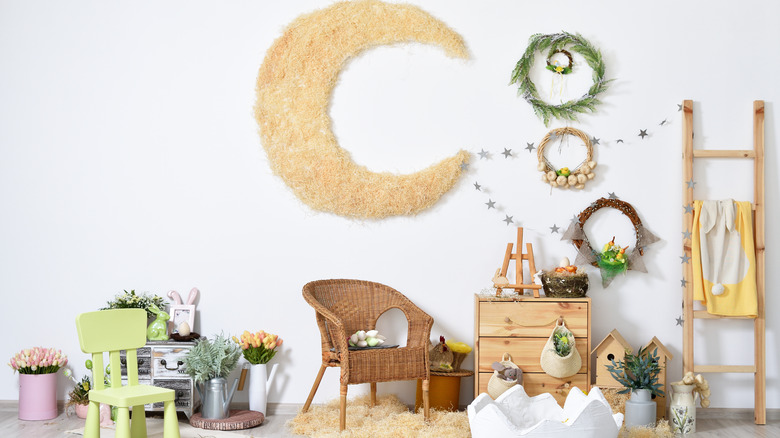 Dmitrii Pridannikov/Shutterstock
Closely following the '60s and its Age of Aquarius, the moon-related décor was everywhere in the following decade. Lamps, bedspreads, and candles were all bedecked with crescent moons and star patterns. Consider adding some celestial magic to your own décor by bringing in more modern and boho versions with moon or star accents.
23. Bean bags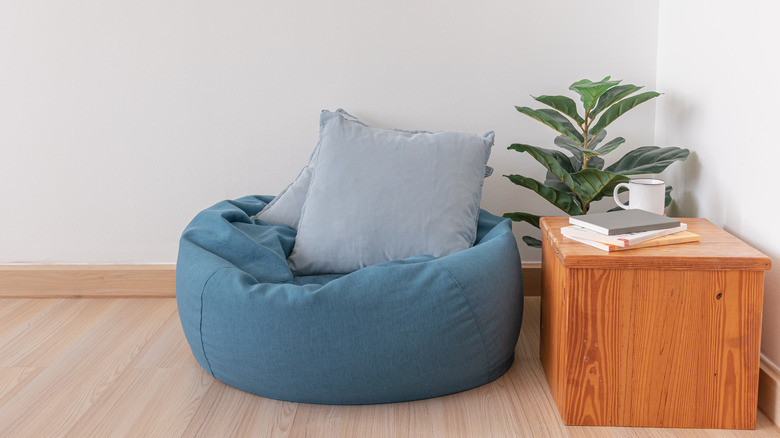 Rachata Teyparsit/Shutterstock
While the originals weren't always comfortable and occasionally prone to leaking tiny beans all over the living room carpet, new renditions of this popular standard are made much better. They not only retain their shape and integrity much longer, but also offer considerably more styles of washable, removable covers. 
24. Bold patterns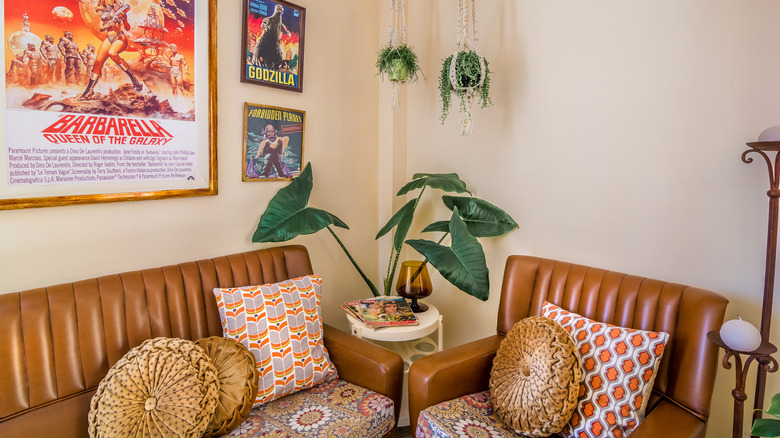 elRoce/Shutterstock
While 1970s colors were bold, the patterns were even bolder. Look for geometric and large floral prints in all the popular '70s shades like brown, orange, avocado, and mustard yellow.
25. Dried flowers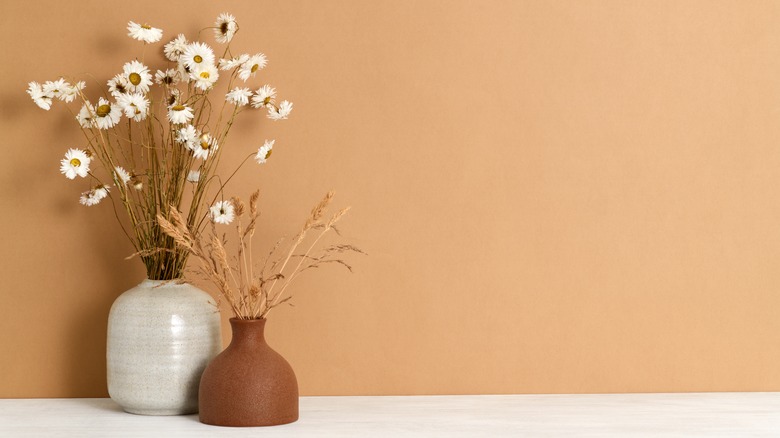 Khomulo Anna/Shutterstock
No living room in the '70s was complete without ample dried flowers, including vase arrangements, wreaths, and over-the-door garlands. Consider adding a cache of dried daisies, mums, or thistles to your space.