Good Bones Reveals The Dated House Feature You Should Remove Or Change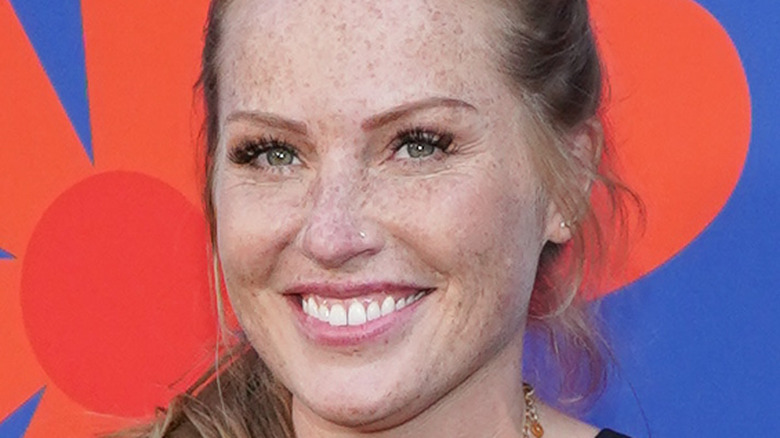 Rachel Luna/Getty Images
When it comes to updating your home, there are certain features and former trends that should no longer have a place in the modern homes of today. Popcorn ceilings, for example, may have once been a fad from the 1930s through to the 1990s with their easy application, soundproofing qualities, and innate ability to cover up possible ceiling blemishes, according to Insider, but nowadays, the bumpy eyesore can be tricky to clean and maintain, as well as time-consuming to remove. Not to mention — depending on the year it was installed — that stuccoed ceiling could also contain asbestos.
Other simple designer updates can help to keep your home in the current century. For example, ditching that old-school cheap hardware on your kitchen cabinets can give your space a fresh look, as can swapping out that old grey-ish wall paint color for more uplifting blue hues. However, what if the change you want to make is on an element of the home that is a little more permanent? On an episode of the HGTV program "Good Bones," host Mina Starsiak Hawk had the challenge of taking care of a design component that caused the current homeowners some major issues. Let's see what the feature is and how they were able to take the necessary steps to rid the home of its presence.
Get rid of those outdated pillars
While renovating a stunning mansion just outside of Indianapolis for professional basketball player Justin Holiday on the episode of HGTV "Good Bones" entitled "Major Mansion Makeover," host Mina Starsiak Hawk was asked by the owners to change a large aspect of the home. Right in the front entrance of the large mansion stood several tall pillars that homeowner Shekina Holiday wanted to get rid of. Not only were these features of the home incredibly dated, but they also represented images from plantations and their terrible past. Holiday told the host that she is from Louisiana and "Being a woman of color, it's kind of difficult for me to look at those pillars and everything they signify," via Realtor.
Hawk and her team tackled the project head-on and removed the pillars that were not structurally significant and refigured the ones that were so that they took on a brand new look. The facade of the large pillars was reimagined by squaring in the curved edges to make them appear more stylish and modern. This simple yet significant change helped to ensure an updated look to the home while helping the homeowners feel more comfortable with their surroundings.