Appliances You Should Never Buy At Lowe's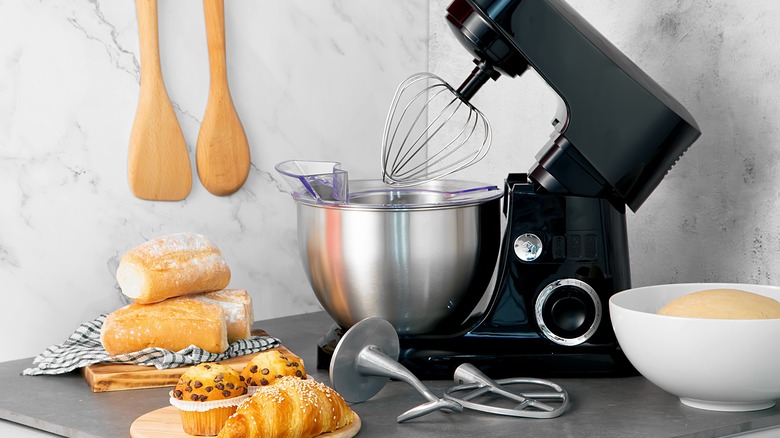 Ancel Ct/Shutterstock
We may receive a commission on purchases made from links.
If you are shopping for large appliances in person and there isn't a reputable regional appliance retailer near you, Lowe's has a reputation for a solid large appliance selection that CreditDonkey's research says was earned. It rated Lowe's highly on selection, delivery, and installation, and giving the store the highest possible rating on cost.
However, there's a broad consensus that regional appliance sellers have some real advantages over the national "big box" stores like Lowe's. Most observe that you'll get better service and more knowledgeable assistance at local stores, including repair services, delivery, and installation (via US News & World Report). The trouble is that in-stock selection and online presence can be hit-or-miss, and you might not have a large regional appliance store nearby to begin with (via USA Today). That means you might have to hit up a major home improvement store like Lowe's for your appliance shopping out of necessity. But since it isn't a specialized appliance seller, there are some categories you might want to avoid. Here's what to skip on your next major shopping trip.
Lowe's reputation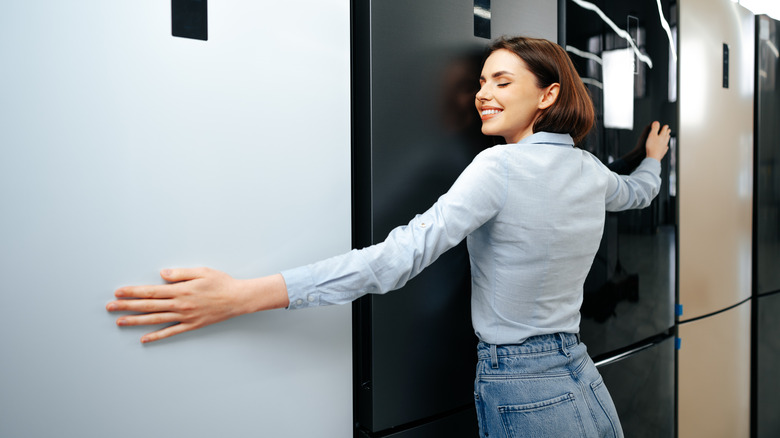 FabrikaSimf/Shutterstock
Despite Lowe's good reputation in appliances, the company gets extremely poor ratings from the Better Business Bureau (1.13 out of 5 stars) and Trustpilot (1.5 of 5). Surprisingly, a lot of this appears to be related to appliance sales. Analyzing a sampling of the complaints shows that 28% include the word "install," so if that pattern holds, it might indicate that a very high number of complaints are related to issues with installers (typically third parties to whom installation is outsourced). This seems to be at odds with the CreditDonkey ratings, but its rating methodology and the language of its review suggest this rating might be based more on company policies and not actual direct experience.
However, Lowe's reputation for reasonable pricing is sound, which is why people might keep returning. Because of price-matching policies, Lowe's pricing on appliances tends to be on par with competitors and is rated average, as are most national and regional stores. Haggling over price is a dimension of pricing that can make a meaningful difference. Although less than a quarter of buyers asked for a lower price, 64% of those who did received a discount at Lowe's for an average savings of $120 (via Consumer Reports). But even if you're not a haggler, you can expect average pricing at Lowe's. So, is all this a reason to avoid buying appliances at Lowe's? That depends on your needs and outlook. If you can install an appliance yourself, you might be better off doing that.
The selection at Lowe's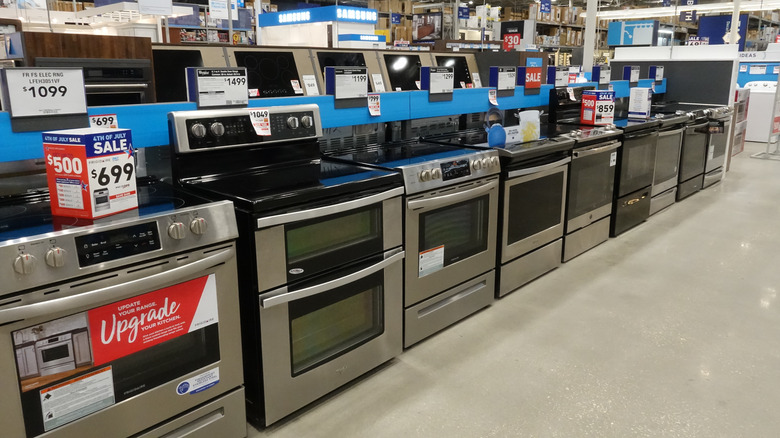 Joni Hanebutt/Shutterstock
Selection is a major consideration when choosing where to shop for items. We evaluated selection for many appliance categories by looking at the stock in 30 stores in five major metropolitan statistical areas: Atlanta, Denver, Miami, Philadelphia, and Phoenix. We also compared this available stock against ratings on consumer sites like Wirecutter and Consumer Reports, as well as against Amazon's picks and top-rated products.
While some home improvement competitors have historically focused on DIY project resources, Lowe's has long held an advantage in certain ready-to-use home goods and typically has a good selection of large appliances, says Appliance Analysts. But this falls off sharply when you look at smaller appliances in many categories. While you might find a great selection of stoves for your kitchen remodel, you might not be able to find as many options for things like microwaves or blenders in the big box store. 
Delivery and shipping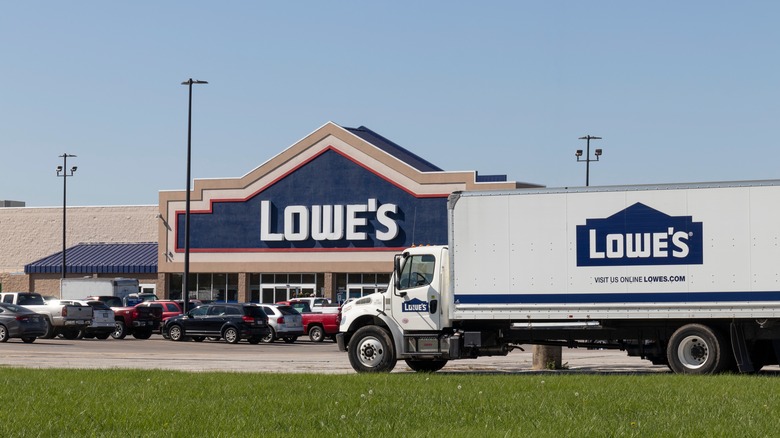 Jonathan Weiss/Shutterstock
While a company's delivery and shipping policies shouldn't necessarily affect whether you buy appliances there, it is certainly a consideration given the size and weight of many major appliances. On the whole, Lowe's delivery policies are slightly inferior to Home Depot's and marginally better than Sears'. According to Lowe's site, customers get free delivery on major appliances. Hauling away the old machine is free for Lowe's Pro customers; everyone else can expect to pay a $30 fee, according to most sources (via Bob Cut Magazine). Free basic appliance connection (often referred to as a "hookup") is also included for many appliances, but for most, the purchase of a new connection kit (consisting of new hoses, electrical cord, etc.) is required. Installation is available for an additional fee for appliances that tend to be more challenging to install, including built-in air conditioners, refrigerators, cooktops, dishwashers, drop-in ranges, over-the-range microwaves, surface units, wall ovens, gas dryers, and water heaters. All free delivery and connection services are only available for customers local to the store they select. 
Home Depot's policies are essentially the same, promising free delivery on most major appliances and any purchases over $45 and appliance purchases over $396, including most major appliances. The machines that cross the free/fee line for Home Depot include built-in cooktops, built-in wall ovens, drop-in appliances or range hoods, and commercial or built-in refrigeration (via Home Depot). The base haul-away fee for old appliances is $25 (via Aisle of Shame).
Sears appears to generally offer inferior delivery terms. Standard delivery (without installation) is priced at $79.99, and the haul-away fee is shown as $10 per item on its Shipping page, but it varies by market and is $30 per item in a randomly selected market. Home delivery appears to include utility hookup (via Sears).
Appliance categories to avoid at Lowe's: Air fryers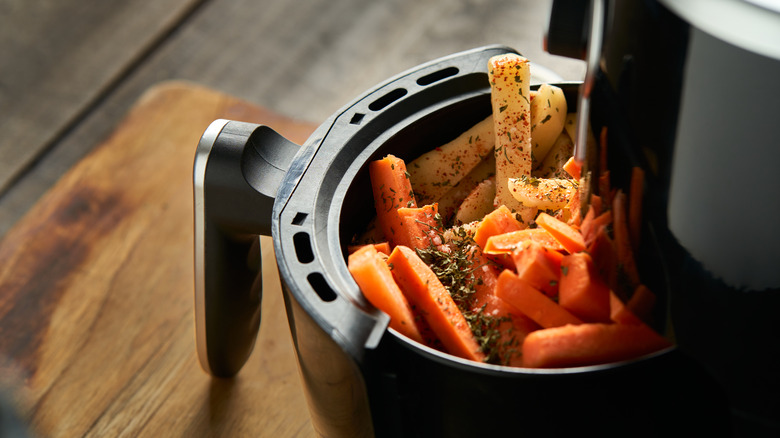 Francisco Zeledon/Shutterstock
You should steer clear of a few appliances at Lowe's because the company appears to sell sub-par brands in those particular categories. There are many potential reasons for this: retailer relationships with the brands it sells, pricing of top-rated products, and the peculiarities of a particular market. Sometimes the reason isn't apparent and might not be knowable at all. And there's every reason to believe it is sometimes just temporary, as products and stock fluctuate over time.
Looking at a single example can be instructive. Lowe's air fryer stock is slim, and many Lowe's locations simply don't sell many (or any) models, even when they happen to stock other small kitchen appliances. While Lowe's can offer an expansive online selection of products they don't stock in most stores, sometimes even the website choices can be disappointing, and that's the case here. Of the models available from Lowe's, none are among the three products recommended by Wirecutter or the five recommended by Honest Product Reviews. However, three of the air fryers available on lowes.com were explicitly not recommended by Wirecutter.
It's not possible to know precisely why this has happened to Lowe's stock, but this does happen to be a rapidly developing market. In fact, Wirecutter still generally recommends convection toaster ovens in place of air fryers. Still, after four years of steadfastly refusing to recommend any air fryer, the site has now started giving the thumbs up on a few. As products improve, leading brands emerge, and major appliance recalls become less common, Lowe's stock may naturally improve.
Clearing the air about air purifiers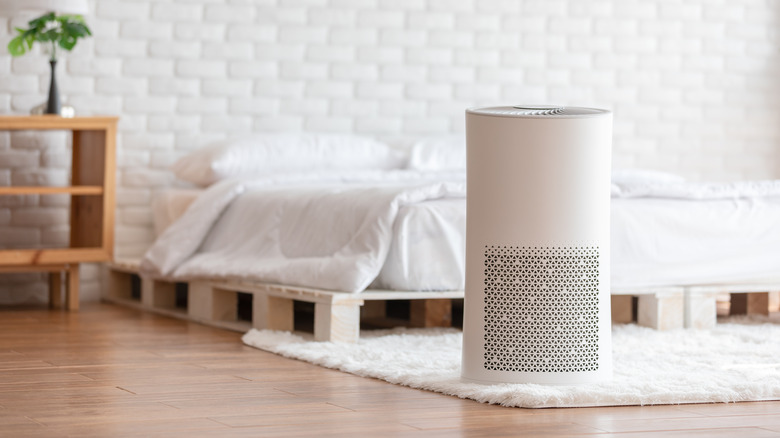 220 Selfmade studio/Shutterstock
Strategic partnerships with manufacturers can obviously affect the mix of stock available in stores, and not always for the better. This might explain the state of the air purifier selection at Lowe's, which favors 3M's Filtrete products almost exclusively, despite their relatively poor reputation. 3M is a major manufacturer of many products at Lowe's, including replacement filters for HVAC systems. The two companies have a fairly close business relationship, in which Lowe's named 3M one of its 2014 Vendor Partners of the Year. Given 3M's expertise in that space and their business relationship, you might expect Lowe's to carry some Filtrete air purifiers, which it does. However, it's surprising that Lowe's carries them almost exclusively.
In the 30 stores checked, Lowe's offered none of the air purifiers recommended by Wirecutter or Consumer Reports. Twenty-eight of those stores sold only Filtrete air purifiers. Five of the six Filtrete models are Lowe's exclusives (which further supports the idea of a partnership affecting stock), and two of these were tested by CR and explicitly not recommended. Of the two remaining stores, one carried a Honeywell RUVLAMP1, which was untested by CR and had no published clear air delivery rate (CADR), one of CR's criteria. The other store also sold the Honeywell RUVLAMP1 and Honeywell HPA200, which was also untested and had middling CADR certifications.
It's worth bearing in mind that ratings and review organizations — even those with ethical practices and good intentions — can't always reflect what's important to consumers. For example, the five Filtrete air purifiers offered on Amazon have an astounding average of 4.77 stars out of 5 (on 2633 ratings/reviews). If your goal is to simply like a product you've bought, it's hard to imagine doing much better than that.
Mixers & blenders: Stirring private brands into the mix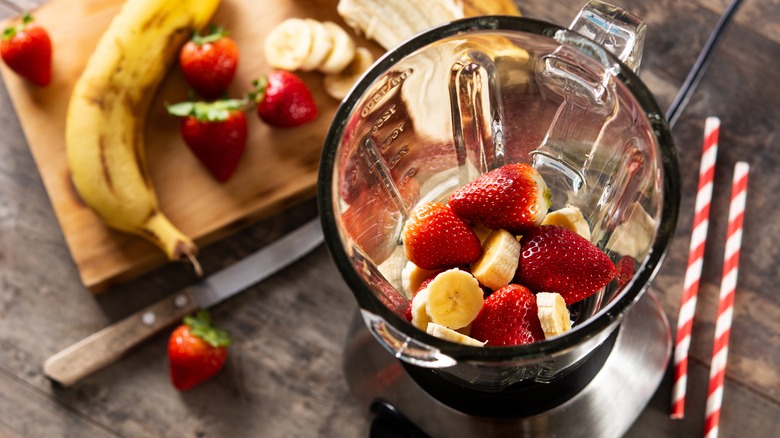 Etorres/Shutterstock
Many stores sell store brands very successfully without limiting consumer choice; Walmart's Great Value brand is a good example of this, according to Century Label. But private brands can have a negative impact when they're all that the retailer stocks. Since store brands are rarely at the top of anyone's ratings, this can present a serious problem for consumers.
Take, for example, mixers and blenders. These are separate categories on Lowe's website, with immersion blenders categorized under hand mixers. Highland is not listed as a private brand in Lowe's 2021 annual report, but its product manuals identify the name as a trademark of LF, LLC, which is a Lowe's subsidiary that seems to be mostly involved with trademark protection (via Securities and Exchange Commission).
In four of the five metropolitan areas examined (South Philadelphia was the only exception), Lowe's featured Highland blenders and mixers to the exclusion of more established brands with more desirable features. The one exception was a $69.99 700-watt Ninja, which could be found in a few stores alongside a $17.99 300-watt Highland blender. This presumably marks the Ninja as a premium product, which typically is addressed to a different and smaller market segment than the Highland (via Fast Company). That is to say, these are not competing blenders.
Toasters, kettles, and the small appliance problem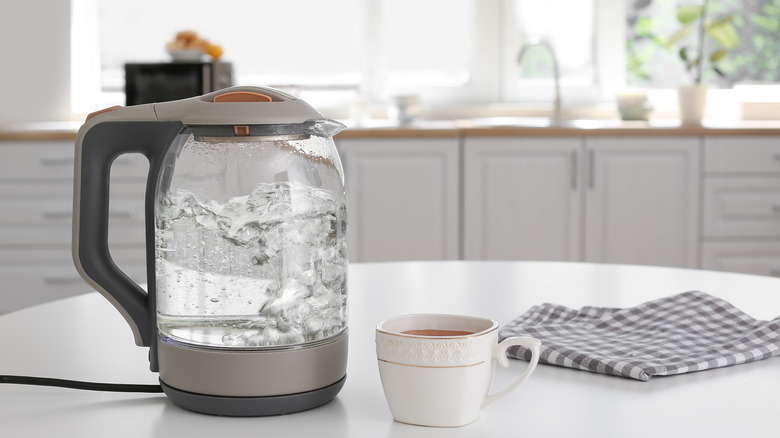 Pixel-Shot/Shutterstock
The private brand problem appeared in several small kitchen appliance categories, in which Highland products were often the only ones available. Even where "competing" products are available, they are usually priced several times more than the private brand. In South Philadelphia locations, for example, the kettles in stock only included the $17.99 Highland model and a $79.99 Haden model.
It would appear that Lowe's is not the place to shop for small kitchen appliances in general. Based on the stock levels in 30 stores and five metro areas examined, the stores carry almost no competing small appliances other than private brand Highland products, other than a few Black & Decker mixers and blender models in Philadelphia. In the small appliances category, those stores stocked 22 Highland, three Ninja, three LoCo, four Black+Decker, and one Haden product. The Black+Decker and Haden products were only offered in Philadelphia, meaning that the remaining regions sold only Highland products, Ninja blenders, and LoCo fryers (which have no Highland competitors). The presence of Black+Decker tools in the Philadelphia-area locations might be explained by the presence of Stanley Black & Decker's 560-employee, 364,000-square-foot Allentown Engineered Storage Manufacturing Facility, located just outside of Philadelphia (via Stanley Black & Decker).
There are a couple of important caveats here: Because of the vagaries of supply chain issues, just-in-time delivery patterns, inventory practices, etc., a region could easily be out of many products at one time completely by coincidence. These are simply the findings at the time of writing, which is also a day you might have been shopping for small appliances. Furthermore, just because a store stocks only its private brands in certain categories doesn't necessarily mean it would stock competitors otherwise. It's entirely possible Lowe's would simply get out of the slow cooker market entirely, for example, if it weren't for the Highland model.
The big exceptions: When you should shop at Lowe's anyway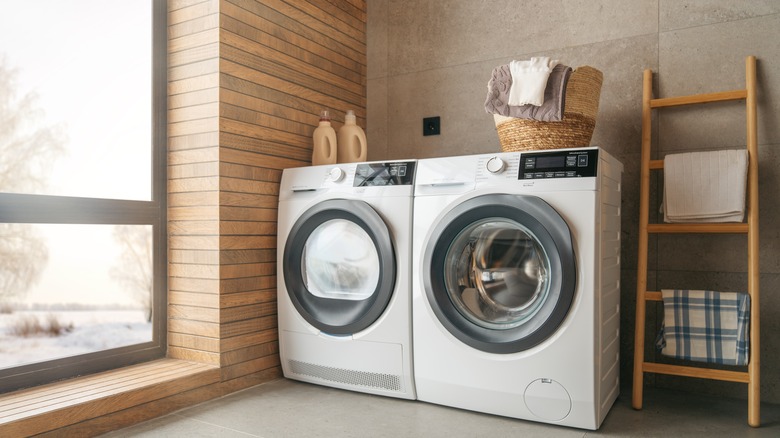 Yuganov Konstantin/Shutterstock
Just because Lowe's doesn't currently have any outstanding products in stock doesn't make it a bad place to shop in that category. Sometimes highly rated products are (or seem to be) temporarily underrepresented at Lowe's stores. For example, of the 30 stores we checked, only one Consumer Reports-recommended gas dryer was in stock — it was in a single store in the Philadelphia area. But this is likely an anomaly given that the chain generally stocks high-quality dryers. Similarly, Lowe's carries some of the top brands in the dishwasher category, such as Bosch and KitchenAid, but doesn't currently stock any of the products rated highly by major reviewers like Consumers Union and Wirecutter. Obviously, while Lowe's stock changes frequently and some products become unavailable in general, publications don't necessarily (and shouldn't) change previous reviews to reflect this.
As noted above, Lowe's tends to do quite well in major appliance stock, so clearly, there's no systemic policy that drives out good appliances. Spot checking categories against Consumer Reports ratings, you'll find recommended products in many categories, such as cooktops, microwaves, and wall ovens, and CR-recommended brands in other categories, such as dishwashers. Gas dryers fared less well, with recommended products in only one of the 30 stores we checked ... which is likely a temporary situation (via Lowe's).
Wine fridges: Chill with the high-minded reviews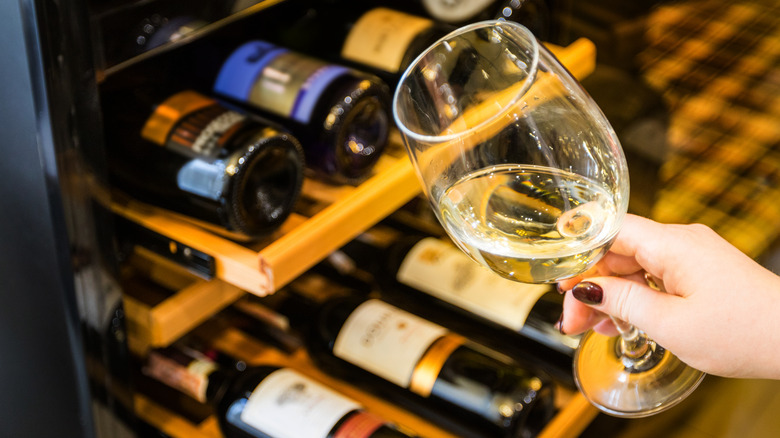 Valerii Panasiuk/Shutterstock
Another big exception you should keep in mind has to do with reviews that don't reflect your needs. Sometimes it appears that Lowe's serves the wrong market for critically acclaimed products at the top of the ratings, but that doesn't mean you can't buy a great product there. This is an old problem for some categories: A retailer's selection of stereo components is, for example, rarely will include the extremely expensive top-rated receivers and amplifiers as identified by audiophiles.
One such category at Lowe's is beverage and wine chillers. If you evaluate Lowe's offerings based solely on wine refrigerator reviews, you'll find that Lowe's doesn't sell any of the only models recommended by Wirecutter, which cost between $1,199 and $2,295. Yet the 15 top-rated wine refrigerators at Amazon are all available for less than $340, while the 15 most expensive models at Amazon have no ratings and are priced from $3,728 to $8198. Of course, this doesn't mean the cheaper products are better, but it does indicate that purchasers are satisfied with them, and there's a good chance you will be, too. Of the six Lowe's chillers available on Amazon, the ratings range from 2.8 to 4.7 stars and average just over 4 stars. And DrinkStack is generally positive about Frigidaire's line of wine chillers, reviewing two of the three models we found in stock and concluding that they're good, though not great, choices.
So what's an appliance shopper to (never) do?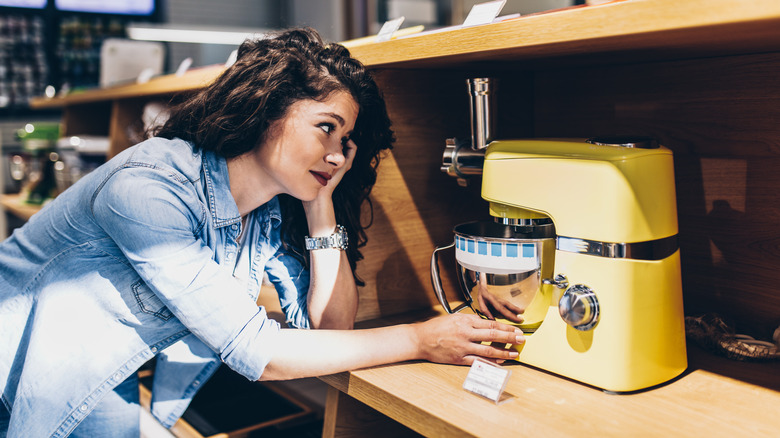 Hedgehog94/Shutterstock
Never means never. Or almost never. When you're advised to never buy a particular type of appliance at Lowe's, situations like natural disasters or, worse, family gatherings, aren't accounted for. If you've just been through a hurricane and the only generator left in your state is at Lowe's, disregard anyone's general advice about generator purchasing habits, if there is such a thing.
Similarly, when your entire family is gathering and expecting your challah, but your stand mixer is on the fritz, and Lowe's is the only mixer source nearby, go talk to a person in a blue vest. However, in most situations, you'll be better served by shopping elsewhere for appliances in these categories. Consumer advocate Clark Howard's site recommends Amazon, Walmart, and Best Buy for small appliance shopping. But every situation has its own demands, and given how easy it is now to check stock and reviews online, you can make these decisions on the fly, and on a case-by-case basis.