The Best Dupe For A Roomba On The Market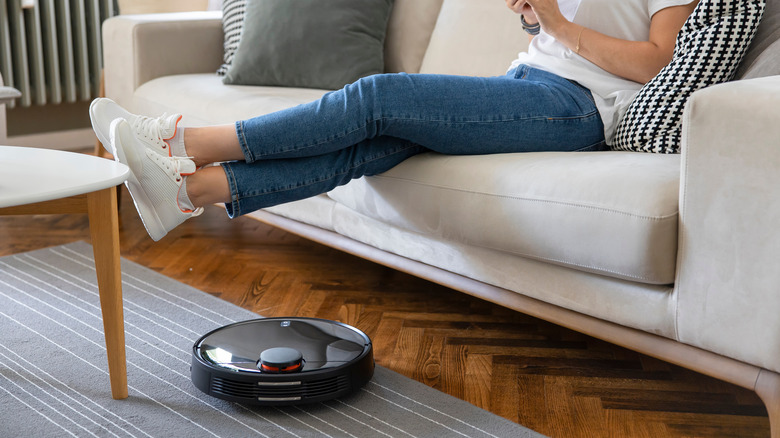 Ahmet Misirligul/Shutterstock
We may receive a commission on purchases made from links.
The first Roomba launched in 2002, and since then, it's become more of an everyday item for homes. In fact, in 2022, Consumer Reports named four Roomba models, including the iRobot Roomba i3+ EVO Vacuum Cleaner and the iRobot Roomba j7, on its list of best robotic vacuums of the year.
As one of the top robotic vacuums on the market, it's no surprise that the title comes with a hefty price tag. Roomba models range anywhere from $226 for the Roomba 614 to $1,199 for the Roomba S9 model, as reported by Gear Patrol.
Needless to say, buying a Roomba robotic vacuum can cost you a pretty penny; however, you don't have to break the bank to get the same vacuuming job a Roomba provides. Believe it or not, there are various Roomba alternatives on the market, and we're highlighting one of the best. Let's take a closer look at this Roomba dupe.
eufy BoostIQ RoboVac 11S
Priced at $140, the eufy BoostIQ RoboVac 11S (the slimmer version of the original eufy BoostIQ RoboVac) is one Roomba dupe consumers seem to agree on. It currently holds a five-star rating on Amazon with some 60,000 reviews. One Amazon reviewer who gave the BoostIQ RoboVac 11S five stars cited the slim size of the Roomba dupe, saying it made cleaning under furniture all that more simple. Another reviewer, meanwhile, praised the robot vacuum's ability to always find its dock, saying, "eufy is the only robotic vacuum to always find its way home to dock and recharge — every single time!"
One of the best features of this Roomba dupe is its low noise level, which, according to the Cleanup Expert, is 55 decibels, which per the CDC, is 25 decibels louder than a whisper. Further, the BoostIQ RoboVac 11S takes care of itself when it comes to potential falls; its DropSense technology prevents it from tumbling down the stairs, says Rolling Stone.
Additionally, the eufy BoostIQ RoboVac 11S works on several surface types, including carpet, hardwood, and glass. An Amazon user who used the BoostIQ RoboVac 11S on a few different surfaces said the robot vacuum was able to collect all of the dog hair around their home; they also called the Roomba dupe a "total lifesaver."