Garage Storage Ideas That Will Inspire The Handyperson In You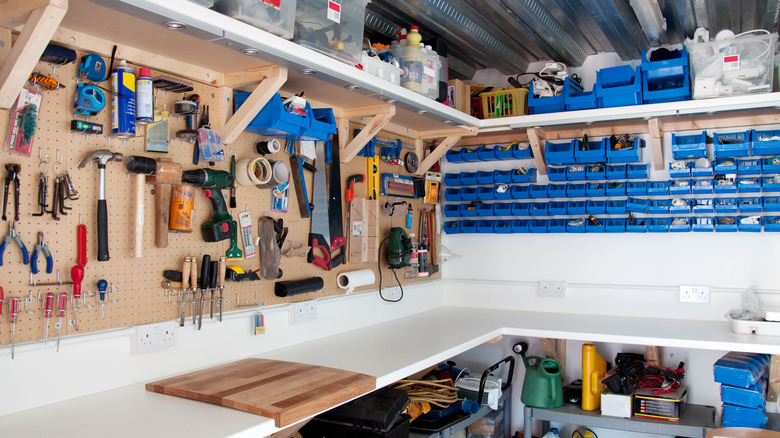 Cmspic/Shutterstock
The extra space in the garage is quite versatile; for some homeowners, the garage is an extra guest room, a creative studio, or even a workshop for some light handy work. However, in contrast with all the other spaces in the house, the garage can be the hardest to organize because of a few reasons. First, the garage is often a dumping site for random, awkwardly shaped objects. Also, no one really hangs around the garage; therefore, there is no urge to tidy up the space. Nonetheless, organizing a garage is necessary not only to keep the space neat but also to locate items easily, especially if you are a handyman. 
Keeping your tools within reach will help you complete your tasks efficiently and not waste time looking for them for hours on end. Before you even consider organizing your garage, you need to think about what is in there and whether you need it or not (via Flowwall). Dump everything that is a waste of space and think of finding a home for the remainder of the items. For anything you decide to keep, here are a few garage storage ideas you can borrow a leaf from.
1. Install a tool rack on the wall
Garden tools should be in a location where they are easily accessible whenever needed. Consider installing a DIY wall mount for your garden rake, hose pipe, and a few others items. Hanging them on the wall will prevent anyone from tripping over them when left on the floor.
2. Rolling table workstation
The space in the garage is never enough. If you are looking for a workstation that can also allow for more space whenever necessary, consider this rolling table. Pull it away from the wall when you need to get work done and, just as easily, slide it back whenever you need more space in the garage.
3. Carve out a corner for your tools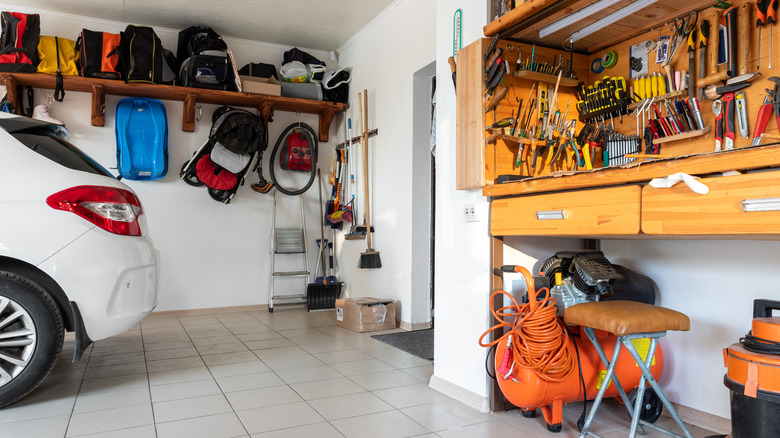 Gorloff-KV/Shutterstock
Your handy tools need not take up all the space in your garage. You can DIY a wooden workstation with a few drawers and plenty of hooks for easy storage and retrieval. Also, consider bringing in a comfortable stool for your convenience when working.
4. Utilize a single wall
Making use of a single wall to store all your tools and other equipment leaves the rest of the garage open for your vehicle and other items. This also allows you to consolidate most of your handyman equipment to a specific spot in the garage.
5. DIY wooden screwdriver rack
Are you tired of misplacing your screwdrivers every time? This DIY wooden wall rack is what you need. Mount it on a wall on the working station in your garage and you will never have to worry about losing screwdrivers ever again.
6. Power tools mount
Your woodworking power equipment deserves a better place than the garage floor. Customize a floating wall mount that not only provides storage but also doubles as a safe charging spot whenever the equipment is not in use.
7. Jar storage for your hardware
Contrary to popular belief, you can find good use for both mason and plastic jars in locations other than the kitchen. Jars with a lid provide storage for small pieces of hardware. Also, arranging the jars on shelves on a wall makes the entire place look neat and organized.
8. Stack all the junk on shelves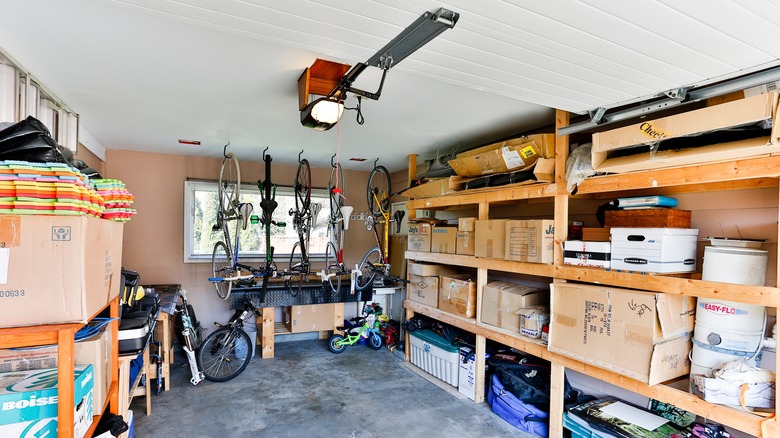 Nalidsa/Shutterstock
If you have numerous items in your garage, a simple organization hack is to pack similar objects in containers and store them away on shelves or compartments on the wall. This leaves the garage clutter-free with plenty of space to spare.
9. Create a landing pad in your garage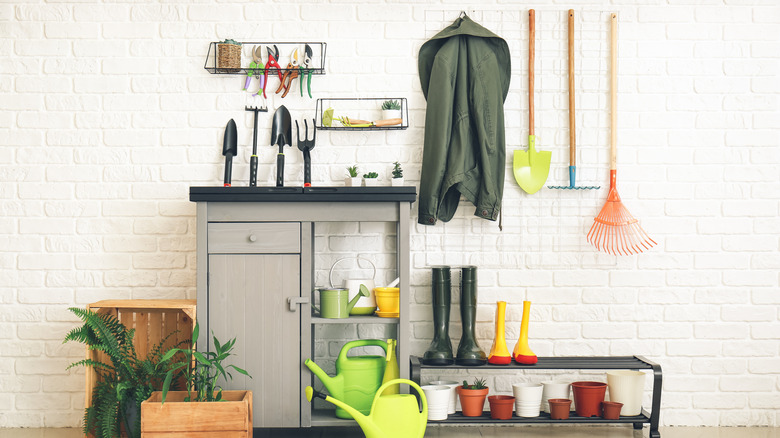 Pedal to the Stock/Shutterstock
Having a mudroom in the garage where you can store small garden equipment and gear is very convenient. You can quickly change into your garden outfit and grab whatever tool you need right from the same spot. Throw down a rug to add some style to the space, as demonstrated above.
10. Post up a peg board
A pegboard is a versatile and customizable storage device that will bring a lot of organization to your garage. It is not only cheap but can be installed right inside the garage on any wall. Depending on the quality, you can safely hang equipment of different weights.
11. Tuck away fragile items in tool chests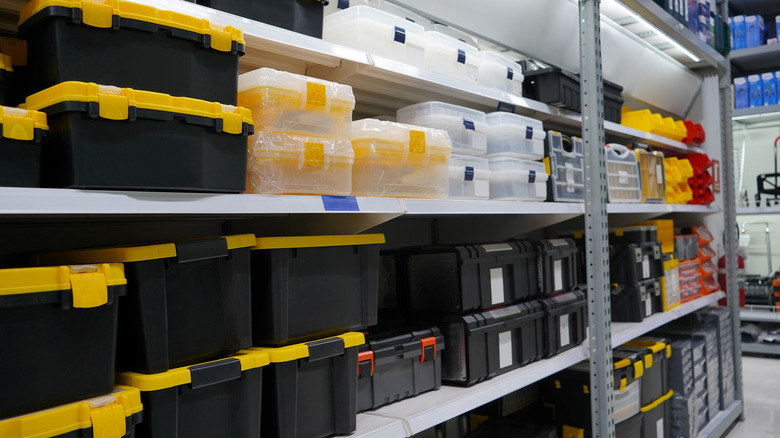 kasarp studio/Shutterstock
Tool chests are made of tough plastics and are meant to protect fragile items in the garage from damage. Another reason why you should consider using tool chests for storage is that they look organized when arranged on shelves.
12. Store wood high up on the wall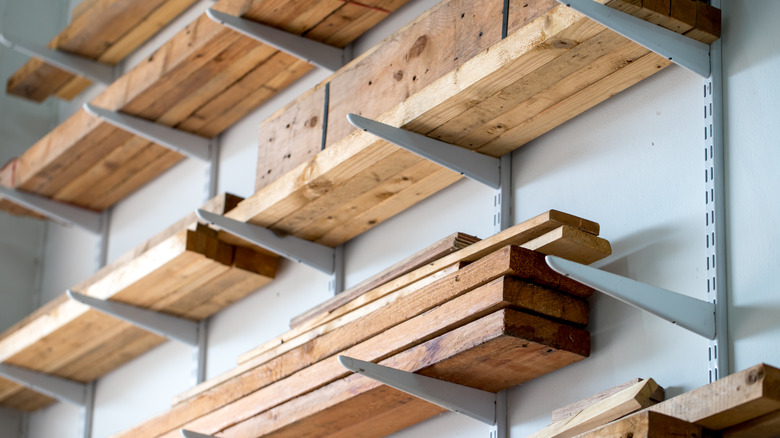 JueWorn/Shutterstock
Long pieces of wood can pose a challenge when it comes to storage. The best place to safely store such objects is high up on a wall close to the ceiling. This leaves enough room on the ground for smaller items.
13. Mount ladders on the wall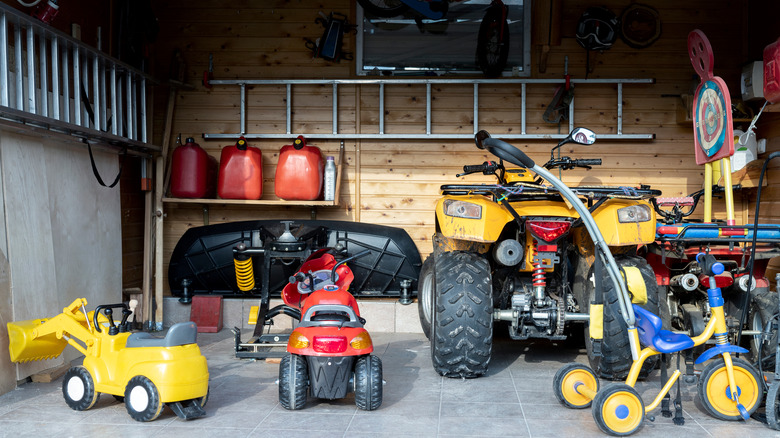 Gorloff-KV/Shutterstock
Ladders are frequently used items at home and need to be stored in locations that provide easy retrieval. Hanging ladders on the wall of the garage not only makes them accessible but also prevents anyone from tripping over them.
14. Magnetic wall rack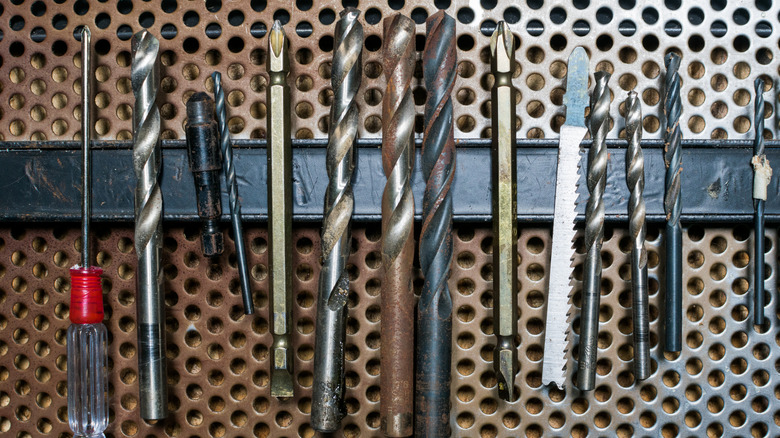 Bezzangi/Shutterstock
Mounting a magnetic wall rack for hanging small metallic tools is not only sleek but also quite practical. This is especially true for smaller items that you use frequently in repairing and servicing equipment. You can install as many magnetic strips as you want, depending on your needs.
15. Install wall-mounted open shelves
Storing frequently used items on open shelves makes them easy to access. This particular open shelf takes up little space since it is mounted on the wall. It will be more functional and convenient if you install it by the door.
16. Consider inbuilt shelves
Building shelves inside the garage walls is a great way of making sure the garage is clutter-free. Instead of dumping everything in one dark corner, an inbuilt shelf gives you several compartments where you can tuck away different items and create even more space.
17. Store according to use
Pipas Imagery/Shutterstock
One storage hack for a handyman's garage is to keep related equipment together. To give you some perspective, the lawnmower and other related tools are in one place in the garage above. This makes it easier for you to assemble the equipment necessary for a given task.
18. Use metallic shelving units
Pipas Imagery/Shutterstock
If you have concrete walls in your garage that are not conducive to hanging shelving units, consider installing standalone metallic shelving units instead. They are sturdy enough and come in different sizes depending on your individual needs.
19. Create a dedicated workshop
If you love DIY projects, go ahead and assemble a fully-fledged workshop in your garage. The empty walls in your garage will provide additional storage for your workshop tools. Also, consider bringing in one or two rolling working stations that can be moved out of the way if you need to clear up some space.
20. DIY your own storage
Building your own garage wooden storage crates is a great DIY project that will help keep this space neat and organized. If you don't already have a shelving unit, this is the perfect excuse to get out your tools and build the storage that you might need.