The Most Important Place To Use A Broom That You're Probably Missing
Your home may always be clean if you own a broom. While you can plug in a small vacuum or dust buster, a broom is a quick and easy way to sweep away dirt, dust, leaves, sand, bugs, and/or cobwebs, among other nuisances in various places throughout your home. Simply a brush with an elongated handle, brooms can be a blessing to your home (via Shutterfly), a magical flying device, or most likely a necessary part of your everyday cleaning routine.
Originally established as a bundle of twigs in ancient times, the bristles of a broom have evolved over time with materials like corn husks, plastic, nylon, and sorghum. According to PHS Hygiene, brooms weren't officially manufactured until the early 19th century, thanks to farmer Levi Dickinson, who made one for his wife, then started selling them by the hundreds.
Known for their durability and their versatility, brooms may never go out of style as they can sweep away just about anything. You surely use your broom(s) to sweep all over your home, but there may still be one important place you've neglected in your sweeping. Read on to find out where this may be.
Closet broom cleaning
As you give your old broom a regular workout, sweeping all over the home, you may be like many of us and unknowingly missing one place in particular in your routine: the closet. Yes, while closets are for storage, they also need to be kept tidy, which your broom can help with.
Besides seasonally sifting out old or unworn clothes from your closet or wardrobe, you'll want to clean these storage spaces periodically to keep areas and materials from collecting too much dust, dirt, or mothballs. Even if you have a door or shield dividing your storage space, dust will collect high to low.
Why should you worry about regularly cleaning your closets? Dust. According to SA Health, dust has the potential to contain minute entities, including dewdrops that can seep into our lungs, resulting in various unforeseen health concerns.
If you generally use a small vacuum or dust buster for cleaning, a handheld broom is also a dependable tool that can either reach into small dark crevices or high, hard-to-reach places without the need of an outlet. Depending on the size and amount of shelving within your closet, you can sweep up particles swiftly with a standard, angle, or whisk brush broom.
Another vital place to brush within your closet/wardrobe is the clothes themselves. You might sweep down your hanging clothes several times with a hand-held whisk broom, specifically used for this task. Even though clothes and garments have been washed and hung or put away, other elements and impurities like outside dirt, pet hair, and/or dead skin cells can still circulate throughout the house and settle onto the materials.
Types of dust brooms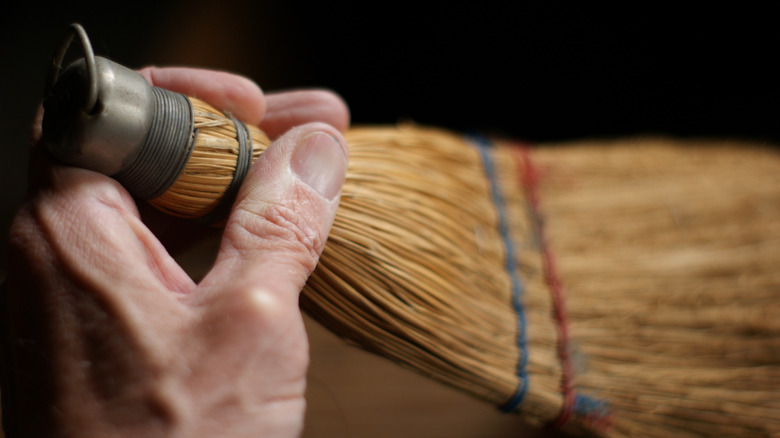 J.D.S/Shutterstock
Which broom might ultimately suit your closet space? Standard brooms are ideal for daily use within high-traffic areas, whether big or small. These brooms work because of their resilient synthetic bristle material that easily clings to both dust particles or larger remnants, via Home Depot. Many standard brooms of good quality may range in price from $10 to $15, depending on the size and brand, including the handle material like plastic, metal, or wood.
Additionally, this basic broom generally features a straight brush with a sturdy sweep. If you seek a broom with a little more efficiency, investigate one with an angled head brush, which features a slightly tilted edge, as it's specifically made to pry out particles from borders, corners, edges, and more, according to iRestify.
Another approach for snug, hard-to-reach places, such as closet shelves, is a short-handled whisk broom. A classic piece, the dense corn husk fibers of this broom are durable enough to whisk away plenty of dust and debris. Whether it's corn or another synthetic material, this petite broom provides an opportunity to clean smaller gaps by hand that require various levels of cleaning, especially with your clothes.
Feather dusters are also a great choice to clean shelving, cabinets, and tabletops. Overall, you might also consider the bristle texture of your broom. If it's flagged, or frayed, this broom will help collect small debris nicely; if it's unflagged, this one will be better at collecting larger items.