Designer Jonathan Rachman On The Newest Trends & How To Make Them Work For You - Exclusive
Jonathan Rachman is an eclectic personality — a decorator who believes in more than surface aesthetics, a self-taught designer who picks and chooses which rules to follow, and a visual storyteller who sometimes embellishes with excessive flourish and other times creates in minimal code. His first monograph, "Currently Classic: Jonathan Rachman Design," will be released by Flammarion next month — a compilation of 20 years of his daring design relationships, and pursuit of beauty. 
Rachman's projects are a translation of his clients' desires and narratives fed through his very specific lens: florist, traveler, and before that, a child absorbing the saturated colors and vibrant patterns of a Sumatran Island upbringing. He thinks a home should say a lot about who lives there — that doesn't include the last time they renovated, where they shop, or what their favorite trend is. And as far as trends go, his prediction is " ... for spaces to be more personal, to have a soul, to represent the owner of the house — not the trend nor the designer."  He adds, "That is how I work with my clients, to make their spaces theirs, and that does not look like a certain showroom." For him, style is unique to each person, and he sees our leaning into this individualism as a sure trend on the horizon.
In an exclusive interview with House Digest describing his approach and journey, Rachman delved deeper into his thoughts on new trends to come.
These design styles will be trending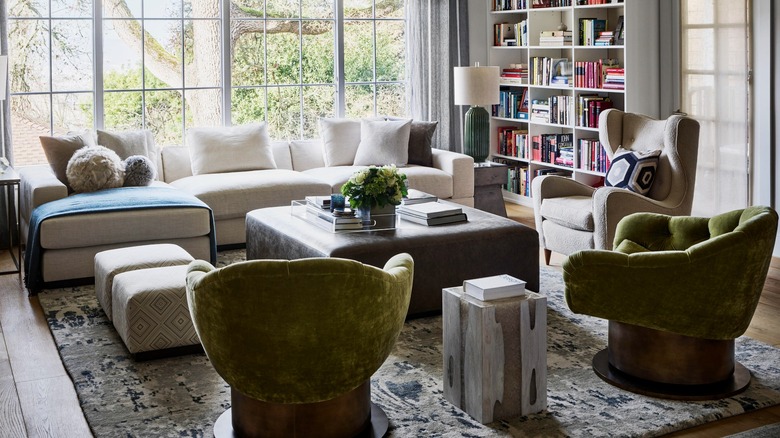 Flammarion
When we asked Jonathan Rachman to reveal what he envisioned as the trend we'd be seeing more of, he quipped, "I have always said I don't follow trend and I am not trendy, so I am the wrong person to ask about trend." However, he conceded, "I expect to see the classics and the maximalist to not only stay but back with a vengeance — where a space truly represents the owner of the house, using antiques or heirlooms that are meaningful to the owner, combined with practical yet beautiful pieces they have collected along the way ... to create a space that's inviting, warm, and livable with a soul."
Rachman encourages the willful dismissal of what is popular and standard, encouraging us instead to opt for the freedom of doing our own thing. "If you don't like it, you can always redo or try something else ... but for heaven's sake, be you!" he cheered. He draws a parallel between design and fashion. "Part of the reason why people are playing it safe in decorating is to copy other people's design and style. Think about interior design as you would in fashion: Don't copy, instead create your own style," he explained, asserting that taking risks with self-expression is an antidote to boring environments and the impulse to live up to impossible standards. Instead, experiment and have fun. "Mix it up, try using antique chairs with your modern table, try to wallpaper your entire room and ceiling, do something outrageous. No one is dying, it is not rocket science — it's decorating your living spaces," he reminds us.
"Currently Classic: Jonathan Rachman Design" is published by Flammarion and will be distributed starting September 27.