Best Areas Of Austin, Texas To Buy A House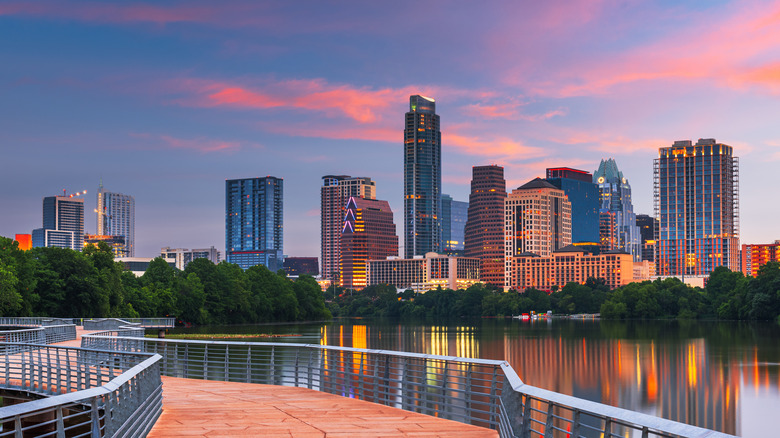 Sean Pavone/Shutterstock
Everyone is moving to Austin! The U.S. News & World Report declared Austin, Texas the best place to live in the United States. While Austin doesn't claim the top spot every year, it never falls far from it. The city's population is booming. Each year, thousands of transplants move to the Texan capital city, many of whom come from California (via JBGoodwin Realtors). Texas has no state income tax, making it an attractive place for individuals, and it offers plenty of tax breaks for businesses, too. So it's growing — particularly Austin.
There are many things to love about Austin. First of all, the city has the slogan, "Keep Austin Weird." It's the live music capital of Texas, brimming with great places to eat (seriously, some of the best tacos you will ever have are here), and friendly locals with that Texas swagger. Of course, the city is also rich in natural beauty with green parks, hiking and biking trails, the Colorado River, and outdoor activities. But where is the best place to buy a home in Austin? The property market is growing and competitive, but there are still plenty of places to get your foot firmly on the real estate ladder.
Round Rock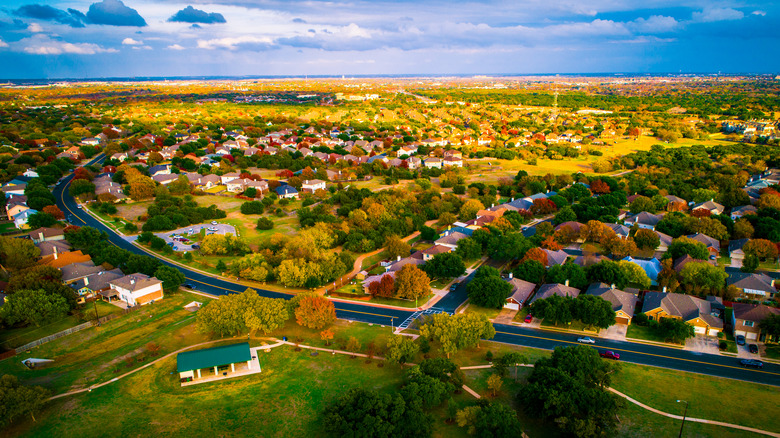 Roschetzky Photography/Shutterstock
According to Round the Rock, residents of this Texas town are passionate fans of their community. You can enjoy the safety and convenience of living in the suburbs without giving up on the big city. This suburb is only about 20 minutes up Interstate 35 from the center of Austin. If you keep going on the same freeway, you will be in Dallas-Fort Worth in about three hours. It's a very convenient place to live because of the location and shopping options. The Round Rock Outlet Mall basically has every shop you might be able to think of, plus a few more.
Like much of the Austin area, Round Rock dodges the thick, soup-like air that Houston is known for and settles into warm days that don't make you feel like you're in a wet sauna. Are you interested in living somewhere with balmy, 75-degree days in the middle of January? How about wearing a T-shirt in February? Round Rock just might be the place for you.
Leander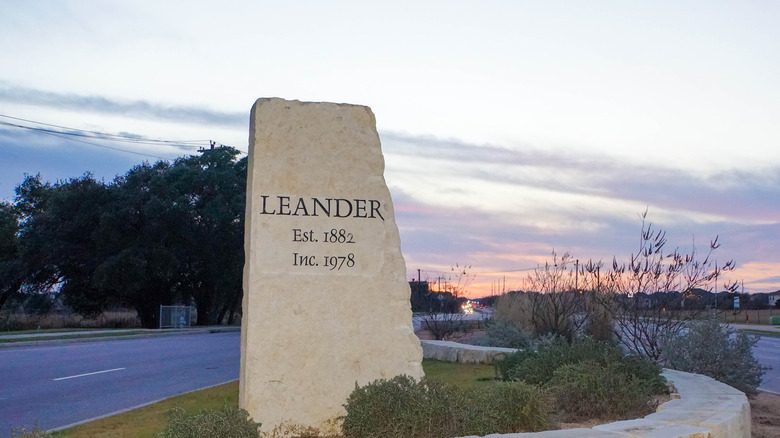 Laura Gunn/Shutterstock
Like most suburbs near Austin, Leander is growing fast. According to Second House on the Right, residents of this community describe it as safe and cozy. They enjoy living so close to Austin, especially as the city continues to attract new industries and jobs, while still maintaining that charming small town atmosphere. Two neighborhoods within the suburb stand out: Crystal Falls and Travisso. Both are master-planned communities with affordable homes for families and single professionals alike. Leander is also home to plenty of parks, green spaces, and shopping centers.
The suburb is an easy 22 miles northwest of Austin, just off of US-183 between Cedar Park and Liberty Hill. It's about 20 square miles and has just under 70,000 residents (via Census Bureau). Most residents (61 percent) are of working age, between 18 and 65, with a further 30 percent under 18. It's a great place to raise your children and settle down to live the Texas dream.
Pflugerville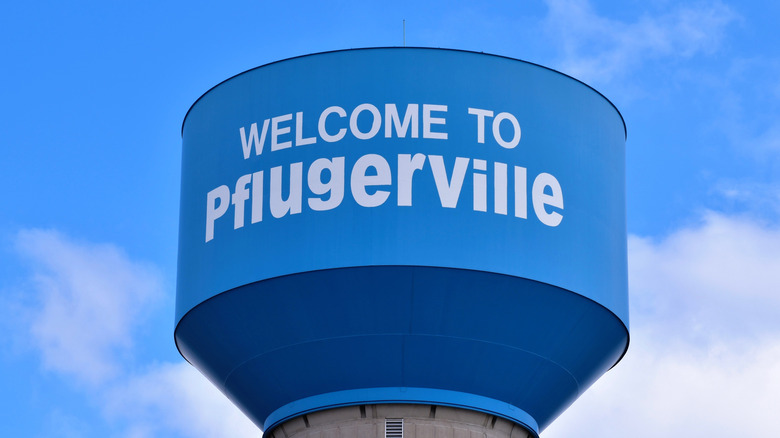 Ray Shrewsberry/Shutterstock
Pflugerville is a growing outer suburb of Austin. According to Census Bureau, the town's name isn't the only unique thing about the area. The community has about 65,000 members and is just a 30-minute drive north of San Antonio (via Best Places To Live). The town is lucky to have a 180-acre lake named after it (via Pfun, TX). Locals use it for a variety of watersports, like boating, swimming, and fishing. Funnily enough, the lake used to provide drinking water to the city. In addition to the lake, residents can also enjoy Gilleland and Stoney Creek parks.
The Pflugerville area is currently experiencing lots of growth, and the job market is expected to grow in the future. If you want to purchase a home in the Austin area, it's a good idea to purchase in Pflugerville before things get too expensive. The sooner you buy your home here, the sooner you can begin building value.
Hutto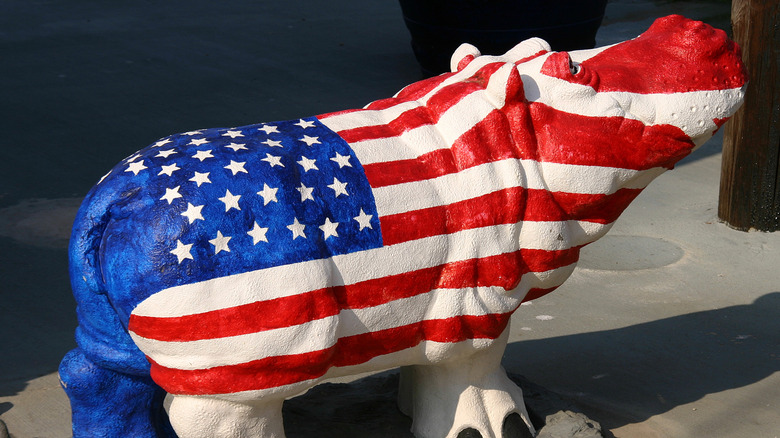 Jason McCartney/Shutterstock
Hutto has a reputation among those who live in Austin as a great place to raise a family. According to Real Men Moving, Hutto also has another unique feature. It's the hippo capital of Texas. In 1915, a hippo kept as an exotic pet escaped in Hutto. Since then, the animal has been the community's unofficial mascot and the official mascot of the local high school. There are dozens of hippo sculptures and other hippo-inspired art around the town.
Hippo-lovers from around the country are moving to Hutto in droves. In the early 2000s, only about 1,500 people lived in the area. By 2020, there were over 30,000 residents. The nice thing about Hutto is that homes in the area are still affordable, as the median home value still sits in the mid 200,000 range. While some parts of Austin have rocketing property values, Hutto gives more people a chance at homeownership. However, property values will likely continue to rise steadily, so now is great time to start the home buying process.
The Hills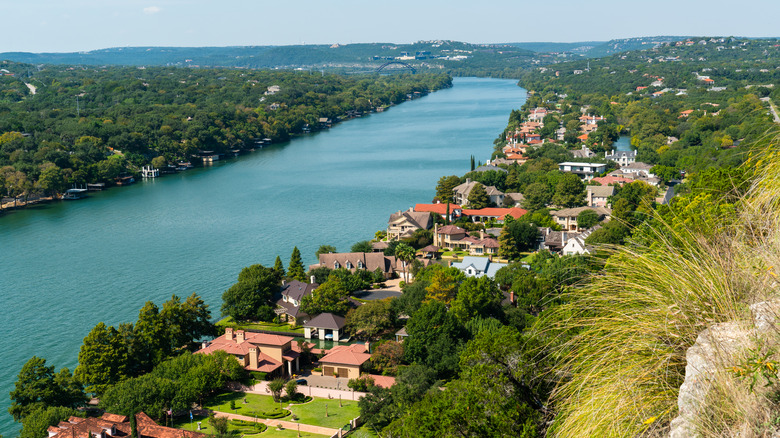 Roschetzky Photography/Shutterstock
If you live in an area of Austin known as The Hills, you might feel like you are living in a top vacation destination instead of just coming home from work to any old place. The area is known throughout the region for its gorgeous scenery. According to Austin Monthly Magazine, homes in the area come with a high price tag (to the tune of well over 500,000). However, if you can afford it, get in while you can. Remember: your dollars will still go farther in Texas than in other markets like California, Washington, or New York. Many find that when they move to the Lone Star State, they can substantially upgrade their quality of life.
The communities here are gated and known throughout the city for low crime rates. Residents report feeling safe in the area while enjoying local green spaces, like Lakeway City Park. The park has 64 acres of well-maintained trails for everyone to enjoy the great outdoors.
Hudson Bend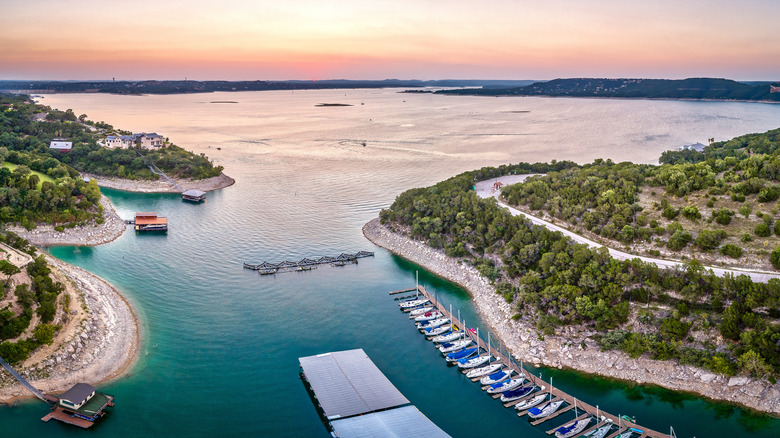 Ryan Conine/Shutterstock
If you consider yourself an outdoorsy person, then the community of Hudson Bend might be the best place in Austin to settle and buy a house. According to Austin Texas, the neighborhood is 20 miles from Austin in the northwest. Many homes are right on Lake Travis with their own docks, if not within walking distance or a short drive from the water. To that end, water sports like boating and jet skiing are very popular with residents. Most people who live here also own their boats.
The community has a unique makeup and a wide range of property prices. Due to its proximity to the lake, plenty of multi-million dollar homes are on the market. In addition, there are mobile home communities in Hudson Bend and everything in between. If you like feeling like you're on vacation when you get home from work every day, this is the community for you.
Manchaca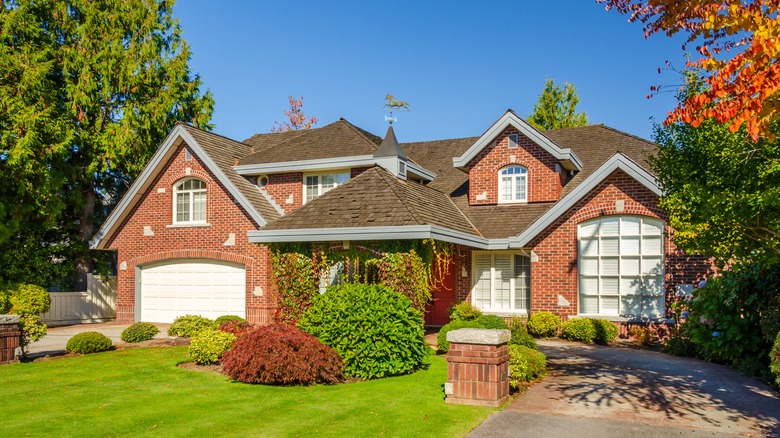 Karamysh/Shutterstock
The first thing you need to know before you move to Manchaca is that most Austin locals say it like "man shack." Say it any other way, and you will stick out like a sore thumb and likely experience relentless teasing. According to Texas Escapes, the area was named after early Texas settler José Antonio Menchaca. His last name has morphed into the community's modern pronunciation over the years, courtesy of the signature Texas drawl.
Manchaca is an unincorporated area of Travis County and has always been tiny. However, it has begun to grow in recent years. We mean really recent. In the 1970s, only 36 people lived there. However, it's in a prime spot to absorb some of Austin's immense growth as it is just a tick past South Congress on Interstate 35. The growing suburb of Buda is also nearby. Manchaca backs up to the Woods of Bear Creek, a massive nature reserve, meaning that although it's becoming more urban, it still feels quiet and peaceful.
Bastrop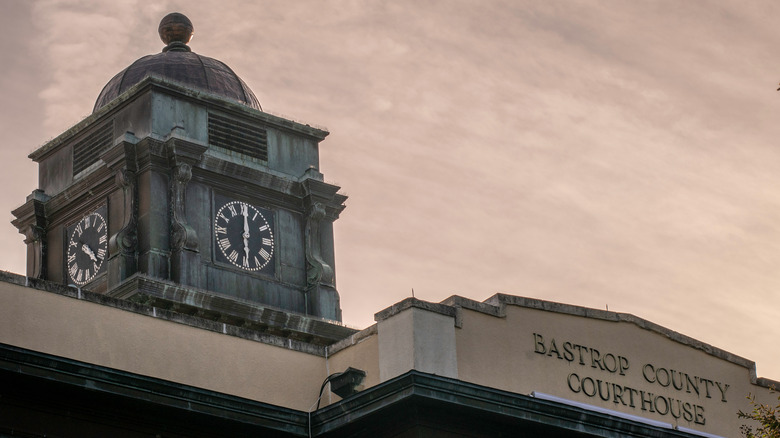 University of College/Shutterstock
According to Texas Parks & Wildlife Department, the town of Bastrop is one of the oldest in the state of Texas — founded as a post on the banks of the Colorado River. As it's grown, Bastrop has embraced modern amenities without sacrificing an ounce of its classic charm. McKinney Roughs Nature Park is in the area and perfect for people who love the outdoors. It's a 1,100-acre park with many activities like ziplining, horseback riding, and camping (via Visit Bastrop).
Bastrop is about 30 miles southeast of Austin, making it the perfect commuting suburb (via Visit Austin, TX). It's also on the same side of the city as Austin-Bergstrom International airport. If you work for an airline or like to travel, it might be worth it to live on this side of town for easy access to the airport. Tesla also opened its international headquarters on the Bastrop side of Austin, bringing thousands of jobs and great value to the area (via Tesla). By buying a home in Bastrop now, you'll be on the ground floor of decades of social and economic growth.
Buda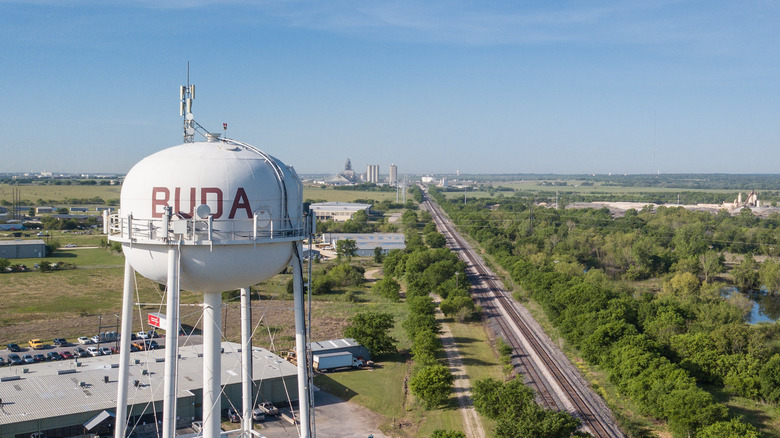 Jo Hunter/Shutterstock
If you ask someone who grew up in Austin about Buda, they might not claim the town as part of the Greater Austin area. However, the booming growth is pushing residents further afield. Buda is emerging as a great place to live should you need to work in Austin, but enjoy small-town life. According to Austin Monthly Magazine, the town is a good fit for people looking to downsize after their children leave home.
It is about a 17-mile drive from Buda to Austin, but the exact amount of time those miles take varies greatly depending on the time of day and current traffic load. Median home prices are a little less than $300,000. As the cost of living in Austin starts to resemble places like New York or San Francisco, these prices are a relief to many, especially for the number of square feet it will get you. Prices are rising, so by purchasing in Buda, you are nearly guaranteed a positively-geared property not long after closing.
South Congress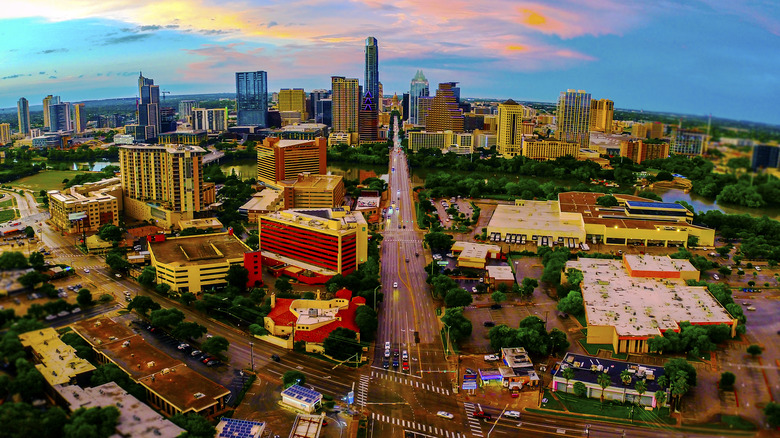 Roschetzky Photography/Shutterstock
When you think of Austin, you are probably thinking about South Congress. It is an iconic Austin neighborhood visited by millions of tourists each year. According to A Taste of Koko, some locals call the area SoCo, and it's essentially the city center. The large boulevard runs from the state capitol building, across the river, and straight up the hill. If you follow this route on foot, by bike, or in your car, you'll see an area in transition. Closer to the river, there's new mixed-use construction on either side of the road. You'll find Starbucks, LuluLemon, real estate offices, and condos.
A little further down, there are coffee shops, dance halls, and antique furniture shops that have been around for decades. While the central area is busy, no matter what time of day you visit, there always seems to be just enough parking. One block back, there are beautiful single-family homes. Thanks to the variety of education options, this area is ideal for families (via Neighborhoods.com). Should you purchase a home in this area, you won't need to worry about tourists constantly parking in front of your house. The neighborhood is patrolled regularly by traffic police, and towing and fines are common.
Georgetown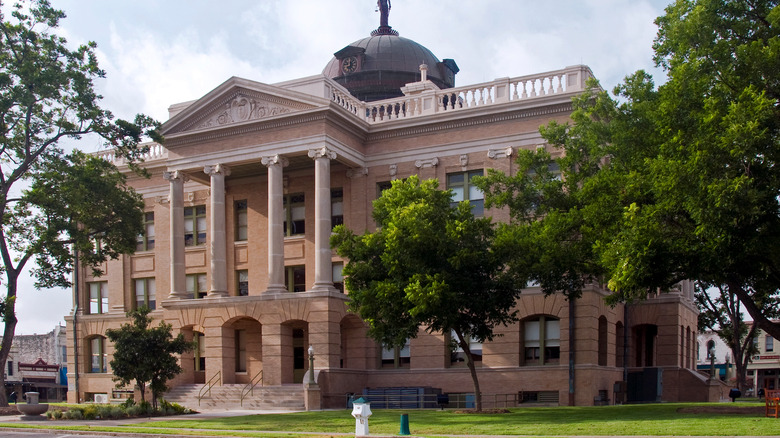 Xradiophotog/Shutterstock
Georgetown, Texas has a thriving local economy. According to Austin Home Properties, you can get all the charm of living in a small Texas town without sacrificing the convenience of living so close to Austin. Georgetown has more than 40 parks to choose from if you prefer to be outdoors and you can visit Lake Georgetown to get your water fix. In fact, Garey Park is one of the biggest town parks in the state — you can even go horseback riding there!
The town is also one of the most affordable in Austin. Homes in Georgetown average about $250,000, meaning that more Texans can afford to transition from renting to owning. If you want to own a small starter home or a larger house to raise your family, you will have an easier time finding something in Georgetown than in most of Austin. Since Austin's real estate market continues to heat up, this is happy news for many families. The main reason for this is that other than Southwestern University, the town doesn't have many large employers — causing most residents to commute elsewhere for work.
Cedar Park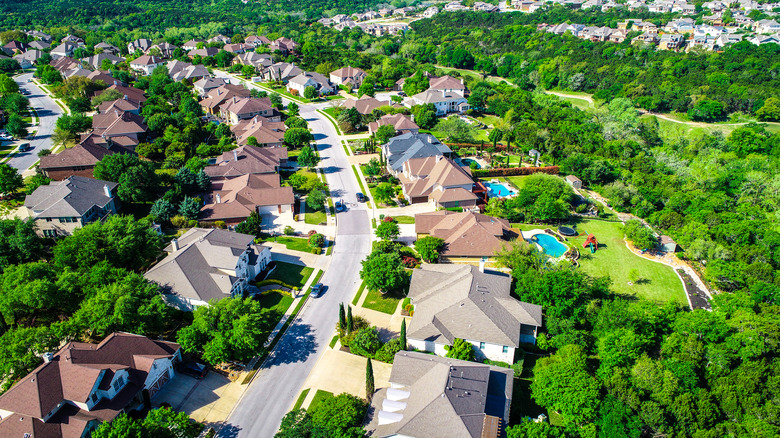 Roschetzky Photography/Shutterstock
The community of Cedar Park, Texas is known throughout Austin for its top schools and educational opportunities, per Niche. Cultural institutions like the Austin Aquarium, Thinkery Austin, and the Austin Nature and Science center are proudly within Cedar Park. The suburb is just north of downtown, so it's nice and close to all the action of the University of Texas and the state capitol building. There are about 80,000 people that live in Cedar Park, but it's still a low-crime area compared to the rest of the United States.
Many tech companies are opening offices in the Cedar Park area, while industrial manufacturing is another popular industry (via The Tech Tribune). Those who live in the area don't have a long commute to most other parts of Austin, and many don't have to go far for great employment. After work, locals can enjoy great entertainment because they live so close to downtown. Austin's legendary Sixth Street is just a short Uber ride away, as are the city's legendary music venues.
Shady Hollow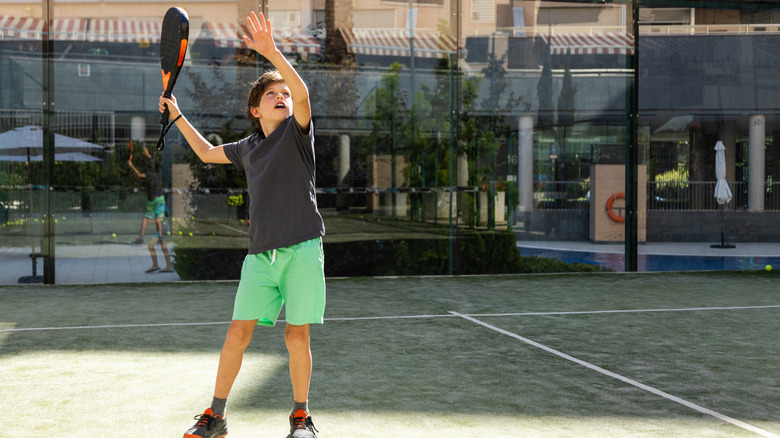 David Fuentes Prieto/Shutterstock
Shady Hollow is a favorite for Austin families because of its kid-friendly amenities, like swimming pools, tennis courts, and high-ranking public schools. According to the Austin Home Network, residents in this southwest Austin neighborhood enjoy the shade of the oak trees that line the streets and annual community events like a 4th of July parade and Easter egg hunt. Many homes date back to the 1980s and 1990s, so the homeowners association (HOA) is more established, and fees tend to be lower.
However, prices for the homes vary, with some as low as $200,000 and others topping $500,000. This price range means there is an opportunity for most buyers to get their foot on the property ladder in Shady Hollow. The area has a great location in the city of Austin, as it is only about 12 miles from downtown, with easy access to most major highways. Most residents find that their commutes are short and relatively painless, no matter where in Austin they need to get to each day.
Riverside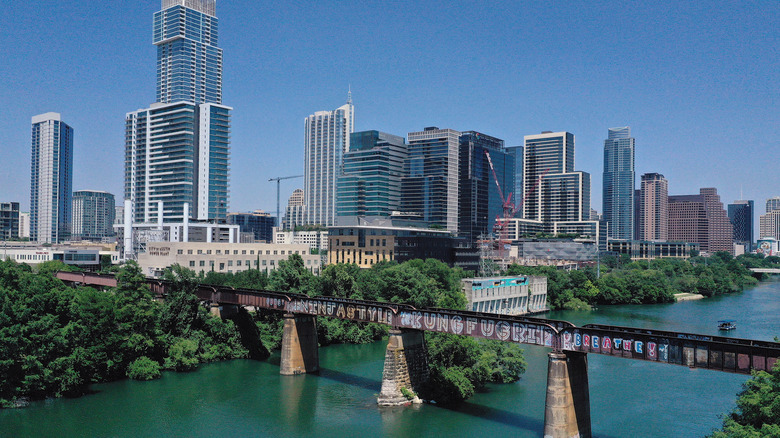 Tom Pennington/Getty Images
The neighborhood of Riverside in Austin is trendy and accessible. According to VeryApt, some locals call the area East Riverside-Oltorf. The community is located in the southeast region of Austin and is growing fast. One of the main draws of the neighborhood is its proximity to Lady Bird Lake, named after Lady Bird Johnson — the 36th first lady of the United States. The lake has a great recreational reserve alongside it called The Boardwalk. You can often see locals rollerblading, riding their bikes, walking with dogs, and sunbathing in grassy areas.
The neighborhood is known to be a bit artsy, and many painters, sculptors, and musicians call the area home. With this in mind, you are never far from a cool gallery, live music show, or delicious place to eat if you live in Riverside. The community is also a popular place to rent. If you are interested in purchasing an investment property, this is an ideal area to consider (via Austin.com).