The Best Way To Fix A Refrigerator That Is Not Getting Cool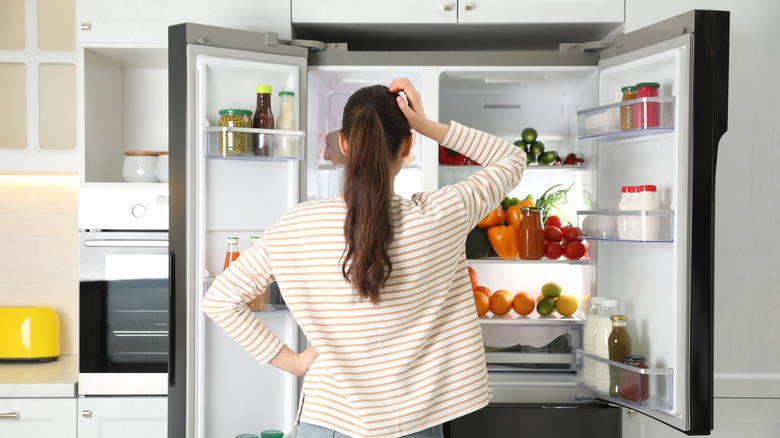 New Africa/Shutterstock
When you open the door to your refrigerator, you should notice a significant drop in temperature. If that's not happening, it could mean you need to act quickly to fix it, if possible, or call a repair technician before the food within it goes bad. According to Mr. Appliance, the temperature within your fridge should be about 40 degrees Fahrenheit, and the freezer should be at zero degrees. To determine what the temperature actually is, put a thermometer into the back of the refrigerator, close the door, wait a few minutes and then check it.
If it's outside of this range, it's time to consider what's wrong. If your refrigerator is not cool or doesn't stay cool consistently, it's not preserving your food as it needs to. There are several things you can do to find out what's going on, and in some cases, the problem may be an easy fix, and you will not need to replace the refrigerator.
Start with the easy stuff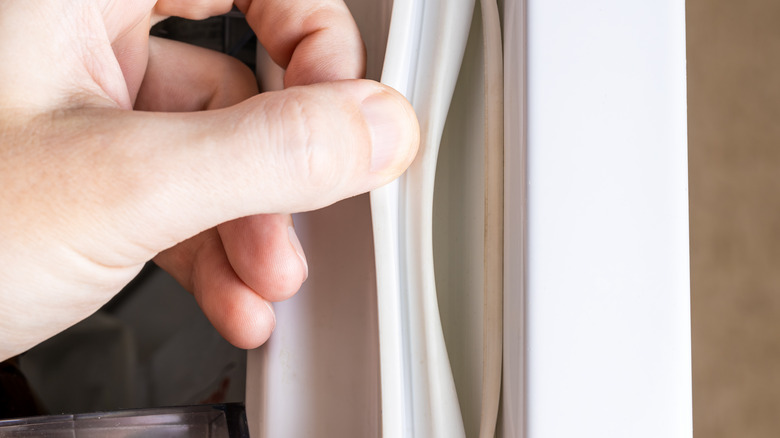 monte_a/Shutterstock
Sometimes the problem with your refrigerator is easy to fix, and you can do it yourself. Mr. Appliance notes that your first steps should be to ensure the refrigerator is plugged in and there's power going to the outlet. Then, be sure the door closes fully to create a tight seal around it. Also, check the fridge's thermostat to ensure it's set at the proper temperature and adjust as needed.
Once you've done that and the problem remains, Forbes Advisor says you should clean the condenser coils to remove any dust or debris that's collected on them over the last few months. You can also remove any frost buildup that's present, as this can block the vent and keep the refrigerator from cooling down to the proper temperature. Defrosting the refrigerator and freezer takes time, so it's important to have a place to store your food while you go through this process.
Sometimes you need a professional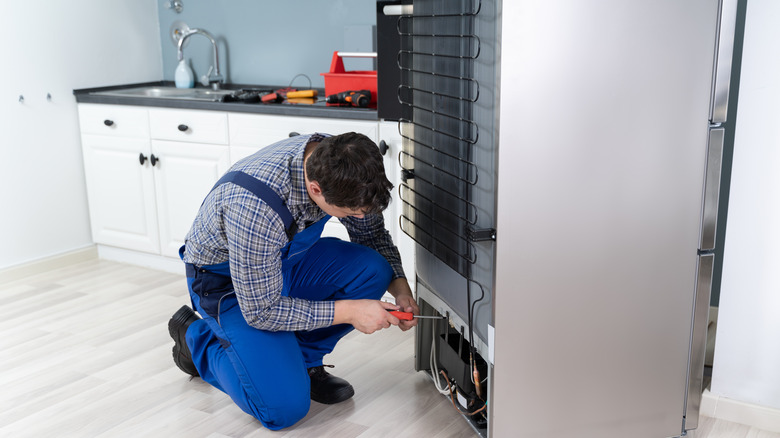 Andrey_Popov/Shutterstock
There are some more advanced and complex potential repairs that may be needed on your refrigerator if the simple things don't seem to help. If your refrigerator isn't cooling, Sears Home Services states that the refrigerator fan motor may no longer be functional because it works to circulate cool air. If both the freezer portion and the refrigerator portion are not cooling, this is potentially the problem. Another potential need for a pro is if the evaporator fan motor fails, which typically is a problem if your refrigerator isn't cooling, but the freezer seems to be working.
If you're a handy DIYer, you may be able to handle a few more concerns, such as replacing the refrigerator's start relay if, when you remove it, you hear a rattle when you shake it. If none of these solutions works, be sure to contact a technician to determine what the underlying problem is or consider replacing your refrigerator with a new one.