The Best Dupe For The Ring Doorbell On The Market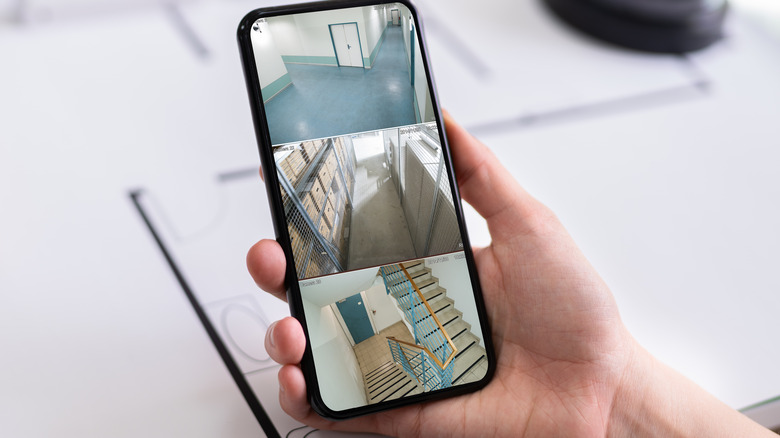 Andrey_Popov/Shutterstock
We may receive a commission on purchases made from links.
Everyone should be able to feel a sense of security in their home, no matter the budget they're dealing with. The Ring doorbell has been a popular ticket item, especially for its convenience and security measures. For example, you can answer your door from anywhere in the house, or if you're at work, according to OnItHome. This can be especially helpful for those who have kids that constantly lose their home keys. The camera can also be used to catch any suspicious activity, which can then be downloaded and sent to authorities if need be. However, prices greatly vary depending on the specifications you need, and you could be paying anywhere between $52 to $350, according to Ring.
This price range can be difficult for most people, especially as the U.S. and other countries deal with their post-COVID-19 economic struggles. Luckily, there are always different versions you can purchase at a lower cost. It may not be the exact same product, but if it helps you sleep at night, it may be worth it in the end.
Blink doorbell
A security doorbell that can save you a little over $10 is Blink, per BestBuy. You can either purchase it in white or black, it'd probably be best to grab the color that blends best with your home, and it can connect to your Alexa. This product is $40, and it has many similar characteristics to the Ring doorbell. It can notify the homeowner when motion is detected, you can answer the door from any location, and its battery can last for two years.
This product is designed to be installed easily, but there are options to have it professionally installed at an additional price. Blink can emit chimes inside and outside of the home, and the camera's quality is full HD, which is helpful if you're in a situation where you need to send footage to the local police department. The camera also has infrared abilities, which means you can obtain clear videos at night as well.
Another affordable and versatile option
The Kasa Smart Video Doorbell is also a good, affordable option, and is only about $50, per Amazon. This device is still comparatively lower than most of the Ring doorbell options and is able to connect to both Alexa and Google Assistant. This is a wireless device, and similar to the previous option, as you are able to answer the door when you're away from home. Another interesting feature is the homeowners' ability to lower and raise the volume of the chime, so it can be lowered when you're putting your child down for a nap, or raised when you're vacuuming. 
This device is weatherproof, meaning it can withstand different weather conditions. Since the Kasa Smart Video Doorbell can connect to Alexa and Google Assistant, you're able to connect it to an Amazon Echo Show or Google Chromecast. If you're someone who spends a lot of time in the living room or kitchen, the footage can also be connected to a television so you can monitor your front door at all times.