15 Cozy Bedding Ideas For Styling Your Sleep Space This Fall
Autumn is all about wearing fluffy socks and getting comfortable as you watch the colorful leaves drop. Everything about fall makes you feel all warm and tingly inside, such as the warm colors, decor, and the endless treats. However, in order to feel the ultimate comfiness of fall, our home must be properly decorated, specifically the bedroom. No, you don't have to paint your walls or do anything to that extreme, but something as simple as changing the styling of your bed can do the trick.
Changing the style of your bed is fairly simple, as you really only need to change the bedding. This is a fairly simple process, and it's advised to have a combination of plush pillows, a nice duvet, flannel sheets for warmth, and a throw blanket, according to Fab Habitat. We've found 15 different bedding ideas to choose from and incorporate into your own space.
1. Brown tones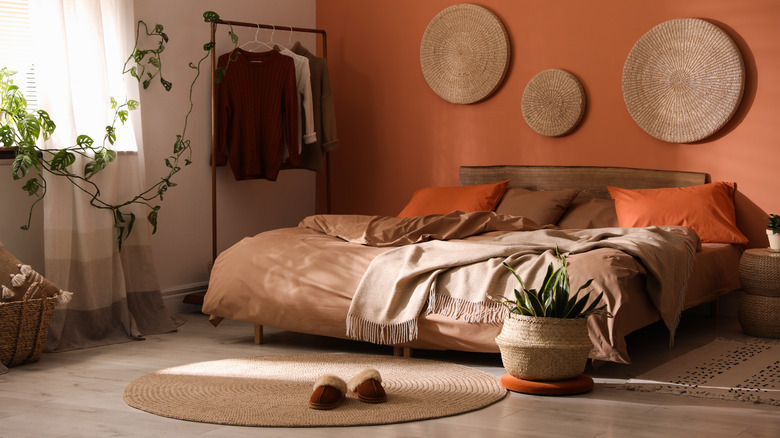 New Africa/Shutterstock
Bedding can be a fairly simple process, and you don't have to incorporate too many colors to create a stunning visual. This bedding features brown sheets with orange pillowcases and a light beige throw blanket. The overall vibe is very calm and cozy.
2. Pops of white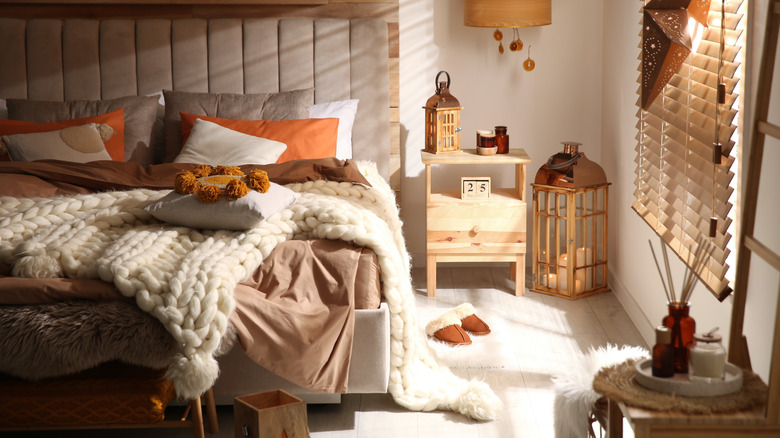 New Africa/Shutterstock
The sheets here are a mixture of dark and light brown, which adds a touch of depth to the bedding. There are also orange pillowcases to incorporate fall colors, as well as white pillowcases and a throw blanket that brightens up the area.
3. Similar tones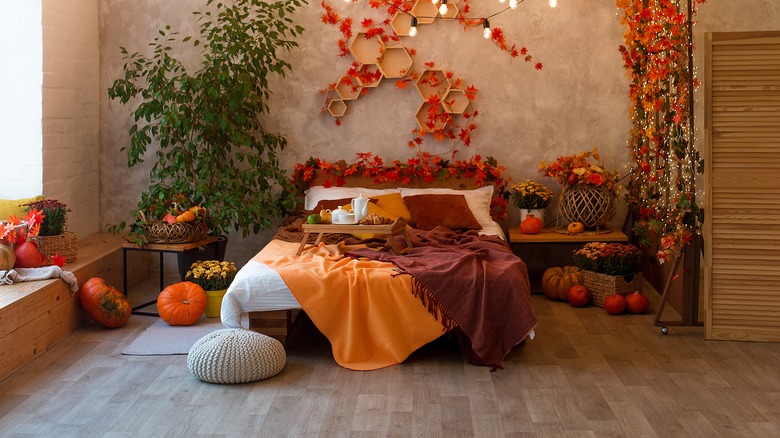 sergiophoto/Shutterstock
This bedding is a mixture of orange, white, and a deep, berry red. Although the shade of red is darker than the orange, the tones are similar, which creates a sense of harmony. The overall look is also bright and airy, thanks to the white backdrop of the sheets.
4. Light and airy orange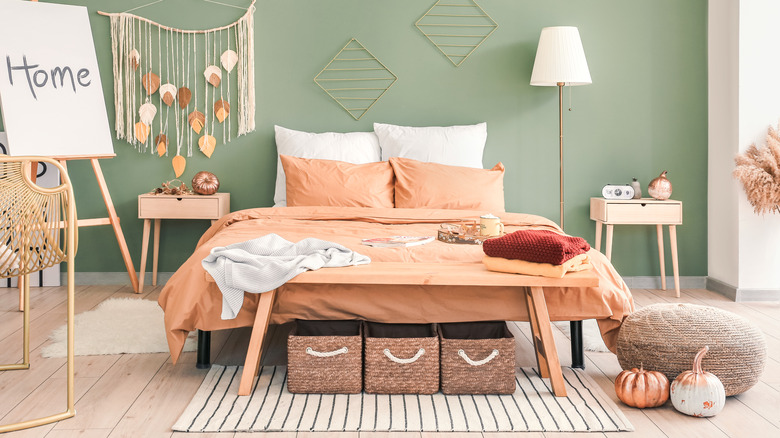 Pixel-Shot/Shutterstock
This combination of bright orange and white sheets is a beautiful combination, as the orange is more on the pastel side, so its vibrancy is not too overwhelming. 
5. A touch of plaid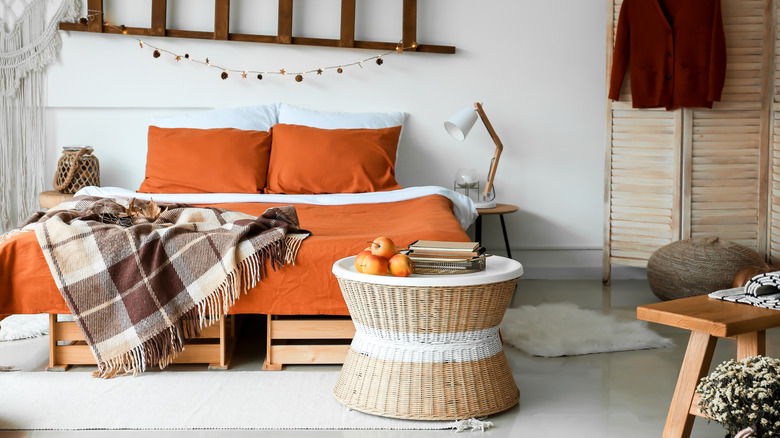 Pixel-Shot/Shutterstock
The simple orange and white bedding is made more festive with a neutral plaid throw blanket. This simple add-on has enhanced the overall design, and the warmer colors add a sense of coziness to the bedding.
6. Different textures
This bedding is a beautiful mixture of texture; velvet pillows, a knot pillow, a knitted throw blanket, and smooth sheets all make this visual a cozy experience.
7. Add a garland
This fall bedding is a comfy mixture of browns and white. There are multiple throw blankets of different textures and shades, and the multiple pillows add style and personality. The light-up garland also displays different shades of orange and is a great touch that adds an element of fall decor.
8. Pink is always chic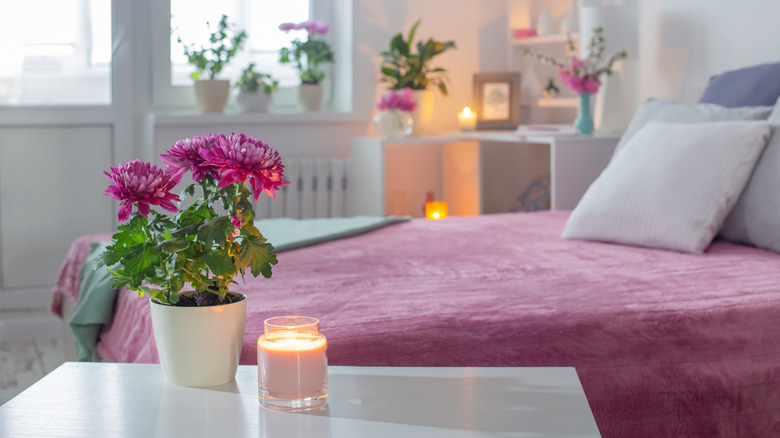 Maya23K/iStock
Fans of the color pink can also enjoy it during the fall. Pairing it with different shades of white, gray, and purple pillows will add the contrast and depth you need. If it doesn't look like your idea fall aesthetic, try adding a throw blanket with a traditional but also complementary fall color, such as green.
9. Pop of color
If you're someone who loves neutral colors, fall is definitely the season where you shine. However, adding pops of color can really brighten up your space. Here, the brown and white bedding was given life by adding a bright yellow pillow and two other pillows with yellow trim.
10. Bright rooms, dark colors
If your room is already bright, with white walls, natural light, and light flooring, you don't have to worry too much about adding brightness to your space. So, deciding to go with bedding that is all of a similar dark tone can work in a space like this, especially if you're going for a minimalist design.
11. It's ok to be spooky
Halloween is also around the corner and a reason why millions of people love fall. So, if you're hoping for a dark and eery vibe, a mixture of black and white bedding will be perfect, especially with some Halloween decor to match.
12. Include patterns
To add more interest, choose bedding with a pattern. As long as you ensure the color palette fits the fall aesthetic, the patterns will work with the rest of your space.
13. Large knit blanket
This large, knit blanket with poms at the ends is a perfect addition to your bedding in the fall. It's reminiscent of a fall sweater and works well with the neutral colors of the pillows.
14. Pumpkin pillows
When putting together your bedding this fall, adding a playful touch, such as pumpkin pillows, will keep the fall spirit in your bedroom alive.
15. Fluffy blanket
Adding a fluffy blanket on top of your bedding is a perfect and easy way to achieve the fall aesthetic. You can either opt for a brown one to remain neutral or choose something more vibrant, like orange, to really brighten up your space.