15 Ways To Jazz Up Your Bathroom Ceiling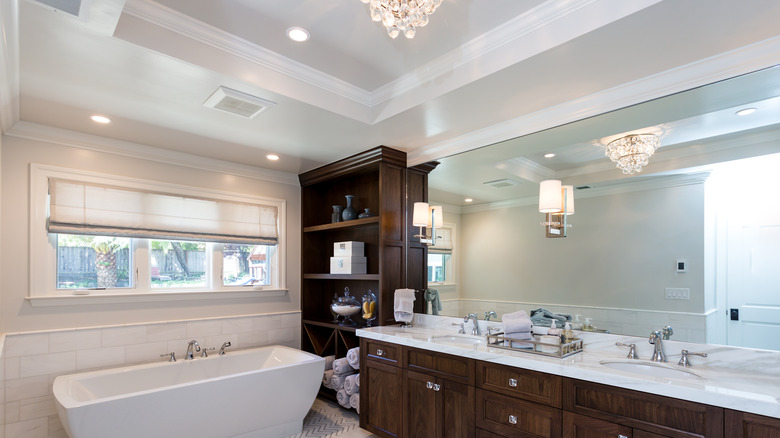 Krista Abel/Shutterstock
When designing a bathroom, most people focus on the appearance of the main features, the walls, and the flooring. Very few, however, take the time to consider how to make the ceiling stand out. However, the designers at James Hardie Industries say this may be a mistake, because your ceiling's design is actually quite important for setting the mood in the space. A unique style can add lots of personality to a room, which could be impressive to guests. Furthermore, a well-designed ceiling will draw the eye upwards, which may make a small bathroom feel more expansive.
There are a few ways to improve the look of a ceiling. You could cover the whole surface in paint or another material, or you could suspend a unique feature, like a statement lighting fixture. If you're looking to make your bathroom ceiling a little more interesting, we've got 15 ideas to get you started.
1. Add skylights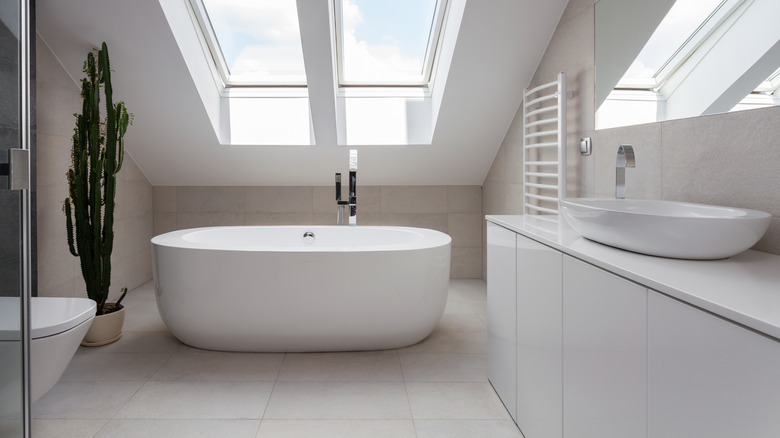 Photographee.eu/Shutterstock
To add more natural lighting to your bathroom, you could install skylights. These would also make this small room feel much larger. 
2. Border a skylight in wood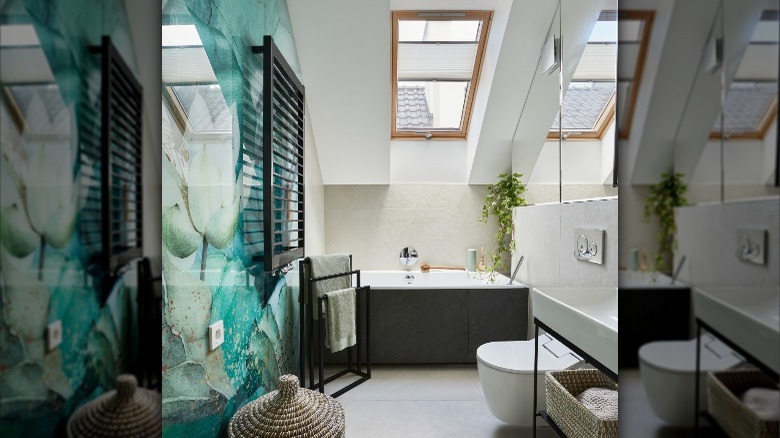 Followtheflow/Shutterstock
Additionally, to add more warmth, you could border a skylight in wooden trim. A great place to add a skylight is above a bathtub. 
3. Include a chandlier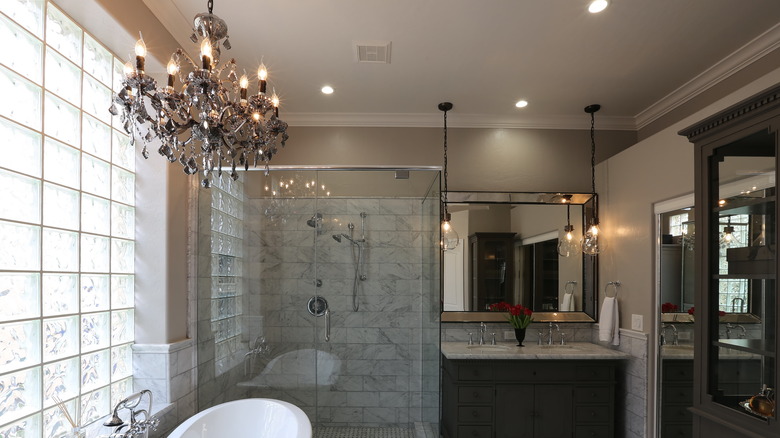 Mark Breck/Shutterstock
A chandelier is both a functional and an aesthetic element you could add to your bathroom. Just like a skylight, chandeliers look elegant above the bathtub. Alternatively, you could place one in the center of your ceiling. 
4. Choose a unique fixture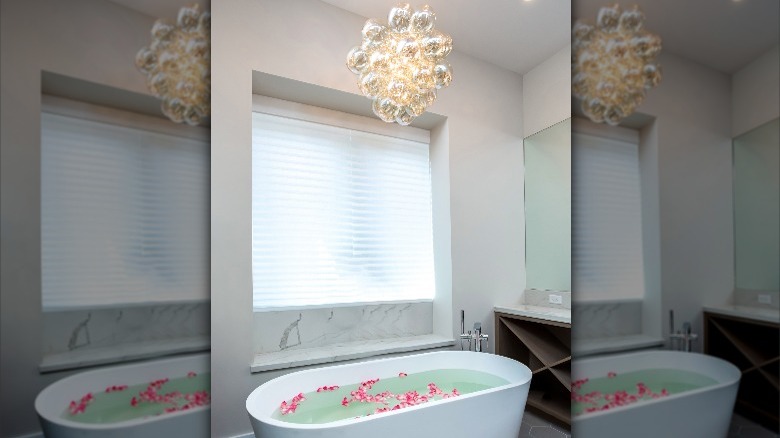 Krista Abel/Shutterstock
A unique lighting fixture is not just an elegant chandelier, it's an intentional design statement hanging from your ceiling. This bathroom has an interesting fixture that's made out of many illuminated glass balls. 
5. Suspend pendants over the vanity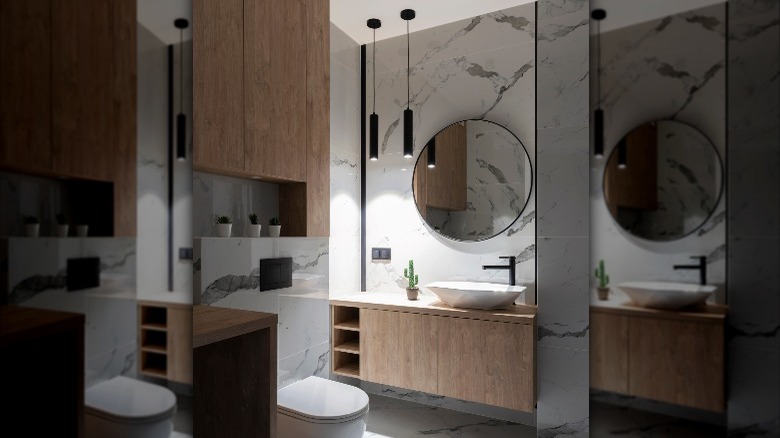 liloon/Shutterstock
Suspend unique pendants over your vanity. This will add task lighting over or next to the mirror while also bringing the eye upwards to check out the fixtures. 
6. Place light strips along the ceiling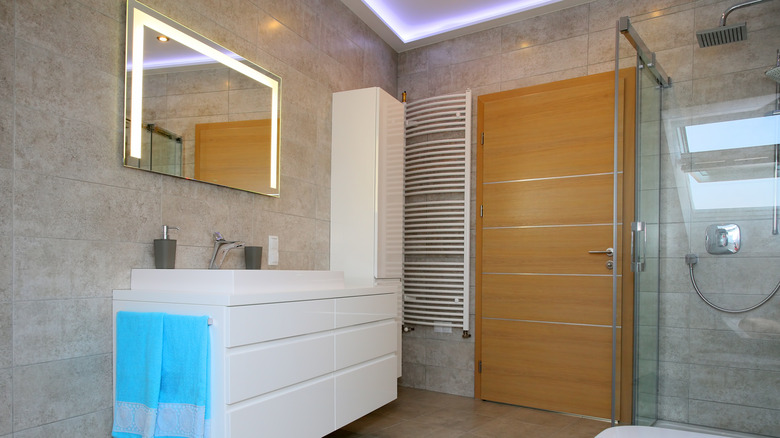 Krzysztof Winnik/Shutterstock
Installing colored light strips around the border of your ceiling would add a fun and playful flare to your bathroom. They would also draw attention to the ceiling in a way that creates a bit of a club vibe. 
7. Decide on a tray ceiling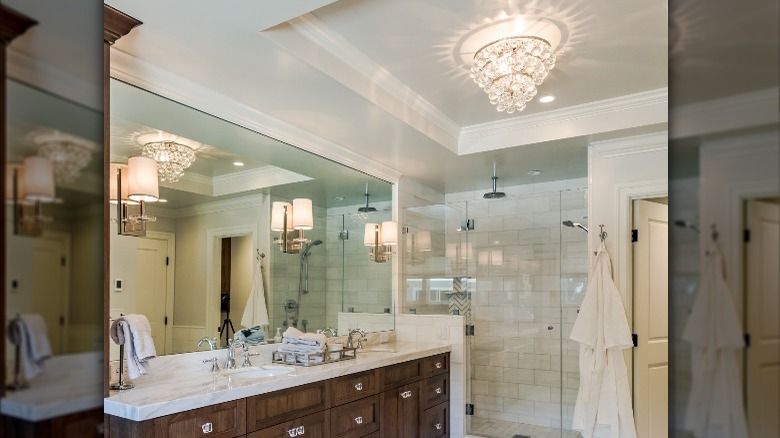 Krista Abel/Shutterstock
A tray ceiling adds more height to a portion of your ceiling. Even a bathroom with a relatively low-ceiling can have a chandelier when it's hung from the center of this design element.
8. Go for wooden beams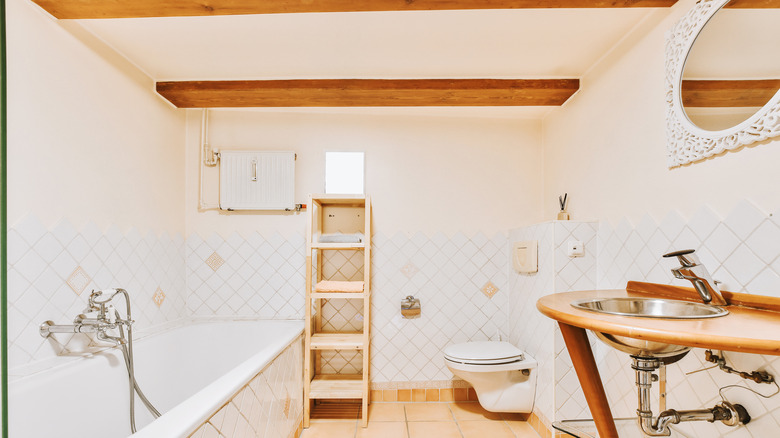 Procreators/Shutterstock
Wooden beams would add warmth and a natural element to any space, and why not the bathroom? When including these, make sure you choose wood that has been treated for humid areas or that's made from a faux material. 
9. Paint the beams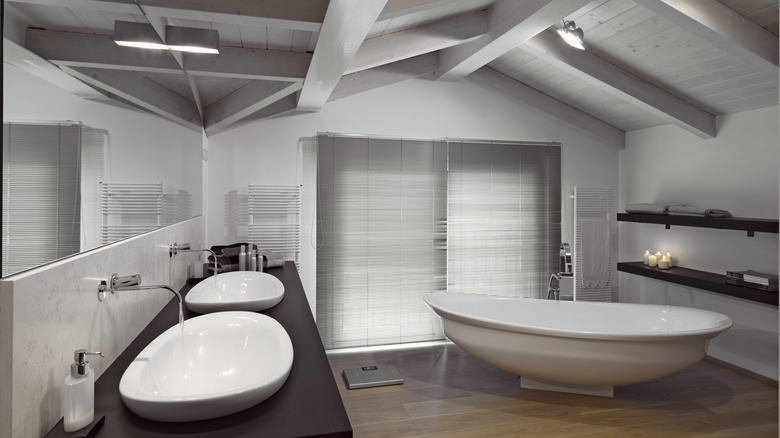 adpePhoto/Shutterstock
Really incorporate the beams into the overall design by painting them. A cool-toned color, like the light gray used in the space above, removes the warm tones in the wood and gives your bathroom a sleek appearance. 
10. Cover the entire ceiling in wood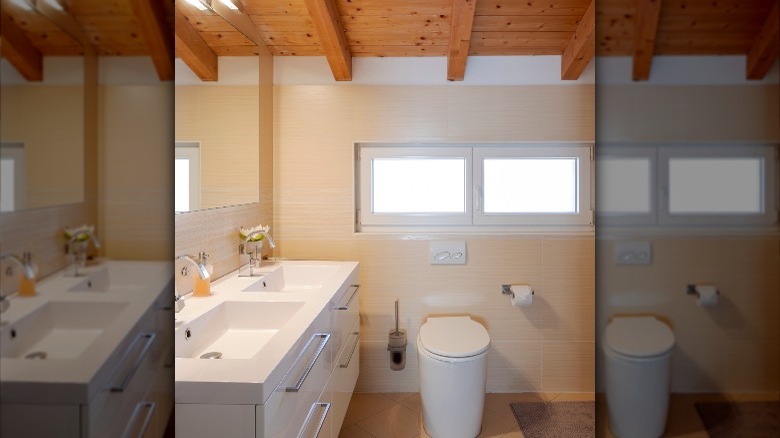 alexandre zveiger/Shutterstock
If you want to go all in with the wood element, consider covering the entire ceiling with this natural material to create an extra inviting and rustic feel. 
11. Bring on the moody vibes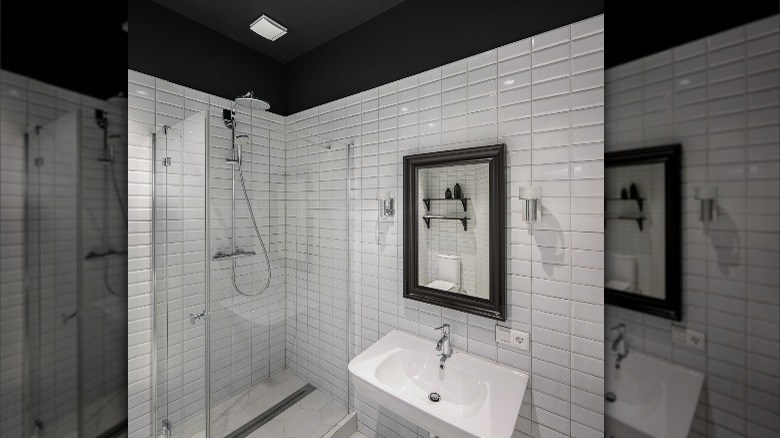 bezikus/Shutterstock
A great way to add contrast in a stark white bathroom is by painting the ceiling a moody shade of black.
12. Select a bright color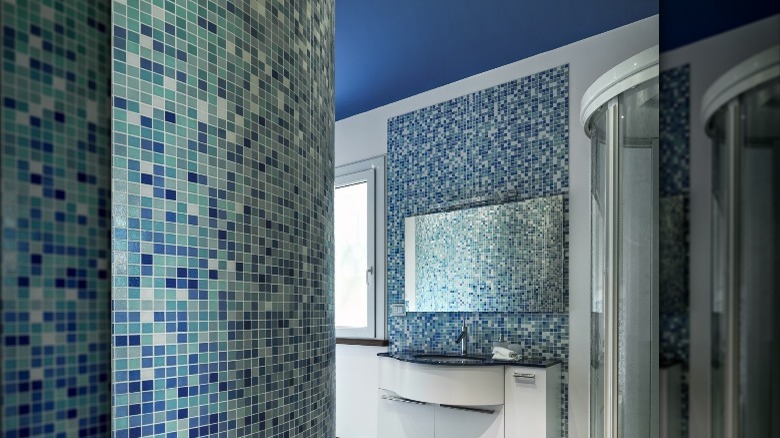 adpePhoto/Shutterstock
On the other hand, if you want to enliven your space, you could choose a bold paint color, like the above bathroom's blue tone that matches a hue in the mosaic tiles.
13. Pick a coffered ceiling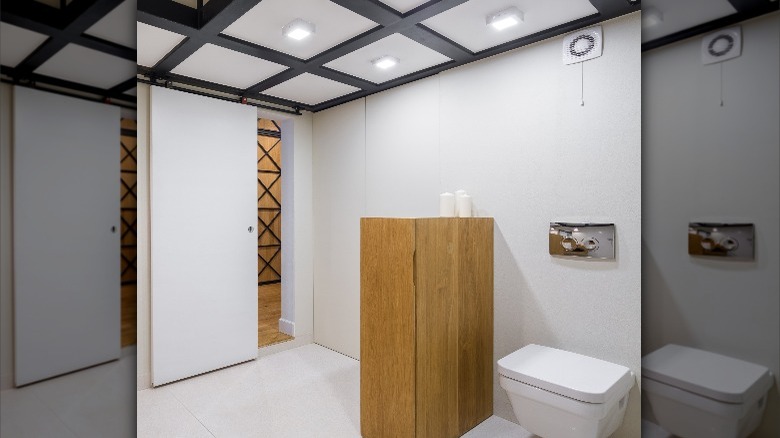 Dariusz Jarzabek/Shutterstock
A coffered ceiling will add texture and elegant interest in your bathroom. You could either paint it all one color or really draw attention by choosing two contrasting colors, as in the above example. 
14. Install a luxurious shower head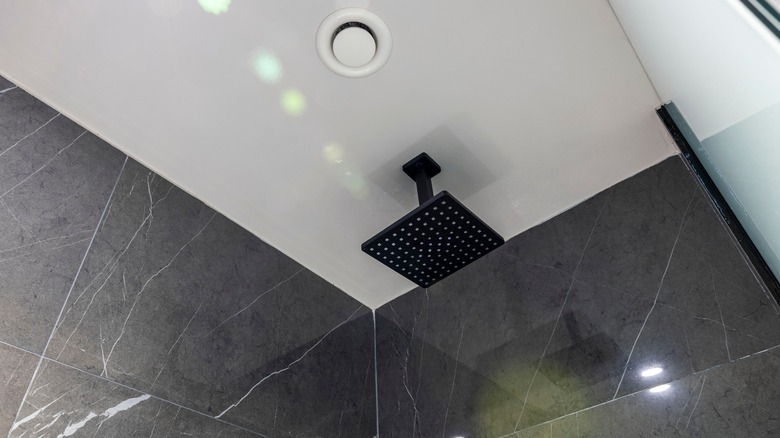 Mulevich/Shutterstock
Make your whole shower feel taller by installing a rain shower head and letting the water drizzle over you from the ceiling. This would really up the luxurious spa vibe of your bathroom.
15. Hang plants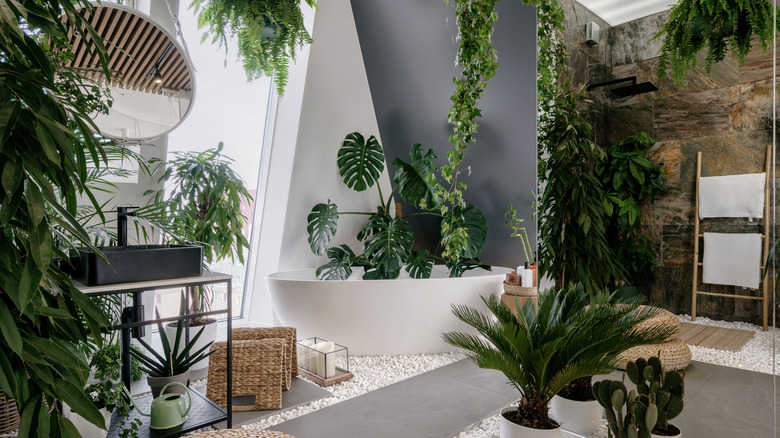 brizmaker/Shutterstock