What You Need To Buy From Home Depot To Waterproof A Floor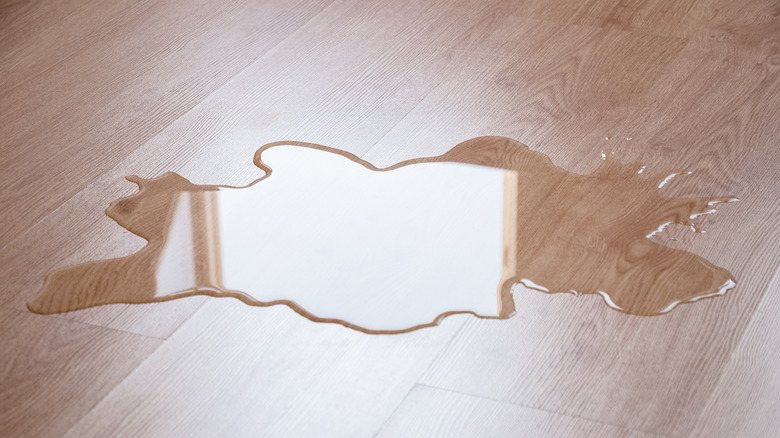 Nadya So/Shutterstock
Some floors in your home are at high risk for water damage because they are constantly wet. There's nothing quite like the splashing that happens in the tub each night, but other situations, like the washer overflowing or a flood in the basement, could be more concerning. The more moisture that's on some surfaces, even those relatively water resistant, the higher the potential risk for damage. Onfloor Technologies indicates it's critical to maintain these floors with moisture protection.
That includes tile floors of all types, concrete floors, and wood flooring materials. One way to protect your floors is by waterproofing them, a process that could help to minimize the risk of water damage on and under the floor material, potentially extending their life. It also may help to keep the floors looking great for years to come. If you plan to waterproof your floors, you can find everything you need at Home Depot to complete it as a do-it-yourself project.
Materials for floor prep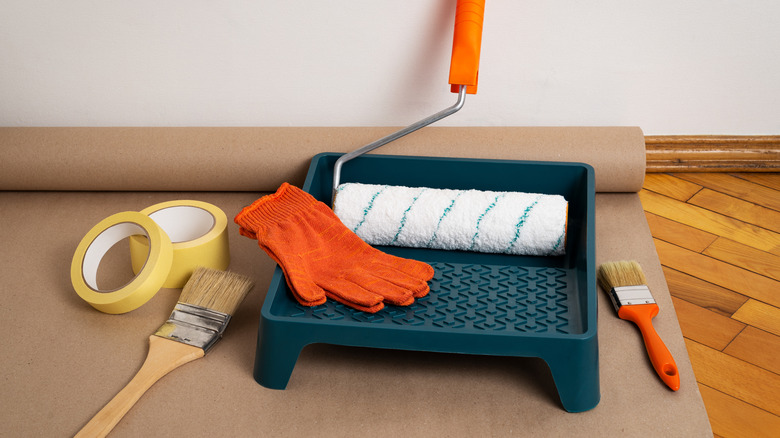 Kotenko Oleksandr/Shutterstock
Home Depot offers all the materials you need to waterproof the floor of your home, including the tools needed to properly clean the floor, such as vacuums and brooms. You will need a floor primer that's designed for waterproofing for the floor type you have, though there are some multi-surface products that work on most floors. You will likely need a paint roller tray and paint roller for applying the primer itself. It may be possible to purchase larger roller trays to accommodate a larger brush-sized roller for easier floor application.
It's typically necessary to have a caulk gun and silicone sealant to cover any exposed seams or edges that could potentially allow water to seep through. After this, you'll need masking tape or painter's tape to protect areas where you don't want the sealer to reach. All of these products are necessary just to get the area ready for the application of the sealer later.
The waterproofing materials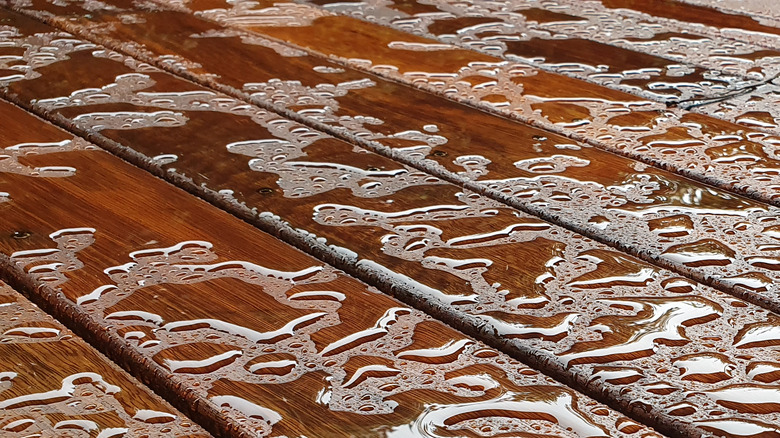 Kathie Nichols/Shutterstock
Home Depot also offers the necessary products to do the actual waterproofing, including a range of waterproofing sealers and products for most types of floors. Be sure to purchase another paint tray and roller for this material, as it may not be wise to share them between the primer and sealer. Urethane waterproofing sealing products are either oil-based or water-based. For those using a urethane sealer, it may be possible to purchase a wool mop to use for applying the sealer instead of a roller.
In some applications, it's beneficial to add a waterproofing membrane, which is a type of rolled strip that's laid over the top of the surface. It's a type of system meant for specific areas at high risk for water damage, according to Stonhard, such as areas under water sources. Also, for those with a wood floor, it may be necessary to rent a sander for the surface from Home Depot as a part of the prep work.