How To Make The Gold Ceiling Trend Work For Your Space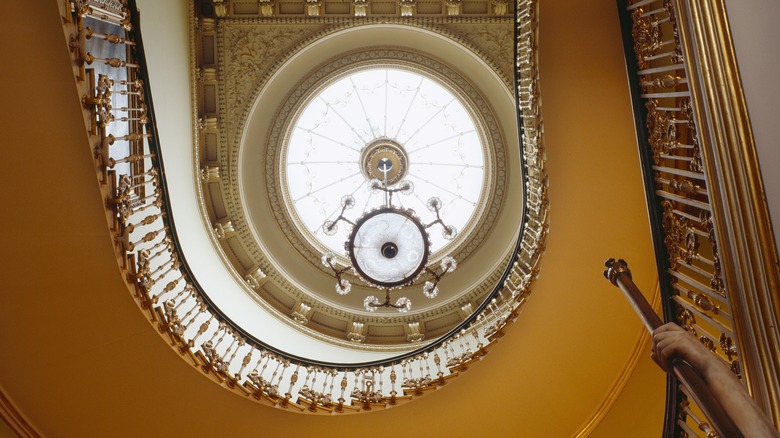 Heritage Images/Getty Images
Many of us tend to scroll through the internet for hours, looking for inspiration to transform the interior of our homes. It can be difficult, as not every trend is affordable or easy to accomplish. However, this gold ceiling drift won't break the bank and is something you can do yourself — with the right amount of patience.
With this trend, many homeowners have been able to transform a boring room into something magical, Mad About The House included. Once a room became empty in her home, it also quickly became cluttered, but she used this design style to bring life back to the once messy space.
If this is something you believe will fit with your current décor scheme — or will be the starting point of your project — we'll then show you how to incorporate this trend seamlessly into your home; with the right paint colors, décor, and more.
Choose the right style and shade
Adding a gold ceiling to any room of your home is sure to give it a vintage look, per Salvaged Living. They were specifically working on a dining room project, which already had vintage décor perpetuated by a golden chandelier, houndstooth chairs, and an incredibly detailed hutch. The white walls in the room, pictured above, have a soft undertone of yellow, which complements the gold ceiling, while the dark brown wood flooring act as a contrasting factor. This space also has an abundance of natural light, which keeps it bright and airy. Overall, try to work with the furnishings you already have, instead of reaching deeper into your pocket to change aspects of the space you might actually be able to combine with the golden hue.
You can pair many other colors with gold, according to Aero Drapery & Blind. Any shade of blue will go well with it; it just depends on the look you're going for. A light blue with gold will look more playful, as dark blue and gold will seem a bit more modern. Sage green and gold will create a soothing space, and if vintage is what you're aiming for, then combining the gold hue with a dark red is sure to get the job done. These colors don't have to cover the whole space; you can introduce them as fabrics or stones on a fireplace.
Gold and more gold
If you're painting your ceiling gold, don't be afraid to add even more of the hue. The co-hosts of Fixer Upper, Chip and Joanna Gaines, created a beautiful dining room with a golden ceiling and fabulous décor, per Magnolia. The result, pictured above, is outstanding. Not only is the ceiling gold, but so is the detailed crown molding, which only adds more class to the space. On the wall, there are two large pieces of wall art painted entirely with gold, including the frame, and it creates a look that is both cohesive and simple.
In addition, you can see a bit of gold inside the shades of the light fixture, as well as on the lining of the window treatment. Due to the room's light and neutral color palette, this combination creates a space that feels both open and fresh. Mad About The House also did this by adding a gold piece of art above her burgundy fireplace. Both the color of the fireplace and the art ended up creating a beautiful centerpiece. This combination complements the gold ceiling, as well as the rest of the space.