Real Estate Listings Have Gone Down Drastically In Hartford, Connecticut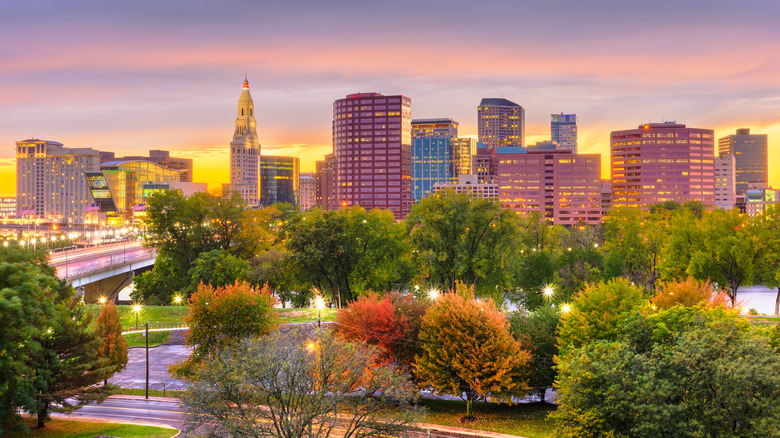 Sean Pavone/Shutterstock
According to data collected from Zillow exclusively by House Digest, the number of new real estate listings in Hartford, Connecticut has continued to drop in 2022. This follows a trend that has been fairly consistent since 2018 when new listings peaked at over 2,400 units during a busy June. This year, new real estate listings also appeared to peak in June, which featured 1,537 new listings hitting the market. This represents a far cry from average market activity in recent years, save for a tumultuous 2020, which saw new listings increase later on in the year.
With Hartford Mayor Luke Bronin recently calling for local businesses to join the chorus of voices appealing for more housing (per Hartford Courant), it's easy to see why the numbers coming out of the Hartford housing market have some experts concerned. Unfortunately, according to CT Insider, the outlook isn't exactly rosy for prospective renters, either. With some lawmakers proposing caps on rent hikes due to out-of-control rent increases, there's no doubt that increasing the number of yearly listings in 2023 is a major priority.
Cost of Hartford homes rising with demand
Unfortunately, those who have been paying attention to the Hartford housing market are probably not surprised by the lack of new real estate listings in 2022. According to WTNH, Hartford ranks as one of the worst real estate markets in the country, with rising home costs adding to the burden of an interest rate that has shot up in recent times. With many would-be sellers staying put for the time being, the over 500-unit discrepancy between new listings in July of 2021 and 2022 paints a picture of a housing market where both potential buyers and sellers are exercising caution in the face of a troubling economic outlook.
Per CT Insider, a lack of quality property listings isn't the only thing stifling would-be buyers in Hartford. In fact, the cost of homes in Hartford is projected to increase fairly substantially in 2023 at a time when both local politicians and their constituents are clamoring for an increase in affordable housing options. Unfortunately, given the city's high demand for housing and lack of new property listings, it's easy to see why experts are predicting higher home prices in the coming year.