The Number Of New Real Estate Listings Has Gone Down Drastically In Frankfort, Kentucky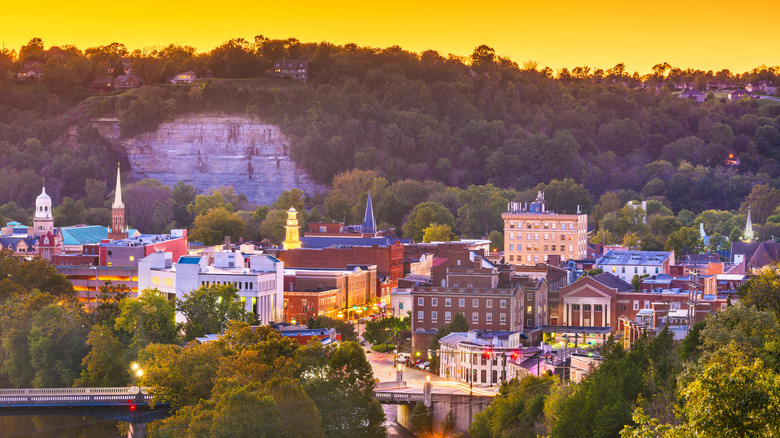 Sean Pavone/Shutterstock
According to listing data collected from Zillow exclusively by House Digest, the number of new real estate listings in Frankfort, Kentucky continues to lag behind previous years. This follows a trend that has been fairly consistent since 2018 when new listings peaked at 135 units in June. However, new listings have been particularly rare in 2022, a year in which there haven't been greater than 100 new property listings yet in a single month through July. In recent memory, this resembles market activity from 2020, a year when new listings remained low throughout the year, but eventually peaked in October as sellers began listing their homes in the midst of the COVID-19 pandemic.
Unfortunately, these uninspiring 2022 numbers will come as little surprise to those who have been following the housing market. According to CNBC, homebuilder cancellation rates are rising all over the country as well at a time when rising interest rates and home costs are coaxing some potential homebuyers to shelve their plans for a new home.
Heavy demand but few listings
While the supply of new real estate listings in cities like Frankfurt, Kentucky, and Hartford, Connecticut, continues to underwhelm compared to historical figures, this certainly doesn't mean that there's no demand to be found for new homes. In fact, according to the Washington Post, homes are selling for higher prices and at a faster rate than before the pandemic despite there being fewer mortgage applications submitted and new listings being put on the market. Unsurprisingly, the high amount of competition for listings, which is driving up home costs across the country, is also leading more homeowners to look for a new home outside of the market where they currently live.
While the number of new real estate listings in Frankfort lags behind previous years through July (the most recent month featuring recorded data), it's important to note that there's still time for a rebound. Although the number of new listings peaked in 2018 during the month of June, more recent years have seen new home listings peak in August through October. However, rising interest rates and a decreased rate of new homes being built across the country do not paint a picture where new real estate listings in Frankfort drastically increase anytime soon.