How To Make Your Home Feel Like A Fairytale Cottage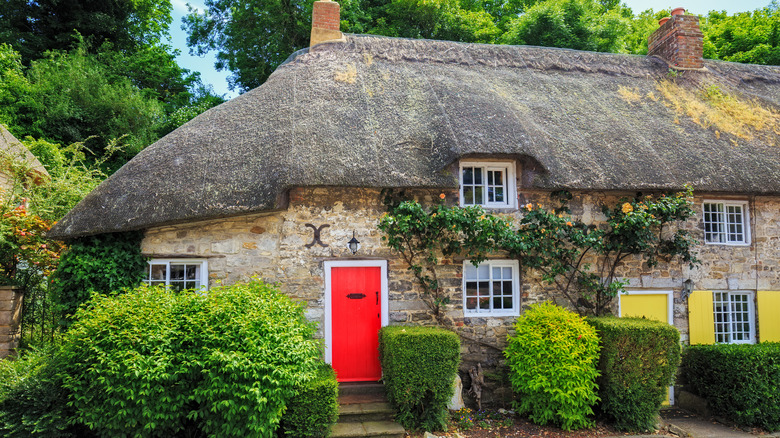 Lukasz Pajor/Shutterstock
Transforming your home into a whimsical, fairytale cottage may seem like an unreachable dream, but it's feasible in just a few simple steps. From string lights to natural materials and greenery, achieving a dream-like ambiance in your home is more attainable than you think. Even if you live in a beach house or urban apartment, you can create a magical atmosphere that will transport you to your favorite fairytale.
With that said, you're likely wondering what goes into creating that fairytale cottage feel in your space. Davina Ogilvie, the founder of Wovn Home, told Architectural Digest, "As a concept, it embraces a simpler, sustainable existence that is more harmonious with nature. Aesthetically, it's a nod to the traditional English countryside style, romantic and nostalgic." Transforming your home to look and feel like it belongs in an enchanted forest doesn't have to be a challenge. You can do it a little bit at a time to create the ambiance you seek while maintaining your unique personality and flair.
Where to find fairytale cottage inspiration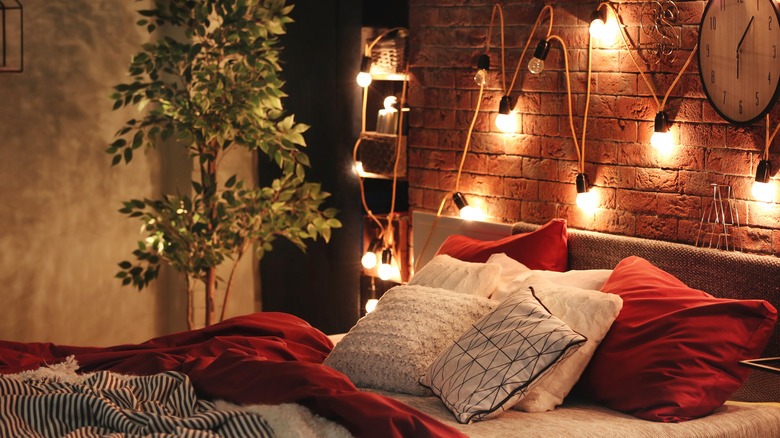 Africa Studio/Shutterstock
The idea of making your home feel more magical has become more popular in recent times. As BBC notes, infusing your space with nostalgia, tranquility, and folksy mysticism was all the rage during COVID-19 lockdowns, largely thanks to swoon-worthy images circulating social media. That's a great place to draw inspiration from, as there are endless examples of these whimsical residences on platforms like Instagram and Pinterest.
You can also draw inspiration from television or your favorite movies that include these mystical and magical homes. Whether it's a live-action film that features a charming country cottage — think the English countryside home in "The Holiday" – or your favorite cartoon or classic fairytale, it's all up to you, your preferences, and your imagination. Once you have inspiration or a vision for your project, you'll be ready to transform your space to make it feel more magical than ever.
Go wild with florals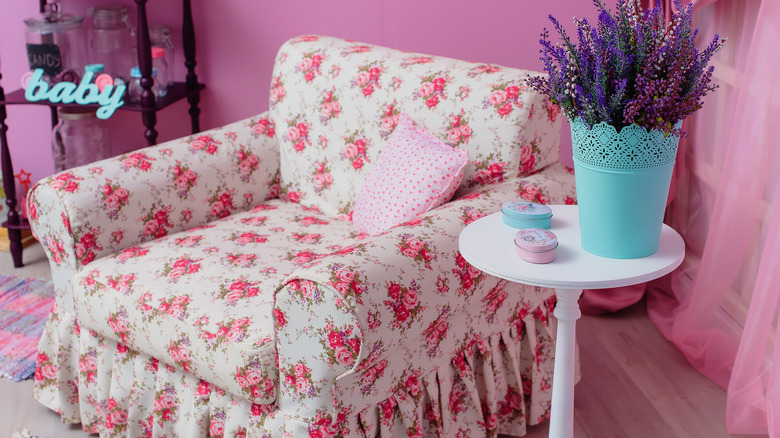 Yashkin Ilya/Shutterstock
Floral prints are a classic trademark of a fairytale-themed home. According to Country Living, florals come off as whimsical when combined with images of butterflies, birds, and ornate details that you'd see in an actual fairytale. You can artfully and tastefully decorate your home with flowers through small-scale patterns. Patterns with detailed, floral motifs provide a classic look, with notable designers like Liberty London and Laura Ashley creating cottage decor staples. These warm and cheery designs are perfect for linens in your home.
Decorate with patterns to add a touch of feminine whimsy to your fairytale cottage-inspired living space through items like curtains, rugs, throw pillows, or even bed linens. You can also find floral-printed dishware and display them in glass cabinets for a fun look. For instance, no fairytale cottage is complete without whimsical and delicate tea sets, which are even more beautiful in a delicate floral pattern.
Find vintage decor and furniture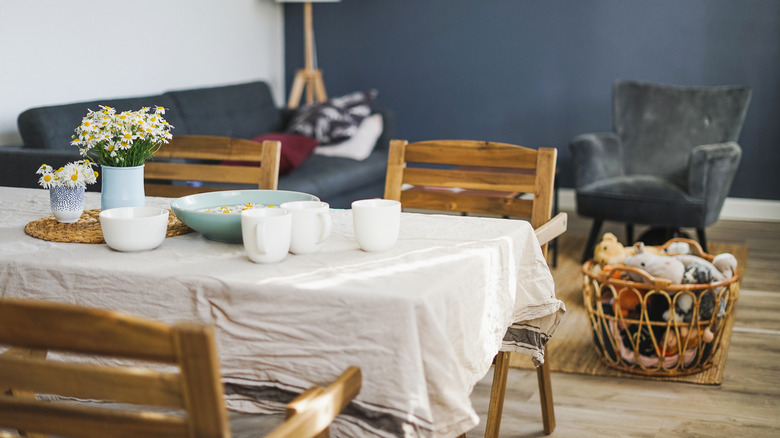 Galina Zhigalova/Shutterstock
You can achieve the eclectic feel of a fairytale cottage by decorating with vintage or antique furniture, art, and decor pieces. Whether it's a well-worn, vintage dining table, an antique teapot on the stove, or an eclectic mix of vintage picture frames on a gallery wall, it will be a nice touch. These vintage items can go anywhere in your home. Scatter them throughout the living space to get the maximum effect.
There are many benefits of sourcing vintage items for your home. For instance, vintage decor tends to be high-quality — even better quality than you can get from brand new items. Additionally, utilizing vintage furniture and decor pieces is sustainable, prevents over-consumerism, and cuts down on manufacturing processes that are bad for the planet. So, in addition to choosing items that perfectly match the fairytale cottage feel you're going for, you're doing something eco-friendly!
Aim for a rustic look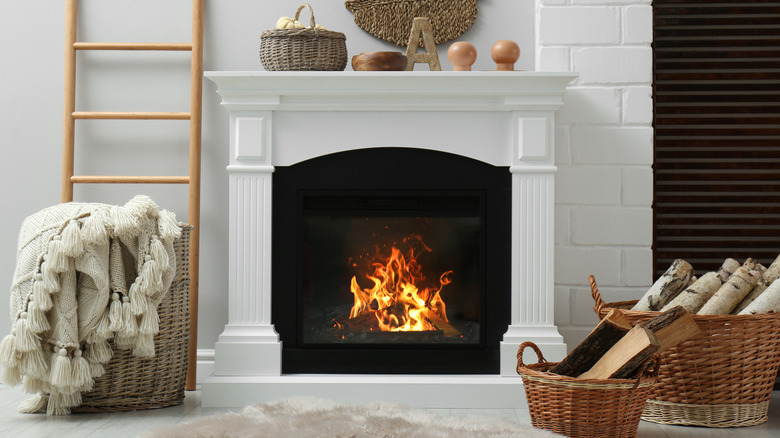 New Africa/Shutterstock
Since fairytale cottages are typically found deep in an enchanted forest, they usually have a rustic feel rather than something sleek and modern. To get the same style for your home, ensure the style and furnishings lean rustic. While this may seem like a tall task, especially if your home is more naturally modern, it is certainly possible.
According to Vaunt Design, you can achieve a rustic feel, particularly in a modern space, by decorating with an earthy color palette and accessories. Earthy hues include shades of terracotta, rusty brown, metallics, brass, antique bronze, and other natural materials. These bring warmth to your space. You can fill your home with earthy touches through lighting, mirrors, planters, and other furnishings. Another way to make your home more rustic is to incorporate wood where you can. From your floors to ceiling beams to accents and decor, wood is the number one addition that will make your home feel more rustic. It gives the space more of the fairytale character you're going for, especially when you choose lighter shades of wood, like driftwood.
Accentuate your windows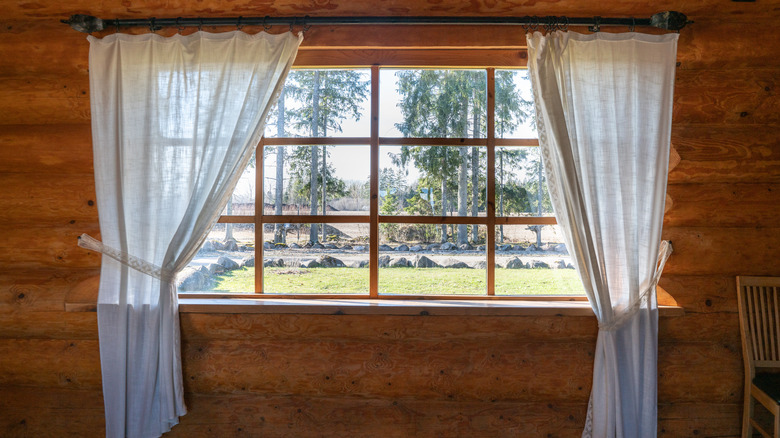 M.Pakats/Shutterstock
No fairytale cottage is complete without beautiful windows draped in charming curtains. Popular curtain styles can let natural light inside and brighten up your interiors. Plus, window treatments can add a fairytale look. Accentuating the windows of your dreamy space will make it feel more magical, particularly in the living area.
One way to do this is to ensure you're choosing the correct curtains for your home. Floral patterns are ideal for curtains since they create a whimsical and dainty look. According to Crate & Barrel, sheer curtains are an excellent way to make your space airy and bright. If you want more privacy, opt for a semi-sheer style or add linings. Linen curtains are another great choice, as they're light and offer a bit more privacy. Finally, cotton curtains are always a classic choice for casual and formal settings. They are available in many patterns and colors to suit your taste.
Incorporate all things wicker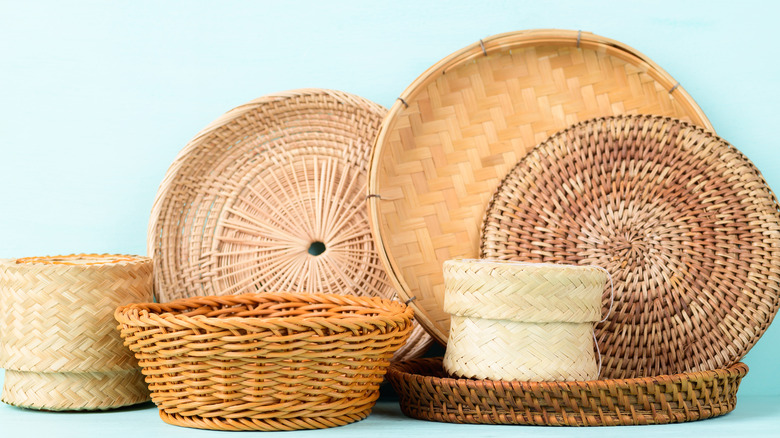 Nungning20/Shutterstock
Wicker — or rattan — is a natural material that can help you achieve the look of a fairytale home. It plays into a country and French provincial style and spruces up a living or dining space. Of course, it's a perfect fit for any outdoor area, balcony, or porch. The great thing about wicker is that there are so many ways to incorporate it into your space.
According to Making Your Home Beautiful, there are plenty of ways you can decorate with wicker. First, ensure that the wicker or rattan pieces you choose are a closer knit pattern that looks more uniform. This tip will add texture and style to the space in a natural way. Whether you add this material to your home with a light fixture or a basket overflowing with throw blankets next to your couch, it'll be a lovely touch that doesn't go unnoticed by guests.
Don't forget a cozy reading nook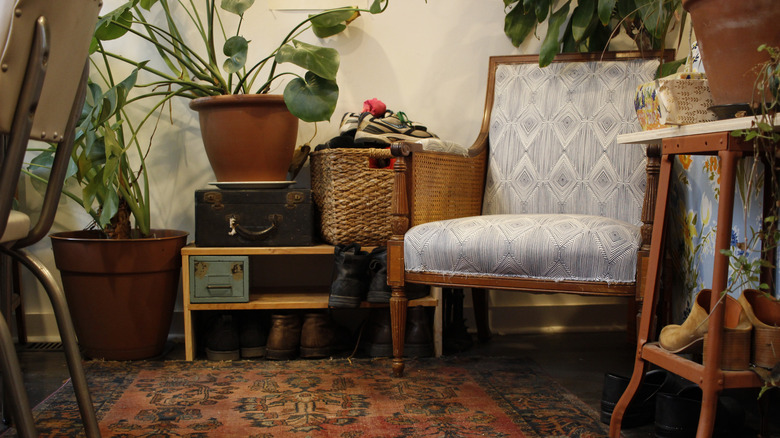 Wp Photo/Shutterstock
It only makes sense that your fairytale cottage has a dedicated reading nook. As it happens, most fairytales come from books, so it all aligns. Creating a reading nook may seem like a big undertaking if you don't have a spot for one already, but it's easier than you'd think.
The first step is to choose the perfect spot in your home. Home Instagrammer Debbie Mackenzie told Food52, "You don't need a fancy spot for a reading nook — I've created them in an empty corner of my office, in our bedroom, in our living room, or even in a little closet that wasn't being used." If you have a fireplace, that could be the natural placement, but it could also be any corner of your house where you know you'll feel comfortable. Maybe there's a cozy corner next to a window with a beautiful view or a bench in your living room where you can keep all your favorite books. Next, choose a comfortable chair for the space. You'll also need a lamp to illuminate the area and make it possible to read at all hours. Finally, adorn the nook with little touches that make it feel special. For instance, you can add a side table with your favorite scented candle to burn while you read or a vase with pretty flowers.
Display your dishware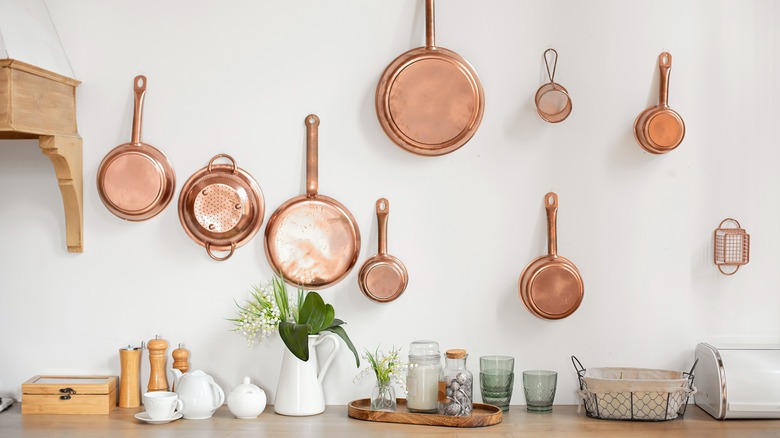 Stock Studio/Shutterstock
Another special touch you can add to your space reminiscent of fairytales is to put your dishware or pots and pans on display. You can do this in your kitchen, dining area, or living space for a creative look. Doing this gives the room the eclectic and charming feel of a countryside cottage.
To do this, collect pretty dishes that complement the aesthetic of your space. You can find inexpensive dishware at secondhand shops, flea markets, and garage sales. The dishes themselves don't all have to match since creating a mismatched look plays into the fairytale vibes. According to House to Home Organizing, you can hang dishes from the wall to create a beautiful display. Simply use affordable plate hangers from the dollar store or a local hardware store to place them on a blank wall. Hang them in a cluster and keep adding dishes as you come across more that fit well with the display.
Bring magic to your outdoor space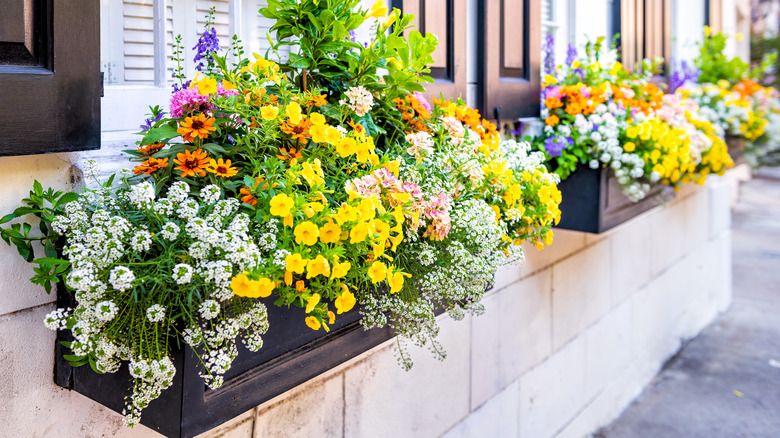 Andriy Blokhin/Shutterstock
Make your outdoor space fit the fairytale cottage look just like the inside. One way to do this is by adorning your windows. What fairytale cottage has ever been complete without window box planters? Add these boxes and fill them with overflowing, beautiful flowers in the vibrant colors of your choice for an irresistible home.
According to SimonSaysDIY on YouTube, you can make your own charming window boxes at home. This affordable project will add visual appeal to your home from the outside looking in. The best part is that you can build these boxes for only four dollars a pop — it doesn't get much more affordable than that. After building the boxes, it's time for the fun part: filling them with flowers. Doing so will bring your curb appeal to life, allowing the exterior of your house to look like something straight out of a Disney movie.
Warm up to bright colors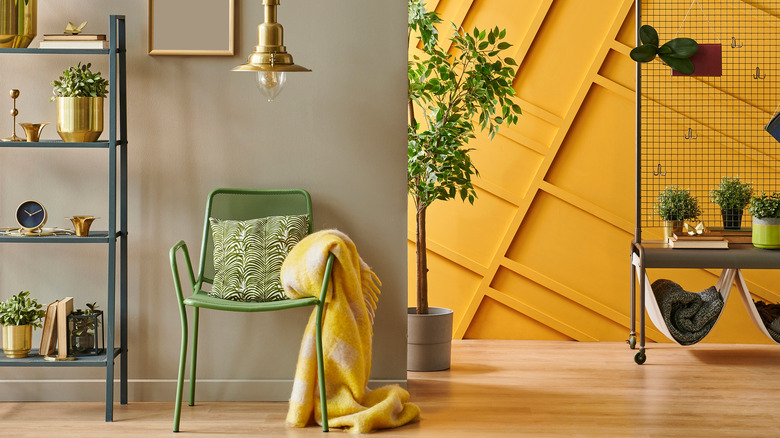 United Photo Studio/Shutterstock
You may think a muted color palette is essential to making your house look like it comes straight from a fairytale. Nothing could be further from the truth. Don't be afraid to add bold colors to your home with a brighter palette. You can absolutely get creative with color while still playing into the magical fairytale aesthetic.
According to Room Crush, you can use these eye-catching hues in your home by combining bright colors with neutral tones so that they work together to complement one another. Bright colors can affect your mood and create an energizing feeling in a space. Another tip is to choose one vibrant piece of furniture that will act as a focal point in the room. In a fairytale-inspired home, you can place a brightly colored couch in your living space and then decorate around it with lighter or more neutral hues for balance.
Keep things sustainable
Chodimeafotime/Shutterstock
Fairytale cottages are typically tucked away in an enchanted forest. Even if your home is not surrounded by nature, you can still achieve a natural look by decorating with sustainable decor and furnishings. Staying eco-friendly is simple, and you can do so in a way that plays up the fairytale aesthetic while allowing you to be kind to the planet.
According to The Zoe Report, you can make your home more eco-friendly through decor by reupholstering old pieces of furniture rather than buying new ones. This tip is a fantastic way to do something sustainable and give yourself a chance to find a whimsical fabric that suits your fairytale vision. Decorate with high-quality pieces that will stick around instead of shopping for trends. Shopping secondhand is another way to be more sustainable while decorating and outfitting your home. Ramp up the fairytale look with one-of-a-kind vintage and antique pieces to stay sustainable and stylish.
Knickknacks are a fairytale cottage must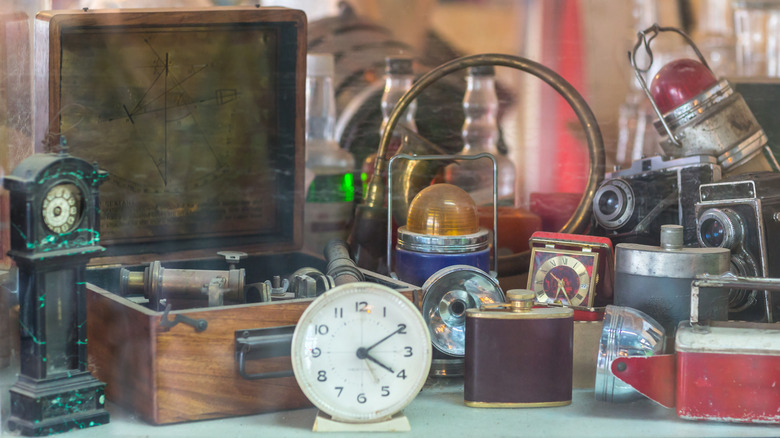 PKpix/Shutterstock
There's no fairytale cottage out there that doesn't have knickknacks. These little decor touches give a cottage character and reflect the personality of its inhabitants. Knickknacks can include small objects like beads, buttons, ornaments, little statues, and quirky candles. These pieces are fun to collect, and you don't have to build a collection all at once. Pick items up slowly as you come across them naturally to allow the collection to reflect your authentic self. It's really up to you and your tastes. Style your knickknacks throughout the home for an authentic fairytale feel.
According to Style by Emily Henderson, you can style these small objects in your home to look beautiful by combining a mix of large and small items to achieve a sense of balance. Make the large element — like a stack of books or a large framed photo — the focus, and then adorn it with small knickknacks. Remember, your collection should look eclectic and charming to achieve the fairytale look.
Create a themed gallery wall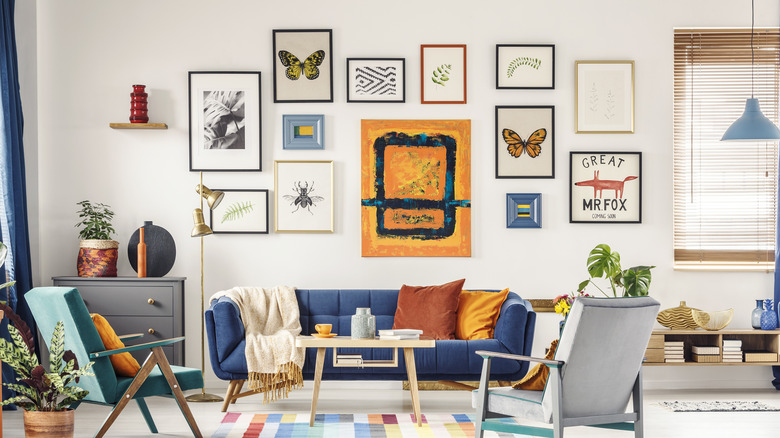 Photographee.eu/Shutterstock
A gallery wall that plays along with the fairytale theme is a great way to achieve the aesthetic on a large scale. Gallery walls act as a statement piece in your home that will catch the eye of any visitor! Farmhouse Vernacular on YouTube shares how you can build a whimsical gallery wall in your home. The wall will incorporate frames of different shapes and sizes. Don't be afraid to mix and match here, combining square, oval, and rectangle frames alike. Also, choose various materials for your frames — you don't want this to be a uniform look. You could even add an object that's not framed — like a rattan wall accent or mirror — to mix things up.
Choosing pieces to fill the frames of your gallery wall to match the fairytale feel is simple enough. Floral pieces, vintage or antique art, or even needlepoint or cross-stitched pieces are all lovely touches that are perfect for the theme. You can collect pieces as you go to curate the perfect mix for your fairytale-inspired home.
Embrace floating shelves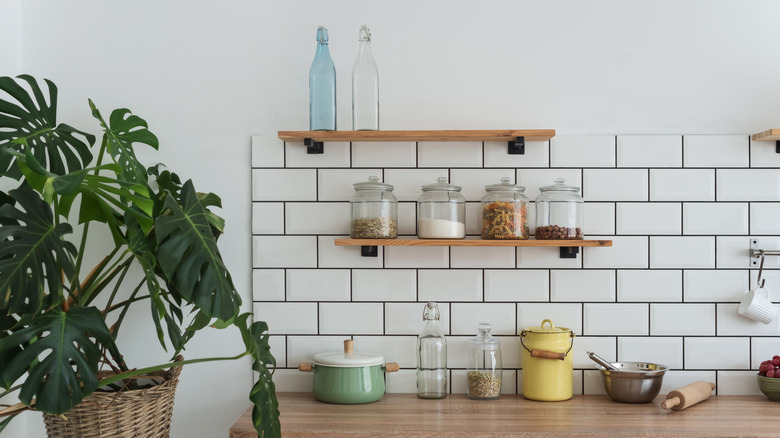 Gostua/Shutterstock
Installing floating shelves in your kitchen or living room is a great way to help decorate your fairytale home and maximize available space. These shelves will look great in virtually every room of your cottage. You can display cute dishes and dry goods in your kitchen or showcase towels, houseplants, and decor in the bathroom. If you are short on space in your bedroom, floating shelves can give you more room for knickknacks and books.
To complement the fairytale theme, hang up shelves in light or natural-colored wood. Putting up these shelves is simple, per B&Q on YouTube. The most important step in the process is choosing the right hardware for affixing the shelf to the wall. Not all hardware is equal! If you're hanging the shelf on a plaster wall, you will need different hardware than a brick wall. From there, it's easy to follow the instructions for hanging it, and before you know it, it'll be ready for use!