Renters Will Want To See These Design Tips From HGTV's Emily Henderson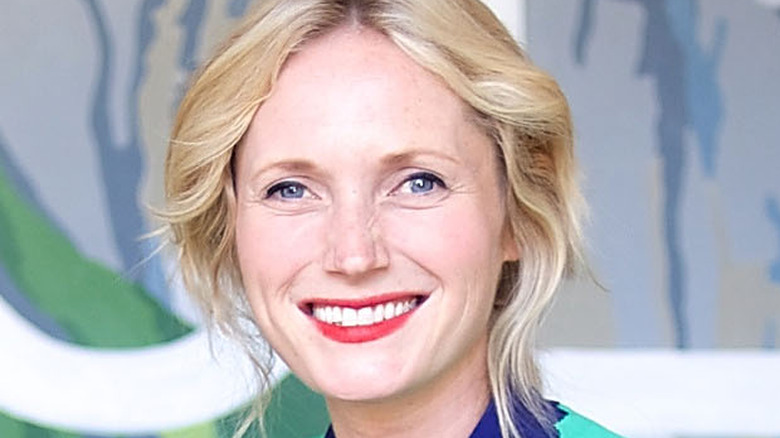 Chris Weeks/Getty Images
As with any form of housing, renting an apartment has its pros and cons, and one of the seemingly biggest cons is the lack of freedom to design your space exactly how you want it. Tenants typically aren't granted permission to make design changes, however, some landlords will make an exception by allowing the tenant to paint, says RentPrep. If you don't have that opportunity (or you do, and want to go even further), designer Emily Henderson offers her best tips for renters looking to spruce up their space without diving into renovations. 
Henderson has created a name for herself within the interior design world. Author of "Styled: Secrets for Arranging Rooms, From Tabletops to Bookshelves," Henderson also starred in her own HGTV program, "Secrets from a Stylist," where she shared her innovating design tips with homeowners to create a personalized space for them. Now, she's sharing those tips directly with you. 
When in doubt, thrift it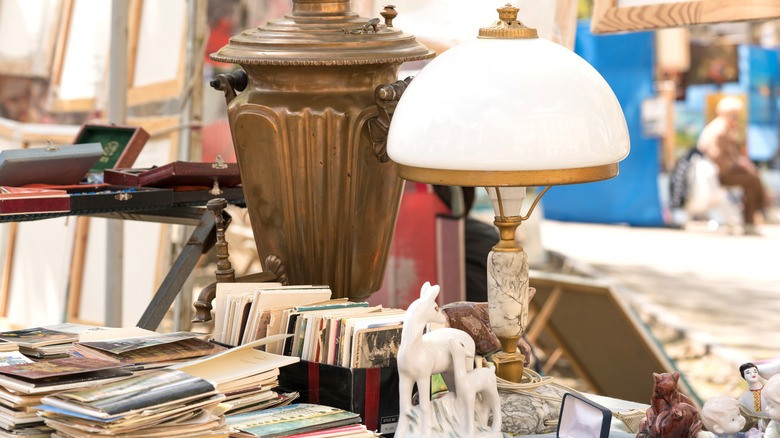 Iryna Mylinska/Shutterstock
When shopping for unique, yet budget-friendly home decor, you're sure to hit the mother load at the thrift store. Because secondhand stores collect pieces from different time periods and locations, especially those focused on antiques, it's quite possible to find items no one else has. Perhaps, you went into the store not knowing what you were looking for, and came out with a beautiful armchair and vintage rug. Henderson says, while thrifting requires more time, it pays off in the end when you have a gorgeous piece of decor for a fraction of the original price, according to HGTV.
While you're at the thrift store, the designer recommends picking out some artwork to add personality to your space. This is your chance to really get creative and show off your individual style. If you can't find what you're looking for at a thrift or antique store, Henderson recommends checking out garage sales. Thrift stores aren't the only place to find unique pieces for a steal.
Repurpose and refurbish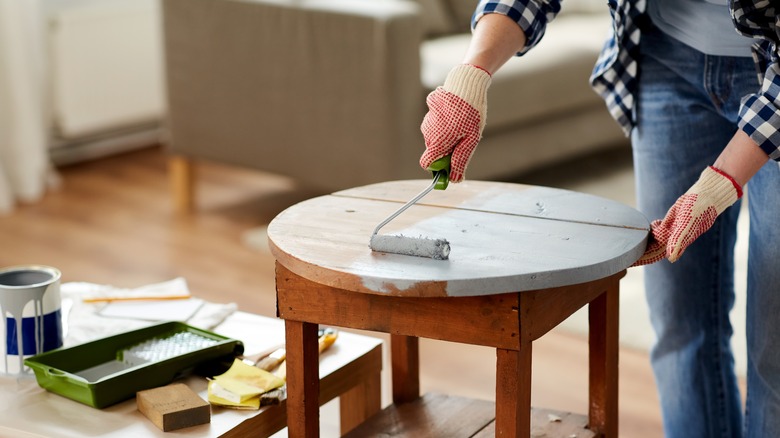 Ground Picture/Shutterstock
Henderson states one of the most inexpensive ways to design your rental space is to repurpose items you already have, per HGTV. She says a coat of paint makes a world of difference, and can upgrade pieces you may consider dull or out of style. You don't have to stick to regular paint either; a can of spray paint will do the trick just as well. Additionally, that can of spray paint will cost between $4 and $16, Pro Paint Corner estimates, which is significantly less expensive than purchasing a new $300 wrought iron bookcase.
Another affordable way to design your rental space is by updating smaller decor pieces to match the latest trends, Henderson says. Accent pillows, throw blankets, and area rugs are typically the least expensive household furnishings, so swap yours out with others in trending colors, such as browns, rusts, tans, and beiges. By repurposing and refurbishing your decor, you're designing your home in an affordable, landlord-approved, and environmentally-friendly way.