A Design Expert Explains How To Enhance Your Home With A Farmhouse Aesthetic - Exclusive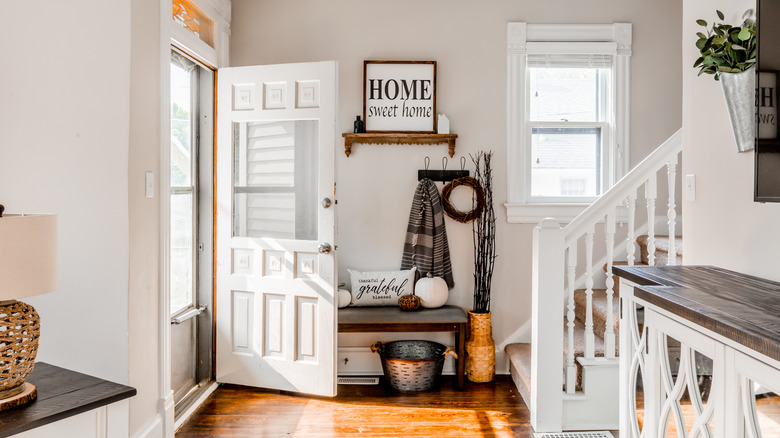 Aspects and Angles/Shutterstock
Ever since HGTV superstar Joanna Gaines started giving the homes she transformed a touch of Texas farmhouse inspiration, the farmhouse decor aesthetic has absolutely exploded in popularity. Even if you live in an apartment in the middle of the city rather than a quaint vintage farmhouse on a sizable expanse of land, you can still infuse the style into your space with accessories and furniture.
Unlike some other design styles, the farmhouse aesthetic is quite accessible. As Zero Down explains, it's a family-friendly aesthetic with a laid-back vibe. You can find farmhouse-style pieces in all kinds of locations, including antique or thrift stores, making it something that can fit any budget as well. Plus, the farmhouse aesthetic can be tailored a bit to your specific taste. Fusion Furniture Inc. outlines seven of the most popular sub-styles within the aesthetic, from industrial to rustic, so you can find whatever iteration of this style best suits the overall look and feel you want to give to your space.
So, you've decided you want to add a few farmhouse touches to your home, but you just aren't exactly sure where to start or what kind of pieces to search for. Not to worry. Jennifer Burt, interior designer and founder of Mississippi Maximalism, shared a few tips and tricks in an exclusive interview with House Digest.
Incorporate farmhouse textiles
Alena Ozerova/Shutterstock
When you think of farmhouse elements, you might be envisioning huge expanses of shiplap along your walls or exposed rustic wood beams stretching overhead, things that are a bit labor intensive to incorporate into a space. However, textiles have a huge impact on the overall look and feel of a space; don't overlook these simple elements that are easy to switch up when the mood strikes. 
"One of the easiest ways to incorporate the farmhouse aesthetic into your own home is to consider the patterns you use on upholstery, drapes, bedding, and throw pillows," explains Burt. A few new pillow covers in farmhouse-inspired patterns and a throw blanket here or there go a long way in creating the vibe.
Burt has some key colors and patterns to keep an eye out for when you're looking to pick up new items. "Ticking stripes in shades of blue, red, and green will instantly give your home a farmhouse feel. I like to then mix these with another layer of gingham checks and floral patterns."
Use Burt's general recommendations as a jumping off point to find what works with your overall aesthetic. For example, if you tend to like clean lines and modern design, gingham or stripes may be the way to go, whereas if you prefer a softer more vintage vibe, floral textiles could be just the right fit for your space.
Refresh your wall color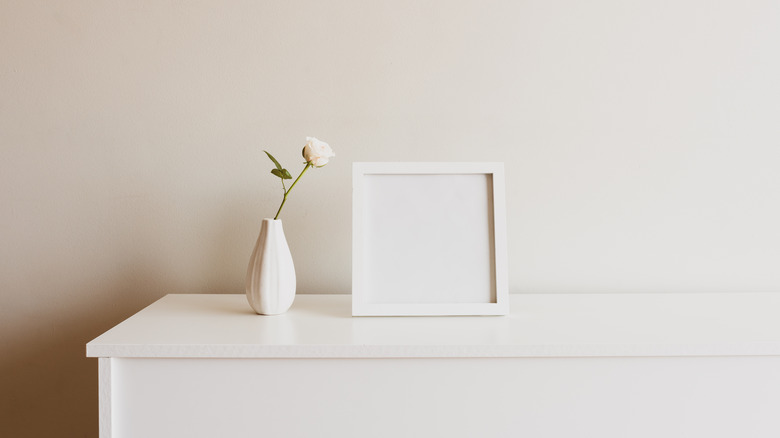 Natalie Board/Shutterstock
Paint is one of the quickest, easiest, and most cost effective ways to refresh a space, and Jennifer Burt confirms that this is definitely true if you want to add some farmhouse elements into a room to give it a new feel. The wall color shades she recommends work well with a huge variety of furniture colors, so you don't have to worry about your couch and other key furniture pieces clashing with your interior paint hue. "The new trend this season is a creamy white that will bring a glow to your space," she points out. "The yellow undertone coordinates well with natural wood finishes."
If you're the type who likes to test a few shades with swatches before actually painting a full room, you can take Burt's suggested creamy white hue and explore what's available where you buy your interior paint. You'd be surprised at how many different shades of white there are, from the very cool, crisp hues with blue undertones to the warmer shades with the yellow undertones that the designer suggests.
Of course, if you'd prefer to avoid doing the guesswork and just be told exactly what shade to buy, we've got you covered there as well. "Some of my favorite hues are Swiss Coffee by Benjamin Moore and Alabaster by Sherwin Williams," Burt recommends.
Bring in natural wood finishes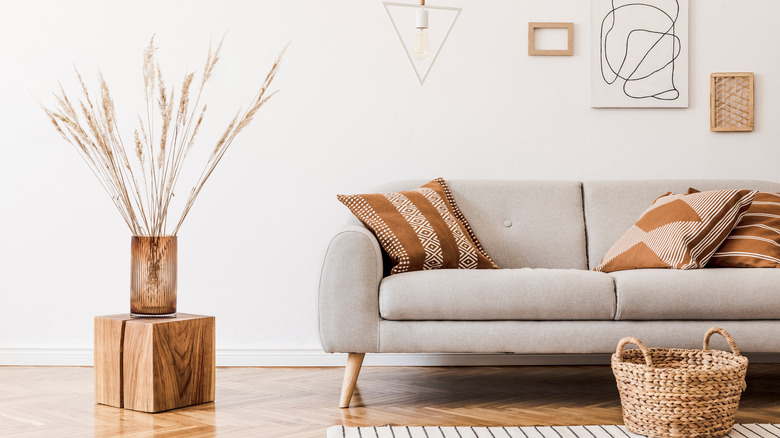 Followtheflow/Shutterstock
Whether you're interested in a truly rustic, country cottage feel or you prefer a more industrial vibe, there's one thing that just about every farmhouse-inspired space has in common. "For furniture and accessories, natural wood finishes will give your space an instant farmhouse feel," explains Burt. While this can be found in architectural details like exposed beams and wood accents throughout the room, furniture and accessories will do the trick if your home doesn't already have those types of features.
Go ahead and think outside of the box a little with this tip. For example, even something like switching out a black or white side table with a wood alternative or swapping the black plastic legs on a chair or couch with wood legs will make a decorative difference. You don't have to go out and buy all new furniture; simply making a few alterations to the pieces you already have can help you achieve what this design expert is suggesting.
If you adore your existing furniture and can't imagine making any changes to it or buying new pieces, don't worry. In that case, just follow Burt's advice on accessories. "Furniture in simple silhouettes will be perfect and then accessorize with wood bowls and baskets made of natural materials." A few well-placed natural wood elements will give your space a noticeably different feel, even if it's the only change you make to a room.
Focus on the kitchen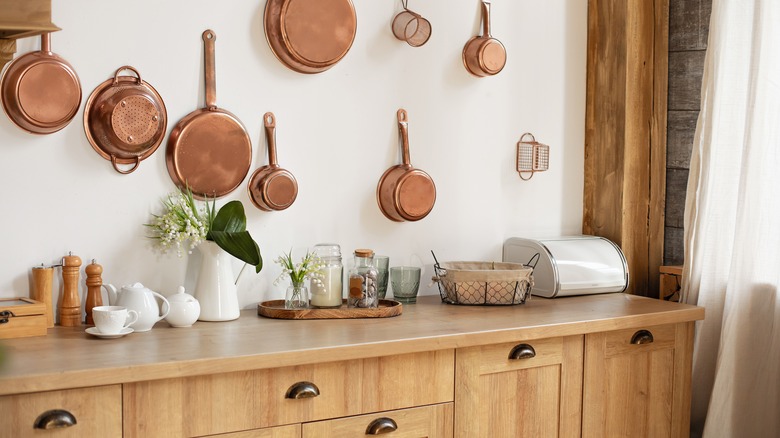 stock_studio/Shutterstock
When you're browsing online for farmhouse interior inspiration, there's a good chance you'll spot many different photos of kitchens. As Burt notes, "The kitchen is the heart of the home, but it is especially so in a farmhouse." For that reason, if you're going to pick one room to start your farmhouse transformation in, this should definitely be it. Burt says to work on creating a cozy and relaxed kitchen so it turns into a space where everyone wants to hang out.
She adds that you should also "focus on making it a working and functional space by displaying cookware and serving pieces." These could be items you've had for ages and that you truly love and reach for on a regular basis, or they could be new finds you uncover while you're out browsing for accessories to refresh your space. This is also a great way to incorporate more of those natural wood elements, or even particular farmhouse patterns. While these categories work in the realms of furniture and textiles, they can also extend to a few cute kitchen accessories, such as wood serving spoons or cutting boards, or serving dishes with farmhouse-inspired prints.
In addition, there are two specific finishes that Burt is drawn to time and time again when creating a farmhouse aesthetic in the kitchen. "I love the look of copper pots hanging from a pot rack," she says, "and a collection of white ironstone pieces will look right at home."
Make your porch a haven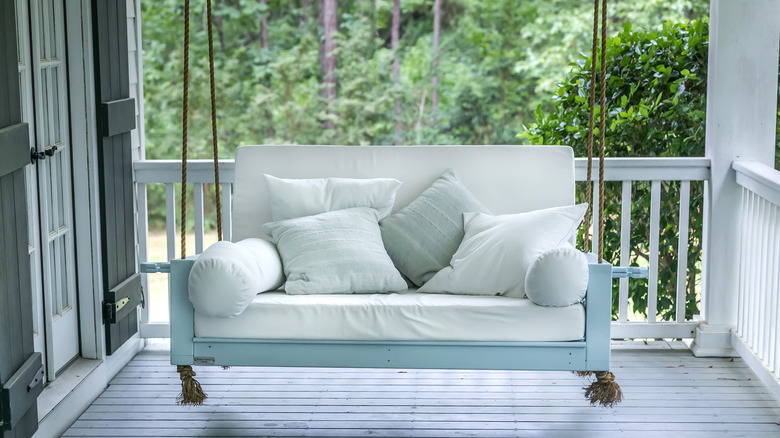 Ursula Page/Shutterstock
When you're planning out all the interior changes you'll make in order to achieve your desired farmhouse aesthetic, make sure not to overlook another important part of your home: the outdoor space. "Traditionally, porches are the ultimate farmhouse must-have," Burt explains. "Use rocking chairs to create a spot that will be perfect for your morning coffee." This is yet another area where you can apply some of her other general tips as well — a few textiles like pillows or a patterned rug can add even more of a farmhouse feel to your exterior space. If you don't happen to have a porch, you can add rocking chairs to whatever outdoor area you do have, such as a deck in the backyard.
If you're looking to put a little more time and effort into giving your exterior space a face lift, Burt offers one more tip. "Constructing an arbor in the backyard and having a table and chairs will create a spot for dining." For those who aren't familiar, an arbor is any type of structure that provides shade and shelter as well as a decorative or architectural touch to your exterior space, says Green Upside. Add some outdoor lighting and cozy pillows, and you'll have the perfect spot for lingering over a great meal al fresco.