The Best Way To Remove Flaking Deck Stain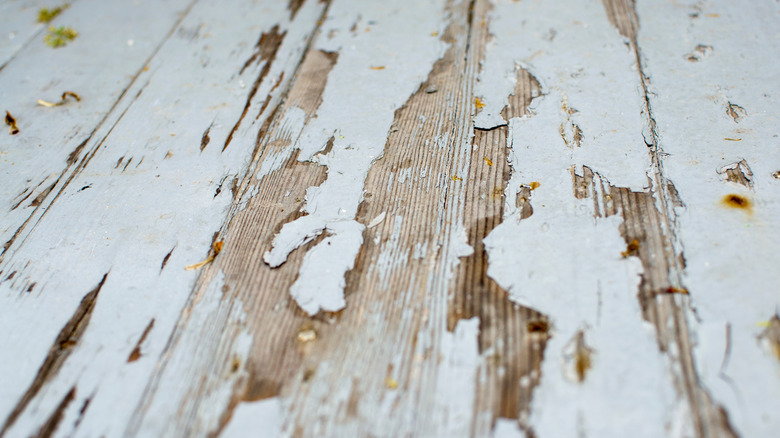 SGerace/Shutterstock
A deck can be an amazing addition to your home that provides extra space for entertaining and relaxing. A well-maintained deck provides more than outdoor living space; it also has the potential to make or break the curb appeal of your house. On the other hand, flaking and peeling stain is unsightly and time-consuming to resolve, and you're probably wondering what causes it in the first place. According to Backyard Sidekick, there can be multiple factors that result in this type of damage. And to fix the issue, it's best to figure out why it's happening.
Backyard Sidekick lists poor preparation, wrong product usage, over application, and poor maintenance as the most common factors in flaking stain. From the outset, it's important to prepare the deck properly. That means, cleaning and sanding the wood, and then cleaning it again. DEFY recommends treating the deck with a brightener during this stage as well because it stops the chemical processing of the cleaners and opens the grain in preparation for stain absorption. Then the stain should be applied evenly, allowing enough time for drying between coats. Missing any of these steps will decrease the longevity of the stain. But your deck is already flaking, so now what?
Steps to fix a flaking or peeling deck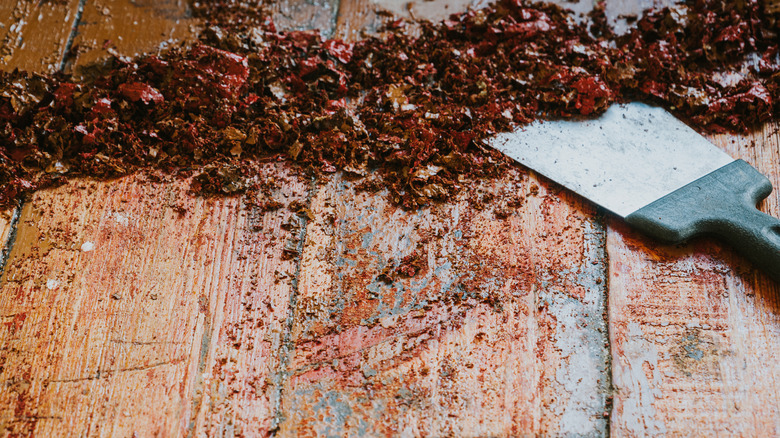 Darius Sul/Shutterstock
Restoring beauty to a peeling deck takes some work, but it can be done in a few steps, according to Pechacek's General Contracting. The first step is to remove the old stain. This is the most labor-intensive part and includes applying a chemical stain remover, scraping off the old stain, and fixing any loose nails or screws. Once most of the stain has been removed, sand the entire deck with a coarse stripping disk attached to a hand sander, paying particular attention to any stubborn areas where the stain remains.
Once complete, apply a deck brightener and conditioner followed by your new choice of stain or sealant. Choosing the right product and applying it in less humid weather (let everything dry completely from rain), is crucial to a good end result. Backyard Sidekick says film-forming finishes only slightly absorb into the wood and mostly coat the surface of the deck, which leads to damage quicker, whereas penetrating stains and finishes (water-based ones, in particular) tend to be more durable.
How to maintain a deck finish for longevity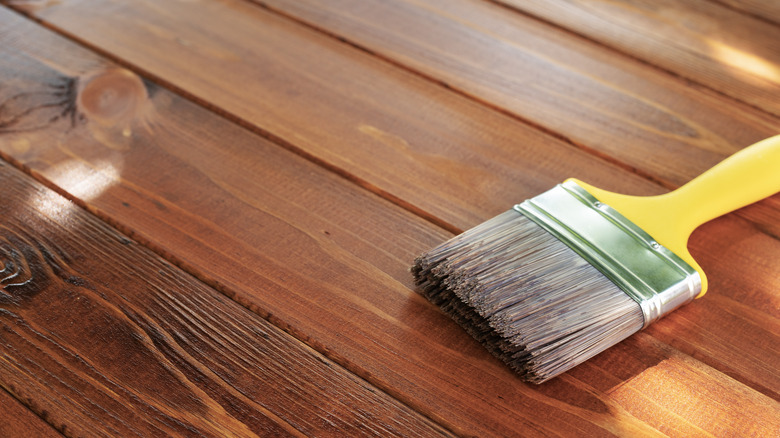 taniascamera/Shutterstock
According to Decking Perth, the key to a long-lasting deck finish is caring for it on a routine basis. Keeping it clear of leaves, dirt, and other debris will help prevent discoloration and mold from forming. Washing the deck annually (minimally) and regularly sweeping it with a soft-bristled broom will help maintain its beauty, says Decking Perth. Wood decks require additional care that differs from composite decks, but both types require upkeep. There are cleaning products designed for each type, so make sure you choose the right one for your deck. And be sure to use only cleaners that do not contain chlorine bleach because it causes damage to the color and finish of the deck.
Sheldon & Sons Painting recommends that decks with a lighter, more transparent stain (usually newer decks), be re-stained annually; darker stained decks (typically older ones) should be re-stained every five years or when damage is apparent. Another option is to seal your deck with a UV-rated weather-proofing product, which should be applied twice annually. Sheldon and Sons say this will likely double the time between re-staining.