Home Depot Or Lowe's: Which Has Better Deals On Bathtubs?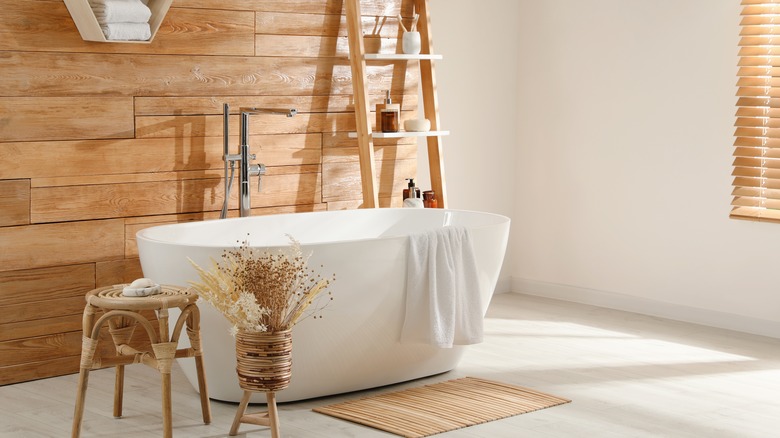 New Africa/Shutterstock
Purchasing a new bathtub is something that shouldn't be done on a whim. A bathtub is an essential part of every household, and choosing not to shop around and explore your options could result in buyer's regret. Before you even think about shopping, you have to decide which type of bathtub is best for your needs and the space where you want to install it. There are a few key factors to take into consideration, including style, materials, size, weight, and price, explains Badeloft. Once you've decided on your perfect tub, it's time to go out there and find it.
Whatever kind of tub you're looking for, you need something reliable that won't crack or leak, and it's very doable to find one at a reasonable cost. When you hit up a home improvement store, such as Lowe's or Home Depot, you're bound to find several bathtubs that match your criteria. The only question is, which store has the better deals, Home Depot or Lowe's?
Prices and features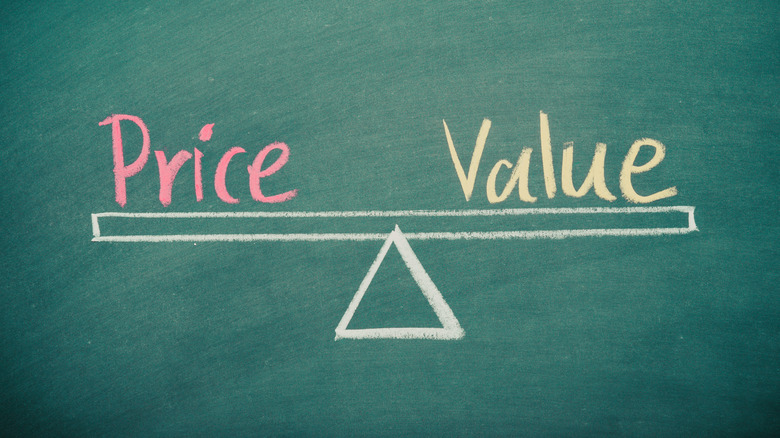 Pla2na/Shutterstock
To make an even comparison, let's look at each best selling retailer's drop-in bathtub. Home Depot's American Standard EverClean Soaking Tub is priced at $585, and measures 60 inches by 36 inches, which is just over the standard width, according to MasterClass. This tub incorporates molded-in armrests and a form-fitted backseat for maximum comfort. According to its description, the tub doesn't include a faucet or drain, so you will need to budget additional funds to complete the installation.
Alternatively, Lowe's American Standard Mainstream Whirlpool Tub costs slightly less at $450. This tub measures 60 inches by Just over32 inches, so it's also a bit smaller; however, it includes the molded-in armrests and form-fitted backseat. If you purchase this tub, you'll have to buy the drain separately, just as you would with Home Depot's option. Obviously, the biggest difference between the two bathtubs is the whirlpool, which has six different jet settings to customize your bath experience. Think of it as your own personal spa.
Materials and customer reviews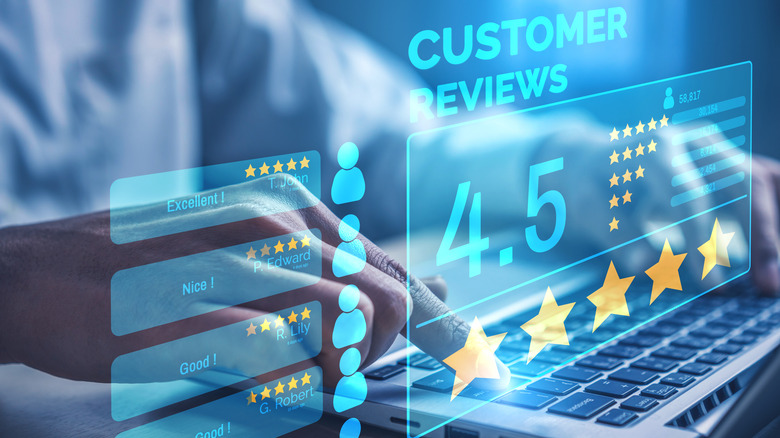 Blue Planet Studio/Shutterstock
Both tubs are made from fiberglass-reinforced acrylic, which is lightweight and easy to clean, won't crack or fade, and is easy to install, explains The Bathtubber. Home Depot's EverClean Soaking Tub has a 4-star rating, and many customers were satisfied with their purchase. One reviewer said it's perfect for the space, and described how easy it was to install; however, there were a few concerns with the size of the tub, claiming it was too small for the buyer's liking.
Lowe's Mainstream Whirlpool Tub has a higher rating of 4.5 stars, with buyers commenting on its luxury and quality. One customer said they've installed the same tub once before, and is still holding up after 20 years. If you're looking for a high-quality tub with amazing features at a low price, head to Lowe's. For a similar price, you get a whirlpool tub with controllable jets. Essentially, you're getting an upgrade without paying for it.