Which Furniture Store Has The Cheapest Bar Carts?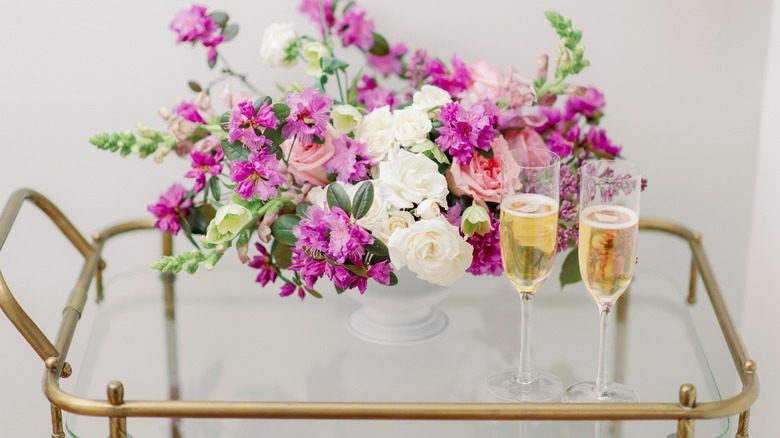 Cavan-Images/Shutterstock
If you have free space in your dining room, living room, or kitchen, one of the trendiest and most stylish ways to fill it is with a bar cart. Bar carts were originally called tea trolleys when they gained popularity in the late 19th century but were soon repurposed for conveniently displaying and serving alcohol, among a variety of other drinks (via Nathan James).
Because of how timeless and fashionable bar carts are, they tend to be on the pricier side when purchased new. You don't have to break the bank to include a decorative bar cart in your home, though. For example, you can try to hunt one down second-hand from a thrift or vintage store or repurpose another piece of furniture. Alternatively, you can find bar carts for very reasonable prices at popular furniture stores if you know where to look. Keep reading to learn where the cheapest, but nonetheless stylish, bar carts are sold.
Bob's Discount Furniture timber walnut bar cart
True to the store's name, one of the most affordable bar carts is sold at Bob's Discount Furniture. The Timber Walnut Bar Cart is sold for just $100 but offers all the decorative appeal of more expensive models. Per the product description, this bar cart is made of plywood with a walnut-colored finish and a frame made of metal. 
The bar cart is two-tiered, with a top and bottom wood shelf. There are handles on both sides, with x-shaped metal framing on either side. The wheeled cart is classified as industrial in the product description, but the wood and metal combination is very neutral and lends itself to a variety of aesthetics, including rustic, farmhouse, cottage, or vintage styles. As a plus, all the shipping fees are factored into the cost. This cart measures just over 36 inches tall, 15.8 inches deep, and 32.5 inches wide.
Ashley Furniture metal rolling cart
The absolute cheapest bar cart sold at a furniture store, though, is the Novogratz Cache Metal Rolling Cart, sold through Ashley Furniture's online catalog for just $60. This bar cart is smaller, only 30 inches tall, 16.8 inches wide, and 11.4 inches deep. It also comes in a variety of colors, including orange, gold, yellow, blue, and spearmint.
This bar cart is perfect for smaller spaces, easily slotting into a small corner or between furniture. It's also great for those with a more colorful, bold taste in home décor. Of course, the gold and yellow colors are a bit more neutral for those with more subdued palettes. The cart is made of metal and has three shelves, which can hold up to 20 pounds each. Not only does this make it super functional for a bar cart, holding heavy bottles and drinkware, but it also makes it ideal for adding decorations or using it as a utility cart.