Is An Accent Wall The Perfect Way To Transform Your Bathroom?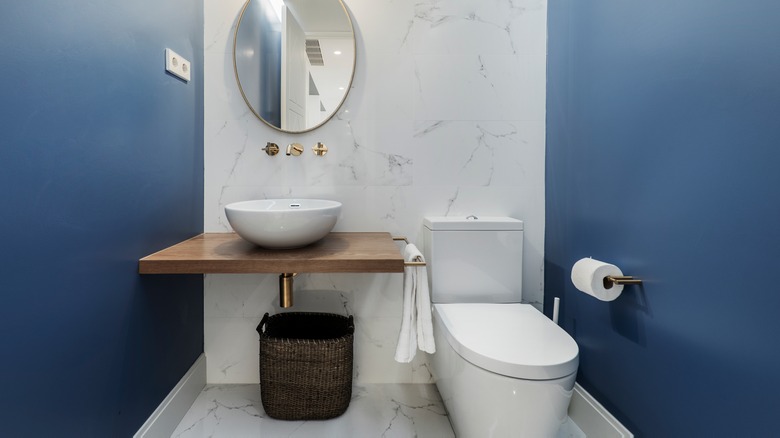 Toyakisphoto/Shutterstock
The accent wall, which rose to popularity in the early 2000s, is a design technique where one wall of a room is painted or wallpapered differently from the others. As neutral, minimalist design replaced the gaudy motifs of the early aughts, the trend of accent walls has slipped into the background. However, some homeowners and interior designers still see accent walls as a timeless décor option despite their recent decline in popularity. With real estate firms like Brown Harris Stevens predicting a rise in eclectic, bold, and maximalist interior design, the return of the accent wall is perhaps inevitable. 
In an article by ELLE Decor, interior designers explored the pros and cons of accent walls, noting that they can benefit small rooms by making them feel larger. The smallest rooms in most homes are the bathrooms, so it makes sense that an accent wall could be a great design choice for these spaces. Even so, there are a few pitfalls homeowners should be aware of to ensure that their bathroom accent wall remains timeless and not tacky.
Pros and cons of a bathroom accent wall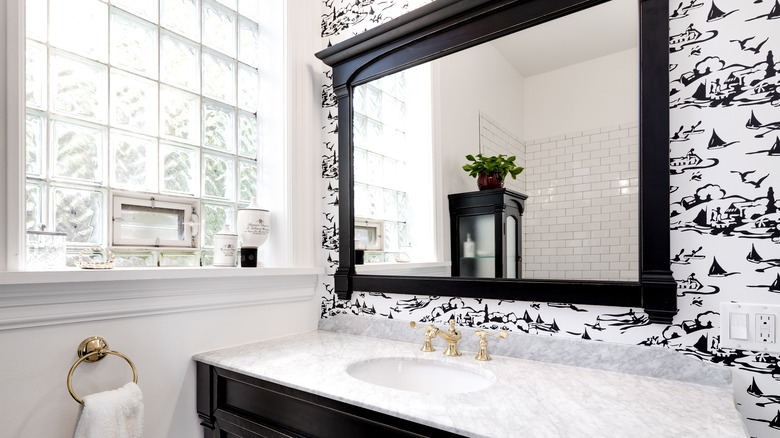 Hendrickson Photography/Shutterstock
Before cracking open that fresh can of paint, you should consider a few things about adding an accent wall to your bathroom. As with many home design trends, Sina Architectural Design explains the benefits and drawbacks of bathroom accent walls. On the one hand, accent walls are a simple way to inject life into the space, and they're pretty easy to DIY. Depending on the paint color or material, an accent wall can create visual interest and depth, drawing you into the space. Accent walls also set the stage for other décor elements in your bathroom, helping your faucets, light fixtures, and countertops stand out. 
However, the decision to create an accent wall is not without some limitations. ELLE Decor warns that the wrong paint color can feel incohesive and random in a bathroom, especially if it is too bright or eye-catching. An accent wall should stand out somewhat, but you don't want it to add more visual clutter to the space, especially if your bathroom is tiny.
How to design a bathroom accent wall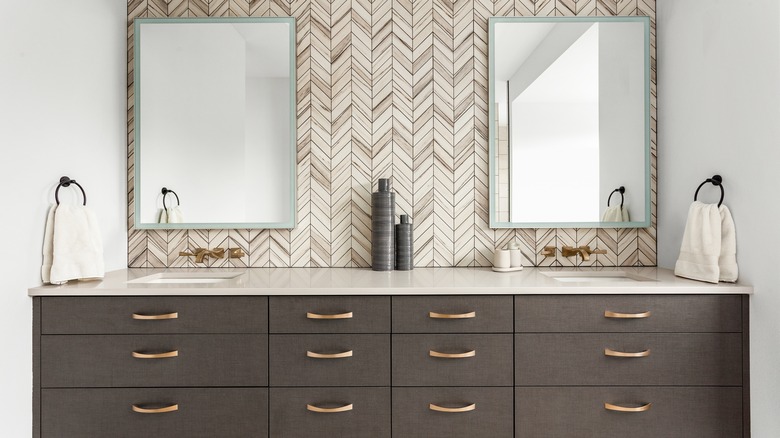 Justin_Krug/Shutterstock
If you decide to take the plunge and install an accent wall in your bathroom, it's best to choose a prominent wall in the room. Painting a small wall or tucking wallpaper into a corner will make the room look poorly planned and unintentional. Wall color is just as important as placement. It may help to think of your accent wall as the harmony in a song — each color should be different but flow smoothly together. Remodel or Move recommends blending one-third of the original paint color into your accent wall to reveal a similar warmth and depth shade. Muted paint colors, neutrals, and jewel tones are safe choices, but you'll want to avoid putting bright, distracting shades in the bathroom.
Real estate agent Alison Draper suggests using bold patterns like stripes and florals in the bathroom. For the best results, pick a design that incorporates your original wall color and avoids tacky motifs like starfish or lighthouses, as these can look dated. Accent walls can also be a great place to play with texture in your bathroom. Adding painted beadboard, textured wallpaper, exposed brick, or a tiled wall can instantly transform a boring bathroom into the space of your dreams.