New Fixer Upper: The Castle Trailer Offers A Sneak Peek At Joanna And Chip Gaines' Latest Project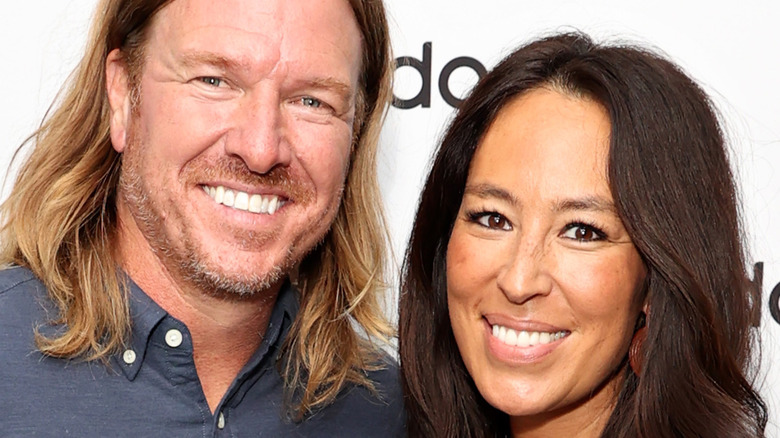 Cindy Ord/Getty Images
Chip and Joanna Gaines are back and better than ever with their new show, "Fixer Upper: The Castle," which finds the acclaimed designers taking on their biggest project to date... the 100-year-old Cottonland Castle, located in Waco, Texas. Original construction on the castle began in 1890 and continued through 1913, reports CultureMap Dallas. Unfortunately, by 1991, the historic castle had reached a state of deterioration (via Insider). The couple purchased the 6,700-square-foot manor back in 2019 and began the remodel with plans to restore it to its original glory before selling it in the fall of 2022.
Public viewings of the finished renovation run through October 29, 2022. Fixer Upper fans and prospective buyers alike have the opportunity to take an in-depth look at the castle's interior. Whether you're interested in buying or not, you can pick up tickets for an hour-long guided tour of the castle, where you'll be able to catch a sneak peek of the finished remodel before the show airs. ETIX notes that 20% of ticket sales will be donated to a local nonprofit dedicated to homeless youth.
The inside scoop
The couple planned on maintaining the original paneling in hopes of truly restoring the castle back to its authentic state, according to Today. However, remodeling a castle is no easy feat. Joanna Gaines has said that the renovation project was much more intense than they could have anticipated. Chip Gaines also shared his doubts about ever completing the project, stating that navigating the renovation was like "an exotic, elaborate puzzle" and they felt like they were taking "zero steps forward, 12 steps back" (via Youtube). A major stumbling block that the couple faced was sourcing the same stone from which the castle was originally constructed. Of course, that's only one of several obstacles they had to deal with.
From disintegrated plaster to unexpected water leaks, the Gaines' worry throughout the show if they'll be able to transform the castle back to the time period in which it was built. However, as the couple moves forward with their largest renovation project ever, they start to see the light at the end of the tunnel. To see the finished project (and all of the ups and downs that get them there), check out "Fixer Upper: The Castle," beginning October 14, 2022, only on Discovery+, HBO Max, and the Magnolia Network.