15 Shower Curtains Your Kids Will Love To Have In Their Bathroom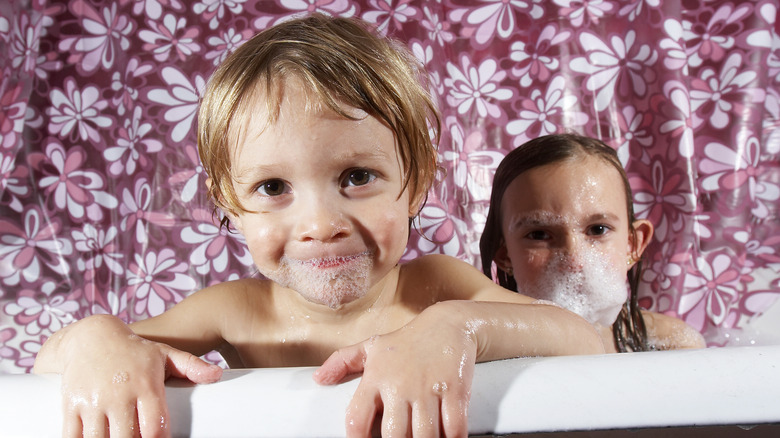 Eric Limon/Shutterstock
Some kids love bath time, and some hate it. Regardless of where your child falls on this spectrum, a shower curtain can make their bathroom more exciting and inviting. From cartoon characters to fun patterns, there are a lot of shower curtains to choose from, whether you shop online or in a physical store. Consider bringing your child(ren) along with you to pick one out — not only are they likely to like one better when they pick it out themselves, but kids thrive on the chance to be involved with decisions and enjoy having input. 
According to Bed Bath & Beyond, a standard shower curtain measures 72 inches by 72 inches. Keep this in mind when you shop for the perfect kid's shower curtain. Measure before you buy and get one that will be easy to hang. The last thing you want is another complicated home project when you are raising kids. Hanging a shower curtain should be quick and easy. 
1. Tropical fish curtain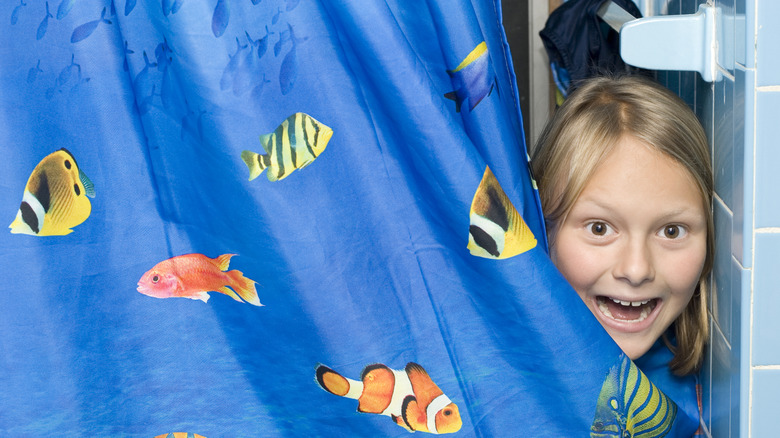 Alon Brik/Shutterstock
A deep blue shower curtain featuring tropical fish is a fun way to bring a bit of the exciting ocean into your child's bathroom. The fish look great with pale blue or white tiling, and children will love to look at them and imagine themselves swimming along with them as they take their bath or shower. 
2. Sesame Street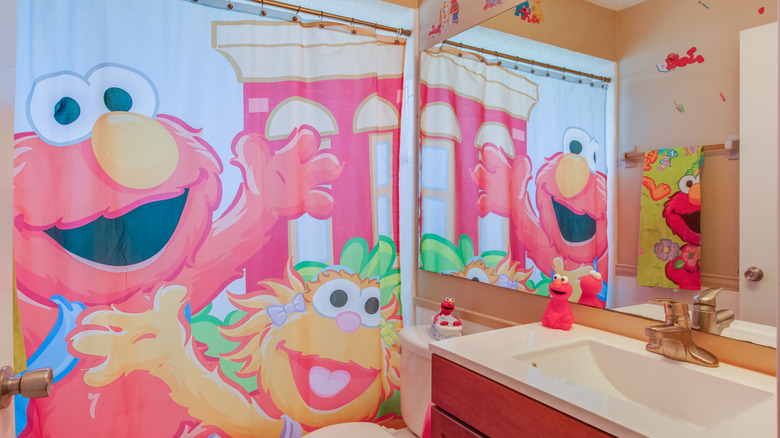 Pipas Imagery/Shutterstock
"Sesame Street" has entertained and educated children for generations, and their likenesses are licensed for everything, including shower curtains. Elmo is a popular character that young children recognize and love. Consider a shower curtain featuring Elmo, Big Bird, or your child's other favorite muppet. 
3. Butterfly curtain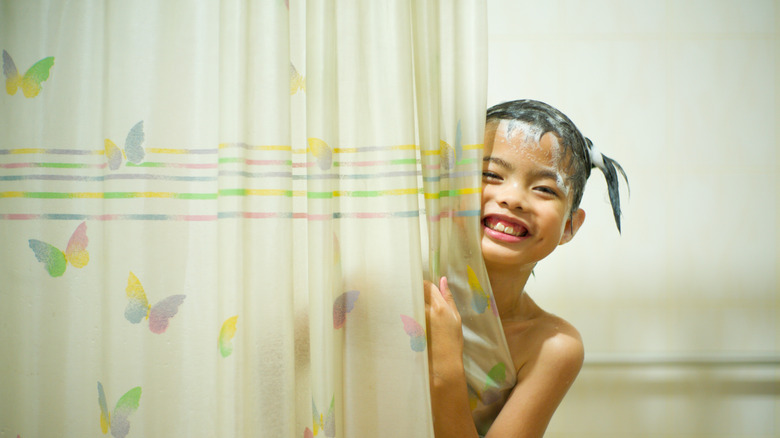 Phichat Phruksarojanakun/Shutterstock
Let the bubbles fly as your kiddo takes their bath or shower against the backdrop of a butterfly shower curtain. Butterflies are an enduring bathroom décor trend, and you can find shower curtains featuring them in pastel, neon, or primary colors. 
4. Dolphin curtain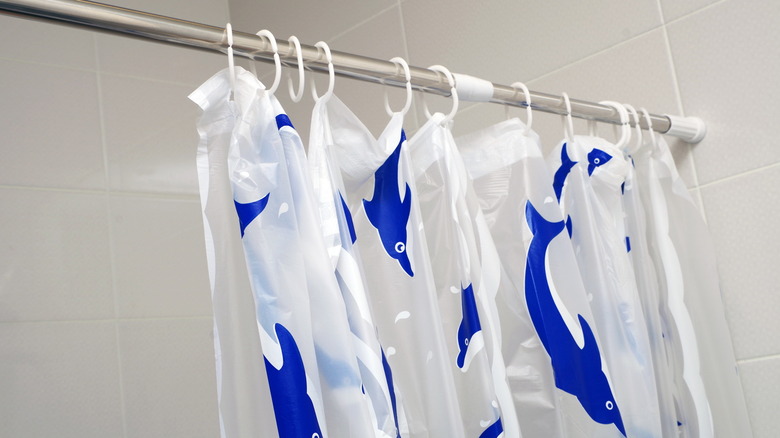 gmstockstudio/Shutterstock
Kids love dolphins. They are friendly, smart, and love the water — all characteristics your child may have as well! Dolphins are a great shower curtain if you want to jazz up a children's bathroom but don't want to purchase one with cartoon characters. 
5. Prehistoric curtain
There's just something so interesting for kids when it comes to prehistoric creatures like dinosaurs and wooly mammoths. There are both classy and colorful options, depending on whether you want your bathroom to be full-on kid-themed or something a little more subdued for a shared space. 
6. Geometric shapes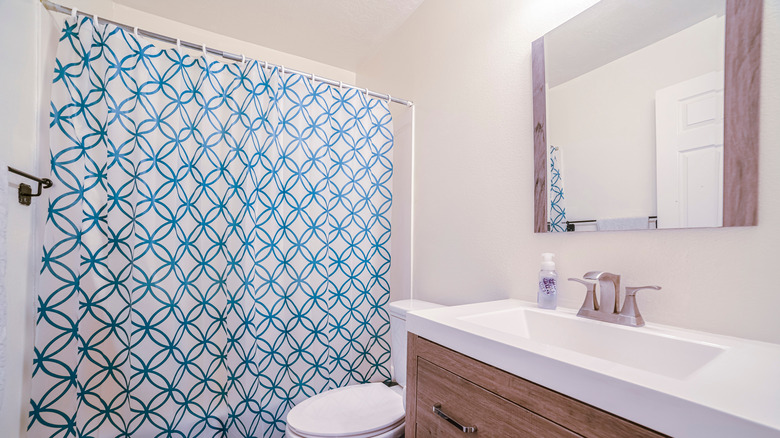 Jason Finn/Shutterstock
For older kids or teens, a patterned curtain is going to be more popular than cartoon characters or juvenile art. There are plenty of designs to choose from, like this blue circular geometric pattern that pairs well with most bathroom designs. 
7. Multicolor stripes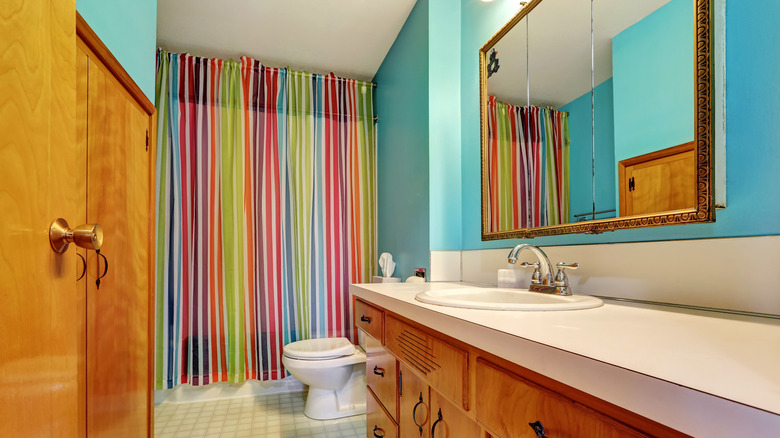 Artazum/Shutterstock
Kids love bright colors, and this striped curtain is a perfect example of a bright and inviting option that won't overtake your entire bathroom motif. Kids will love its happy pattern and might be even more willing to take a bath. 
8. Polka dots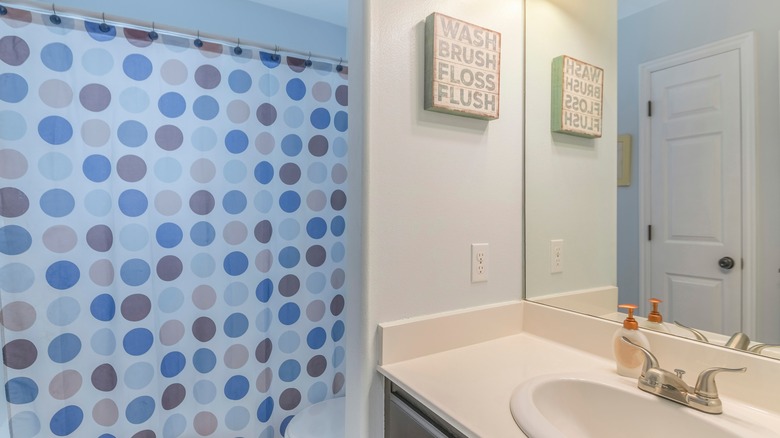 Jason Finn/Shutterstock
It's pretty impossible to look at polka dots and not smile, and that's even the case when it comes to something as basic as a shower curtain. Jazz up your bathroom with these happy dots. They come in countless designs, sizes, and colors. 
9. Map shower curtain
Make bath time educational with a shower curtain that features a map of the world. This curtain not only teaches important geography lessons but also provides bright pops of color that really add a lot to a bathroom's overall feel.
10. Groovy colors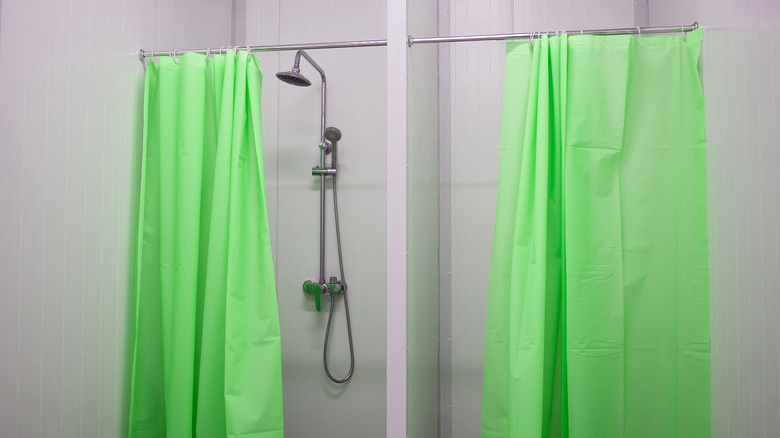 Ira Shpiller/Shutterstock
Most kids have a favorite color, and many love to see it all over the place! If you have a child with a color quirk like an all-yellow room or one who will only wear pink, consider purchasing a shower curtain in their favorite color. This bright green curtain is a funky, unexpected option. 
11. Ruffled shower curtain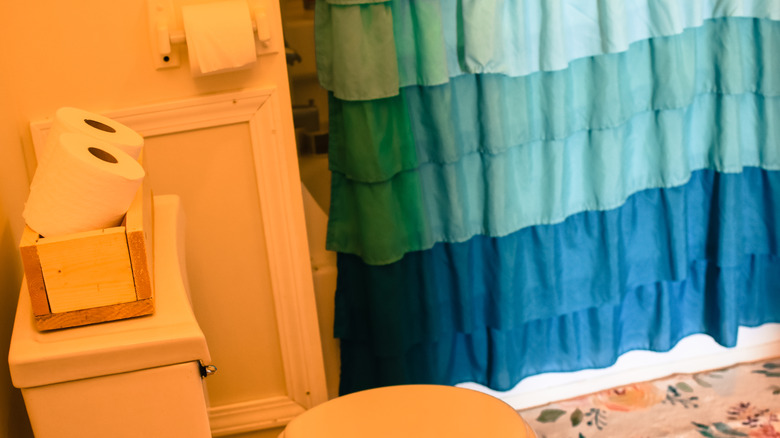 RacheeLynn/Shutterstock
Get creative with a ruffled fabric shower curtain that looks fancy and will delight any child who likes things that are a little over the top. They come in many colors and are usually meant to go over a simple plastic shower liner to prevent it from getting too wet during bath and shower time. 
12. Bold florals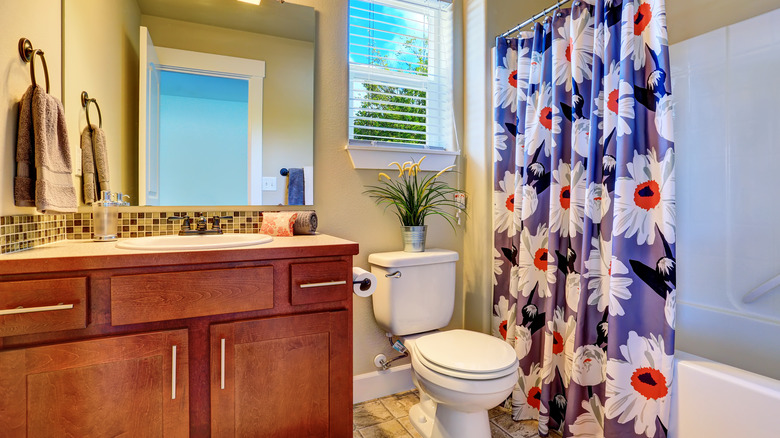 Artazum/Shutterstock
This shower curtain is covered with bold white blooms that really make it pop as a focal point of a bathroom. Kids will love the big statement it makes, and floral shower curtains come in all sorts of styles and colors that are appropriate for all genders. 
13. Digitally inspired curtain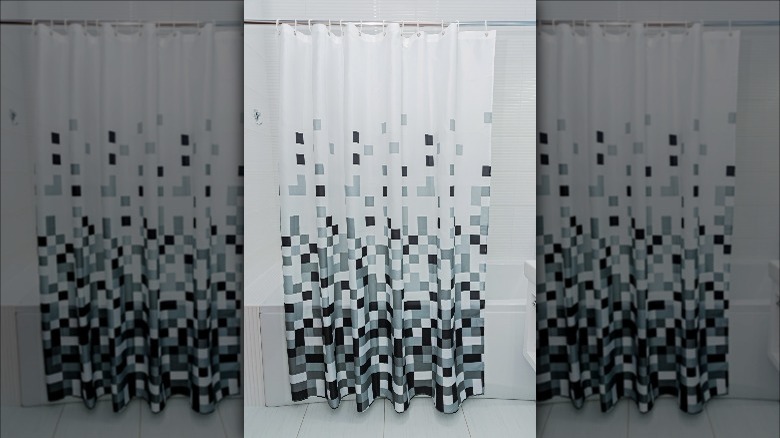 Ira Shpiller/Shutterstock
This black, grey, and white curtain looks almost like something out of "The Matrix." The cool fantasy/techie design will be popular with middle school and high school-aged kids. This is a sleek option for a unisex bathroom or for one occupying kid that has outgrown their cartoon and butterfly years. 
14. Leopard print curtain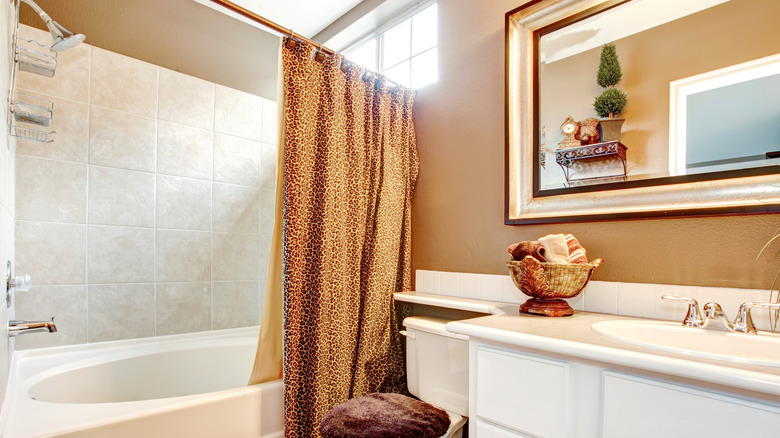 Decorate a bathroom for your little wild ones with some animal print décor, including a leopard print shower curtain. It's mature enough for a guest bathroom while also fun and interesting enough for a kid to enjoy as well. Maybe get them a zebra-print robe to use at bath time, too. 
15. Cool wave curtain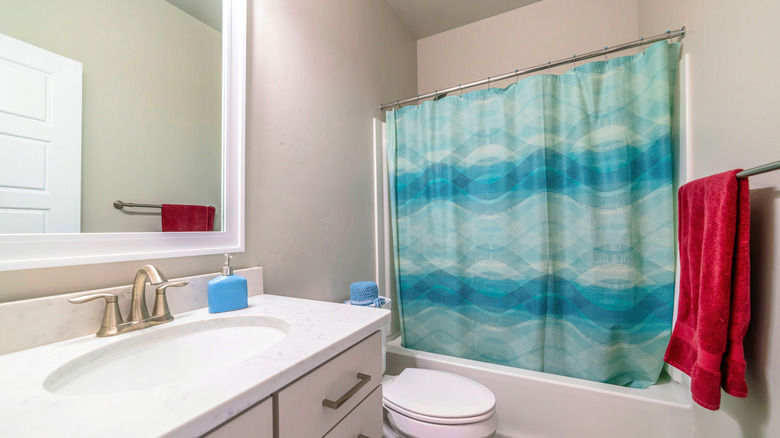 Jason Finn/Shutterstock
Even children need a little zen time, be it a nice long shower or a relaxing bath. This wavy design in cooling blue hues is a beautiful, calming design that both kids and adults will love. This is an ideal option for a kids' shower that also doubles as a guest bath.