The TikTok Hack On How To Remove Wood Paneling Without Actually Taking It Off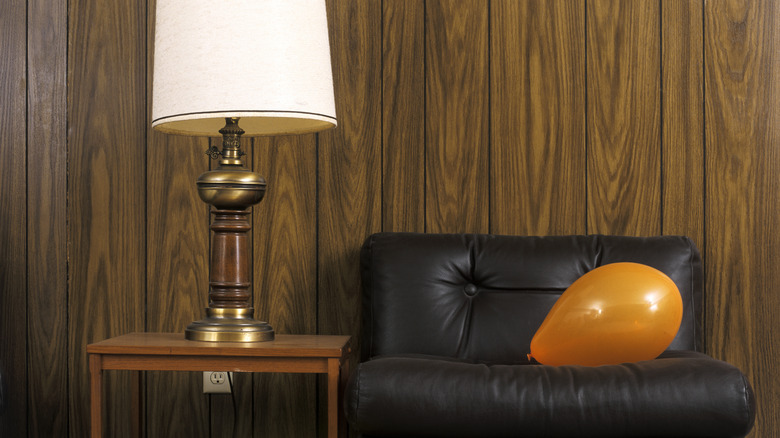 Big Pants Production/Shutterstock
It seems almost impossible to find homes from a certain era — think '70s and '80s — that don't contain at least a touch of wood paneling somewhere, if not huge swaths of it in multiple rooms. Now, there are certainly some people who might love the retro vibes that wood paneling offers a space. However, if it doesn't align with your dream home aesthetic and you end up purchasing a home from that time period that's covered in wood paneling, there's a good chance you're brainstorming the easiest ways to get rid of it.
As Dumpsters outlines, the ease of stripping that wood paneling from the walls depends on a lot of things, including what type of paneling you're working with and how it's attached to the wall (i.e., if it's secured to the drywall or if it has been nailed into the studs). On the easier end of the spectrum, some paneling removal will just require sweat equity and some basic tools. There are other scenarios, however, where you may need to bring in the professionals to install new drywall in order to restore your walls.
Given the potential hassle involved with removing the wood paneling, it's no wonder that many homeowners grappling with the retro design feature are looking to remove it in an easier way — and TikTok user _grace.ws_ had an ingenious idea that caught many of the social platform audience's attention.
Effortlessly removing wood paneling
In the short TikTok video, user _grace.ws_ shared a tip so simple that many wood paneling-haters will kick themselves for never having thought of it, and it allows you to essentially visually remove the wood paneling without having to rip it from the walls. As the poster clarified in response to a comment, the trick was something she came up with because the house she's refreshing is older, and she was scared of potential asbestos issues if the paneling were to be taken down and the walls opened up.
As she demonstrated in the clip, she took the type of spackle you'd typically use to fill in holes from nails and other little chips or imperfections in your walls prior to painting, and just used that material to fill in all the grooves in the wood paneling. By doing so, she essentially created a flat surface that would act as a perfect canvas for whatever paint color she desired, without the look of wood paneling.
To date, the post has received over 75,000 likes as well as more than 400 comments from stunned décor lovers who absolutely loved the easy approach to "removing" wood paneling. Now, the approach does require a bit of time — one user commented that they used this same technique in their home and "it took forever." However, given that all you need is some inexpensive spackle and sweat equity, it may be worth it for those looking to disguise their wood paneling in a budget-friendly way.
Alternative approaches for disguising wood paneling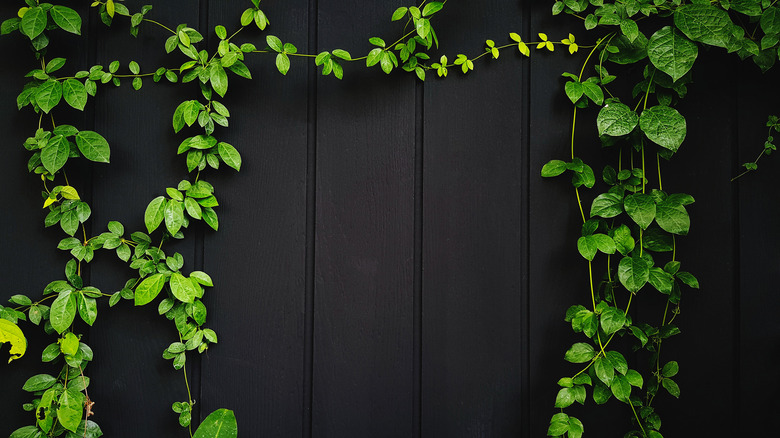 Nattasak Buranasri/Shutterstock
If you have a ton of wood paneling you're looking to hide and feel like spackling every single groove will take way more time than you're willing to part with, there are a few other options for switching up the look of wood paneling. While it may not remove it the same way, it'll still change up the look enough that you may be happier with it than in its original form.
As Realtor outlines, a coat of paint can transform dated wood into a more modern wall in your hue of choice, with the wood panels adding a bit of extra texture. Painting the wood panels a lighter shade like a creamy white will give cottage vibes, while opting for a darker hue may give you a chic, moody feel.
Homeowners who want to embrace the wood grain but just don't love the color may consider staining it another shade (that is, if it's actual wood). Or, as Rain on a Tin Roof demonstrates, even simply painting the trim or other features in the room could give the paneling an entirely different feel.
Finally, if you really don't have the budget or time to do much to change the paneling, simply adding a few bold pieces of art could help update the space.