Which Furniture Store Has The Cheapest Dressers?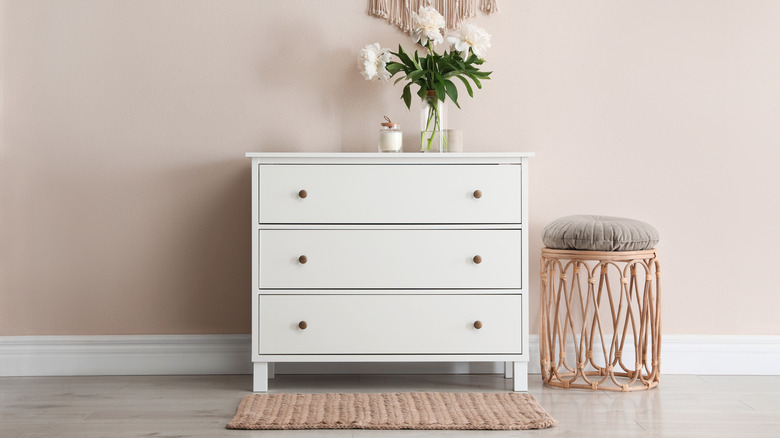 New Africa/Shutterstock
Furnishing your bedroom is not an inexpensive task, and if you're on a tight budget, the last thing you want is to spend thousands and thousands of dollars. The average cost of bedroom furniture is between $2,000 and $13,000, and dressers alone can run you $2,000 or more, according to La-Z Boy. Luckily, some furniture stores offer great prices on dressers that fit into your budget. However, it's crucial to inspect the quality and materials before making your purchase. An inexpensive piece of furniture isn't worth it if it isn't going to last for a long time.
If you buy a cheap dresser built with low-quality materials, you're going to end up forking over more cash when you have to purchase a new one every couple of years. To that end, after comparing prices and reviews of six-drawer options from Ikea, Bob's Discount Furniture, and Crate & Barrel, we found the furniture store with the cheapest dressers for you to check out. Note that all prices are current at the time of this writing and are subject to change.
Checking out the different options
Taking a look at Ikea, a majority of their six-drawer dressers fall somewhere in the $130 to $400 range, as seen on IKEA's website. One of the cheapest of the bunch is the Koppang dresser; priced at $199, the Koppang is made from particle board, which is smoother than plywood and very lightweight, says Livspace. This means you can move the Koppang around the room with ease. With a 4.3-star rating, customers said this dresser is durable, holds a lot, and is easy to assemble.
Bob's Discount Furniture ranks second in the list of least-expensive dressers, with a range of $399 to $1,000 per item, per Bob's Discount Furniture. Out of the available six-drawer dressers, the Tremont Dresser and Mirror is the lowest-priced item at $450. The Tremont is created from rubberwood — an inexpensive, durable hardwood material that is perfect for furniture, according to U.S. Vintage Wood. Customers complimented the durability of the dresser and said they enjoyed the lightweight material, giving it an overall rating of 4.7 stars.
Lastly is the Dawson six-drawer dresser from Crate & Barrel. According to the Crate & Barrel website, six-drawer dressers range from $1,300 to $3,000 (excluding kids' furniture), but this particular dresser is listed for $1,300. It's made from mango wood, which tends to expand and contract as the humidity in the air changes, TimberCraft states. The Dawson has a 4.6-star rating, and customers said it's extremely spacious and sturdy.
The verdict is in
On the hunt for a high-quality dresser for cheap? Check out Ikea's vast selection of affordable options for any style. While we only discussed one of the cheapest Ikea dressers, there are several others in the same price range that also have glowing reviews. Take the Malm six-drawer dresser, for example. At just $250, it has a 4.4-star rating and is made from the same particle board material we discussed earlier. According to the reviews, customers loved its appearance and said how simple it was to put together. 
One reviewer even said the Malm had the best quality, design, and price of a six-drawer dresser they had ever found. Others enjoyed it so much they purchased them for other members of their household. So with that being said, if you're on a tight budget, but you still want a dresser that's going to last you for a long time, Ikea is the place for you.