25 Chic Dressing Rooms That You Will Love To Get Ready In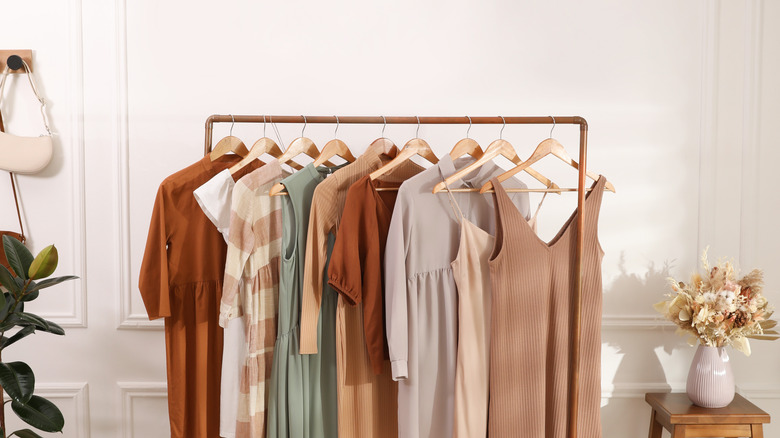 New Africa/Shutterstock
Anyone who loves clothes knows that a well-appointed dressing room or wardrobe area is a must. Ideally, we would all be blessed with endless closets and wide, beautiful rooms filled with gorgeous storage solutions and glorious display space for our favorite items. While many homes are increasingly being remodeled or built with wardrobe needs in mind, those of us in smaller, older homes might need to get a little creative. Whatever the space you are working with, the best dressing rooms resemble your very own choice boutique with all your favorite things. There is a bounty of ways, according to My Chic Obsession, to get that effect, including light, accents, and furnishings.
Whether it's a dedicated corner of the bedroom or office or an unused attic or alcove, there are some great ways to make your dressing area as beautiful as it is functional. This means tucking away what we don't want on display and showing off what we do. It also means creating a dynamic, attractive space that we want to spend time in as we get dressed and ready for our day. From vanity tables and perfect storage solutions to seats and wardrobe racks, there are a number of things to keep in mind and be inspired by.
1. A place for everything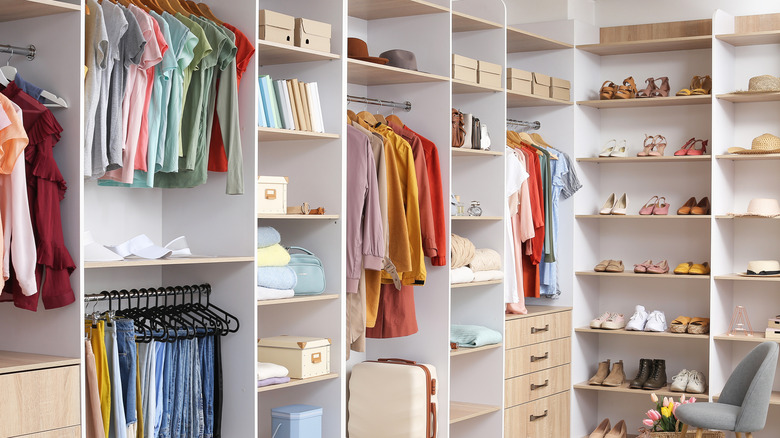 Pixel-Shot/Shutterstock
The key to any perfect dressing room is storage for everything you need. This can mean larger, more complex organization systems or a smaller arrangement that is just the right size for your wardrobe. Here, a place for everything means an orderly and harmonious presentation.
2. Multi-function rooms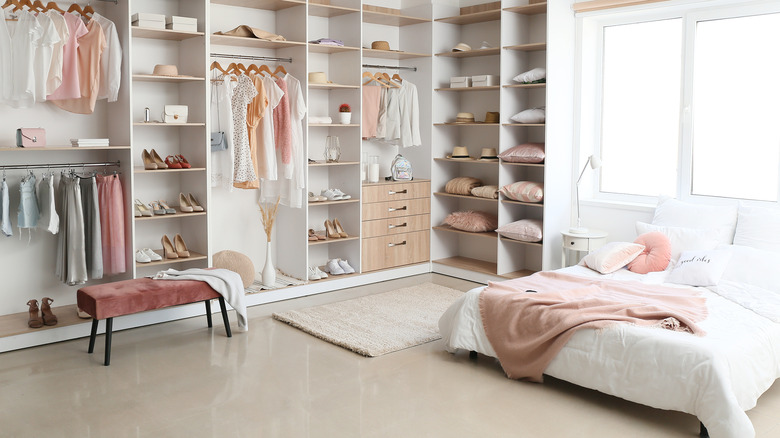 Pixel-Shot/Shutterstock
Not every space has room for a dedicated wardrobe or dressing room, but an unused corner of a bedroom makes a perfect solution if outfitted with storage solutions that get a lot of bang for your buck in terms of space. A luxurious velvet bench adds seating.
3. Under-used spaces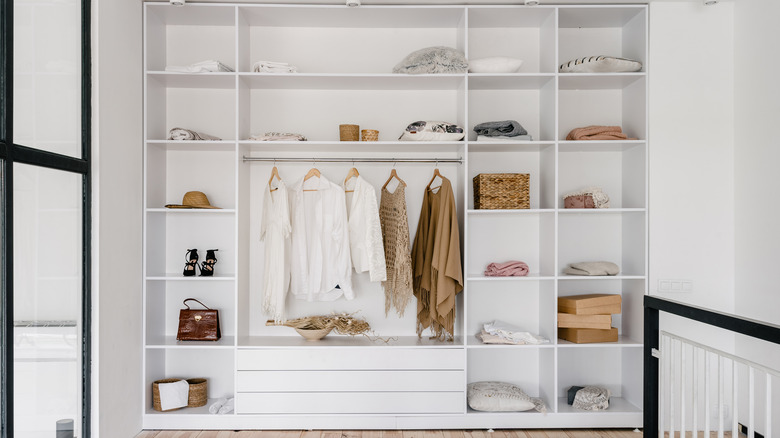 brizmaker/Shutterstock
This clean, well-appointed dressing area offers an abundance of storage and display space at the top of a stairwell in an otherwise underused space. Baskets and boxes easily hide the things not display-worthy.
4. Portable pieces
New Africa/Shutterstock
This smaller clothing rack can be tucked in any corner and is foldable for storage when not needed. Its light bamboo material and simple shape are perfectly paired with natural elements like rattan baskets and greenery.
5. Enclosed cabinets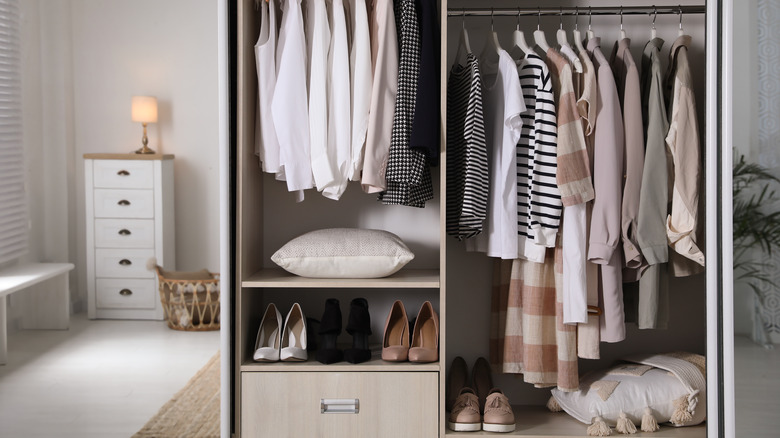 New Africa/Shutterstock
An enclosed wardrobe is perfect for adding a boutique feel to any room, allowing plenty of space for hanging and folded items, shoes, and accessories. You can add doors for more coverage or leave it open for display and easy access.
6. Focus on shoes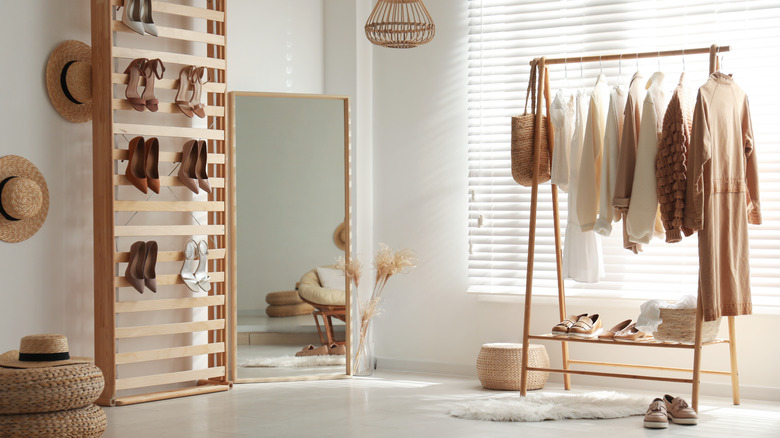 New Africa/Shutterstock
This amazing ladder-like wood shoe rack is a great solution for an avid heel wearer. Paired with a full-length mirror, wood rack, and straw hats, it makes the shoes the focal point and star of the show.
7. Sleek and modern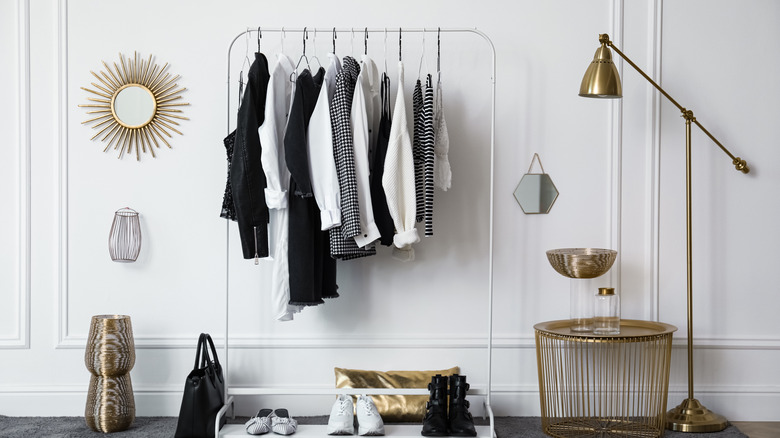 New Africa/Shutterstock
Even full of items, it's possible to achieve a modern, contemporary vibe in your dressing area by making use of neutral color palettes, chrome and gold accents, and modern lighting.
8. Tiny boutique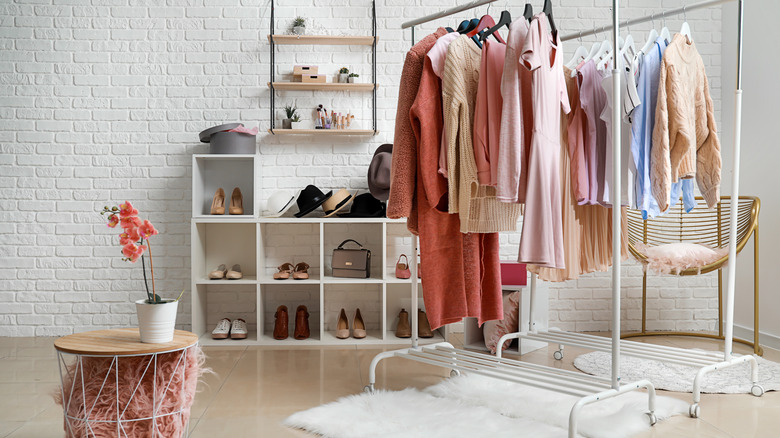 Pixel-Shot/Shutterstock
This boutique-like dressing area features fur rugs and accent pillows, ample storage for shoes and bags, and two large racks for hanging, giving new meaning to the advice "shop your closet."
9. Hollywood glam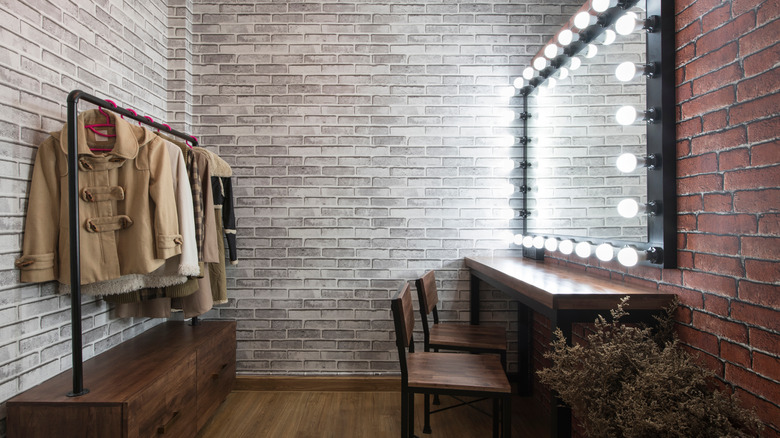 Tonfoto2518/Shutterstock
A movie-star-worthy lighted mirror, massive dressing table, and attractive rack/dresser combo make this dark brick corridor a bright and attractive place to get dressed even if you're not exactly headed for the red carpet. 
10. Dramatic mirrors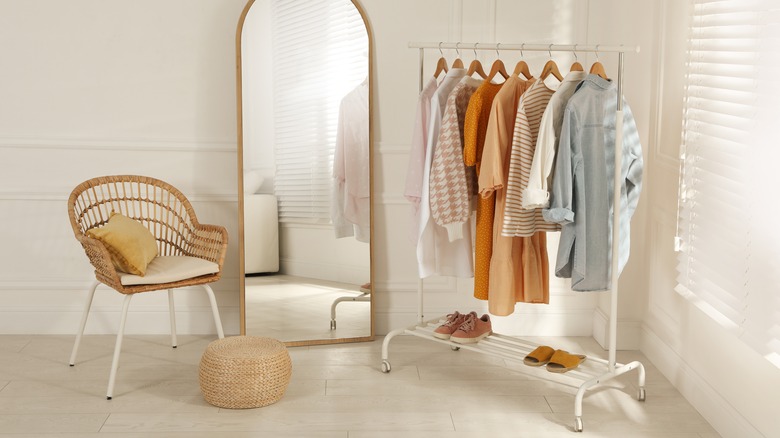 New Africa/Shutterstock
A huge, beautiful full-length mirror is a must for any dressing room area, perfect for seeing what you're wearing and taking all those #ootd photos. This gold-framed arched mirror is a great centerpiece even for a small corner wardrobe, especially when combined with a cute chair and small moveable clothing rack. 
11. Neutral solutions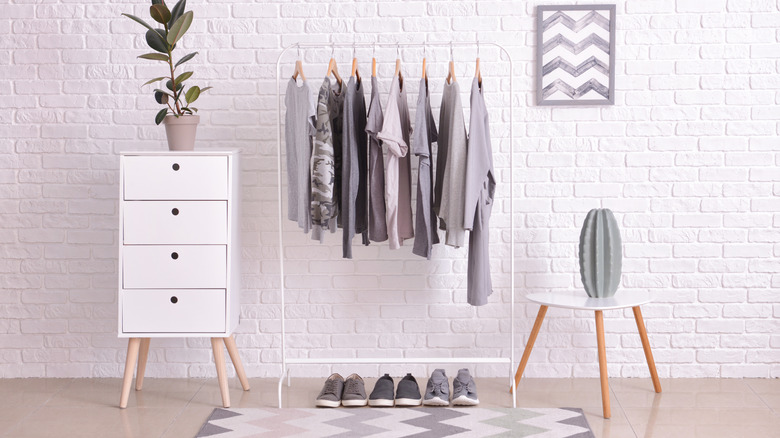 Pixel-Shot/Shutterstock
If you love neutral decor, a perfect way to keep your wardrobe in line with your palette is to choose complementary neutral pieces for display and tuck other items away in closed storage. Here, an array of gray pieces becomes part of the decor while a small chest provides additional storage.
12. Perfect vanity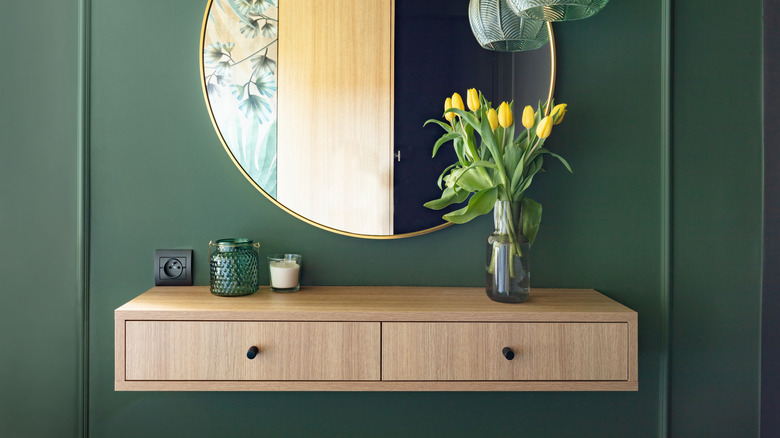 PHOTOCREO Michal Bednarek/Shutterstock
Any well-appointed dressing area will include a vanity table and mirror for storing and using makeup and other products. This small set of drawers is wall-mounted and offers ample room to store products while not taking up additional floor space. 
13. Corner retreat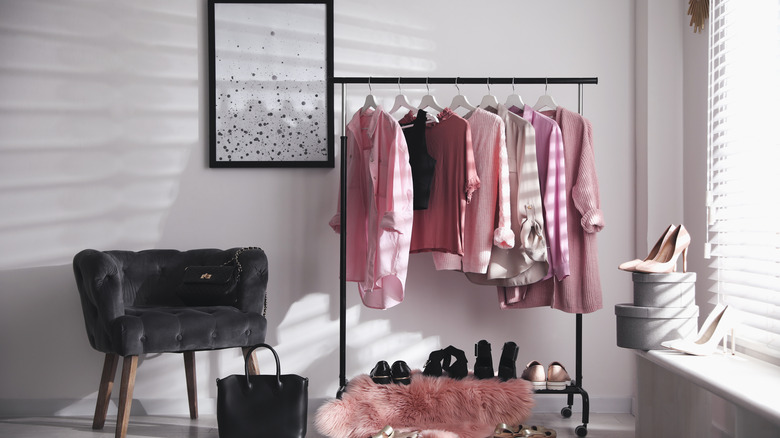 New Africa/Shutterstock
If space is lacking for a large wardrobe or dressing room, even a small tucked-away space like this corner can make a beautiful dressing area complete with hat box storage, a clothing rack, lush velvet seating, and complementary artwork, all perfectly tied together by color.
14. Ceiling mounted racks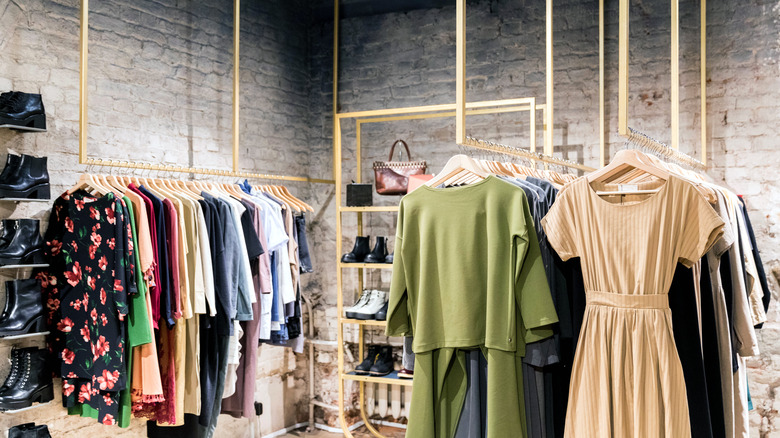 tartanparty/Shutterstock
These great ceiling-hung racks keep the floor space free while still offering plentiful hanging space for your entire wardrobe. Hung shelving units provide space for shoes and other items. 
15. Fashionable workspaces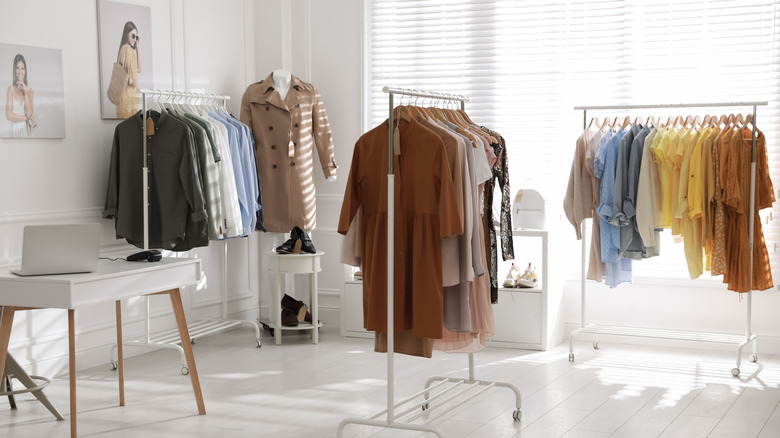 New Africa/Shutterstock
If space is a premium, there is no reason not to combine your office or workspace with a wardrobe or dressing room. Here, a desk and work area share space with a rack of clothes, shoes, and a mannequin for displaying favorite pieces.
16. Impressive closet spaces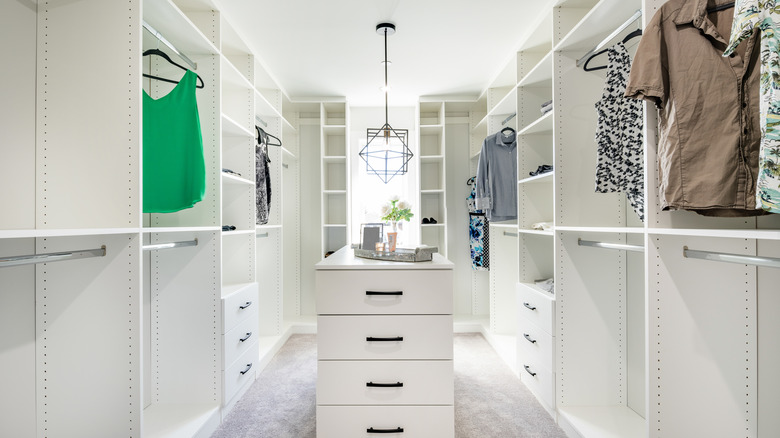 Sheila Say/Shutterstock
Many larger homes and new constructions are blessed with large, bright closet spaces that serve not only as storage, but are also great places to get dressed and stay awhile. The racks, shelves, and drawers anticipate every storage need while offering a bright, beautiful space.
17. Unique storage solutions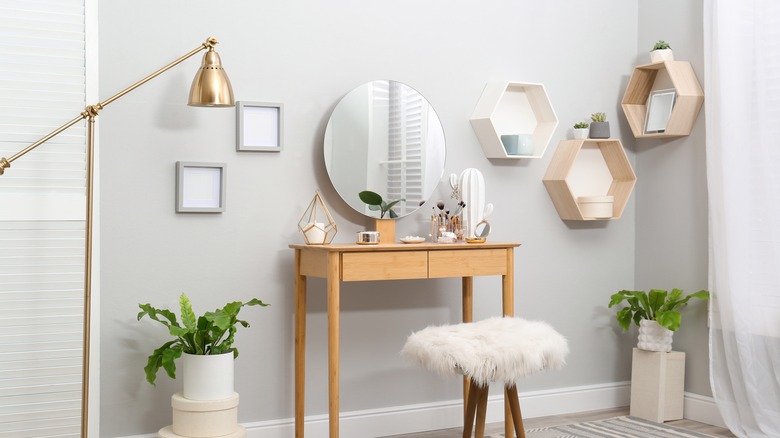 New Africa/Shutterstock
This cute and modern vanity offers space for products and accessories, but the stunners are these wooden octagonal shelves that accommodate additional boxes and items while being very stylish themselves. 
18. Space-age wardrobe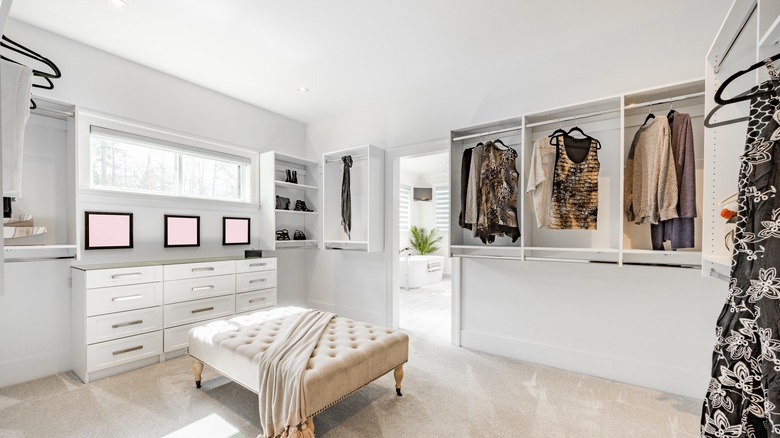 Sheila Say/Shutterstock
While the screens may make this beautiful dressing room look a little like something from "Star Trek," they actually make up the perfect entertaining space to watch things while you get ready, complete with a tufted ottoman to sit on.
19. Romance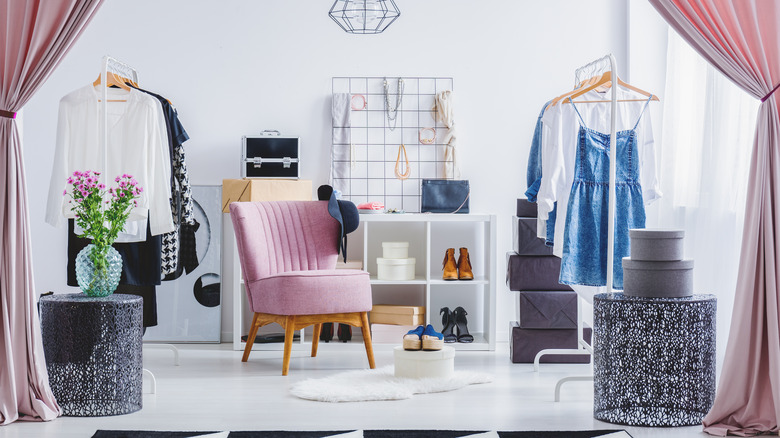 Ground Picture/Shutterstock
This romantic curtain-lined space is even more dreamy than it is utilitarian, offering shelves and racks for clothes, shoes, and accessories, a luxe pink velvet chair, as well as useful storage boxes stacked atop side tables.
20. Storage in small spaces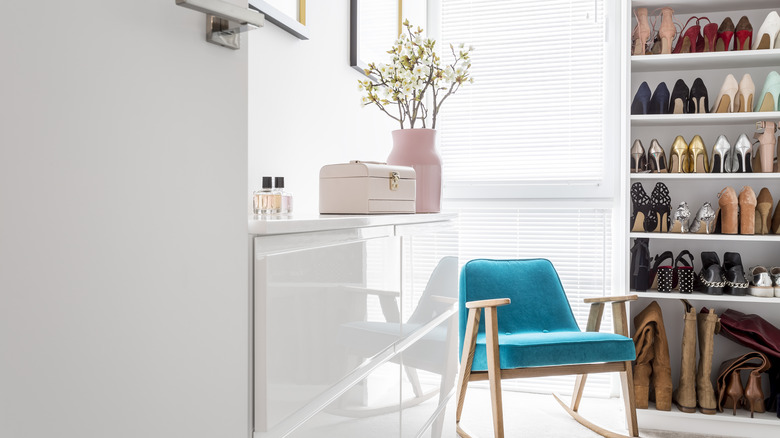 Ground Picture/Shutterstock
This clean, modern dressing area features a sleek cabinet and vanity table that provides excellent storage while reflecting light and blending in, making this small room look much larger. An adorable blue velvet chair and shelves filled with shoes and boots draw our focus instead. 
21. Lights, camera, action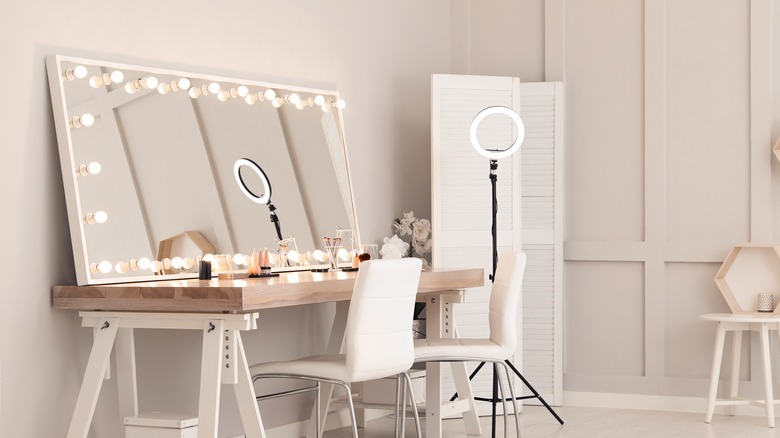 New Africa/Shutterstock
You don't have to be a YouTube beauty guru to have a space like one. This amazing lighted mirror works for anyone who needs some light in an otherwise dark space for dressing and getting ready.
22. Small space vanity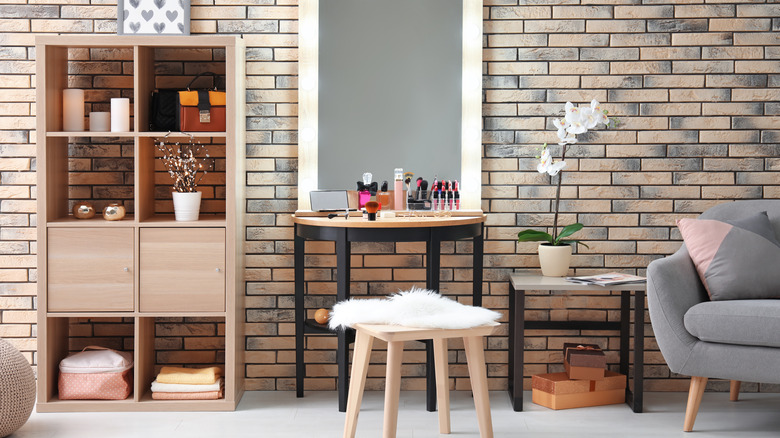 Africa Studio/Shutterstock
If you're pinched for space and unable to accommodate a large vanity, a small half-moon table is a perfect and attractive solution, taking up half the space with all the impact, particularly when paired with a large mirror. A nearby cabinet provides storage.
23. Artwork and decor
New Africa/Shutterstock
Dressing rooms and wardrobes, while at their roots useful, are as primed for beautiful additions like accessories, artwork, and beautiful pieces as anywhere else in your home, particularly if you spend a lot of time getting ready. Don't forget little touches like accent mirrors, cute rugs, and vases.
24. Defined wardrobe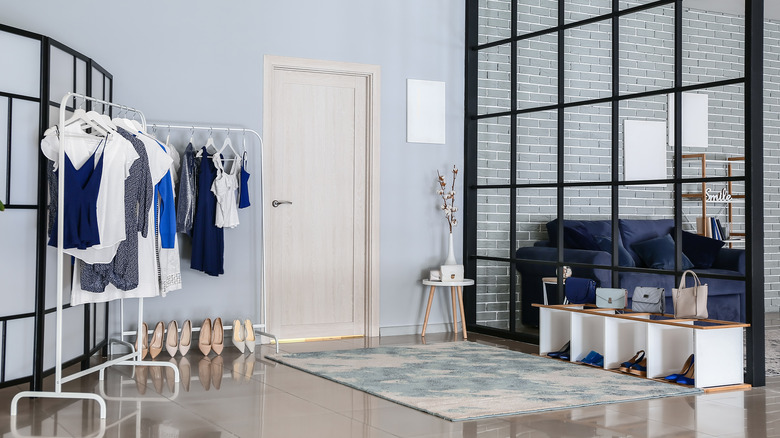 Pixel-Shot/Shutterstock
If you are decking out existing spaces as dressing areas and wardrobes, a perfect way to start is to offer some definition, whether that's a screen or a piece of furniture. Here, a simple grid allows ample light into the dressing area while still defining the space. 
25. Cute kids wardrobe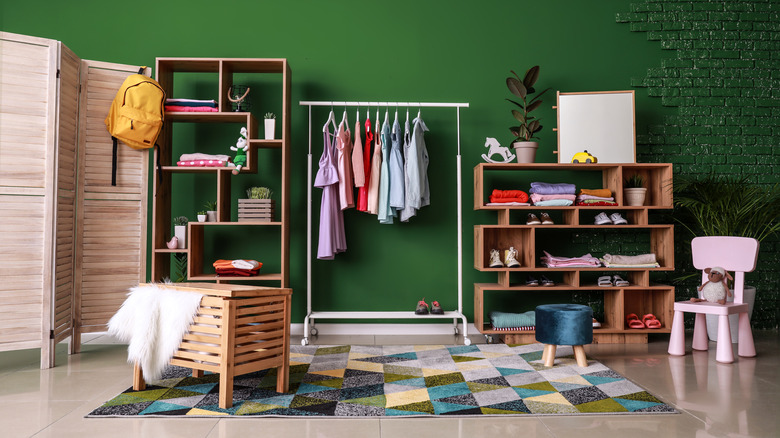 Pixel-Shot/Shutterstock
Dressing rooms are not just for grown-ups. Most children have just as an impressive array of clothes as adults (if not more!). Here, a bright, colorful dressing area set off by a screen offers space for kids' clothes and accessories. A colorful rug and a small stool finish the space.