Why You Should Consider A Round Dining Table For Your Space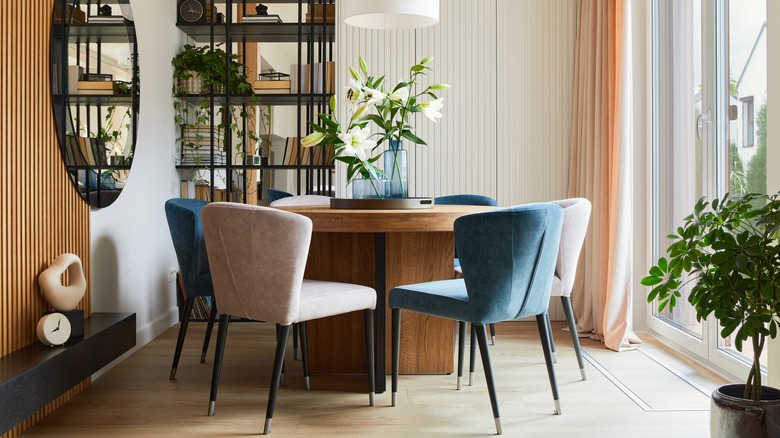 Followtheflow/Shutterstock
Dining rooms have been a topic of debate in recent years, with many families letting their formal spaces go unused as they transition to more casual dinner arrangements. Maybe, however, the traditional dining room just needs a minor update to restore it to its formal glory. According to the Family Dinner Project, dining together as a family can promote healthy eating habits, encourage beneficial conversation, and lower the risk of a variety of mental health issues. If you're working with a smaller space or are less than enamored with your current table setup, it may just seem easier to head back to the couch. Luckily, there's a simple solution.
A round dining table might not seem like a revolutionary idea, but it could be exactly the upgrade you need in your space. Say goodbye to TV dinners and hello to healthier habits, and keep reading to see if this simple switch might be beneficial for you and your family.
Space saving switch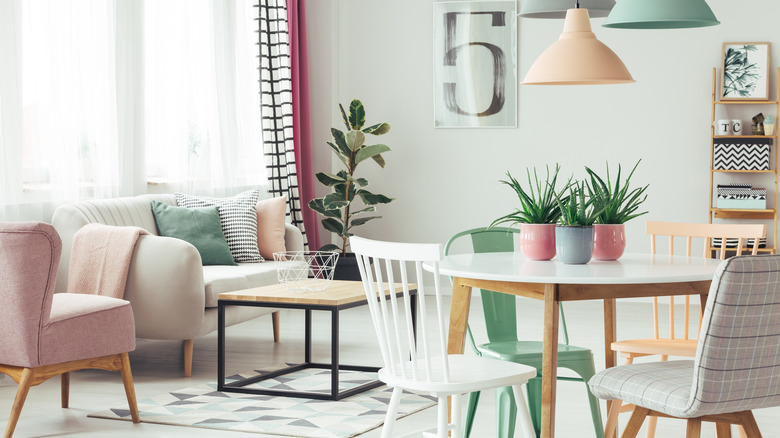 Ground Picture/Shutterstock
According to RentCafe, apartments are getting smaller despite the fact that rent rates are rising. This has left many tenants having to make difficult decisions in their space to save room, often at the expense of a dining room. Traditional dining tables take up a large amount of space and are designed for the typical formal dining room in larger houses, but smaller round tables can still provide a surface without eating up half of the room. They're the perfect size to fit in a smaller nook by the kitchen and usually only sit around four people, making it the perfect solution for a small family or a couple.
It may seem unnecessary to have an entirely separate table for dining when a coffee table works perfectly in a pinch, but it can also serve a double purpose. If you work from home, it can double as a desk, or if you're living with kids, it's the perfect homework station.
Increasing family time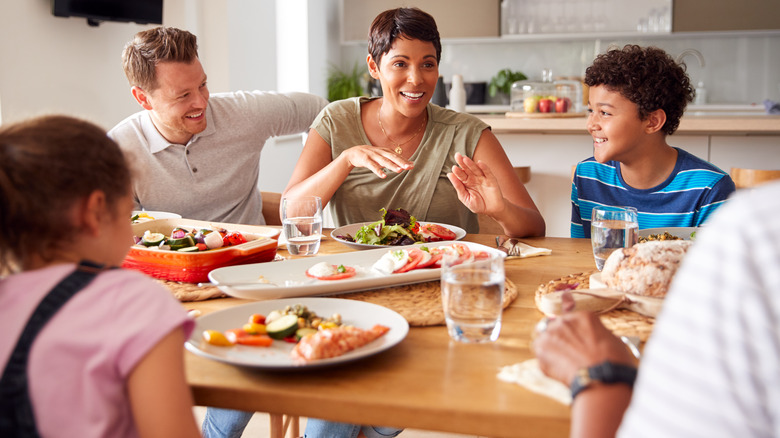 Monkey Business Images/Shutterstock
Sitting down and checking in with the family after a long day can seem like a bygone tradition nowadays, but these conversations without the distraction of phones or TV are important to keep communication open (via The Family Dinner Project). A trendy and modern round table can take this a step further and remove the formality that comes with a rectangular dining table. No heads of the table, no fumbling to pass dishes, and no awkward spacing between seats. Just more family time and comfortable conversation over delicious meals.
If you've lost room for a dining space or grown tired of the formality of the traditional dining room, there's another way to make mealtimes work in your space. Choosing a round table can bring back the lost art of the family dinner and provide a multi-use space for a cramped apartment with the added benefit of adding some stylish and organic shapes to your home.