Home Depot Or Lowe's: Which Has Better Deals On Wall Tile?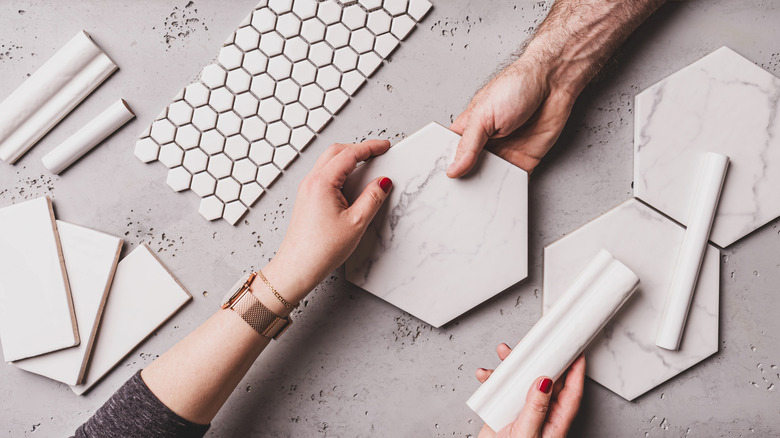 Pinkyone/Shutterstock
Retiling your kitchen or bathroom is a great way to add a fresh upgrade to your space, but costs can add up quickly. If you're looking to save some money on your home improvement project, it's important to shop around to get the best deals.
Home Depot and Lowe's are the undisputed champions of the home improvement industry, touting massive selections, thousands of stores across the country, and great deals on project essentials, confirms Statista. Deciding between colors, tile types, and the layout for your project are big enough decisions. It's impossible to sort through the thousands of products online, so House Digest decided to help narrow down the options and let you know which retail giant has the best deals and quality, as well as positive feedback, on their wall tile selections. We'll be comparing the top-rated and best-selling products from both stores to make the final determination on where you should head to find the best bang for your buck.
The best sellers in wall tile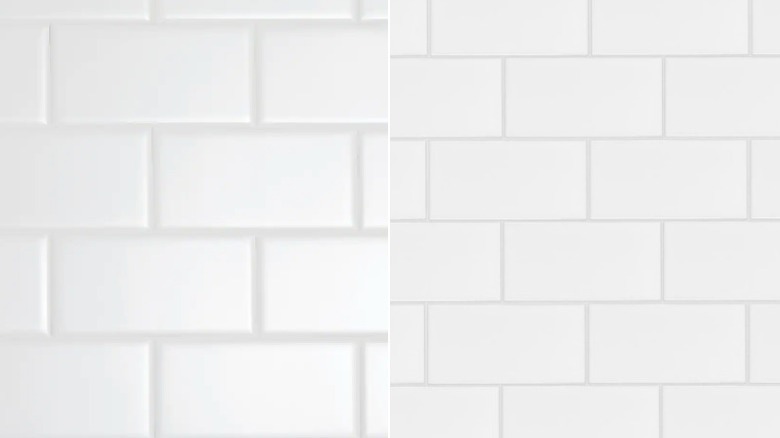 Home Depot/Lowe's
Unsurprisingly, the best-selling wall tile at both Home Depot and Lowe's is a classic white subway tile. Home Depot's is the 3-inch by 6-inch Ceramic Bright White Subway Tile from Daltile. If the basic option is not your preference, it's available in 13 other colors and eight tile sizes. For the classic bright white selection most popular for bathrooms and kitchen backsplashes, the price comes in at $1.15 per square foot. This product has earned 4.9 out of 5 stars across 44 reviews on the Home Depot website, so it's clear that customers are fans of the quality and consistency of the tile. There's even a handy online calculator to determine how much you'll need to buy in order to properly cover your space.
Lowe's take on the classic subway tile is the Hudson Brilliant White Glossy 3-inch by 6-inch Glazed Ceramic Subway Wall Tile from Satori. It comes out to the same price per tile, but the brand notes you'll save 10% when buying in bulk (over 3,000 tiles), and the website offers the same convenient calculator. These tiles come in with 4.4 stars across 122 reviews. Both brands are fairly neck and neck with their selections, but if you're buying a large quantity, Lowe's comes out ahead with the better deal.
Highest-rated wall tiles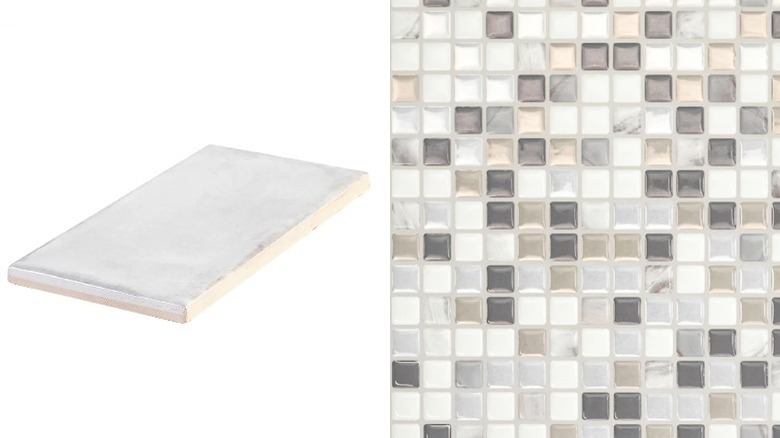 Home Depot/Lowe's
The top-rated products from both stores are each a little pricier than classic subway tile. Home Depot's Blanco Rustico White 3-inch by 6-inch Glossy Ceramic Wall Tile from Jeffery Court costs $4.99 per square foot, and it has earned 4.8 stars across a whopping 345 reviews. Over at Lowe's, a simple upgrade is more popular. The current fan favorite is the Minimo Noche White and Gray 9-inch by 12-inch Glossy Resin Peel and Stick by Smart Tiles, coming in at $16.39 per square foot — a more expensive investment, for sure, but faster and easier to apply than traditional tiling. Customers are satisfied with the ease and final look of this product, and it has earned an impressive 4.9 stars across 674 reviews.
Both stores obviously have different selections, but if you're looking for basic item like subway tile, they're pretty close in price. Lowe's is the place to go if you expect to purchase enough to warrant the bulk discount, but Home Depot's choices are typically a bit cheaper and simple overall. Fans of trendy aesthetics and bold statements should easily find what they're looking for at Lowe's. Conversely, Home Depot is the better option if you're a fan of the classics and want to save a few dollars.