The One Ceiling Color That 70% Of Homeowners Think Is The Best - Exclusive Survey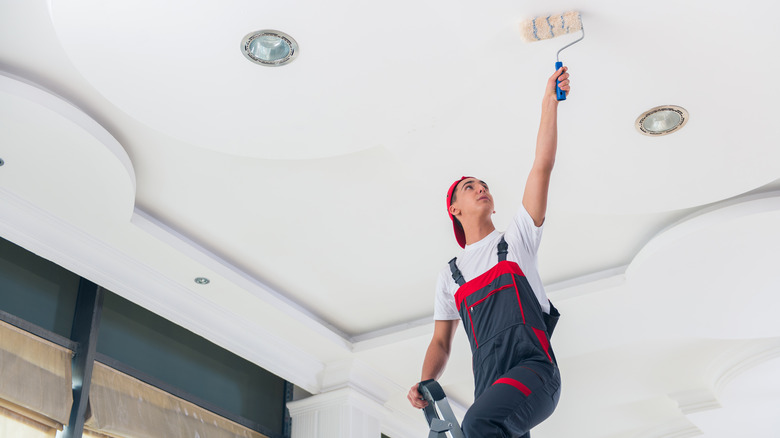 Elnur/Shutterstock
Choosing the right paint color for your home can be a daunting, thankless task. But in the end, the perfect paint color can create seamless harmony throughout your residence and will look great either night or day. And although some homeowners tend to mainly focus on the four walls around them, the color of the ceiling can be a major game changer. According to ECOS Paints, painting the ceiling can help make your design feel complete — you can turn your ceiling into an accent wall or use certain colors to make the room look taller.
To help guide you through the many colors to choose from, House Digest conducted a survey asking participants which color they believe is best for the ceiling. We gave them six options: white, brown, gray, wood, black, and blue. We'll reveal which colors received the most votes and why they may be the perfect addition to the ceiling of your property.
Create a bright and open space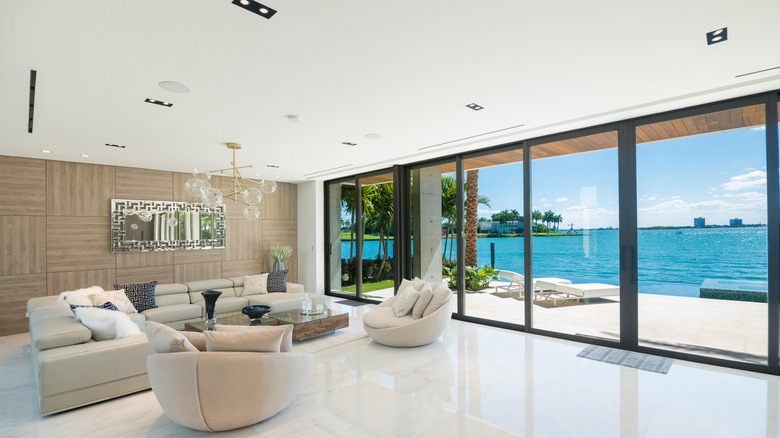 MDV Edwards/Shutterstock
Out of 606 respondents, an outstanding 70.46% (427 people) chose white as the paint color they believe is best for the ceiling, according to our survey. The Farmhouse Life states that painting your ceiling white is a good tactic if you have other design elements you'd rather bring attention to. Since it's a neutral color, it's less likely white will attract someone's gaze rather than a chandelier or artwork. A common trend is to paint your walls and ceiling the same color, however, this can sometimes backfire and make your room feel smaller. Instead, it's advised to use white as a contrasting color to brighten up the space.
There are several shades of white to choose from, so be sure to choose a color that will complement the tones in your space. According to Welsh Design Studio, white with a hint of grey is good for cool tones and will help soften the room, whereas warm whites are better for matching with a range of coolers and will give a room a cozy feeling.
Or a cozy atmosphere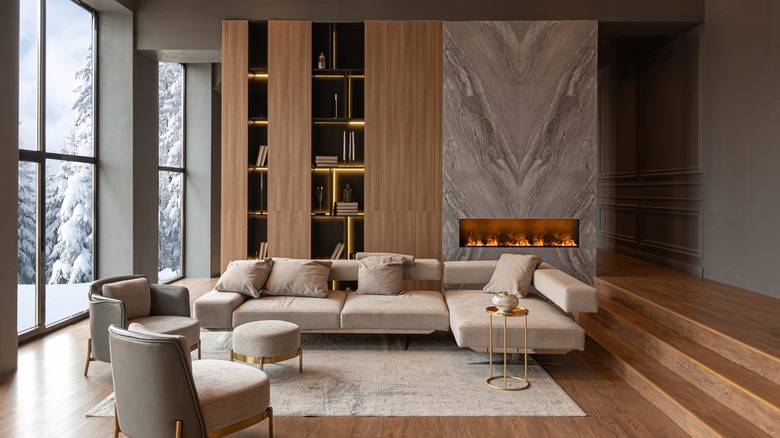 Pinkystock/Shutterstock
Gray came in second with 9.08% (55 people) deciding this color is the best choice for the ceiling. According to Glidden, gray ceilings can create a comfier environment. To achieve a soothing ambiance, you can paint both your walls and ceiling gray — this will look even better if you have big windows in the space with contrasting white trim, which will add some much-needed brightness to the space.
It's also recommended to choose a gray that is darker than your walls, in order to emphasize the transition from room to room. For something light and airy, Improovy suggests using Benjamin Moore's Pale Smoke, or Benjamin Moore's Onyx if you want some major contrast.
The following are the other options from most to least amount of votes: wood with 53 votes (8.75%), brown with 35 votes (5.78%), black with 26 votes (4.29%), and blue with 10 votes (1.65%).