Home Depot Or Lowe's: Which Has Better Deals On Carpeting?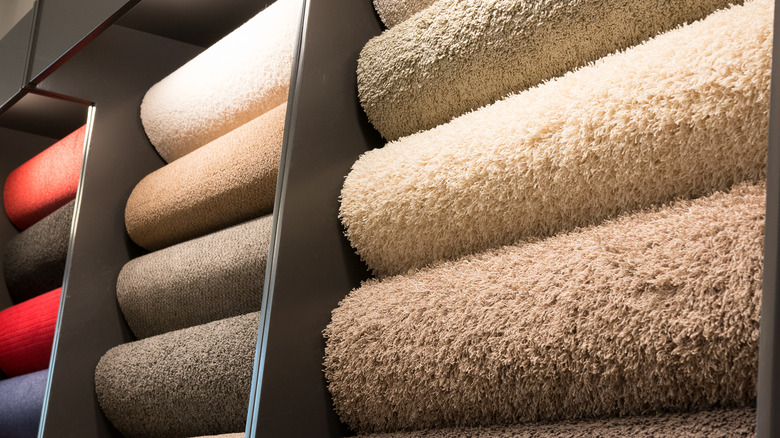 Luckeyman/Shutterstock
Flooring is one of the most important parts of designing or renovating a room. There are general recommendations for what types to use in certain locations — add tile or vinyl/laminate in the bathroom and kitchen and avoid carpet in entryways — but not any definitive rules. This is why the debate between hardwood and carpeted flooring is still so relevant.
While carpet leaves a lot to be desired in terms of stain resistance and maintenance, it makes up for it in a variety of other ways. For example, it's a great material for people living in colder climates since the fibers naturally hold onto warmth better than hardwood floors, per FlooringStores. Carpeting also has a leg up on hardwood in terms of noise reduction and adds a lot of decorative value if you choose the right style. 
While you can buy carpet at a variety of retailers, home improvement stores are often the most convenient and cost-efficient. So, we put it to the test. Between two popular home improvement stores — Home Depot and Lowe's — which one offers the best deal?
Home Depot carpet
Before comparing the two big-box retailers, it's important to know what to look for. Ayoub N&H Carpet cautions that, despite many manufacturers' claims about their products, there is no widespread grading system for carpet quality. Matters like density and material can help shape a product's overall quality, though. For example, wool is the priciest option, but it's also the most comfortable and durable. Conversely, nylon is the cheapest, and while quite comfortable, it's not the most durable.
Home Depot sells a variety of carpets for different environments, colors, and installation styles. An affordable and ultra-comfortable option, the Home Decorators Collection costs $3.54 per square foot and comes in 12 different neutral, beige shades, ranging from light to dark. While made of polyester, it has the highest softest rating. This product comes with a 15-year warranty and has earned a 4.9-star rating, with 92% of consumers recommending it.
Lowe's carpet
Lowe's also has a pretty sizable catalog of carpeting options for your home. Style Selections, a Lowe's exclusive product, features a carpet in the beige family for just $2.58 per square foot. With eight available options, they're a bit more mid-range as opposed to a proper light-to-dark spectrum. For those looking for a stain-resistant and soft option, this product is made of polyester (via Warehouse Carpets).
Like the Home Depot option, this carpet offers a warranty, but it's only valid for five years. While professional cleaning isn't required to maintain the warranty, it is recommended. This carpet has earned a 4.7-star rating, with a 100% recommendation rate, although it's only received 27 reviews.
Both Home Depot and Lowe's are great places to find affordable and attractive carpeting for your home. Drum roll, please. Lowe's wins in terms of price per square foot, but it doesn't necessarily offer the better deal. Polyester carpet is known for wearing down quickly, which makes Home Depot's 15-year warranty more favorable despite the slightly higher price. The Home Decorators Collection from Home Depot has also more customer testimonials and a wider range of colors, making it a slightly more reliable product with an overall better deal.