How To Make Your Large Bedroom Feel Cozier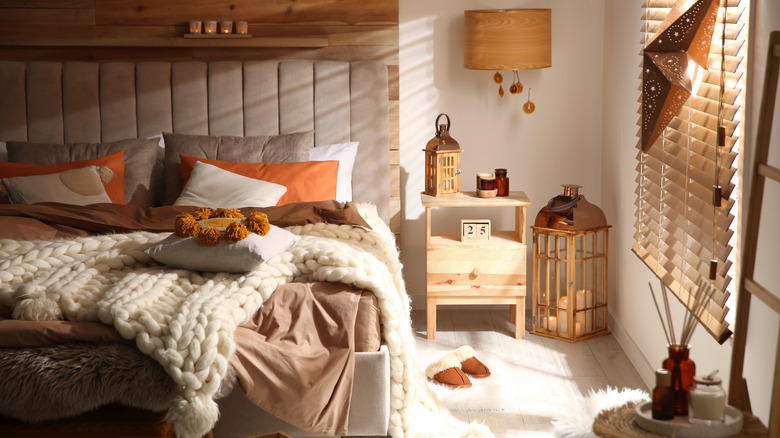 New Africa/Shutterstock
Some might think of small when they hear the word cozy, but coziness has nothing to do with size — even a large bedroom can be cozy if designed with this goal in mind. By definition, cozy is a feeling that conveys "comfort, warmth, and relaxation." It's comfortable and inviting; the opposite of, say, the austere choices found in some modern and minimalist spaces.
Coziness — the feeling that sums up the hygge movement — is often associated with fall and winter, and with good reason: The design elements of these seasons, such as warm tones, layers, and textures, are all good approaches to creating a comfortable atmosphere. Per Amante, the key to getting such a vibe in any room, including a large space like a spacious bedroom, is to create warmth.
For some ideas on how you can introduce that warmth into your large bedroom, read on. With a few additions and/or changes, you can turn your sizeable bedroom into a warm, safe space you'll want to curl up in for hours — to relax, refresh, and recharge.
Consider your wall color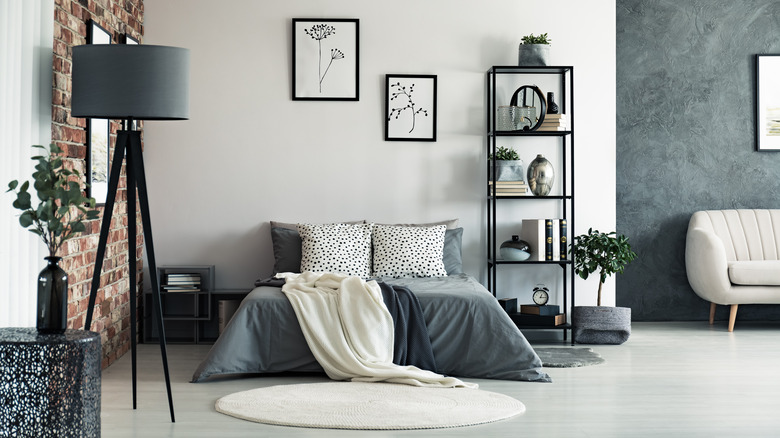 Ground Picture/Shutterstock
To create coziness in a large bedroom, you may want to start with the paint on your walls. Choosing the right color to play off of for the rest of your room can prove key when turning your roomy space into a cozier one.
Warm colors, such as earth tones, are one way to go. You may have heard how lighter colors can make a room seem bigger; the opposite is true of darker colors, which can make a space feel more intimate. Earthy colors, such as blues, greens, and browns, are an option if you're hesitant about going too dark a shade. As Custom Home Group explains, feelings of warmth and reassurance are often associated with earth tones. With this said, you could opt for a lighter shade, too, like a pastel or even a white, which can inspire feelings of serenity, peace, and simplicity.
If you have high ceilings, you could try splitting your walls with color. This design approach isn't only visually striking, but it can also help trick the eye and change your room's dimensions. Per Ideal Home, with a two-tone wall, painting the bottom half a darker shade can help ground the wall — effectively bringing that high ceiling down a bit.
Create zones within the space
Pixel-Shot/Shutterstock
Working with a large bedroom gives you, obviously, a lot of space to play with — but that's part of the design challenge. There's so much room to fill, and filling that space is where some of us might get stumped. Yet, you can turn that to your advantage by creating zones — designated smaller and functional areas.
A window seat, for example, is where you can catch up on your weekend reading or a podcast episode, warm mug of tea in hand. Or a corner on the opposite side of the bedroom — filled with a few comfy chairs (or a lounger) and an ottoman coffee table — is where you can stream your favorite series or watch the latest flick. Or perhaps an area right next to the bed where you can complete your morning yoga routine or meditate to wind down the day is the perfect addition.
These smaller zones work together to create a cohesive and comfortable space, making a larger room feel more manageable and less spread out. As Jessica Lagrange Interiors notes, zoning in on interior design allows you to curate on a smaller scale. Each zone is its own project, but together, they complete a room.