Is A Bed Nook Right For Your Space?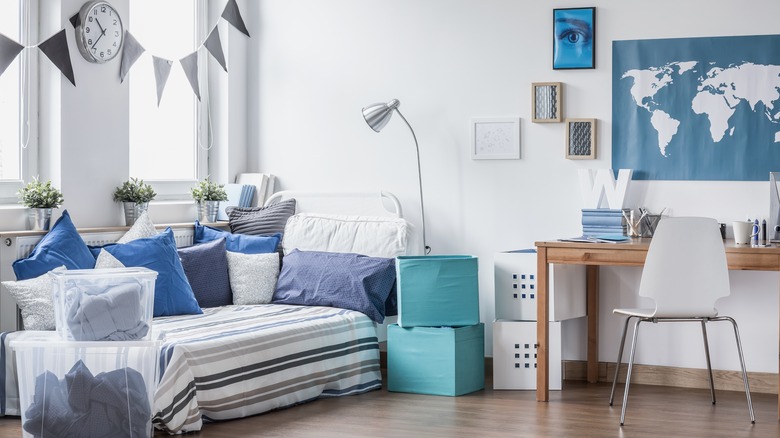 Ground Picture/Shutterstock
If your decorating goals include making the most of a small space while creating a sleeping area, a bed nook might be the problem solver you're seeking. Bed nooks, which can be configured in a variety of ways, can help you take full advantage of the limited square footage in your home. If you need a room to serve more than one purpose or feel like a bed is dominating an area, exploring the idea of a bed nook can help you hit your target.
The first thing that may come to mind is stretching space in a tiny studio apartment, and that's an excellent use. However, bed nooks are not limited to digs designed for city dwellers. They can also make cute and comfy areas for guest accommodations or bedrooms for children in any home that needs a little breathing room. They work well in dorm spaces, too. From exploring built-in beds with cabinets, as suggested by Remodelaholic, to simply moving furniture around, there are several ways to incorporate a bed nook.
Moving furniture to create a bed nook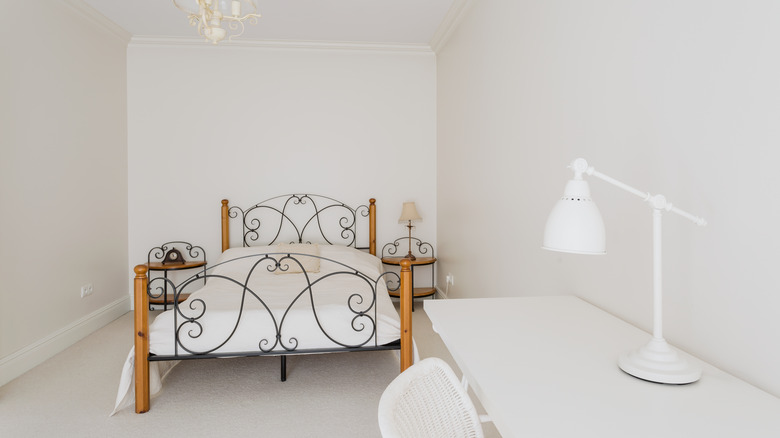 Katarzynabialasiewicz/Getty Images
The simplest method for carving out a bed nook is arranging the furniture to meet your needs. This might mean placing the bed so that there is just enough room for side tables in a long room, leaving space for a small sitting area. Another example is moving a bed without a headboard so that the long edge is against the wall. This works well with a twin bed. It can be placed in front of a window for a warm, inviting look or tucked into a corner as a space saver in a teen's or dorm room. This leaves plenty of space for a desk or storage for sporting equipment.
A daybed is a good choice if you need to buy a bed for this purpose. As noted on MyDomaine, daybeds can be used for sitting during the day and sleeping at night, making them an excellent spot for guests to call their own. Some even come with pull-out trundle beds to add a sleeping area or under-bed storage drawers. Any small bed can serve this purpose though, so you can definitely work within your budget.
Constructing a bed nook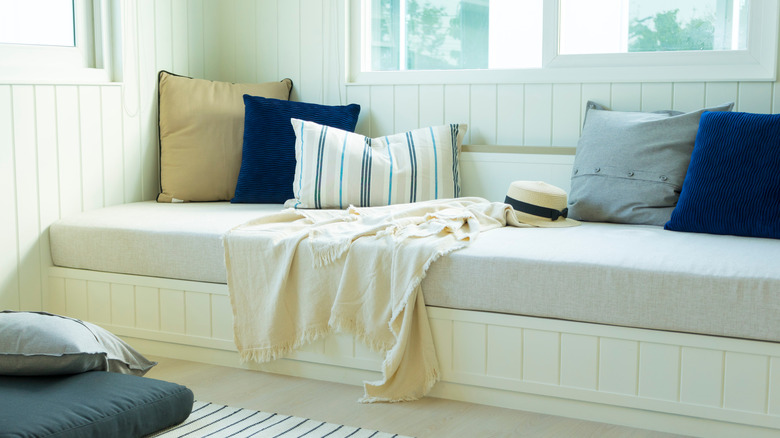 ben bryant/Shutterstock
Bed nooks can also be constructed as window seats just about anywhere in a home. These can be relatively simple with throw pillow accents that work as reading areas by day and beds at night. Homeowners willing to take on a more complicated construction project, like the examples featured on DecorPad, will find that bed nooks can be customized to include shelving and cabinets for storage or to utilize wasted space in a stairwell. 
If you can give up some dedicated storage space, closets can also be transformed into bed nooks. This works nicely in rooms with two closets, as mentioned on Kaleidoscope Living. This type of sleeping area feels like a cozy hide-out for children and can be made more private or princess-like by adding curtains to conceal or frame the opening. The rest of the room is available for play, study, or creativity. Explore all the options and see how a bed nook can impact a small space in your home.