Karen E Laine Talks New HGTV Special Good Bones: Better Yards - Exclusive Interview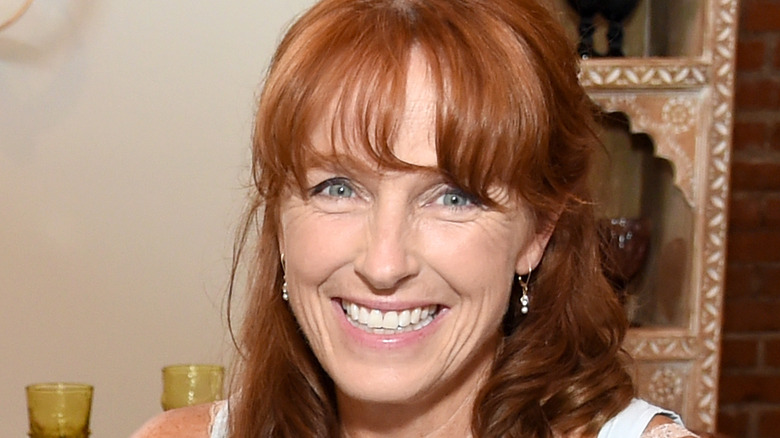 Michael Kovac/Getty Images
Premiering in 2016, "Good Bones" has been one of many of HGTV's popular and well-loved home renovation series. The program follows mother-daughter design and renovation duo Karen E. Laine and Mina Starsiak as they flip otherwise run-down homes — Karen taking the outside projects, and Mina tackling the inside.
Fans of the series will be thrilled to hear about the new special, "Good Bones: Better Yard." It follows Karen as she helps people with out-of-control yards and gardens, turning them from chaotic messes of vines and trees to spaces that are equally functional, beautiful, and perfectly tailored to the family's wants and needs. In an exclusive interview with House Digest, Karen E. Laine told us all about the new and exciting special, as well as some of her top design tips and tricks, how she plans to start a yard renovation project, and more.
About the Good Bones special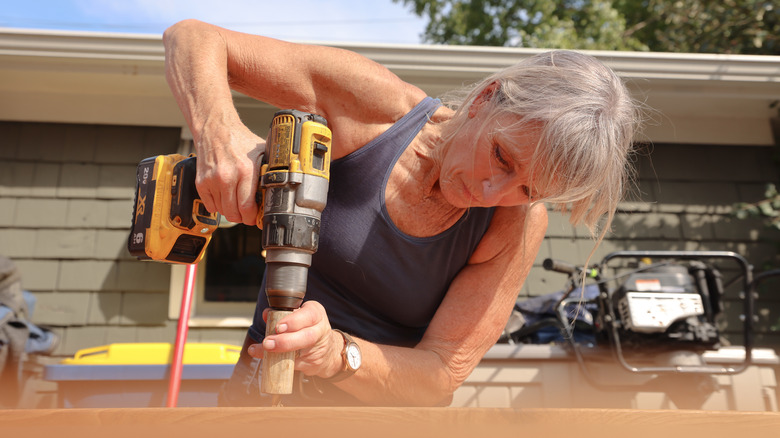 HGTV
To start out, can you talk a little bit about the show?
The pilot that we filmed is [with] a lovely couple in the old North Side of Indianapolis. They bought their forever home, and they had a double lot — so a huge yard but not functional for them. There were some invasive species, [and] there were some layouts that didn't work, so we took out all the things that didn't work, put in all the things that did work, and I think they're very happy.
What are you excited about for this "Good Bones" special, and what is something that you're excited for fans to see?
What I'm excited about is being able to help young homeowners use their outdoor space the way they want to and make it as low maintenance and as beautiful as it can possibly be. Viewers will be excited to see that too, and hopefully, there'll be some takeaways that they can use at home.
When renovating a yard, do you first think about potentials or problems? Do you see what the yard could be or what is holding it back — or do they go hand in hand?
Well, it depends on whether it's a blank slate I can do anything to — if it's mine — or if they're [owned by] homeowners. The first thing if they're homeowners is I need to know what they want because this is their yard. Once I know what they want, then the creative process starts, and I pretty much go straight to the end product. Once I've talked to the homeowners about what they're looking for, I know the problems that are there. I saw them the second I walked up. But what I'm seeing now is the final yard and calculating the steps I need to take to get to that final product.
Yard design tips and advice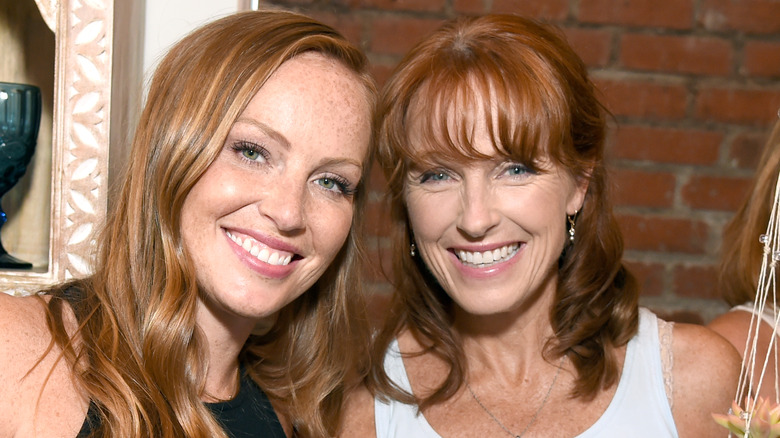 Michael Kovac/Getty Images
How do you assess a home's exterior? What red flags should people keep an eye out for in their own yards and exteriors to keep it from getting out of hand?
The one thing that is most problematic for most people are invasive species that someone put in 20 or 30 years ago before we knew that they would get out of control. Some of those are really tough to get rid of. The other thing is the health of the plants that are in your yard. If you have healthy plants [and] you don't like where they are, we can move things around, but if you have unhealthy plants — especially large ones or large trees that are unhealthy — then those need to go, because we don't want them falling on you.
What are some gardening, landscaping, and home exterior trends you're loving and hating recently?
I'm not a trend girl, so asking me about trends ... What you're going to get instead is that your outdoor space, just like your indoor space, should be a reflection of your own personality, how you move through the world, how you want to use that space. Trends come and go, but the basic designs, which are the same for inside and outside, will never change. You want to think about color; you want to think about form; you want to think about the density, the line, the texture. Outside, especially, texture can be huge in making a difference in how your landscape looks. Stick with the basics of design and you won't go wrong.
What are some of your favorite basics? What's something that you like adding to every home exterior, if and when possible?
What I love to do is create sight lines. The farthest place you can see, I want something to be there that draws your eye to that distance. If you have a little postage stamp yard, it's not going to be very far, but I still want it in the farthest spot from where your eye can see because that draws you into the space. There's something interesting in the distance, and you're going to move into the space to explore everything that's in it so you can get to that distant thing that you saw. It can be a tree or a shrub or a water feature or a bench or a piece of art. It can be whatever your imagination can conceive — you can create a sight line to it.
Make use of flowers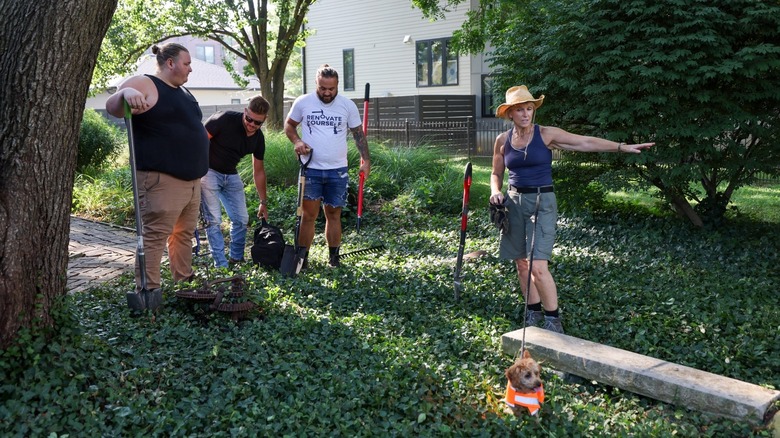 HGTV
What advice do you have for people looking to spruce up their own exteriors? Where should they start? What are some small renovations you recommend doing that don't require professional involvement?
The place to start is to think about how you want to use your outdoor space. That's where everything begins — do I want a wide open swath of grass for playing touch football games, or do I want to have a beautiful perennial border and an English garden so that I can cut flowers? That's where you start — what are we looking for?
Then go at your own pace. Start small. If what you want is turf, well, dig up what's in the way. Turf is the same as grass, so if what you want is grass, dig up what's in the way of your grass and start seeding your yard. Now's a great time to put down grass seed because it's cooler [and] you don't have to water as much. It takes root really well.
If what you're looking for is more hardscaping — you want a deck, you want an outdoor kitchen, you want a little lap pool or a hot tub — then start doing your research to figure out what fits within your budget and what meets your needs, and where's the best place to put that item so that it's visually attractive and functionally useful.
For small things ... Flower pots. Oh my gosh, you can make such an impact with flower pots. There are lots of places where you can get big pots, and you can paint them any color you want. There's a rule — and I forget what the mnemonic is — but when you're planting a flower pot, it's nice to have something that drips over the edge, something that's bushy, and something that gives you some height. That gives you lots of dimension in your flower pot.
I have perennials that should freeze and die over the winter in Indiana in flower pots. They don't — they come back every year. You're not necessarily limited to annuals in your flower pots. You have all the options. Every single tag at your nursery tells you about the plant. Read the tags. They're going to tell you how much sun it wants, how much water it wants, how long it's going to live, how tall it's going to get, all those things. Read your tags; you'll learn a lot.
The joy of dirt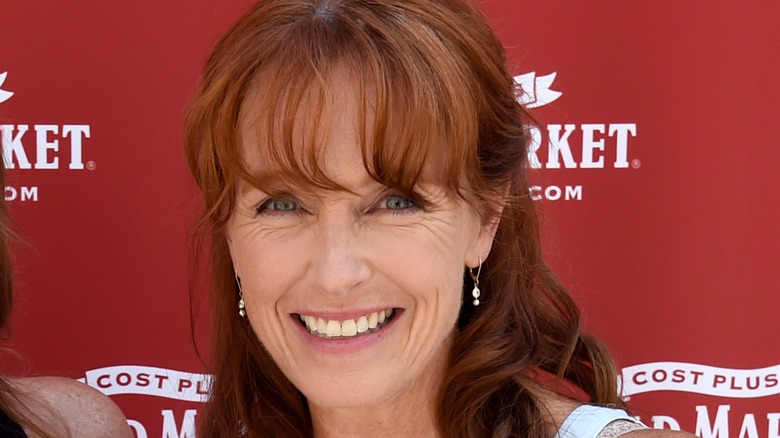 Michael Kovac/Getty Images
What's your favorite and least favorite part of the renovation process?
I love digging in the dirt. There has been some recent research about microbes in the soil that actually make you happy. I didn't memorize what I read, but it all made sense to me when I read it because if I'm digging in the dirt, I'm happy. In fact, I stopped digging in the dirt to do this interview. I put in a new plant last fall — it thrived all summer long, and I realized I put that in the wrong place; it is too big for that spot. I need to move it, so I'm moving it.
What plant was it?
It's an experiment. It's a plant commonly called a potato bean. It has tuberous roots that you can dig and cook like potatoes, and it has beans on the viny green part of the plant that you can harvest and eat. It did really well. I didn't harvest anything this year. It didn't fruit — I didn't get any beans — but I got lots of tubers. I'm going to eat one tuber and replant the rest.
Is there anything else you want to mention about the show?
We had so much fun doing this project. If the viewers have 1% of the fun watching it that we had making it, I will feel like it's been a success.
Oh, and Lenny's back. Our viewers that have been watching since Season 1 will remember Lenny. He stopped being the GC in Season 3. I know there are a lot of people out there who miss him, and they will be happy to have him back because he is an absolute delight.
"Good Bones: Better Yard" premieres Tuesday, Nov. 15, at 9:00 p.m. ET/PT on HGTV and is available to stream on discovery+.
This interview was edited for clarity.